Nintendo announces the development of non-wearable device that can "visualize sleep and fatigue" by placing it on the bedside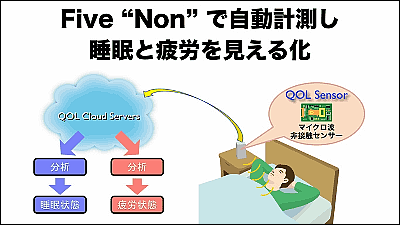 Nintendo is aiming at expanding the business area by working on the project "QOL project" that will make people's quality of life happy, but from the "health" which is the theme of the first QOL project, we just put it in the bedside soMicrowaveBy "Visualization of sleep and fatigue"Non-contact type / non-wearable device" was announced at the second quarter earnings briefing.

October 30, 2014 (Thursday) Management Policy Briefing Session / 2nd Quarter Results Briefing
http://www.nintendo.co.jp/ir/library/events/141030/05.html

The reason that Nintendo took the QOL project was "Non-Wearable" ("No need to wear"), "Non-Contact" (no need to touch the body), "Non-Operating" - Waiting (there is no need to wait for measurement) "" Non-Installation Efforts "Five "Non" SensingBecause the throat of realization has come. Nintendo's President Satoshi Iwata announced a device that automatically measures the sleeping state and fatigue state that made five things that were necessary for measurement so far unnecessary.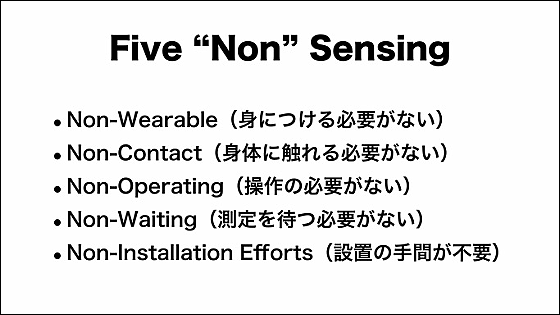 By receiving technology from the American medical device manufacturer ResMed, "QOL sensor" that automatically measures sleeping state is built in, and the movement of the body, respiration, heartbeat, etc. are transferred by the microwave non-contact sensor to the body Automatic measurement without touching. Measurement data is sent to the QOL cloud server on the Internet, and by analyzing the data, it makes it "visualize" the sleeping state and the fatigue state.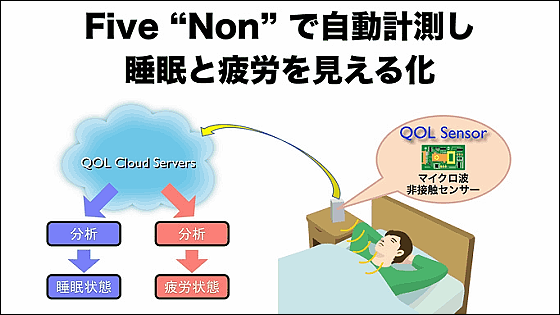 President Satoshi Iwata The president thinks that despite the fact that there is a great demand for visualization of sleeping state, the fact that no definitive product has appeared is because "it was a structure that required some effort", and this time If a sleep measurement device unnecessary for operation or wearing can improve QOL (quality of life), he says that "There is a very great possibility regardless of age, sex, language, or culture" I will.