JoJo OP original image Kamikaze video original work "GASOLINE MASK" started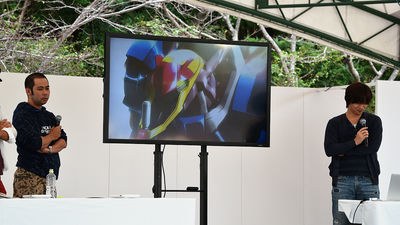 The animation production company Kamikaze movie has been working on various works so far, but among them the widely known is the opening image of the TV anime "JoJo's Bizarre Adventure" and the opening of the recent "Dragon Quest" series Video, PV, OVA "FREEDOM" opening and ending footage etc. What is common to these is short video of about 90 seconds. Although it is not impossible to make a length longer than this, there are many works around 90 seconds ... why, in Machi ★ Asobi Vol. 13, "Over the wall of 90 seconds! Kamikaze An event entitled "Starting Zebara Film" was held.

Kamikaze video
http://www.kamikazedouga.co.jp/

Machi ★ Asobi - Cross the wall of 90 seconds! Kamikaze Ginbara Film Start - IGNITION -
http://www.machiasobi.com/events/kamikaze.html

Miyashita Mr. Miyashita (left), Mr. Yoshihiro (center), Mr. Mizusaki (right) who took part in the event.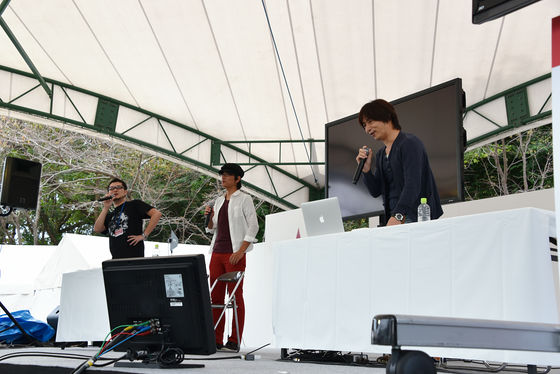 The event title is "Cross the wall of 90 seconds! Kamikaze Jibara film starting - I NITION -".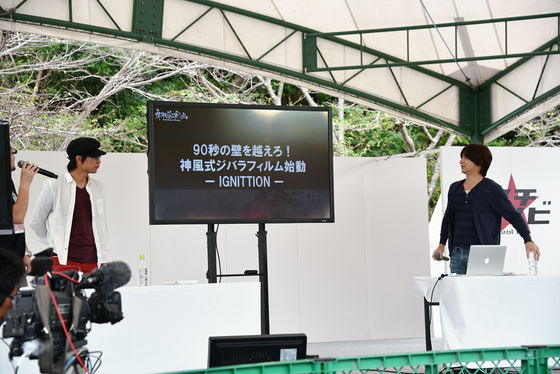 At the beginning of this event, when I asked "Do you know Kamikaze video?", About 25% answered that I knew. Therefore, "By looking at the title it may be increased more than 25%", "JoJo's Bizarre Adventure Stardust Crusaders"Explain the past work history including the opening image. This makes the "know" rate 100%.

Kamikaze movies are often involved in the opening of works and in the production of endings, in addition to JoJoGatchaman Crows(opening),And so(8 episode ending),TERRA FORMERS(TV anime version ending), and furthermore EXILE and BaseBallBear music video etc. are made.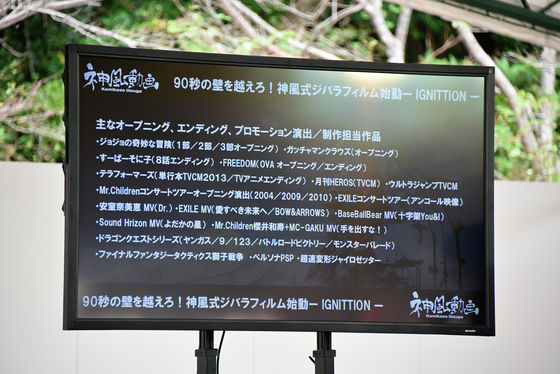 Furthermore, the original work "Amanatsu".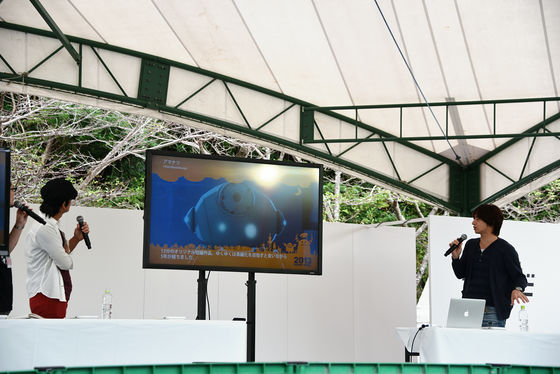 This allows you to see the trailer on YouTube.

Kamikaze video original "Amanatz" trailer - YouTube


Looking at the picture like this, there are a lot of things "I know this!", But it is not known that it is Kamikaze animation production and it is often said that "This was also made!" And that.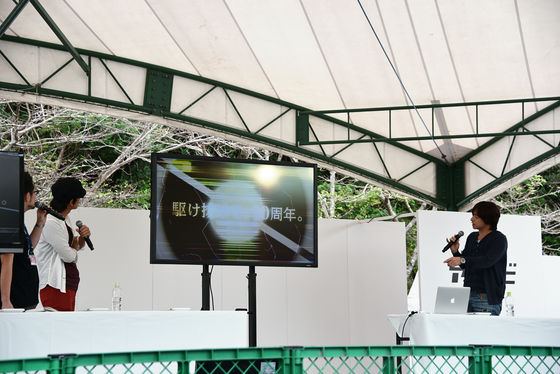 It is like this when you divide your work by genre. The animation · CM system is still the closest "JoJo" opening is impressive.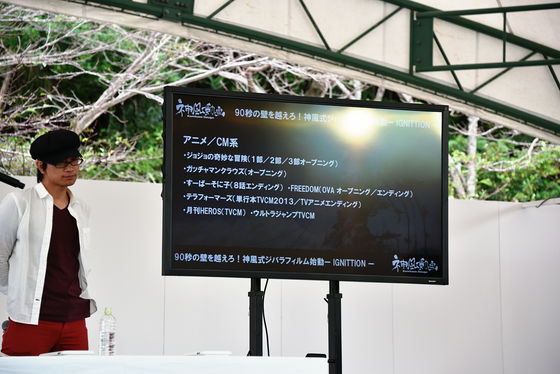 In the game system, I am involved in "Dragon Quest" series, "Final Fantasy Tactics Lion War", "Witch of Wizards and Black Cat" and so on. Yoshiyuki says Yoshihiro, who was one user at the time, tried to reproduce the texture of the painter that Toriyama Akira started using "Dragon Quest 9" "As Toriyama fans see what Toruyama Akira reproduced so much I have ravely acclaimed the image. Although it is 3D, all the shadows are hand-drawn, while the outline and color are CG models but bright and dark surfaces are processed with full frame brush, which is wasteful work of what to use CG for what Mizusaki-san also has something so included.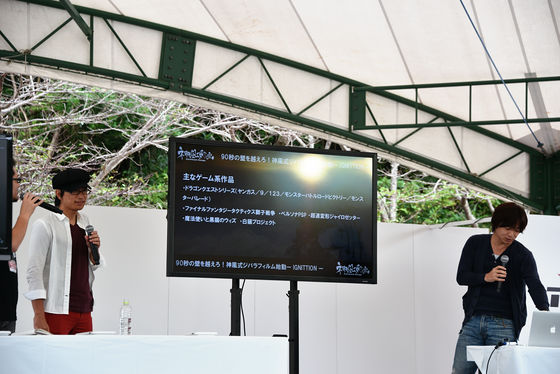 Here, the initial work of the Kamikaze movie that the beginning was individual production was made to flow.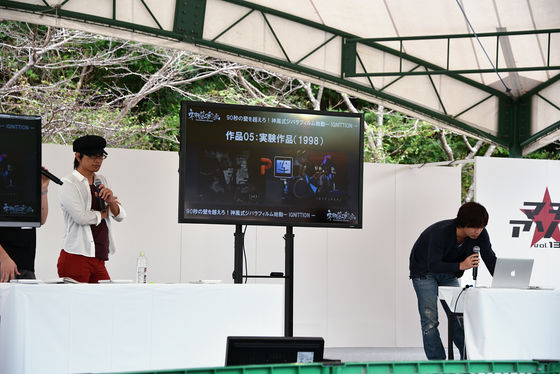 Concept "Can not do something like a cell picture using CG"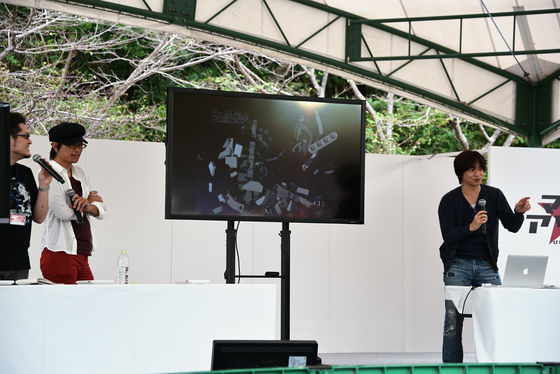 Aiming for something like Akira of Otomo Katsuhiro, Mr. Mizaki says he made two bytes and made it. In a cell picture, it seems that the air with such density was born at that time and it was made by three people, trying to drop it in an atmosphere like a cell picture while making with CG as a substitute for a cell picture .



The title is "gasoline mask". I would like to try the character, but because the expression play is difficult, I'm wearing a mask by letting me mask. Also, the reason for riding a motorcycle is that if you ride a motorcycle you will not have to play much. With this, Mr. Mizaki says he plunges into this path altogether.



This is a recent work 'Mirai Hiko Harima Sakura'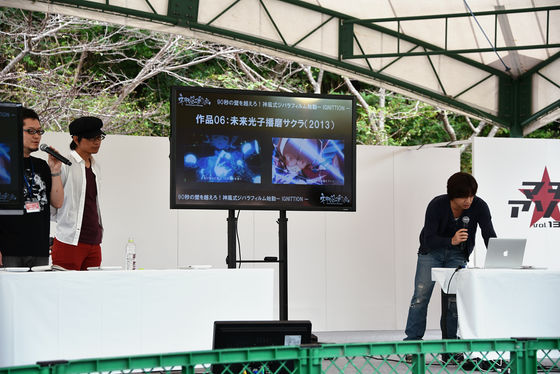 Miku Hiko Harima Sakura - YouTube


At the time of publication, it was a big topic on the net. Originally, a large synchrotron radiation facility in Hyogo prefectureSpring-8I want to appeal to you, it is made of anthropomorphized character · cherry tree as a motif. Although it looks like an opening image, the name of the staff inserted is fake.

"Harima Sakura" which reproduced the OP-like atmosphere of old-fashioned anime is tremendous quality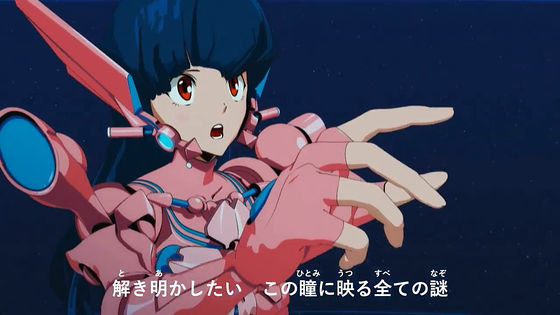 ......, this kind of flow pre-swing to the last. The purpose of this time is "Removal Opening store plan"In the event title" Over the wall of 90 seconds! "Is also an indication of determination to get out of just the opening and ending.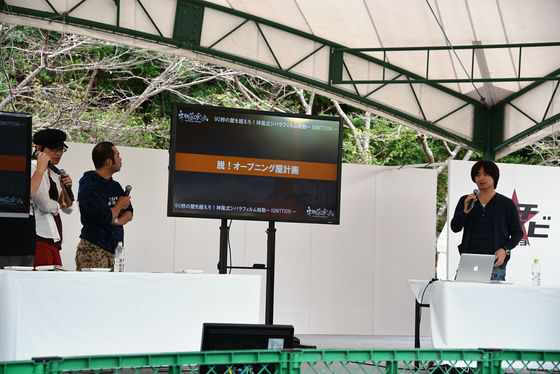 As a guest for that, a studio color CGI producerShuichi EkoAppeared (the second person from the left).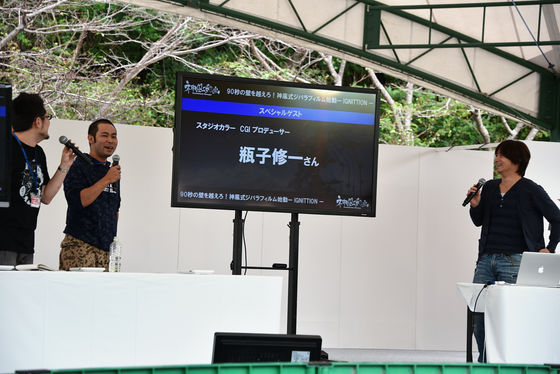 Speaking of studio color belonging to Ms. Juko is a company making "Evangelion New Theater Version", and in June 2014 it also became a topic that the announcement of recruitment of 3D animators was done on YouTube's movie.

Studio Color 3D Animator Recruitment Announcement Movie - YouTube


However, this way is actually what Kamikaze videos had done before that. Mr. Mizukasa seemed to be starting his own place, thinking "I do not want to do it with a movie" when seeing this video, Mizusaki-san said "I will be seeded where I plowed with bloody burning feeling Although it expressed as "Cha," it seems that he seems to think that his gaze point was correct.

Kamikaze Video 2012 About Jobs About 2012 Kamikazedouga Recruitment Information - YouTube


About Kamikaze Video 2013 Job Hunting - What is -CG modeler? - - YouTube


Kamikaze Video 2014 Job Description - YouTube


Although it is such a Kamikaze movie, recently I felt frustrating in short stories, so I thought it was about short stories soon ... so I brought the first publicized teaser to this time Machi ★ Assobee.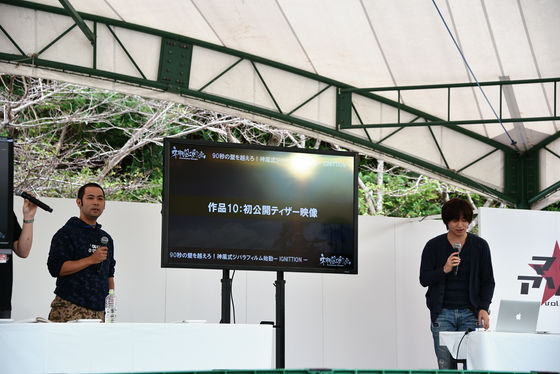 A part of the image looks something like this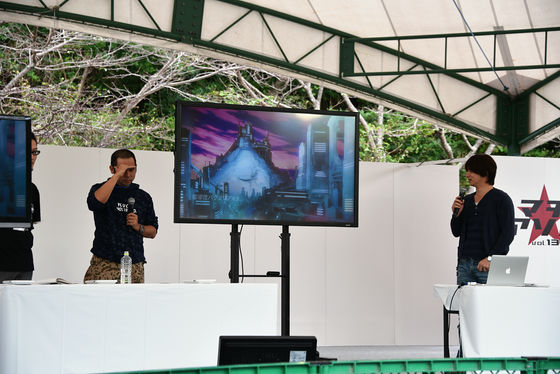 The title is "GASOLINE MASK"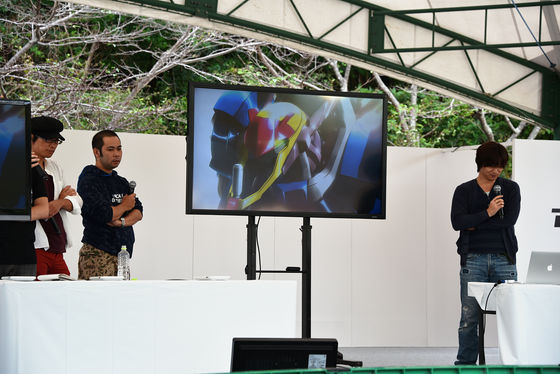 The last message "Compromise is death" is a company story of Kamikaze video.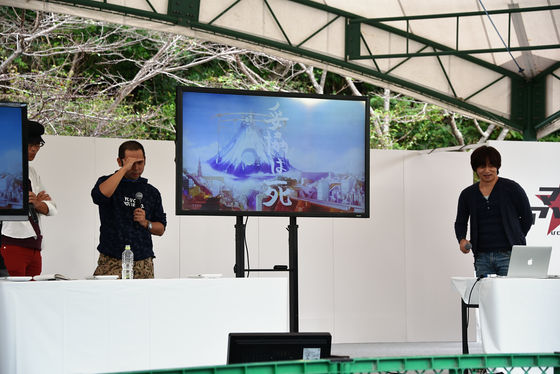 "Those who just came out of short stories, but they are about to jump out," a dictator of the determination, and thus playing the role of pressure to not escape by putting it in front of many people. In addition, Mr. Junko who was watching this video was aiming for take-out "to see everything firmly and copy it."



"Zibara film" was revealed in this way. By making with their own money, you can make directing and promotion as you wish, and the method of opening can be done with no sponsors or affiliated companies bound.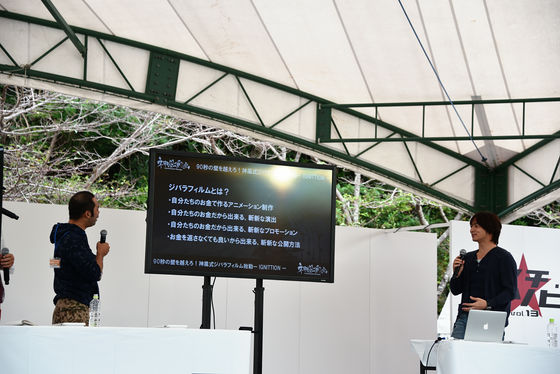 In short, since the promotion is Zibara, people who came to this event and those who saw this article were dependent.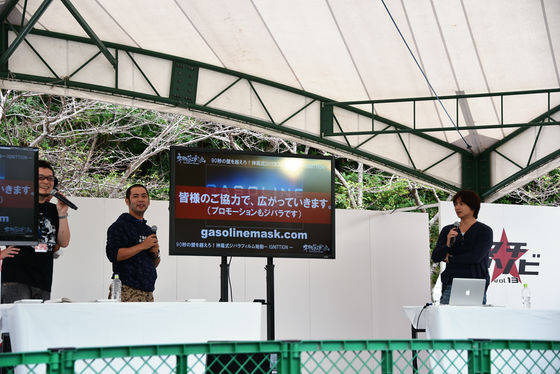 The name of the work is the same as that of the initial work, but it seems to be said that "I will put a kelly on the gasoline mask 15 years ago." The main designer is Daisuke Daisuke.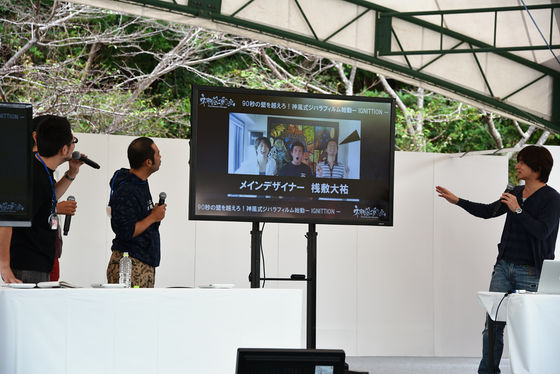 One of the bytes Mizusaki-san employed at the time of making "gasoline mask" 15 years ago, I am in charge of character design with the animated film "Kujuu" nominated for the short animation division of the Academy Awards. "Kujuu" is Omoto Katsuhiro's etc. omnibus movie "SHORT PEACE"It was released on July 20, 2013 as one of them.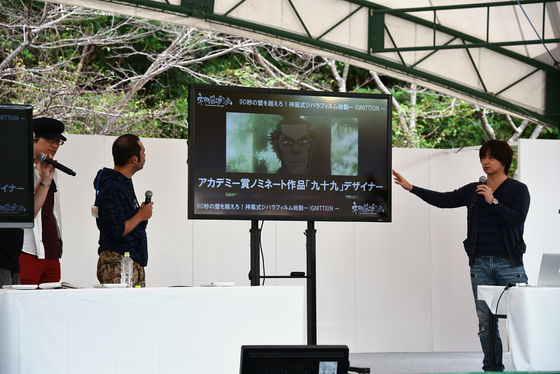 In addition, Mr. Suzuhira Morita of "Ninety-nine" directed by Mizusaki-san is another employee hired. Miyashita who heard it said that he was "greatly flapping".

Mr. Mizusaki said, "GASOLINE MASK", if I could progress my work smoothly and report on its progress with Asobi ... ... and I also made positive remarks about next participation. When it is said to be "a work of Kamikaze animation?", It may be about a work called "GASOLINE MASK" instead of "JoJo's opening" or "Dorakue's movie", so from the upcoming progress I can not take my eyes off.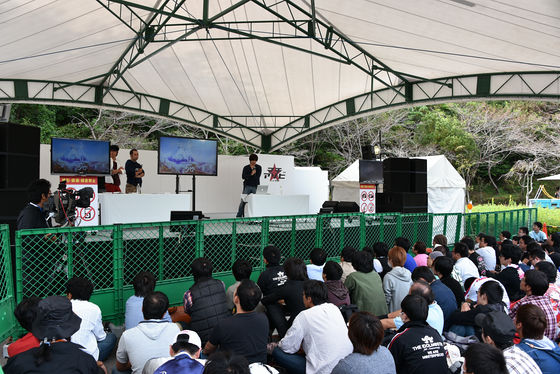 The official website of GASOLINE MASK is here. Initially, the site was in a situation where it was covered with noise due to the influence of "conductive bacteria" and the trailer movie could not be played back, but as many people spread the information of GASOLINE MASK, now it is normal to see the movies I can.

GASOLINE MASK
http://gasolinemask.com/