"Fines of Apple's new product information leakage of 5.3 billion yen" and others clearly stated in the bankruptcy application of sapphire glass makers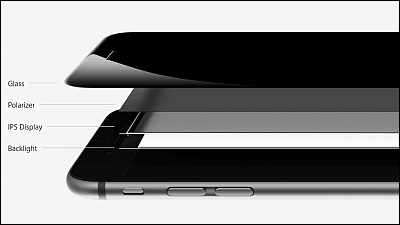 Sapphire glass manufacturer who has a supplier contract with AppleGT Advanced TechnologiesI applied for rebuilding bankruptcy proceedings. As a result, the content of confidentiality agreement GT Advanced Technologies had with Apple was clarified, including "50 million dollars (about 5,360 million yen) per fine for information leakage of unreleased products" .

Apple's supplier contracts include $ 50 M penalty for leaking future product info
http://appleinsider.com/articles/14/10/13/apples-supplier-contracts-include-50m-penalty-for-leaking-future-product-info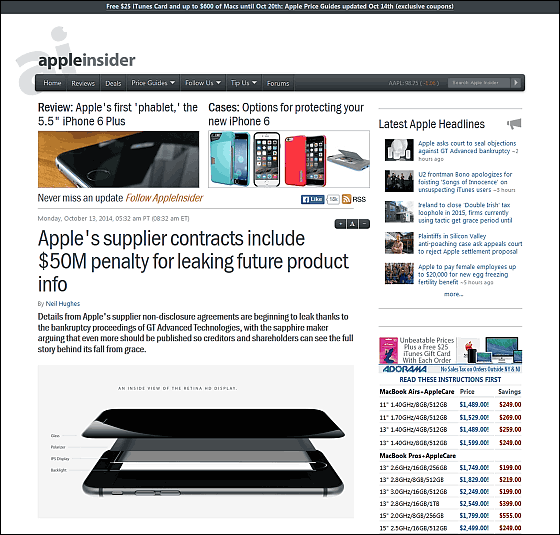 GT Advanced Technologies Inc. and Its Subsidiaries File for Bankruptcy Court Protection Under Chapter 11 (NASDAQ: GTAT)
http://investor.gtat.com/releasedetail.cfm?ReleaseID=874701

Financial Times, GT Advanced Technologies (GT Advanced), which has a supplier contract with Apple,Federal bankruptcy law Chapter 11We have reported that we applied for rebuilding bankruptcy proceedings based on It is a procedure concerning the reorganization of the company, and CEO Tom Gutierrez of GT Advanced commented, "This is not bankruptcy." Apple said he did not recognize this situation.

ApplePatent on process of welding sapphire glass to iPhoneIn November 2013, Apple has built a sapphire glass manufacturing plant in Arizona, USA. IPhone 6/6 Plus was expected to adopt GT Advanced made sapphire glass display, but the display of iPhone 6/6 Plus announced on September 10, 2014 was ion-tempered glass was adopted . Sapphire glass is used for the camera lens and the cover of the Touch ID, but it is considered to be part of the cause of management difficulties because it was small parts and it was not able to secure sufficient profit.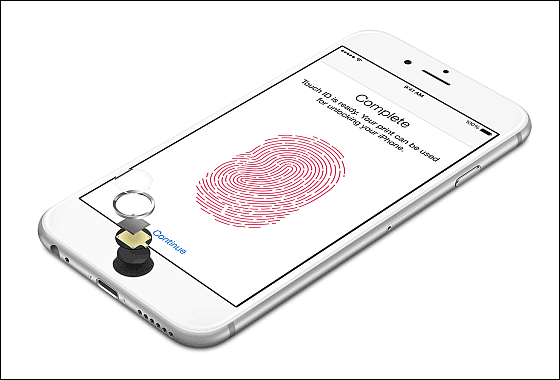 Although GT Advanced needs to explain details to creditors, stockholders, investors, etc., according to information submitted to the court, GT Advanced and Apple and confidentiality agreement are confidential in "details of bankruptcy" It is clear that it includes content such as "It is 50 million dollars (about 5,360 million yen)" as a fines of leakage of new product information, and GT Advanced notes that the contract is "repressive It is a reasonable contract ", and we are seeking permission to disclose information for the interests of creditors, shareholders and investors.

The Wall Street JournalAlthough GT Advanced reported that stock prices continued to decline until bankruptcy, eventually dropping to about 80 cents, down by about 93%, but Gutierrez CEO iPhone 6/6 Plus was announced I mentioned that I had sold more than 9000 shares of my company's shares at $ 160,000 (about 17.15 million yen) before. GT Advanced spokesperson has not responded to this matter.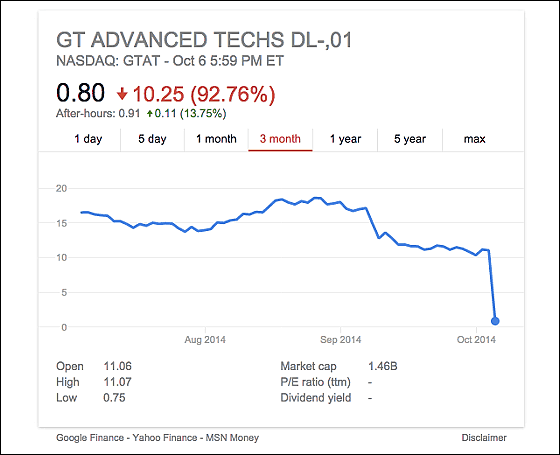 While GT Advanced announced the closure of its own factories in Arizona and Massachusetts with bankruptcy, Apple comments that it will support and protect the employment of 890 people who lose their jobs due to factory closure. It is said that GT Advanced's cause of bankruptcy is related to the sapphire glass of the iPhone, but Ars Technica points out that it might be due to a failure of the solar panel business. Suppose that sapphire glass is used for Apple Watch, and that there is a possibility that sapphire glass will be used for the next-generation new iPhone, we assume that supplier contract with Apple and GT Advanced will be retained It is said that the rebuilding of GT Advanced took place in 2015.

Apple's sapphire manufacturing partner files for bankruptcy | Ars Technica
http://arstechnica.com/apple/2014/10/apples-sapphire-manufacturing-partner-files-for-bankruptcy/