【Old News】 "Nausicaa" role Crotoa · "Future Boy Conan" death of a family arm archer of Repoca


When an actor / voice actor of the actor / voice actor who was active in a voice with low presence, such as the role of Crotowa of "Nausicaa of the Valley of the Wind" and the role of Repoca of "Future Boy Conan" died on September 30 (Tuesday) 81 Produce of affiliated office announced. He said he was in the hospital treatment. He was 80 years old.

81produce
http://www.81produce.co.jp/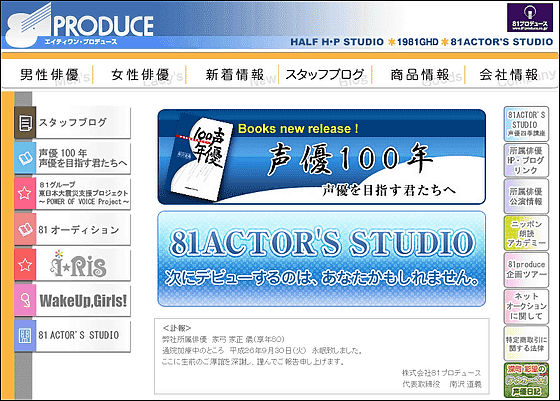 Ikko Iimasa: Affiliation Actor: 81produce
http://www.81produce.co.jp/list.cgi?man+1173620204610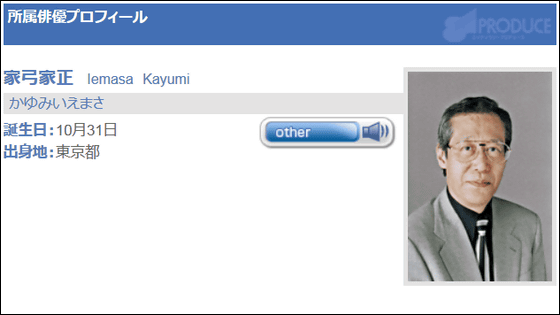 Mr. Yanbetsu made a voice actor debut in NHK radio drama in 1956. Frank Sinatra, Eve Montan, James Garner and Donald Sutherland are taking over as the dubbers of the dubbing, and in the "X-Men" series he is responsible for the role of Magneto who plays Ian McKellen.

In animation, in 1978 's Future Boy Conan, the role of Repoca standing in front of Conan et al., In the movie "Nausicaa of the Valley of the Wind" published in 1984, street officer who comes to the valley of the wind in accordance with the princess of Khushana, Tolmekia · Krotowa I played a role. Although REPAKA was the enemy to be beaten to the end, Crotoi was drawn as a character somewhere not to be hated, while being in a position to oppose from Nausicaa.

As a role, although the image playing "villain" is strong, for example, at the OVA "Giant Robo THE ANIMATION Earth in stationary" in 1992, he performed the role of Chief Cabinet Secretary of the International Police Organization to which hero / Kusama Daigaku belongs. The Big Bang punch which is called quiet Chukajo is said to be "an extra sacrifice any more!"

Also, in the movie "GHOST IN THE SHELL / Ghost in the Shell" released in 1995, I played a huge army hacker / puppeteer who manipulates ghost hacks to unspecified number of people freely. This work was renewed in 2008 and was released as "GHOST IN THE SHELL 2.0", but at that time the role of doll use is "Nausicaa of the Valley of the Wind" role of Kushana and "Mobile Suit Z Gundam" Haman Khan, "Mobile Police Patlabor" I was replaced by Yoshiko Sakakibara known for the role of Nunumi Shinobu.

There is also a voice that father / paragus of the brolly which appeared in the movie "Dragon Ball Z burning !! hot squad, fierce battle, super fierce battle" appeared in the first series of "Lupine the Third", remains in the impression.

Activities continued until recently, including playing FBI's James Black investigator in the movie "Detective Conan, a different dimension sniper" published in April 2014.
in Note, Posted by logc_nt