The top of Microsoft France will inadvertently disclose that the release of "Windows 9" is coming soon


Looking at Microsoft's next OS "Windows 9Alain Crozier, president of Microsoft France, said that the release of the product will soon be released.

La présentation de Windows 9, confirmée par Microsoft France
http://www.zdnet.fr/actualites/la-presentation-de-windows-9-confirmee-par-microsoft-france-39806745.htm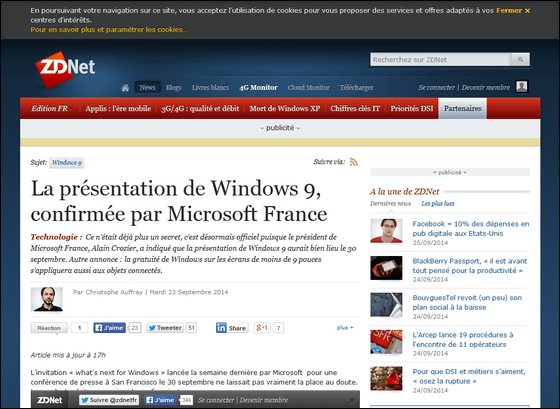 Microsoft mistakenly affirms that Windows 9 will be revealed next week | Ars Technica
http://arstechnica.com/information-technology/2014/09/microsoft-mistakenly-affirms-that-windows-9-will-be-revealed-next-week/

Microsoft France president: "In the next few days, we'll be releasing Windows 9" [Update] - Neowin
http://www.neowin.net/news/microsoft-france-president-in-the-next-few-days-well-be-releasing-windows-9

ZDNet.frAccording to Alain Crozier, President of Microsoft France, the next OS is called "Windows 9", and "We will release Windows 9 in a few days" I accidentally slipped my mouth.

Speaking of a few days later, on September 30, Microsoft is scheduled to hold Windows-related events in San Francisco, and it is almost certain that "Windows 9" will be officially announced in this. In this event Neowin speculates that details of the new OS will be revealed and at the same time Windows 9 technical preview will be made public.

In Windows 9The start menu is restored and the charm bar is abolishedThere was also a rumor that there was a rumor that, as long as you see the screenshot that Neowin got, the impression that Windows 9 gets closer to Windows 7 and earlier usage.

The start menu disappeared in Windows 8 is revived. It seems that tile icons arranged on the start screen are also displayed here.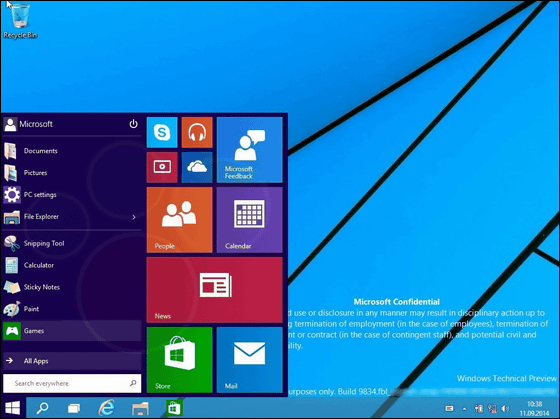 The motion movie is also leaked.

Windows 9: Das neue Startmenü in Aktion - YouTube


Notification center that seems to be newly added.

Windows 9: Das neue Notification Center in Aktion - YouTube


This is a multitasking movie that uses a new feature called "multi desktop".

Windows 9: Der neue Multi-Desktop in Aktion - YouTube


It will not be long before the release, but expectations will increase as to what type of OS it is finished.