Packing for placing a bicycle on an airplane The whole stuff is like this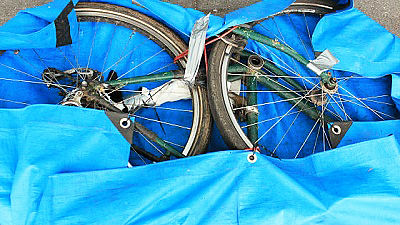 When saying "I am cycling overseas", "Frequently asked questions about bicycle" is asked. Questionable questions for those who do not know "Overcharge or okay?" "Can you put it on an airplane?" I packed up at the airport this time and pushed my bicycle on the plane.

Hello,Takuya Sudo @ circle around the world bicycle @ Charridermanis. This summer I ran from Italy 's Palermo to Ireland' s Dublin. From the capital of Ireland Dublin flies to Abu Dhabi in the UAE to Bangkok, the capital of Thailand. As usual, I checked in by disassembling the bicycle. This time I summarized the whole and part of the airplane movement in overseas cycling.

◆ Until heading to the airport
Prepare vinyl tapes, cloth tapes, plastic bags, saran wraps, wallpaper as preparations.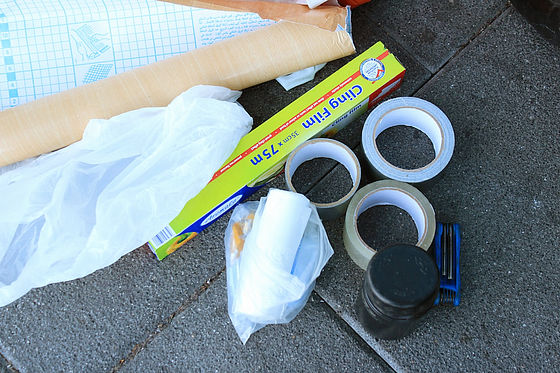 Paper and binding bands are also useful.



Since failure is not permitted, the morning of the day of flight injection of spirit with Red Bull.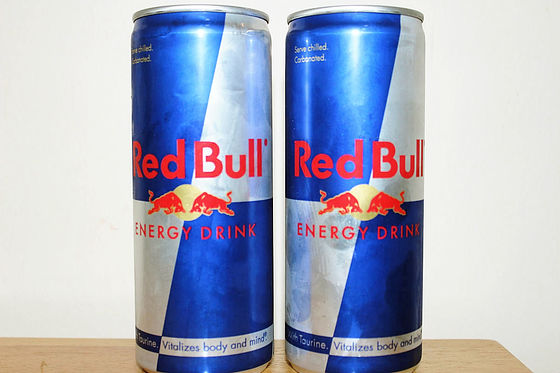 This time, I ran about 10 km to the airport. If you are packing in advance, you may also use a taxi.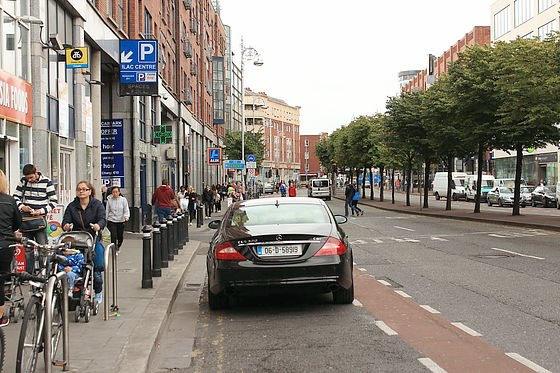 Arrived at the airport in Dublin with enough time.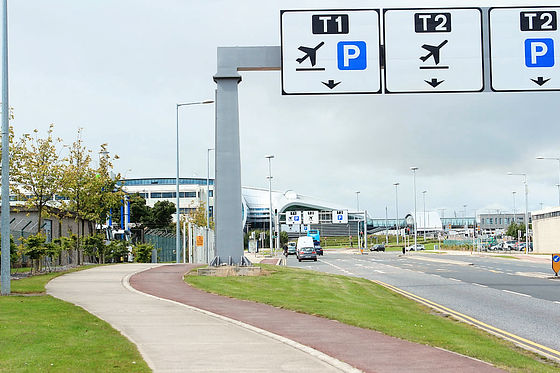 Let's finish your toilet before starting packing.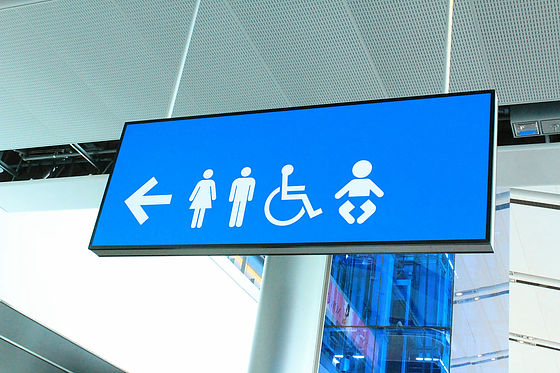 And if you are hungry, give me a go. Disassembling the bicycle can not be interrupted as the hand gets dirty.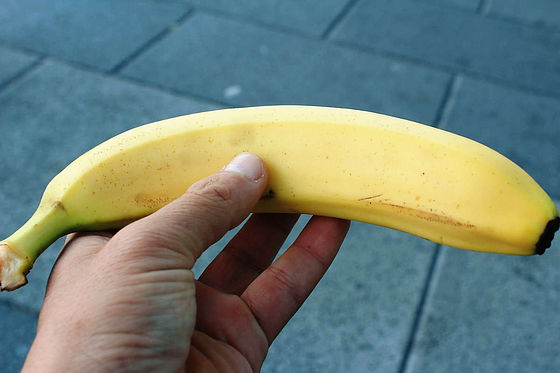 ◆ Bicycle packing
Unlike cars and motorcycles, it is easy to bring a bicycle to the airplane. However, whether the packing is necessary here is a place where judgment can be judged by the airline company. I also hear the story of those who will deposit them without leaving the bicycle disassembled. Just if you do not disassemble it, you may be refused checked baggage at check-in. I also decomposed my bicycle because there is such a thing. Otherwise, I think that you should check in advance.

Since I removed the front carrier in the middle of Brazil, I ran only in rear carriers in Europe. I will disassemble this bicycle and pack it.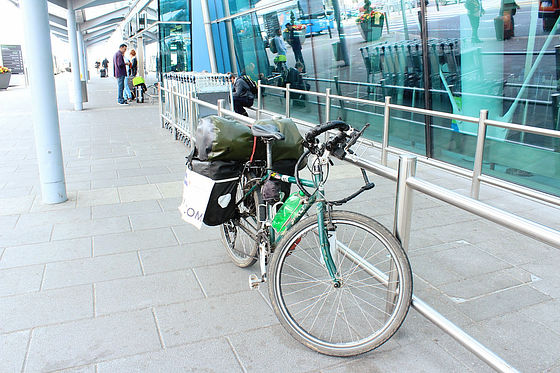 First of all, let's drop down all the loads we carry.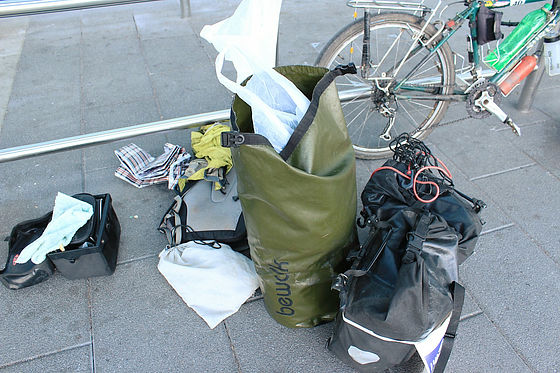 Luggage down condition.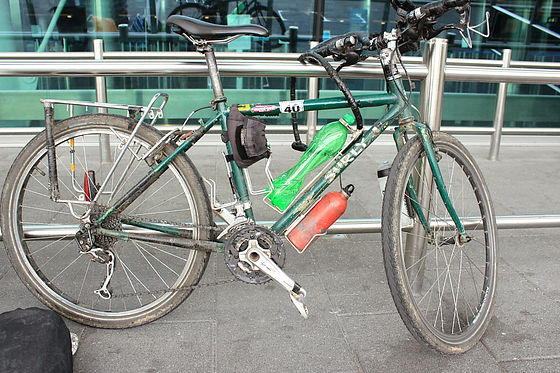 When removing all the bottle gauges from there, it became a refreshing bicycle.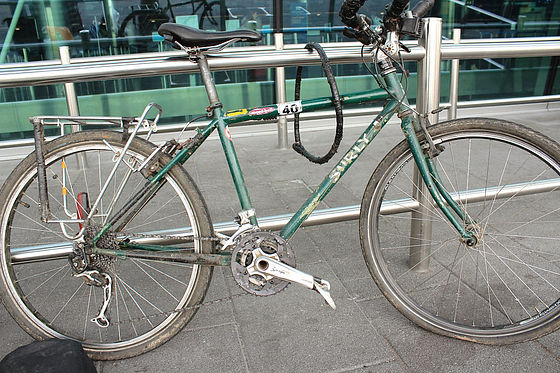 Bottle gauges removed are put together and placed in a plastic bag. I wrapped the paper with paper so as not to lose it, and wrapped it around the bottle gauge.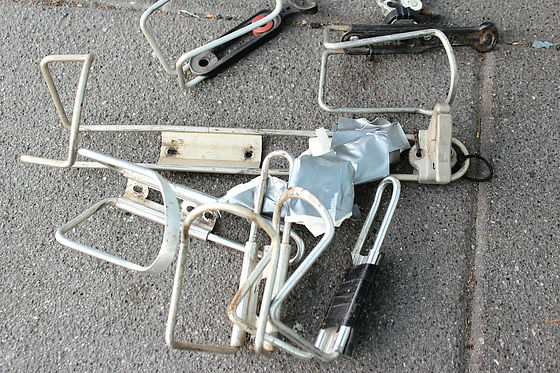 Remove the crank of Harrow Tech Ⅱ. A special tool to remove the black plastic and a hexagonal wrench are necessary.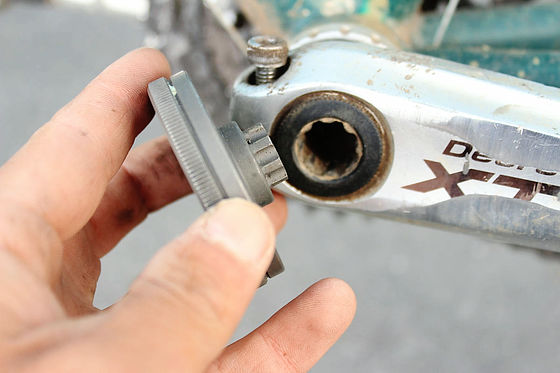 The shaft of the crank and the bottom bracket are united with the enamel Ⅱ, and it can take out in such a form. Since it can be disassembled so far, it is unnecessary to carry a pedal wrench while walking.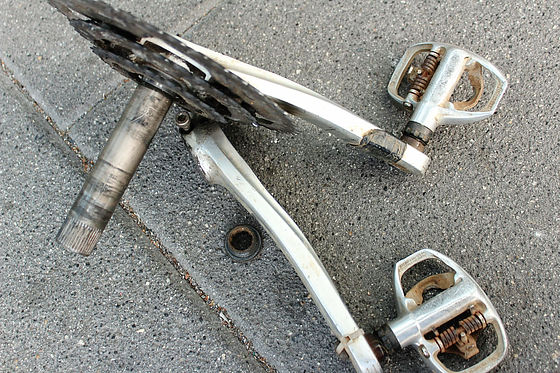 Since the front gear of the crank is pointed, wrap it in a leaflet and put it in a plastic bag.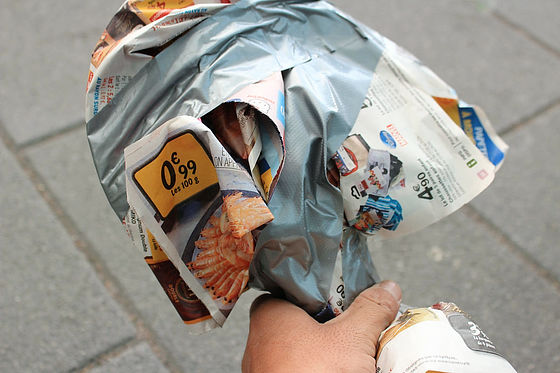 Since the chain where the oil remains is dirty, wind up paper towels and leaflets. The rear derailleur, which is vulnerable to shocks, also took a towel at the same time as protection.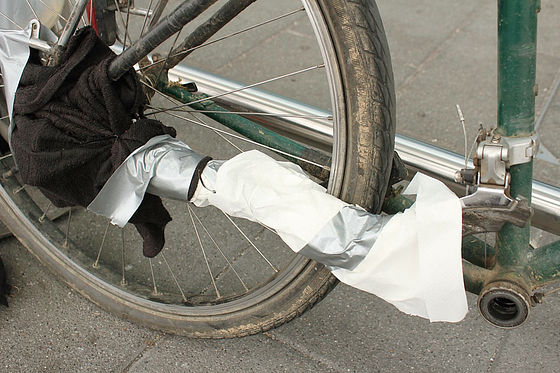 Remove the saddle.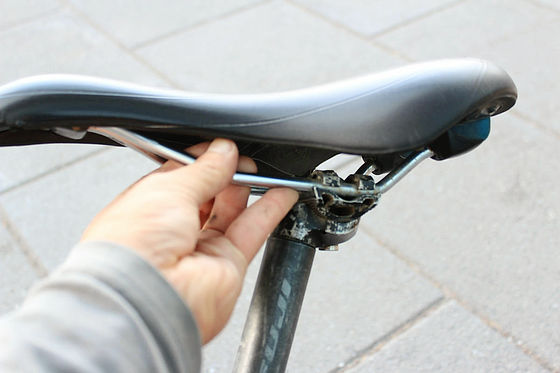 I pulled the stem and the handle from the front fork. Also remove the front fork from the frame, so remove the front wheel brake.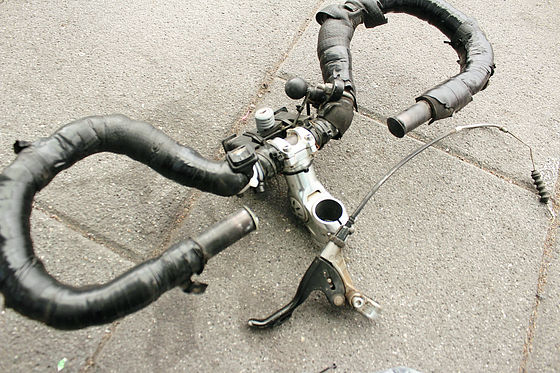 The remaining brake lever and shifter are fixed to the frame with a binding band.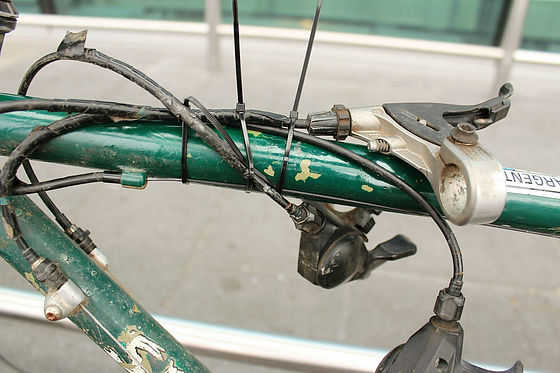 When the front fork was pulled out, the front wheels separated from the frame.



Let's put in the plastic bag so that the small parts of the headset coming out at this time will not be lost.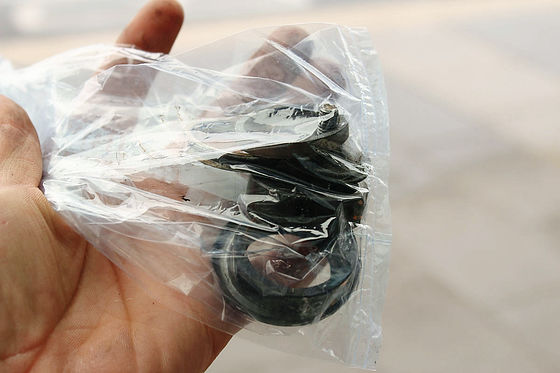 Place the frame with the rear wheel attached and the fork with the front wheel attached on the blue seat used as the tent's ground seat and fix it with a rubber string or a binding band. I am afraid that the end width will change with shocks, so in the case of a wheel, I often leave the wheel attached without removing it.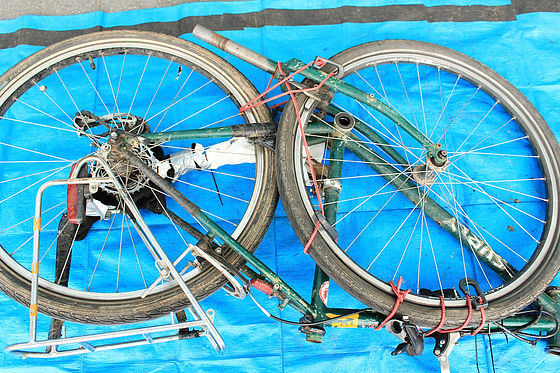 Just like wrapping the bicycle with a blue seat ......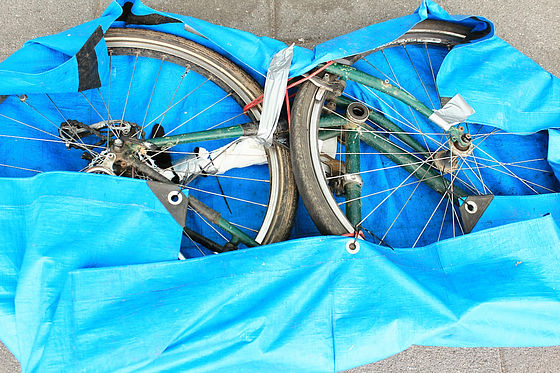 I will cover another blue sheet that I purchased for this wheeling.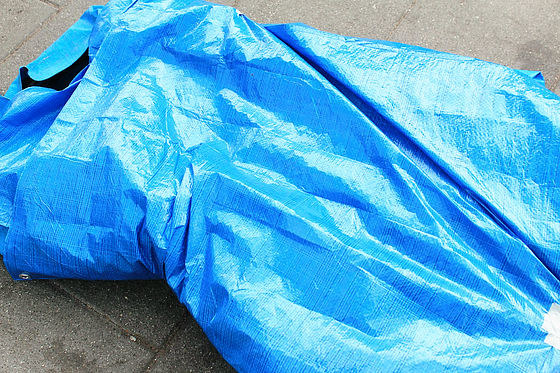 Bicycle wrapped in two sheets of blue, wrapped in vinyl tape with a gruel.



I also tried to wind up the wallpaper I also got reinforced from above. The wallpaper is a disposal item of 1 euro (about 135 yen). Since it is uneasy only with the blue sheet, it is a bubble wrap foam for packing or looks for something in the locality.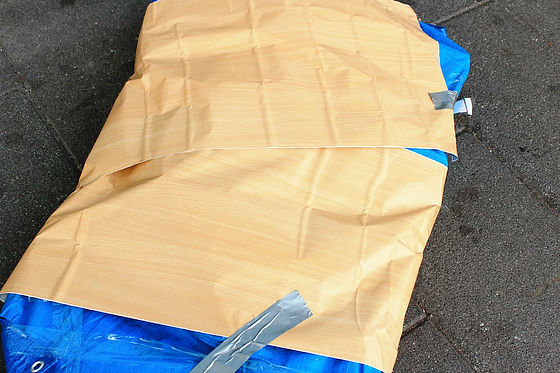 And finished, I wound up with Saran wrap. There are wrapping machines at the airport, but you can earn money by yourself. However, this time Saran wrap I got at the discount store struggled to win with ultra-thin specifications of Funafuna, fluffy.



Finally completed with a vinyl tape wrapped in a gruel. This time, the bag containing the carrying items was big, so I put the handle and the saddle there. Even when packing with cardboard, the procedure is almost the same.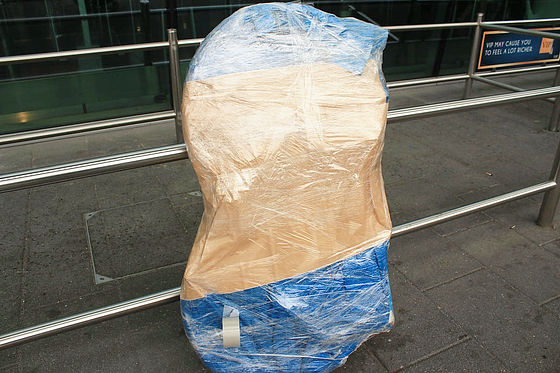 ◆ Packing of carry items
When traveling by airplane, we often divide the bags and luggage into 3 pieces, with backpacks brought onboard, bicycles and other equipment. You can find big bags that are putting items on stalls and other items in any country. This time I bought a large size photo of 3 euros (about 400 yen) at a general store in Dublin.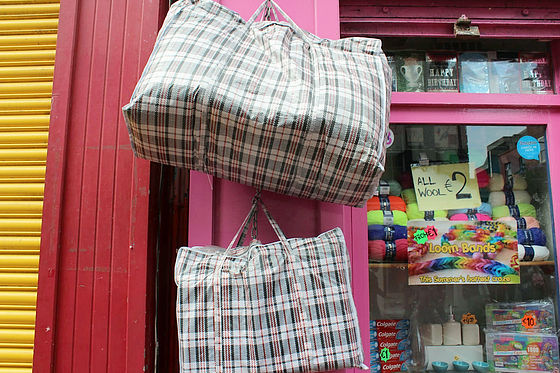 Multi-function tools including knives such as Lezerman and Victorinox can not be brought into the cabin, so please put it in checked baggage. If you do not use bicycle tools such as hex wrench and spanner as checked baggage, you will be forfeited, so please be careful.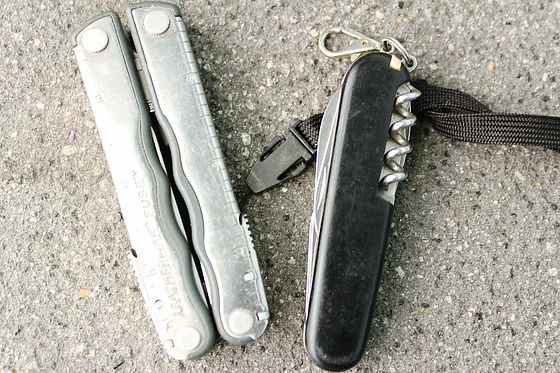 I want to compile it small, so I use it efficiently inside Kochel.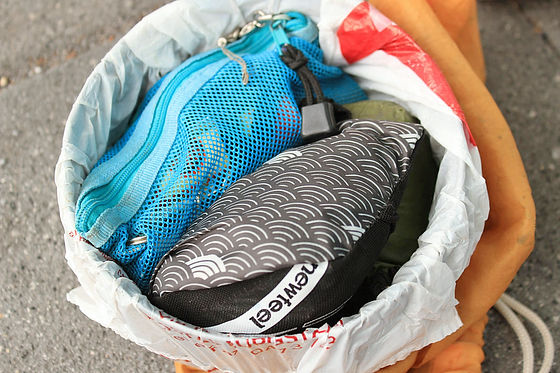 The front bag of the orthorieb becomes Petankanko like this when removing the plastic mold.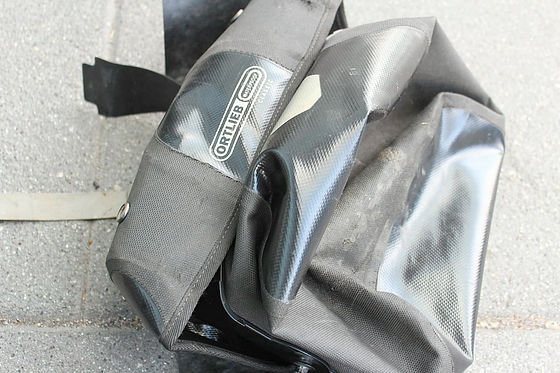 I packed most of the luggage in one rear bag and the waterproof bag on the loading platform.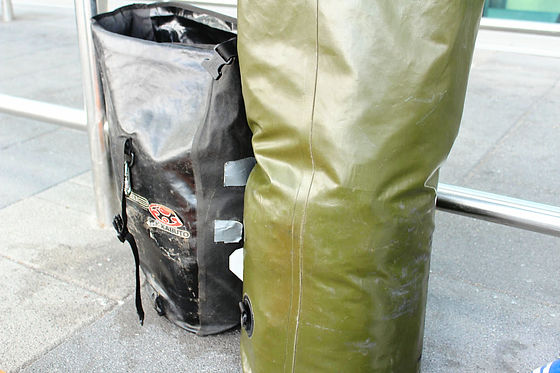 I put these two into big bags. We also put bicycle parts such as saddles and handlebars together.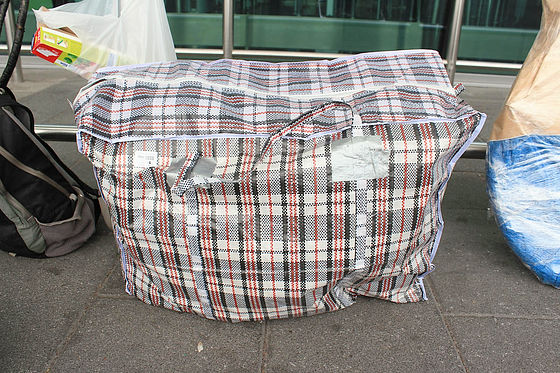 This bag also wrapped in Saran wrap and vinyl tape with a round roll. To keep the end open a bit, to reduce the load when the weight is over.



I put the baggage on the cart and I am ready. While taking pictures, it was about 2 hours work.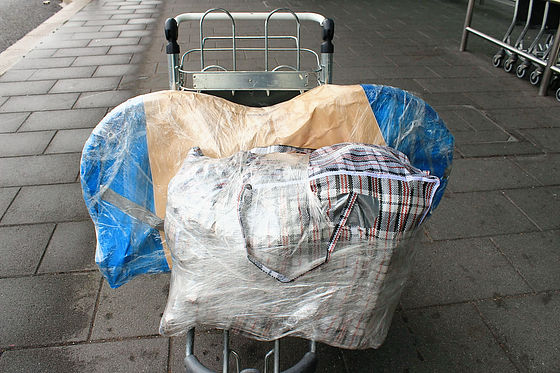 ◆ Check in
And check in of fate. Since we used Etihad Airways via Abu Dhabi this time, checked baggage was free up to 30 kg even for economy class tickets. Ordinarily it will have an upper limit of 20 kg, so this time we can carry 10 kg more. The weight we were looking for suffocated enough is about 2 kg over. The excess charge was a momentum exceeding 5000 yen at 1 kg, so we will throw away items that are not necessary. Although I was made hiyahiya, a staff member permitted me to say "OK, okay?", So I could check in safely.

Excess baggage at check-in is always a problem for cyclists who travel abroad. Many of my friends were making a big mistake and I was forced to ticket my ticket once. Even if the upper limit of checked baggage is 20 kg with a cheap ticket, overweight may exceed 5000 yen per kg per overweight, so please read the upper limit of checked baggage and the request for excess baggage fee beforehand at the official site We recommend. From Japan via TaiwanWhen flew to CanadaThe price system of excess baggage is also profitable, it dared to use it.

Etihad Airways in Abu Dhabi.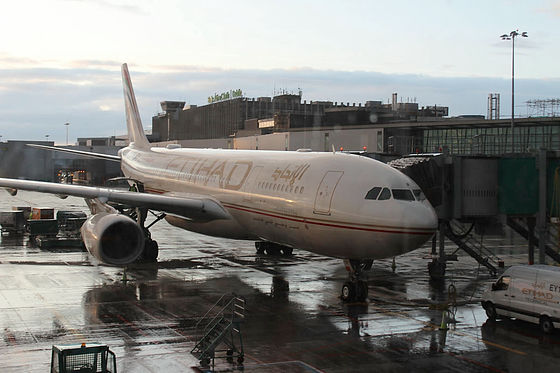 And arrived in Thailand in Southeast Asia. A large bag containing items to be carried with the turntable could be collected quickly, but the bicycle does not come out easily. Lost bag gauge seems to be occurring frequently, and a lot of people were processing the billing process. When I heard that "I can not find my bicycle" side by side, the lady behind taught me that "You, you and I saw a bicycle wrapped in vinyl". Large baggage may not flow into the turntable. I waited there, just seemed to be misplaced, and when I returned to the turntable my bike was placed on the nearby floor. I am relieved without losing my luggage.

Collected baggage.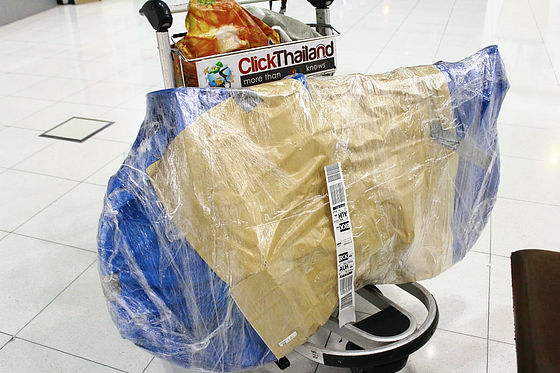 Suvarnabhumi International Airport in Bangkok.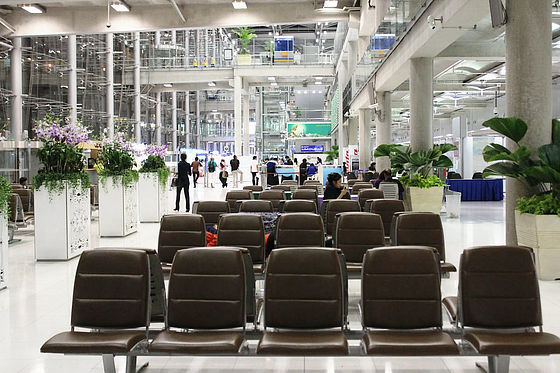 When using an airplane, it moves like this.

◆ Move so far
Flight to Republic of Congo - Kenya. Instead of bicycles, I used corrugated cardboard for home appliances.



Flight from South Africa to Japan. At this time it was Emirates Aviation via Dubai, the upper limit of checked baggage was 30 kg here.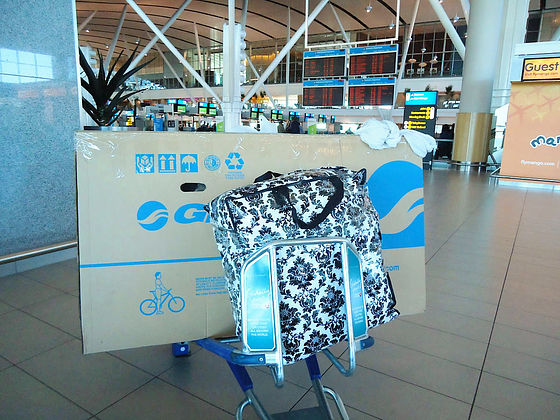 Flight to Japan - Canada. It was also the start of a new journey and packed it properly in cardboard.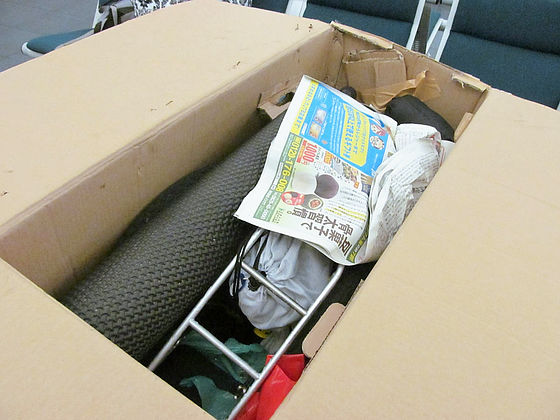 Flight to Panama - Colombia. A large bag was cheap, so we packed it in combination.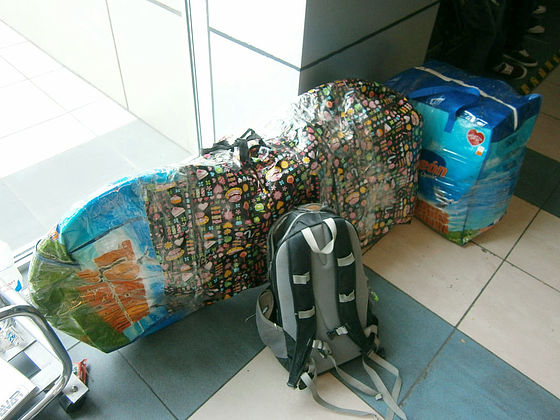 The southernmost tip of Argentina Usuay - the flight of the capital city of Buenos Aires.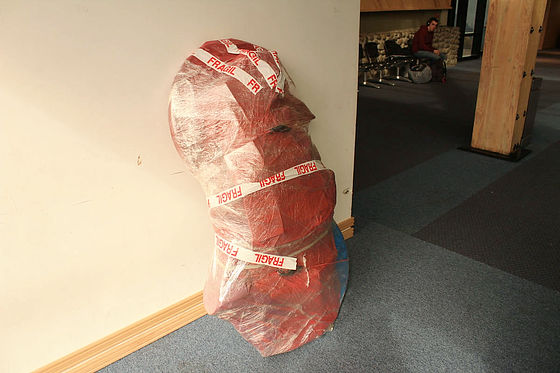 Flight to Brazil - Tunisia. Again the checked baggage is a style called a bicycle and a big bag.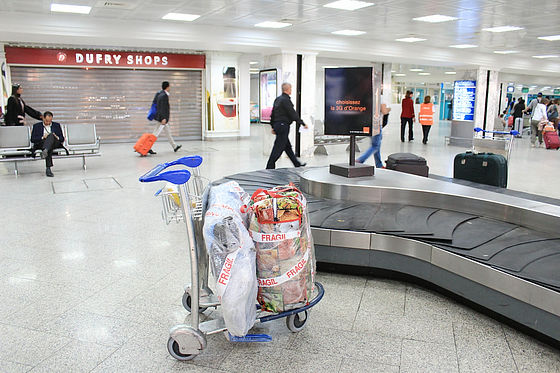 At this time, the handle was also packed with the bicycle.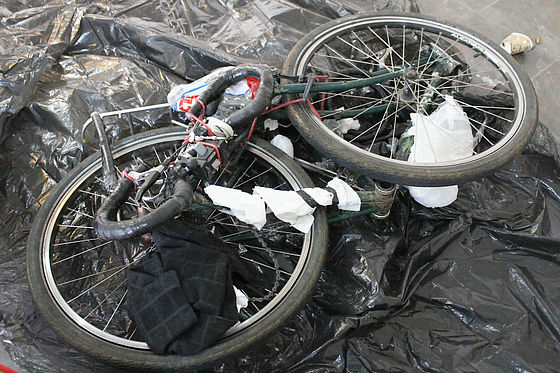 Since I plan to return to Japan temporarily from Bangkok, I also need to pack my bicycle again. At first it may be confusing, but once you get used to it it is not too difficult. There are plenty of interesting places in the world, so if you like cycling, it is fun to bring your favorite car overseas. The plane connects the countries of the world.

(Sentence / photo: Takuya S. Narou Charriderman
Cycling around the world for a bicyclehttp://shuutak.com
Twitter@ Shuutak)