Tested virus detection rate of 18 kinds of antivirus software for Mac, the most detection rate was high?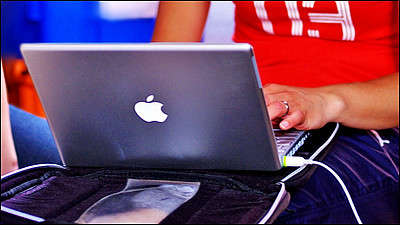 ByTam Tam

As there are a lot of malware tests targeting Android, many anti-virus software tests are targeted for Windows, and there are not so many things that tested Mac OS. thereAV-TESTTested the virus detection rate of each virus software for Mac, and the result was announced.

AV-TEST | Test Results | Comparative tests of antivirus software for Windows and reviews of anti-malware Apps for Android
http://www.av-test.org/en/press/test-results/

Mac Antivirus Test Reveals Winners, Losers
http://securitywatch.pcmag.com/security-software/326903-mac-antivirus-test-reveals-winners-losers

This time we tested the following 18 types of software

·Avast! Free Antivirus9.0 (41877)
·AVG AntiVirus14.0 (4715)
·Avira Free Antivirus2.0.5.100
·Bitdefender Antivirus for Mac2.21.4959
·Comodo Antivirus1.1.214829.106
·Microworld eScan for Mac5.5-8
·ESET Cyber ​​Security Pro6.0.9.1
·F-Secure Anti-Virus for Mac1.0.282 (13406)
·G Data Antivirus for Mac2.30.5095
·Intego VirusBarrier10.8.1
·Kaspersky Internet Security14.0.1.46c
·McAfee Internet Security3.1.0.0 (1702)
·Norman Antivirus for Mac3.0.7664
·Symantec Norton Internet Security5.6 (25)
·Panda Antivirus10.7.8 (772)
·Sophos Anti-Virus8.0.23
·Trend Micro Titanium3.0.1251
·Webroot SecureAnywhere8.0.6.105: 181

Two types of on-demand scan and on-access scan were carried out in the test, and the following results were obtained.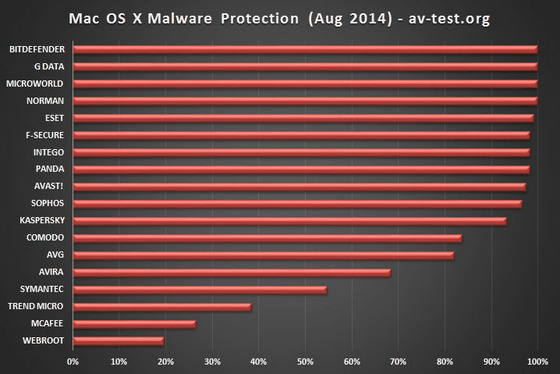 Bitdefender · G Data · eScan (MicroWorld) · The detection rate of Norman's anti-virus software is 100%, and the products such as Eset · F-Secure · Intego are over 90% detection rate. According to Andreas Marx, CEO of AV-Test, it is reasonable if the detection rate is 90% or more, and it is said that it is very effective if it is 95% or more. On the other hand, Trend Micro 's antivirus software had an average detection rate of 38.5% through two tests, McAfee 26.5% and Webroot 19.7%. In this test, there were no products that erroneously detected non-malware software as malware.

In response to this, Patrick Kennedy, vice president of Webroot said, "Although we were disappointed with this result, we have found a bug in software that has recently affected the test results, and the bugs are immediately removed from the item It is a schedule. " Webroot could not scan the content of the archive file in the on-demand test, but also commented that "Next release will add the function to detect malware in the archive file".

Trend Micro representative also said, "We are currently working to detect malware and unnecessary software on Mac, but we do not preferentially use samples detected by users in testing," says Trend Micro. Also pointed out that anti-virus software includes several layers to protect the computer, including those that do not work with simple detection tests. And the tests were held in August but professed as "I promise 100% detection by September 1".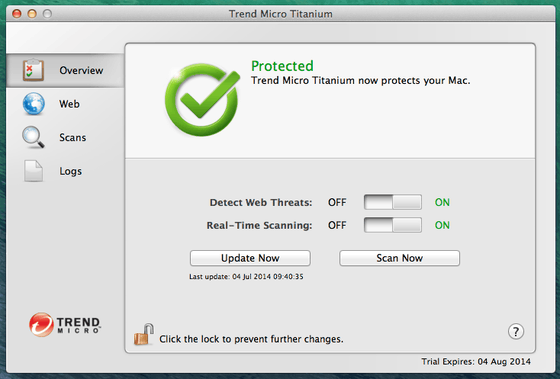 Gary Davis, vice president of McAfee, also pointed out that there is a layer other than simple detection for computer protection and said, "McAfee is concentrating on protecting users from online threats, I acknowledged the results as worthwhile. It took place in JulyWindows XPMcAfee has been doing well with the antivirus test of AntiVirus, and we are planning to make improvements on Mac OS using the test results as well.

According to Marx, "We register 400,000 new malware for Windows every day and 5000 malware for 5,000 Android, but whether malicious program targeting Mac OS has 100 registrations per month," Thing. For this reason, 100,000 samples are normally used for malware tests targeting Windows, but only 117 samples were used for testing targeted at Mac. In viewing the result of this test, we need to consider the small number of samples.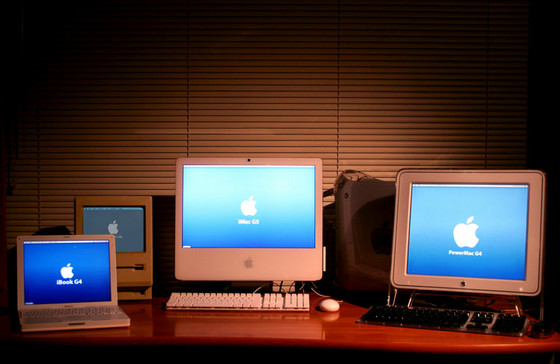 ByMotoyen

As the representatives of each software developer commented on, since anti-virus software uses a method other than simple detection, according to the result of this time, "Software that boasts a detection rate of 90% or more We can not affirm that we can not use things that are excellent, but we can not use it, but it should be improved significantly, at least from the software that received the test result seriously.