"Karakunai!? Knotchiri taste" and "30 types of Spicy Hikari taste" newly appeared, which is not spicy to the new column of Columno.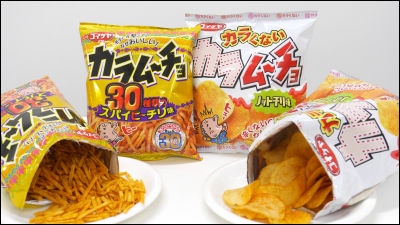 It's as painful as Koikea seems to be saying "He"ColumnoWill celebrate its 30th anniversary in 2014 from the release in September 1984. In commemoration of the 30th anniversary, Koikeya is not painful though it is a columnoLittle color! Is it? Notch taste", Expressing spicyness like Kurashucho with 30 kinds of spices"30 kinds of spicy foodIt's about releasing ", so I actually tried it.

Columno Challenge to the history of 30 years New "Columno" which keeps on the next history "30 types of Spicy Hikari" and "Karakana! Knotchiri taste"
http://koikeya.co.jp/news/detail/513.html

Here is a new product from ColumnoKarakana!? Not knoby taste"When"30 kinds of spicy food"is.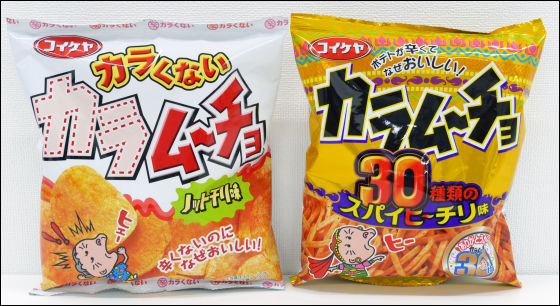 While being in the columno series, "Karakana! Knotchiri taste" which has released a jumping article "not hot". The expectation also increases for the drastic strategy that also leads to "SUPSAMUCHO".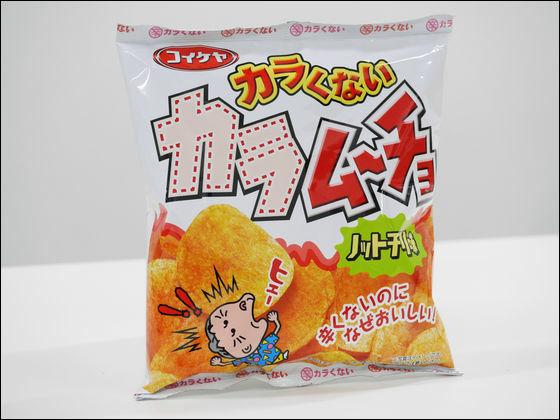 "Why it is delicious, though not painful!" Is the line you want to hear.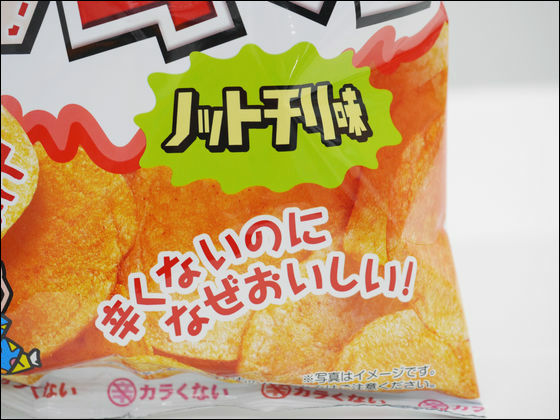 "It's strange!? Knot chili taste" is a strange taste that it is not painful though it looks like a columno.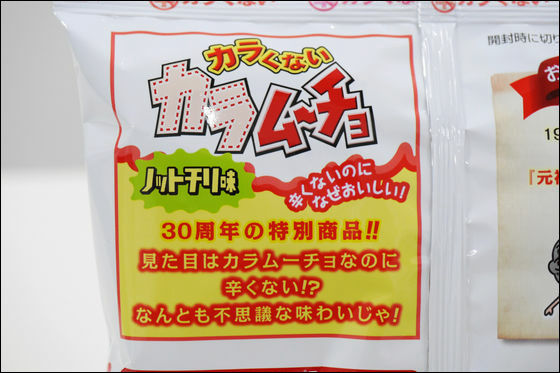 The raw material is characterized by containing Onion, Garlic Powder, Nutmeg Powder etc. The content is 53 grams, and the energy for one bag is 292 kilocalories.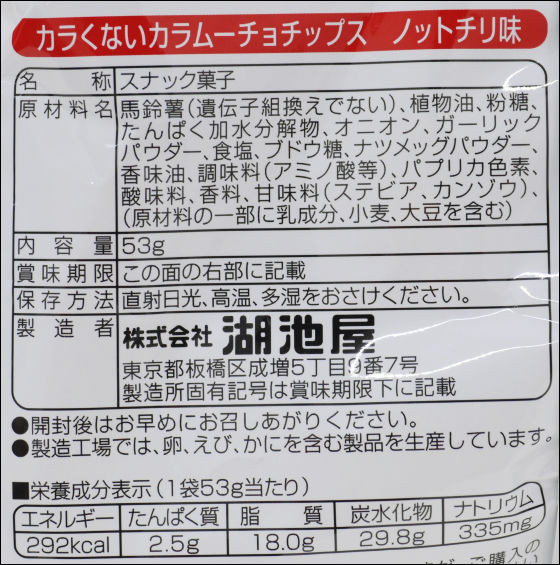 Open the package. Fragrance of potato and oil peculiar to potato chips is felt, and there is little irritation to make you feel hot.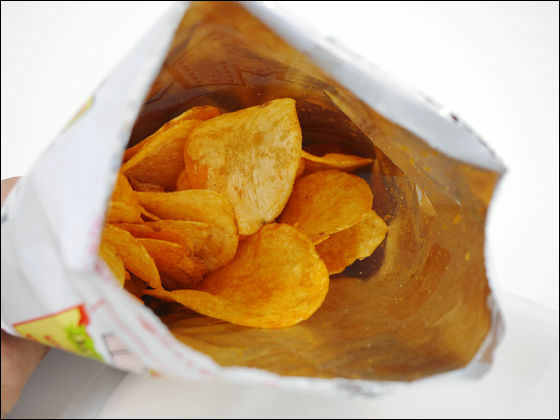 Saka It looks like it is slightly yellowish, and I feel the coloring is close to consommé-flavored potato chips.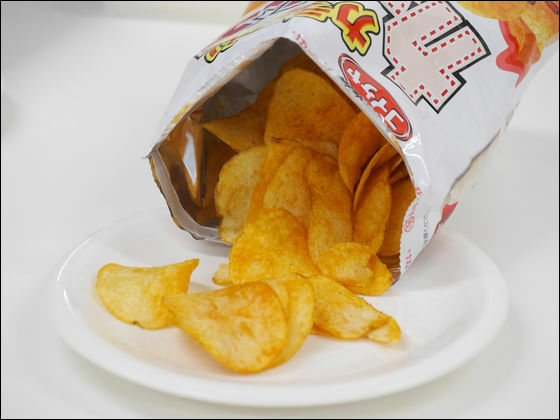 Crispness. Before eating "Consomme?" I had expected, but feeling it is a flavor of garlic. Although I feel a bit of spicyness though "nootchiri taste", although the level of hotness is kept low compared to columnocho, the flavor of potato is more strongly felt in exchange for spicy, it comes from the scent of garlic powder There is sense of body. It feels somewhat familiar to the consommé flavor, but it remained in the impression that it was more dry and refreshing flavor. It might be perfect for beer's snacks etc.



Next, I will try "30 kinds of spicy food". The golden shining package is characteristic, and it is designed to have an ethnic atmosphere somewhat.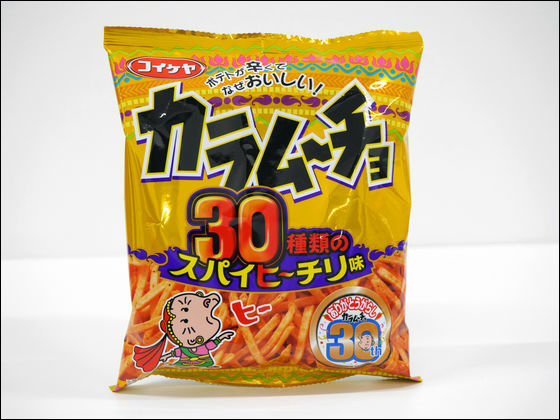 "He grandma" wearing an ethnic costume is printed. Below that there is a note that "This product is a spicy snack using 30 different spices".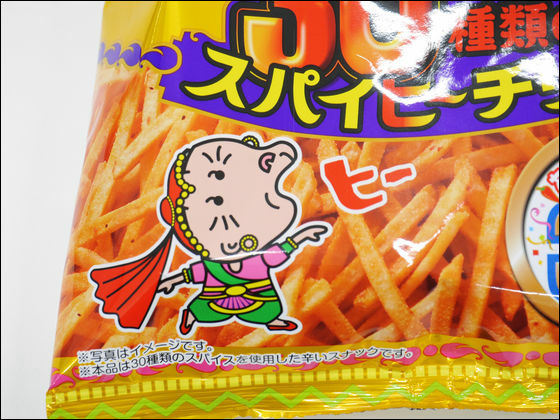 The name of this grandma is "Mr. Tomi Morita", it is said that it is a Meiji woman who was born on March 3, 1877 (Meiji 10).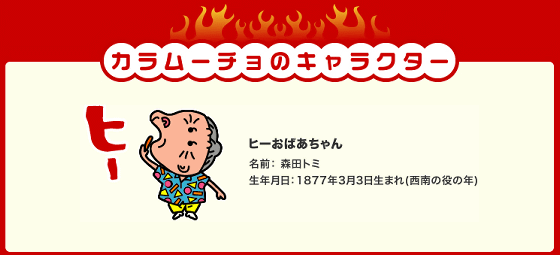 There is a statement commemorating the 30th anniversary if it is an anniversary product.



In addition to potatoes (potatoes), vegetable oils, spices, powdered sugar, etc., curry powder, chicken extract powder, vegetable extract powder and so on are included in raw materials. The content volume was 100 grams, and the energy per 100 grams per bag was 542 kilocalories.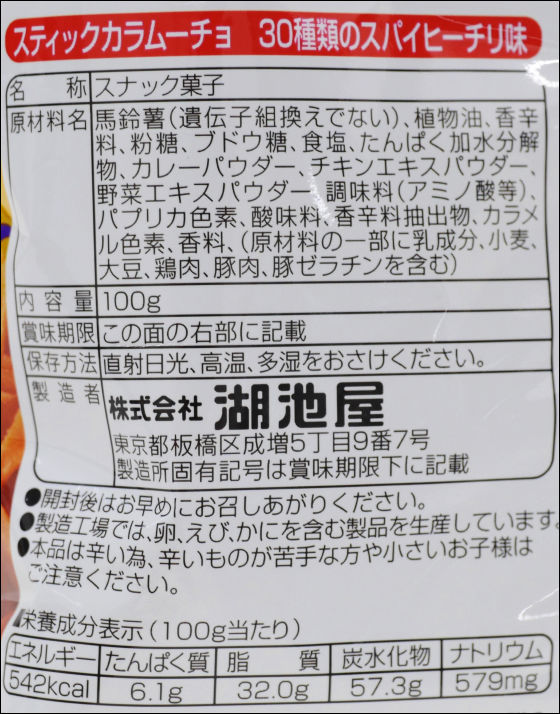 Open the package. I feel fluffy with the scent of curry which is not in usual column-up.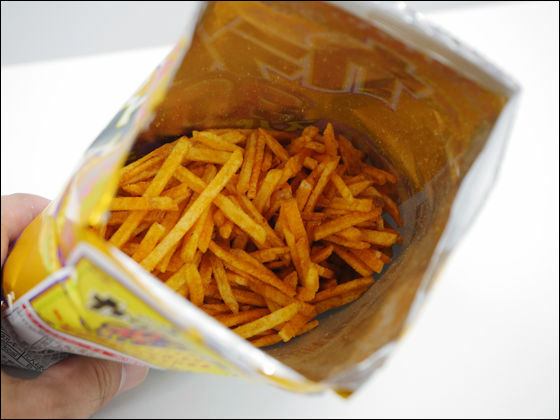 On the plate. Here also looks a bit yellowish strong columno.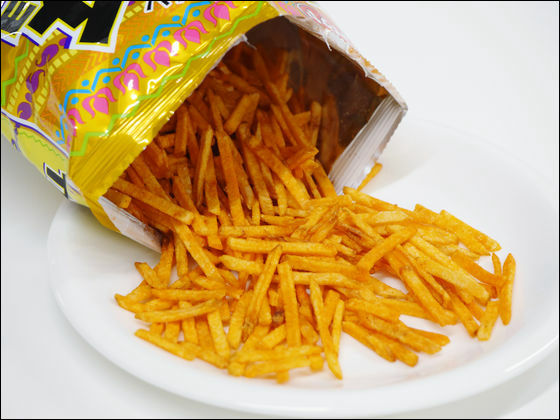 One grim polypoly. Although certainly there is spicy, it seems that spice feeling which does not exist obviously in normal columno is felt. The aftertaste comes with spicy and becomes "He", which is the same as ordinary columno but it seems to be said that the flavor of the moment you put it in the mouth is different. If the spicyness of ordinary columno is expressed as "red", the product here is "yellow." Although it is not strong, it seems to get an impression with a wide spice feeling over a wavy attack.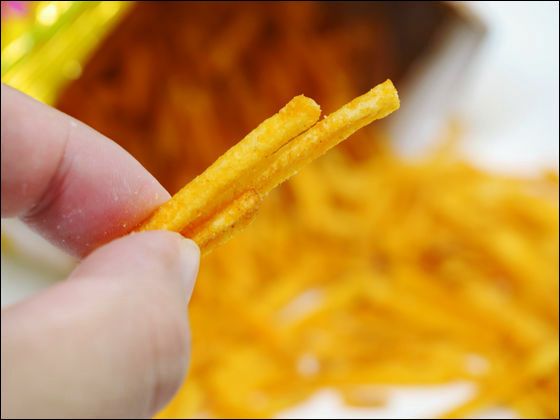 Columno's new product "Karakana! Knotchiri taste" and "30 different spicy food taste" are both open price. "Spiychiuri taste" will start pre-sale at convenience stores nationwide from September 8 (Monday), and from September 15 (Monday) both products will be sold at convenience stores and supermarkets throughout the country .