Live live performance of the final public live broadcast of the live animation 'Mirai Diva', the state of the emergency press conference is like this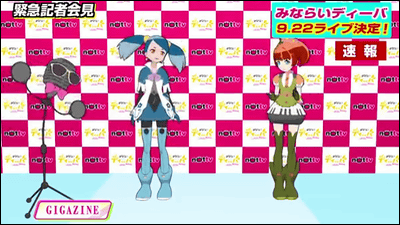 The live animation 'Mirai Diva', which has been broadcast since April, has announced that it will perform a live live in the final public live broadcast. Originally, the name of the production committee was '(* Caution for spoilers) The final episode was a live concert committee', but it has become a reality, not 'maybe'.

Mirai Diva | NOTTV A new anime born from 'Naoki Yoshida is planning with anime'
http://minaraidiva.jp/ (Official website has disappeared)

This was announced in the sixth episode 'Abunai !? Diva's Secret!' Broadcast on August 25 (Monday), and immediately after this, an emergency press conference for the live decision was held.

Mirai Diva 9.22 Live Decision Emergency Press Conference (GIGAZINE Edition) --YouTube

© (* Caution for spoilers) The final round may be a live concert by the committee

Mr. Harune Ui, a miraculous diva who introduced herself as 'I'm fine today.' This greeting is so familiar that the word 'Ui' is flying behind it.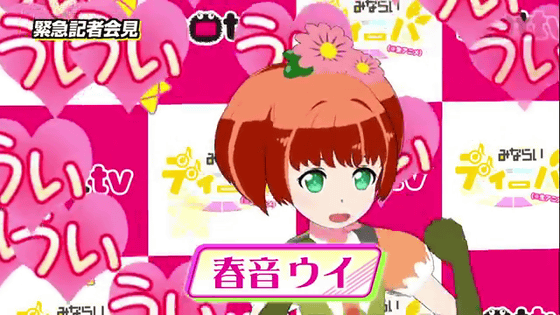 In the same way, Ruri Aoi said, 'I feel like I'm running today.' This is giving out various greetings every time.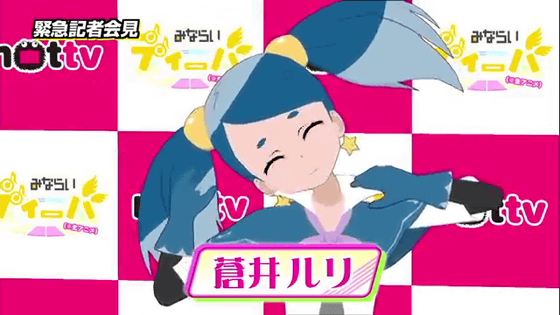 The live will be held at Science Hall in Chiyoda Ward from 20:45 on September 22nd.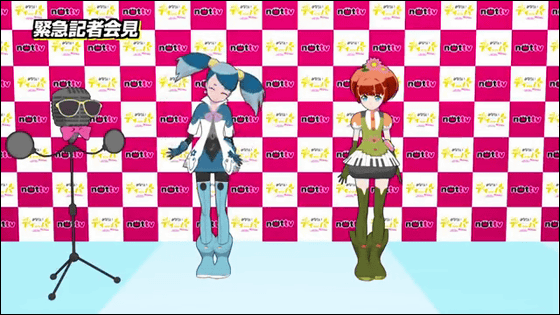 As it was an emergency press conference, some questions and answers were also held.

Mr. Ui is observing human beings as well as writing songs as a diva. It's hard to study when you see someone who is clinging to money, rushing to get married, or bragging about being busy. On the other hand, Ruri seems to see flowers and see 'there are a lot of ants'.

Regarding 'the point that I was able to do well in the number of stories so far that makes me want to praise myself', Mr. Ui said that the two of them put out a butterfly fist without any meeting, but it was breathtaking and effective. The person who made the sound also made the sound at the right time, so I mentioned that it went well. Ruri ate a basin while thinking about the answer, but Ui followed, 'I'm stretching my body.'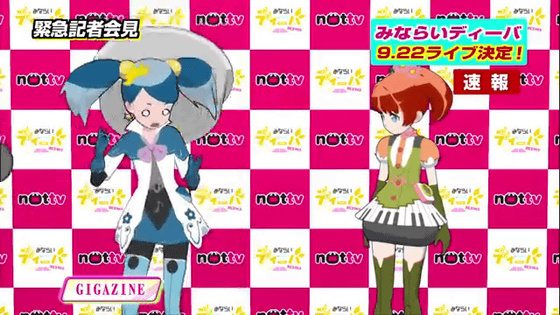 Finally, when I asked him what he wanted to say to the other party because it was decided to hold a live concert, Mr. Ui expressed his gratitude to Mr. Ruri who worked so hard and said 'Let's do our best together', and the BGM was also moving. The atmosphere is ...? .. It is also a must-see how Ruri will tighten after this.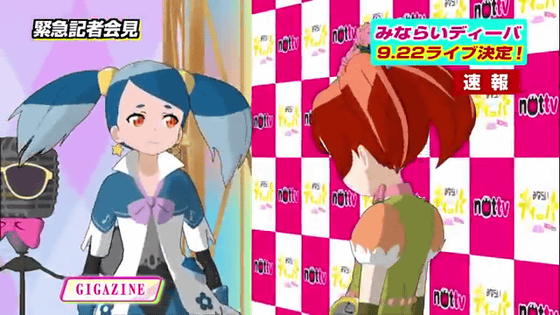 Tickets for the final public live broadcast are being accepted for priority sales at Kyanime.jp, and the price is 4500 yen excluding tax for all seats. The reception period is until 23:59 on September 1, and if there are many applications, it will be a lottery.

[Kyanime.jp] 'Mirai Diva' final public live broadcast ticket
http://special.canime.jp/minaraidiva/ticket/

In addition, a CD (1200 yen excluding tax) containing the opening theme song 'Run Diva Run' of 'Mirai Diva' will be released on September 17, and all five Blu-ray & DVD volumes will be released from October 1. It is supposed to be. As a bonus, the BD will include an underwater digest video showing how the cast works when Wi & Ruri appears in the live animation, a commentary on the cast's dressing room meeting, and a commentary on staff income swearing. The price is 3500 yen for BD and 2000 yen for DVD.

By the way, there are also press conferences for 'Animate TV', 'Newtype', 'KAI-YOU', and 'MATCHA' where the contents of the talks and questions and answers of the two Divas are different, so please take a look.

A message has arrived from 'Mirai Diva' to Animate TV readers! --News-- Animate TV
http://www.animate.tv/news/details.php?id=1409116739

Mirai Diva 9.22 Live Decision Emergency Press Conference (Animate TV Edition) --YouTube


WebNewtype-Harune Ui / Aoi Ruri of 'Mirai Diva' to hold live concert, emergency press conference! !!
http://anime.webnt.jp/news/view/3410

Mirai Diva 9.22 Live Decision Emergency Press Conference (Newtype) --YouTube


3DCG live animation 'Mirai Diva' live live! Infiltrate the press conference (video) --KAI-YOU.net
https://kai-you.net/article/8362

Mirai Diva 9.22 Live Decision Emergency Press Conference (KAI-YOU Edition) --YouTube


'Mirai Diva (* live animation)' dream live live will be held! MATCHA infiltrates an emergency press conference | MATCHA-Web magazine for foreign tourists visiting Japan
https://matcha-jp.com/jp/571

Mirai Diva 9.22 Live Decision Emergency Press Conference (MATCHA Edition) --YouTube