I've eaten 'Hatsukoi Nyanko Parfa' which cats are too cute to look at in the eyes without eyelids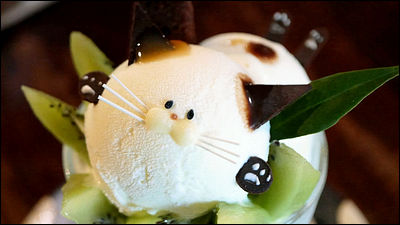 I do not think too much lovefulness when I have a cat in front"Neko-chan !! Neko-chan !!" I want to cry outAlthough it may be, it is the Kyoto · Kamigyo Ward in Kyoto that made such cats parfaitWord of mouth"of"Hatsukoi Nyanko Parfait"is. I tried to eat while I was lazy with adorable parfaits as waste to eat.

Word of mouth
http://www.kotobanohaoto.net/

The address of "Horror of the Word" is 34 Daikokuya Machi, Kagoshima Kyoto City Kamigyo-ku Osho-dori Honcho Nagamachi Subaru.


So, I arrived at the word's head at about 3 minutes walking from the bus stop in Horikawa Shimagamacho.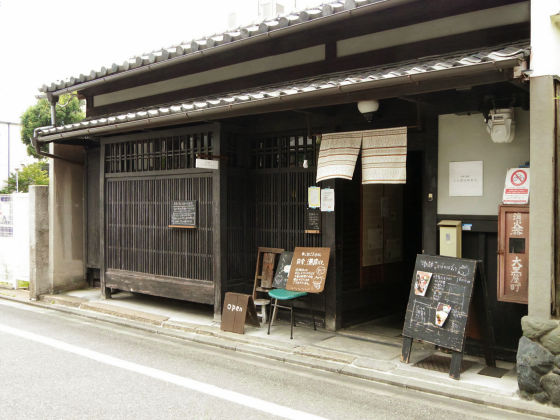 Hatsukoi Nyanko Parfait can be ordered from 13 o'clock, so when I visited around 12:20, I found a signboard full.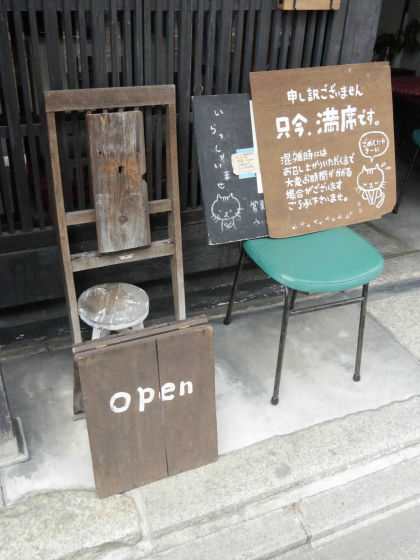 I wait for a while at the chair where the plate called "JR Kyusyu bus lumber town base" is located.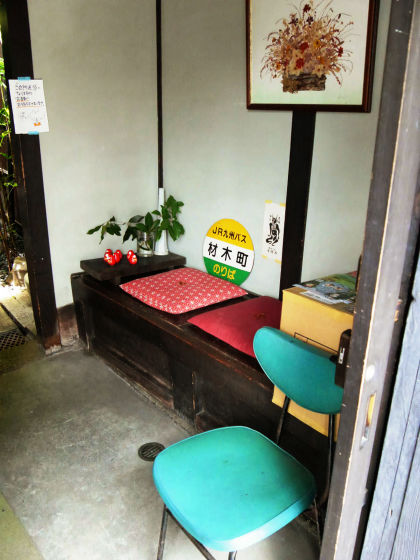 When looking into the inside, the back was a kitchen, and it was supposed to be inside the store from the sliding door on the left side.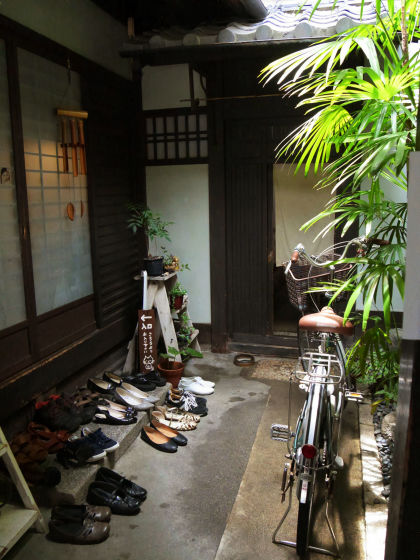 There seemed to be a group guest, waiting for a while and entering at 13 o'clock. The language of the word is a book cafe that used the 150-year-old town house as it is, so the inside of the store is a nostalgic atmosphere.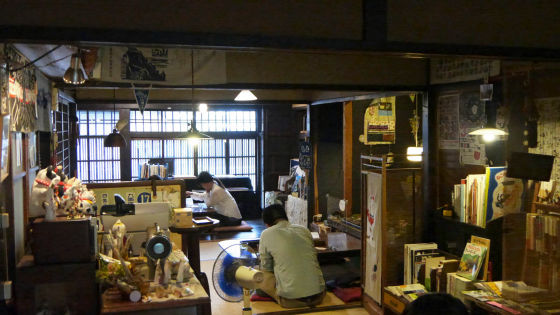 A lot of books are lined up inside the shop because it is a book cafe.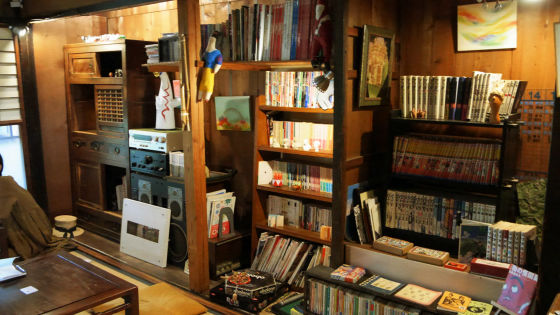 The seat is a cabbage.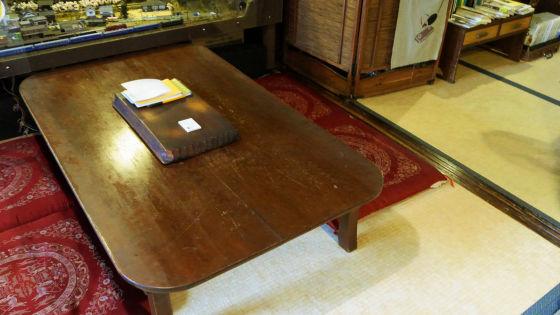 In the shabu-babe there is a card called "Please refrain from speaking with a loud voice so that all guests can relax relaxedly" and the inside of the shop is very quiet. People who are reading books and customers talking in whisper were mostly.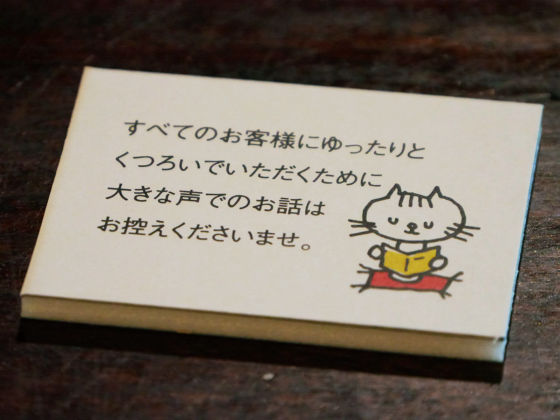 I'll sit down and watch the menu. The most popular word of the word is body-friendly rice plate (1000 yen) sticking to the material of Kyoto ... ...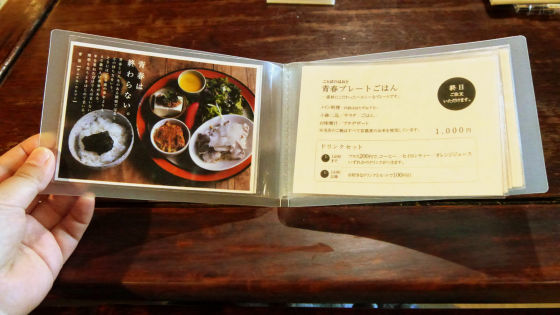 This time I will order Fresh Kiwi 's First Love Nyanko Parfait. It costs 800 yen for a single item, 100 yen for a drink set. The fresh kiwi parfait is a seasonal menu only.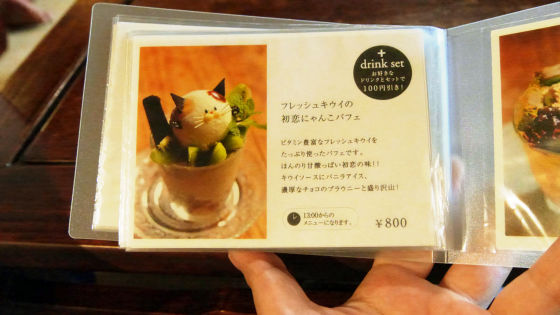 There was a free book on the table, and cute illustrations were drawing in. While waiting for a parfait, you read a book in the shop, watch the free book, or get into a free book ... ...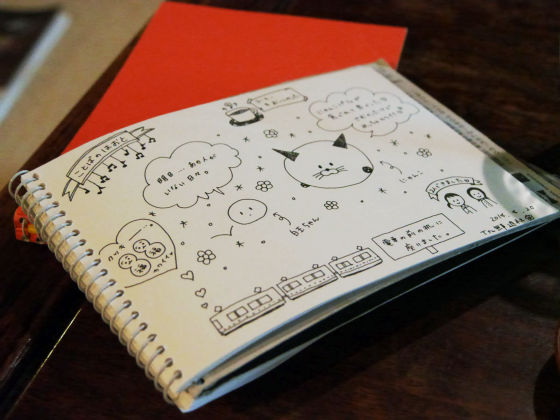 Hot coffee 'Cafe shipyard coffee (450 yen)', Fresh kiwi 's first love punk parfait arrived.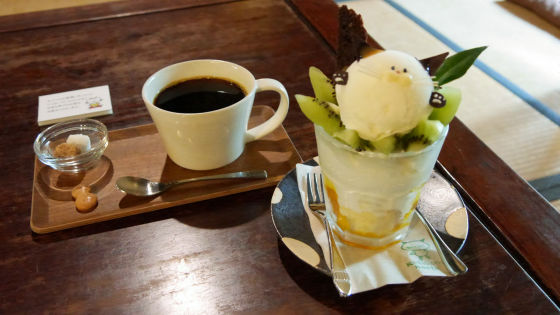 This is Fresh Kiwi 's first love Nyanko parfait.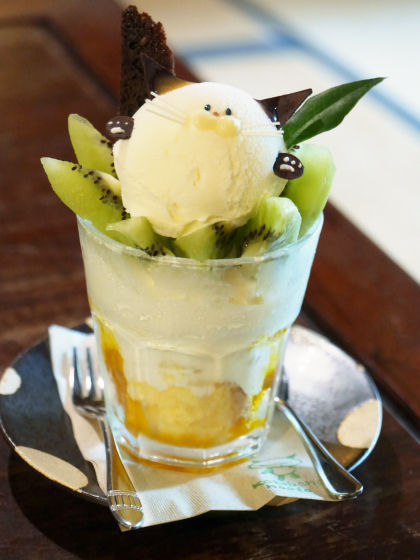 A face is drawn on the umbrella ice cream, and a meat ball on both sides of the face. Unexpectedly "cute!" It is finished enough to shoot and shoot continuously.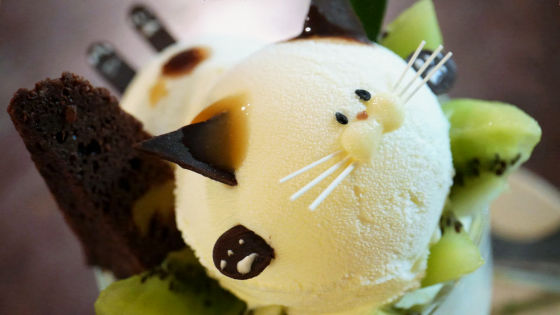 Paws are also hand-painted.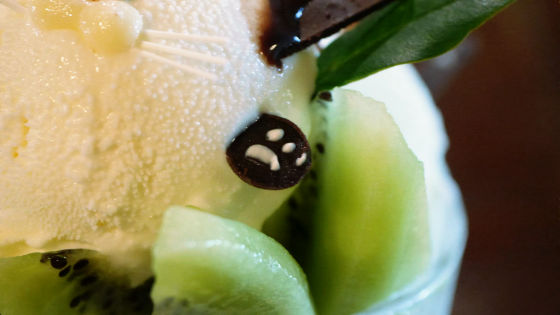 Looking from behind like this. Is the brownie stabbed beside the body a tail?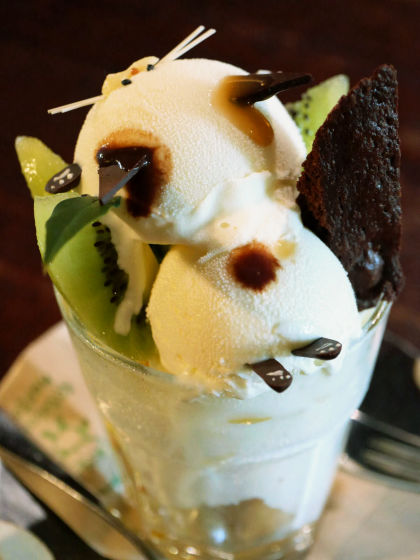 Both legs jump out a little from the buttocks.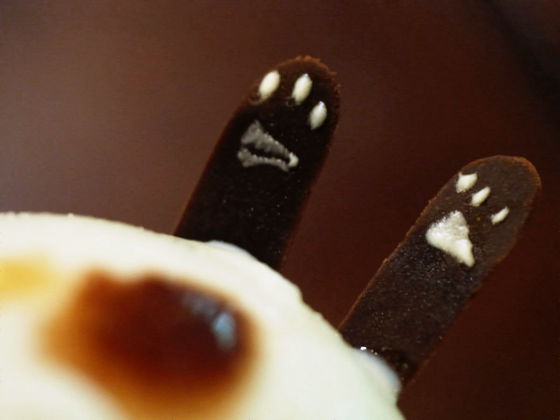 Even if you look from any angle it is perfectly cute.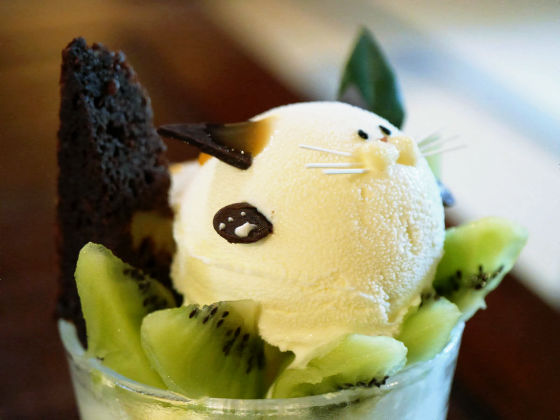 As the surface of the ice gradually turned sweat up when I was hitting the continuous shooting, I thought "yabai" ...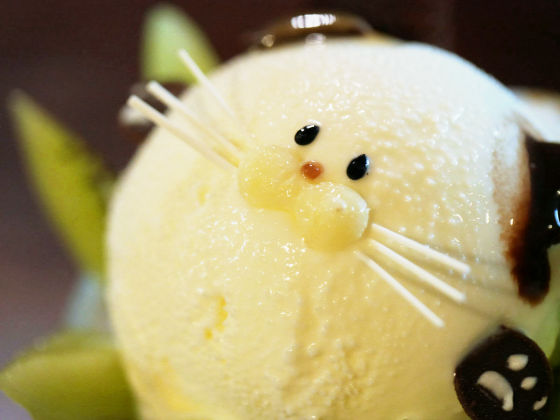 I rush and start eating from the buttocks.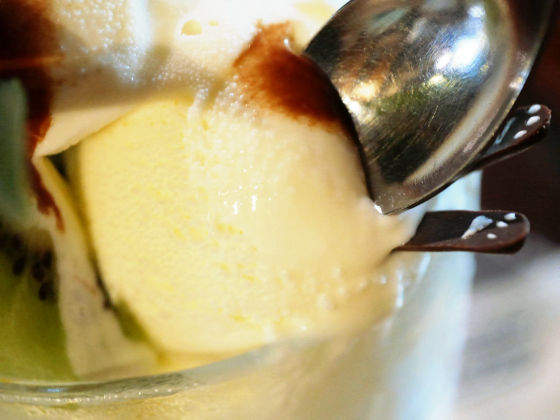 Ice is a simple vanilla taste. Since limbs and ears are using chocolate, we will eat parfait while enjoying polyporized texture.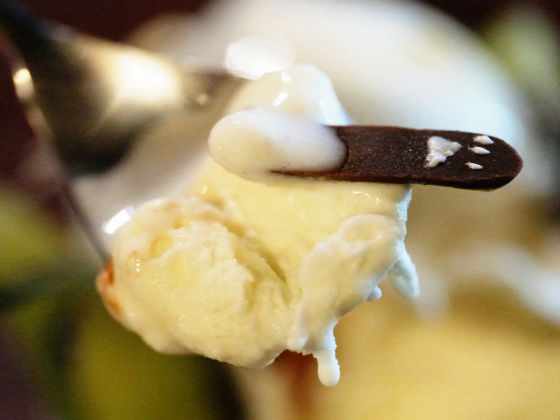 Because the face has collapsed, it is a ca! While shouting in my heart ......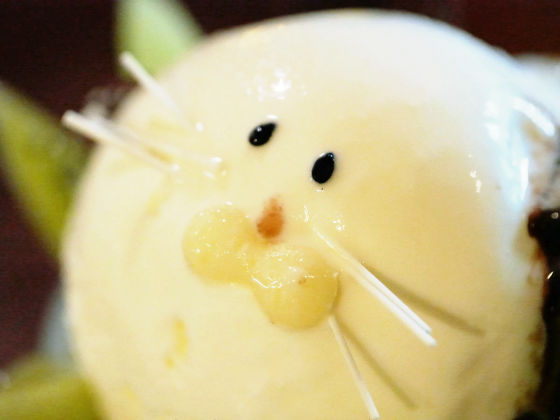 Started the face part.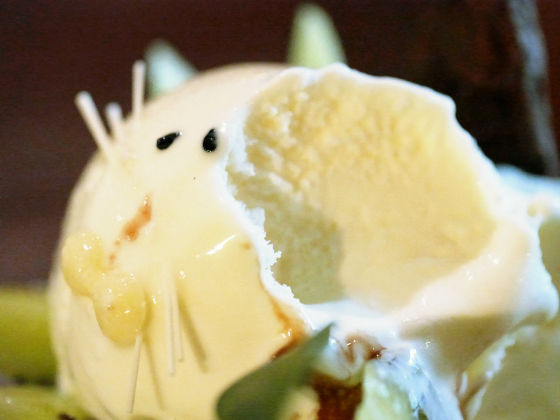 Eyes are sesame, nose is azuki, nose is made of white chocolate, and when you think that there is a texture made with polypoly at the moment you put it in your mouth, beard seems to be made of somen.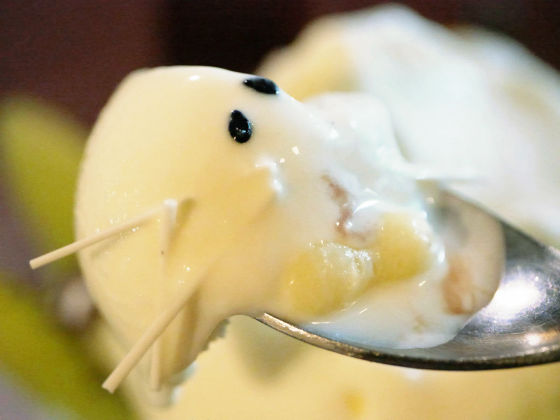 I use a lot of sweet and sour fresh kiwi.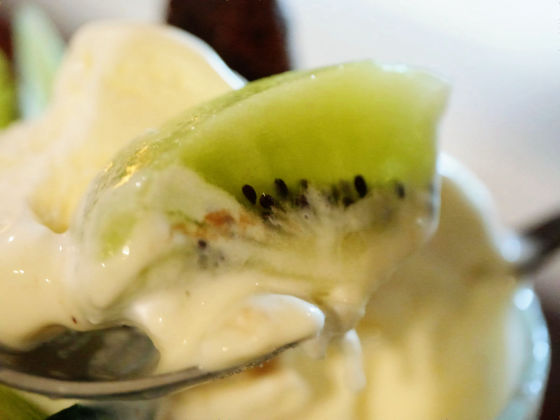 Brownie had a walnut.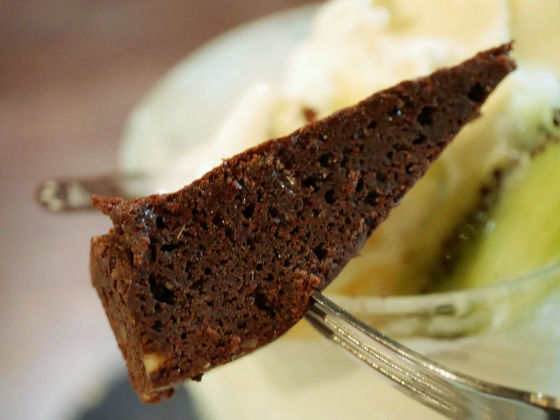 To the bottom ......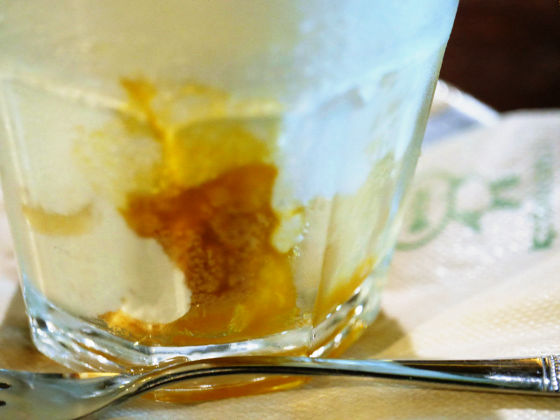 There was whipped cream, sponge cake, banana and so on.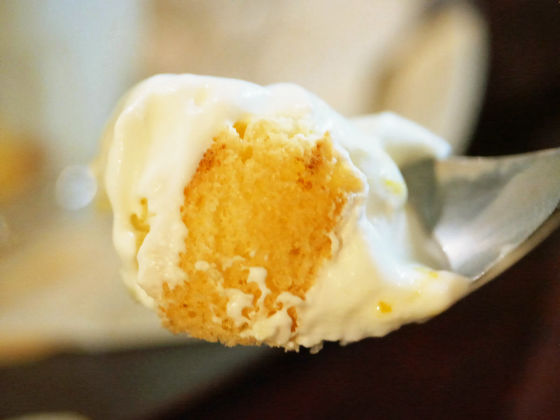 Let's enjoy Nyanko parfait and let's go home ... When I thought that ... the line in front of the shop is still increasing, and it is still full. However, it was a cafe that was too cute to eat even if you wait, so someone who has the chance to go to Kyoto for fun seems to stop by. The opening hours of the store is from 11:30 to 19:30. The regular holiday is Monday · Tuesday.