The fact that "patent troll" occupying 67% of patent litigation accounts for the violence reveals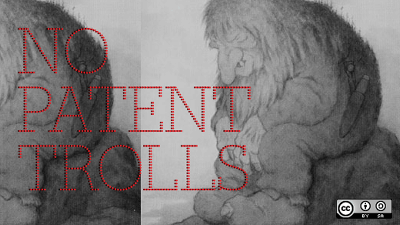 ByOpensource.com

The patent system is a system for protecting rights because the inventor's idea is not illegally used. Acts that make lawsuits for licensing fees or reparations with full use of such current patent system are "Patent · TrollAlthough it is called, it is clear that the lawsuit for patent / troll spending reaches 67% of the total.

Patent trolls now account for 67 percent of all patent lawsuits - The Washington Post
http://www.washingtonpost.com/blogs/the-switch/wp/2014/07/15/patent-trolls-now-account-for-67-percent-of-all-new-patent-lawsuits/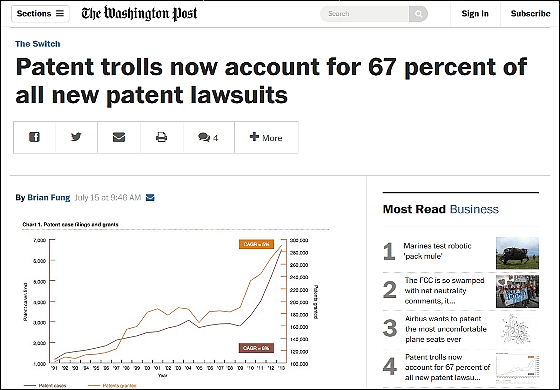 Although Patent / Troll is a major obstacle to the American economy, legislation of the Patent / Trolling Bill was advanced in the early 2014 in the United States, but the legislation was eventually canceled from the difference between the Senate and the House of Representatives It is becoming.

Amid the trend to improve abuse of patents, one of the world's four largest accounting firmsPricewaterhouseCoopersAccording to a survey of the company, "companies and organizations that cause patent litigation despite not producing products etc."NPE (non-patent entity)"The proportion of patent litigation by 67% of the total is said to be proportionate. Since the proportion of patent lawsuits by NPE was 27% five years ago, it is pointed out how patent trolls are violent.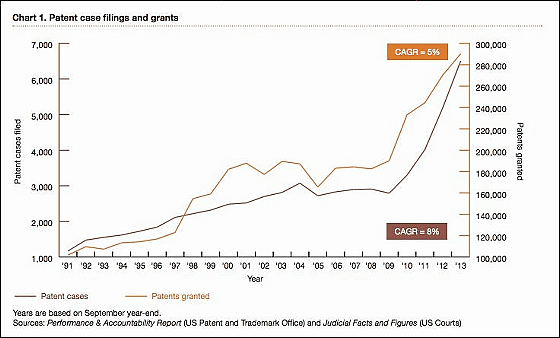 It is currently the case that most lawsuits end with patent / troll victory, and the fact that courts in Texas / Eastern District, where preferred patent and troll judgment is likely to occur, are one of the factors I will.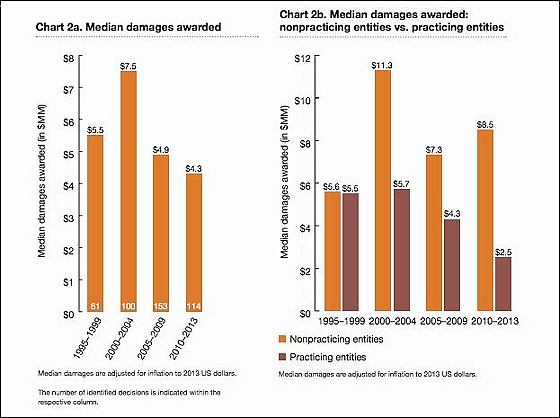 These problems are also seriously grasped by US legislative bodies in the government and are newly known as July 10, 2014 (local time) to suppress malignant patent litigation at the House Committee"TROL Act" bill passedIt is being studied for introduction in the Senate. TROL method is a company that demands malicious patent royaltiesThe Federal Trade Commission(FTC) can pursue, but the standards of 'proof of malice' is difficult and controversy is occurring.
in Note, Posted by darkhorse_log