Python turns out to be popular as a university introductory programming language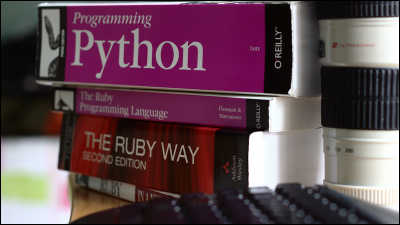 ByMike McCune

"Do you want to get 100 dollars? Do you teach the code?"Homeless asked and succeeded in developing the applicationApp StoreWhenGoogle PlayIt sells at,Computer science such as programming is adopted as a compulsory subject of high schoolIn modern society, programming ability tends to be highly appreciated.

I surveyed the top 39 schools of universities with computer science courses in the US,Python(Python) was found to be most incorporated into the curriculum as a teaching material for beginners to educate programming.

Python is Now the Most Popular Introductory Teaching Language at Top U.S. Universities | blog @ CACM | Communications of the ACM
http://cacm.acm.org/blogs/blog-cacm/176450-python-is-now-the-most-popular-introductory-teaching-language-at-top-us-universities/fulltext

This survey was conducted on free online Python teaching materials "Online Python TutorPhilip Guo who created " In addition to the increase in popularity of Python in recent years, access to his site was showing a clear increase trend over the past four years.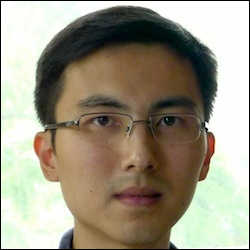 Python shows other popularity as well.Massachusetts Institute of Technology(MIT) andUniversity of California, BerkeleyAt universities that teach computer science of the highest class such as Python as a teaching material of the introductory course, you can get free lecture using the internetMOOC(Massive open online course: Muke) Three major providers (EdX,Coursera,Udacity) Are all equipped with Python courses.

Following this situation, Mr. Guo will investigate the actual state of the language used in the initial programming education. Guo said "The choice of which language to learn at the beginning is the part where the educational philosophy of each undergraduate appears, and the student has a big influence on the first impression that students have in computer science." . The actual conditions in these nationwide highest-class undergraduate departments are regarded as important guidelines in determining future trends.

The investigationUS News & World ReportThe magazine choseUniversities ranking the best computer science education throughout the countryThe data of the top 39 schools were gathered and verified. The result is shown in the graph below. Actually it offers more than one course, so the total number greatly exceeds 39 schools.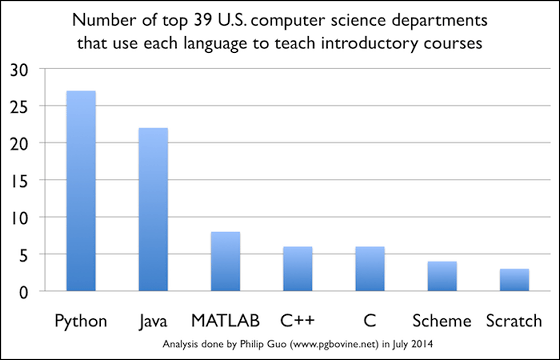 Of the 39 schools that conducted the survey, 27 schools, or 69%, selected Python, and further limited to the top ten schools, it is clear that 8 students are teaching Python. The second place Java has kept the position of top runner over the past decade, but now it is an interesting point that Python is better than that. Nonetheless, Python does not replace Java, there are faculties that have a hybrid system that tells Python in the elementary course and shifts to Java in the next step.

Continue to Top 2MATLAB(Matlab) is a language mainly teaching programming to scientists and engineers' eggs.

And once boasted prosperousC ++(Sea Plus Plus) has been largely drained to the top two and moved to 4th place. In fifth placeC languageAlthough it is contained, it is not taught any longer by itself, it is said that it is incorporated into the curriculum as a correlation with other languages.

ContinueSchemeAlthough it is a language often used in programming education, in the situation that only 4 schools are adopted among 39 schools surveyed this time. It is a highly interactive programming language which was the same number of 4 schoolsScratchIs a language targeting the age group from kindergarten to high school students mainly, so it seems that education at the academy level does not spread much.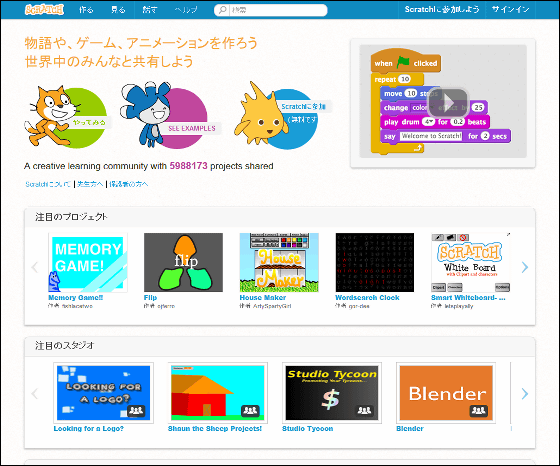 As of 2014, it was a survey to clarify the results showing that Python is becoming a power for a while, but how this will change after 5 years, 10 years later, It is an interesting place.