Until we get a ticket for 990 yen each way from Kansai to Naha by LCC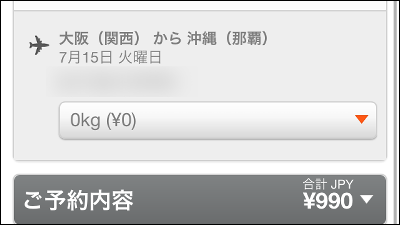 LCC can buy air tickets at a cheaper price than a major airliner, although the inside of the flight is rather narrow, but it is possible to purchase cheap air fares even cheaper at sale even more cheaply. At Jetstar this March 's "Lucky Friday SaleWe have been doing a sale that allows you to board the Kansai / Naha between 990 yen each way. In such sale, access is concentrated on the site, and often cases are difficult to pick up tickets. This time, I finally got a ticket of 990 yen which was limited to 250 seats and tried to record the whole story from Kansai to Naha.

Jetstar | LCC cheap airline ticket reservation · purchase · freight information
http://www.jetstar.com/jp/ja/home

◆ Get a ticket
Lucky Friday Sale began on Friday, March 7, 2014. As it began, access to the site was rushing, and the movement of the site gets fuzzy ....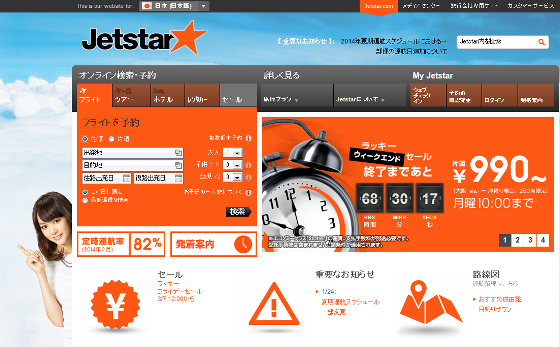 I finished entering "departure place", "destination", "schedule", but I will not move on to the next settlement screen. If the fixed optical line is not good, I tried trying to figure out how the mobile line ... ....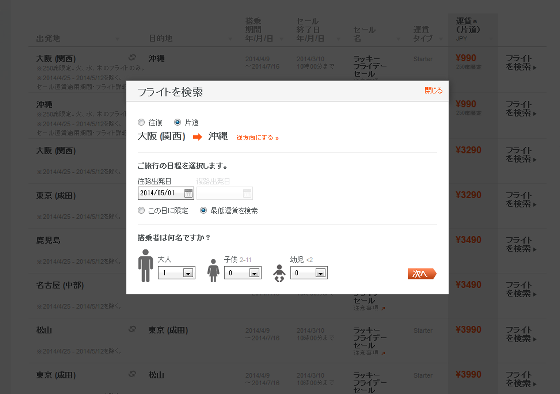 I barely proceeded to the schedule selection screen, but this far. I do not get tickets anymore ....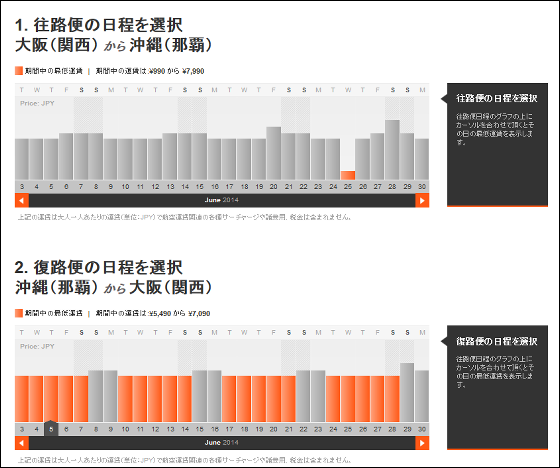 When I almost gave up ticket acquisition, the smartphone that was on the desk got into my eyes and when I tried to access from here, the page was displayed like a lie just like a lie. There was no announcement of "Lucky Friday Sale" on the smartphone version site, but first tap "Flight reservation".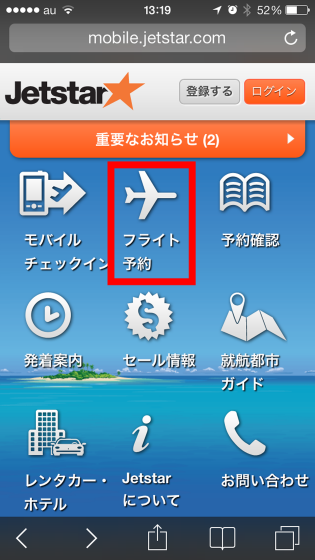 Select between Osaka (Kansai) - Okinawa (Naha) selling 990 yen tickets. This time I will make a reservation with one way.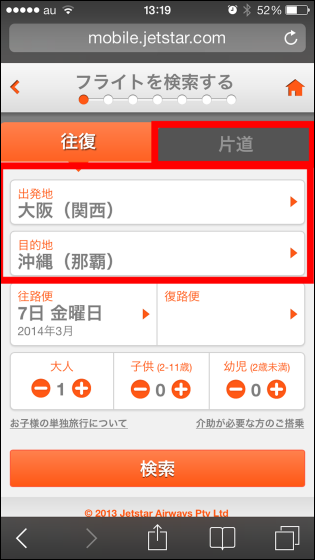 On July 15th (Tuesday) I chose a 990 yen ticket even after more than an hour.



As it is hard to sell out tickets on the way of applying, please enter "name" "mobile phone number" "e-mail address" as soon as possible and advance the screen. Since the commission (420 yen) will be charged at the time of paying the tickets, the total price has become 1410 yen including taxes, but even this is unbelievable enough cheapness. Tap "New Reservation" to advance the screen.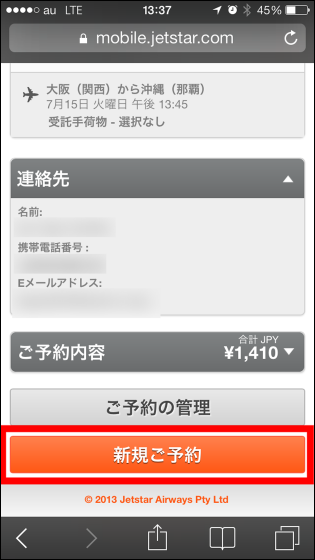 To rush quickly I chose "0 kg" for checked baggage. It is also possible to add it later from the net.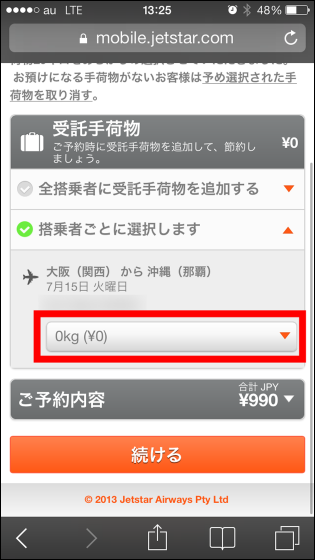 Go to the next screen without specifying the seat specially. The seat where I sat the day was at the window, no one was sitting next to me.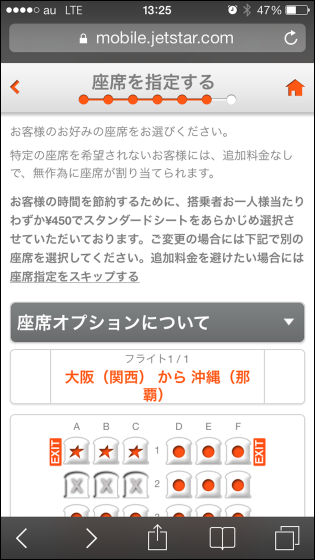 Finally, check "Terms of Service" and tap "Buy".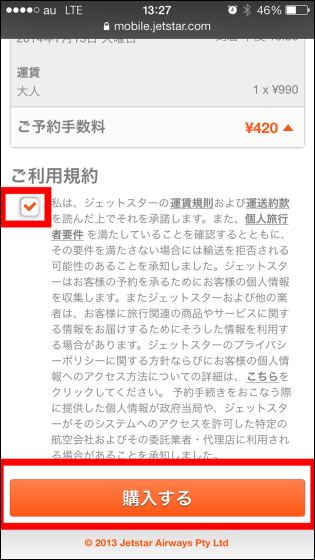 The "reservation situation: confirmation" screen is displayed and the reservation is completed. Tickets from April 9th ​​to July 19th were eligible for release on March 7th, but tickets were sold out quickly from the April reservation. It is best if you can purchase tickets in the reverse section of Okinawa (Naha) - Osaka (Kansai) for 990 yen, but the reverse section was not eligible for sale at this time. I could easily make a reservation via smartphone this time, but perhaps if I use Garakae or each company 's app, I can get a reservation even more crisp.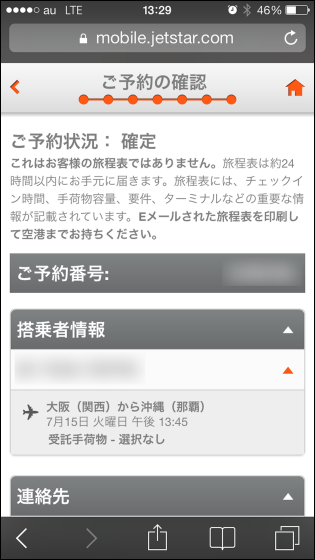 Boarding
As expected it is too cheap to go to Okinawa at 990 yen, so I arrived at Kansai despite becoming a bit uneasy as "I really can fly by airplane ...".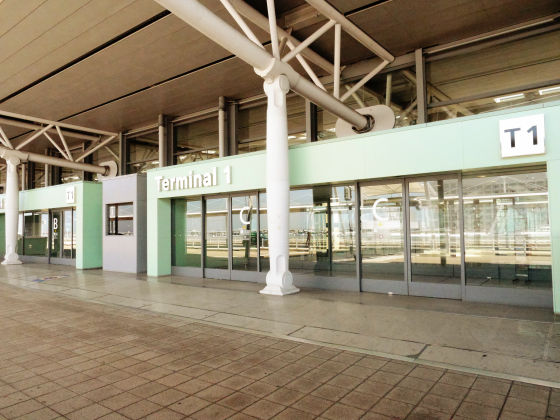 Jetstar reception is at the end of the domestic check-in counter on the 2nd floor of the 1st Terminal.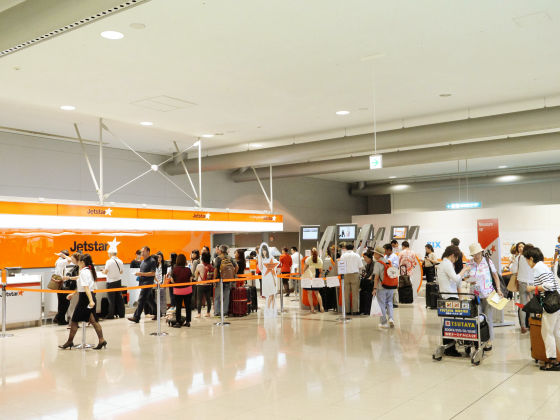 Have an itinerary that you printed out ......



To the front of the ticket issuing machine.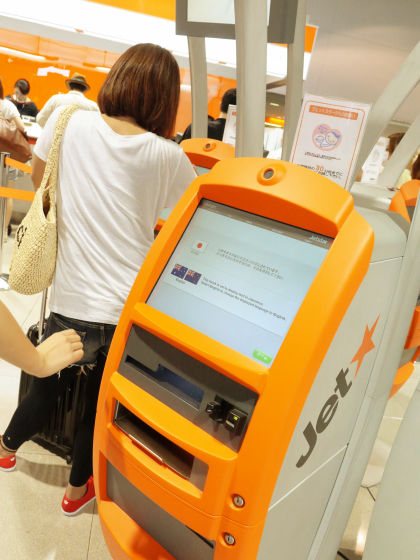 Boarding pass will be issued if you enter "reservation number" or "passenger name".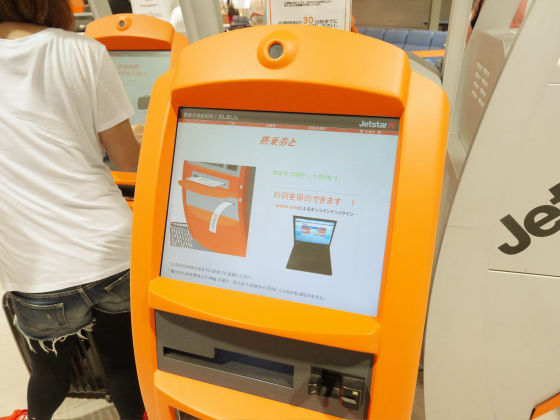 A boarding pass was issued. I can check in online, but I received a ticket and I am relieved for the time being.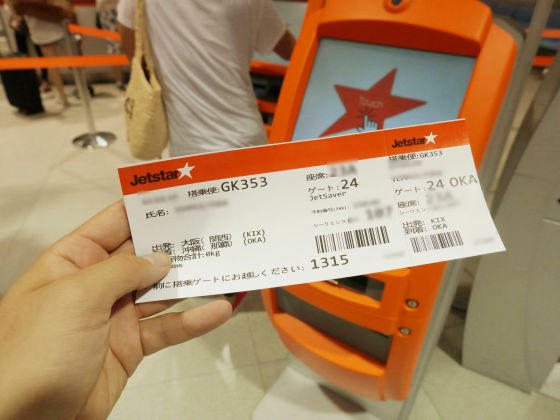 After going through the boarding gate, heading to the departure gate, there were many people heading for Okinawa.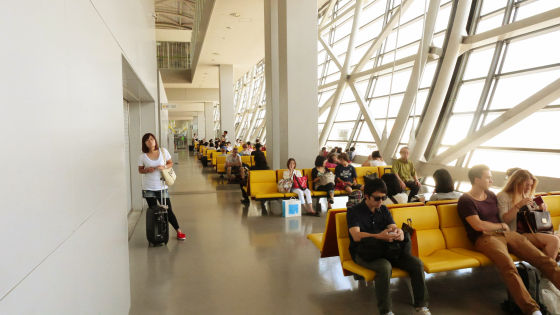 On departure day it was scheduled as scheduled.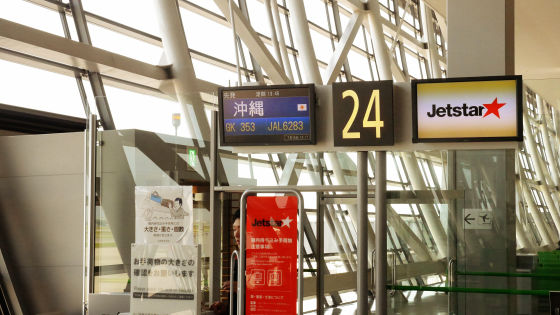 Jetstar airplane got on the other daySky mark A330Compared with other small size.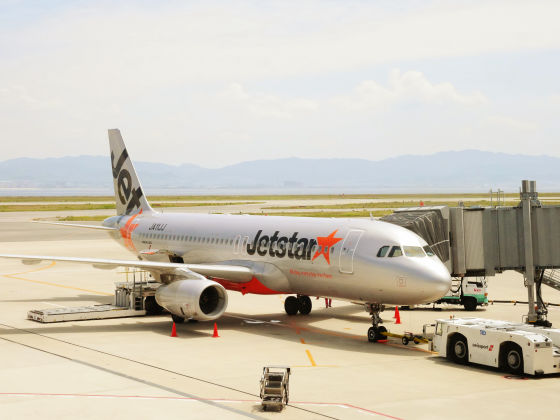 Boarding, boarding.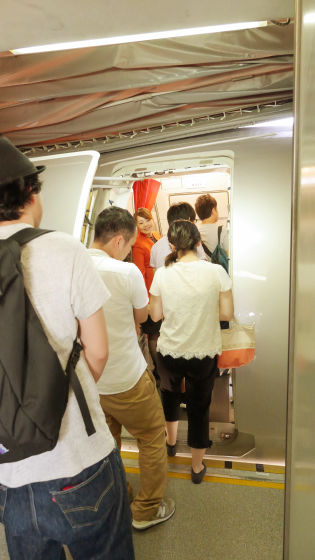 Inside the cabin was a boarding rate of about 70%.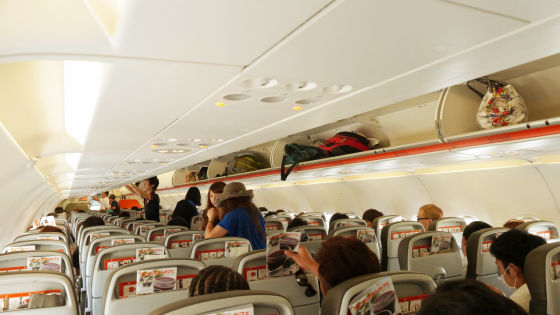 In-flight sales were done when the plane departed on time. Drinks etc were well selling because it was hot weather.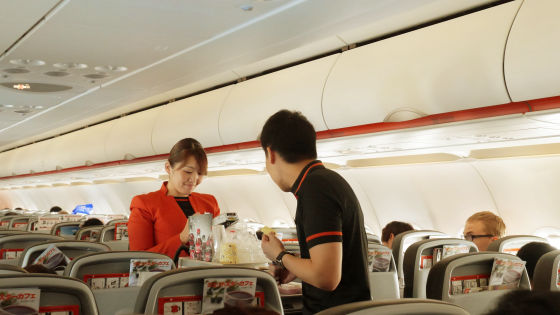 The flight from Kansai to Naha passes over Kochi and Miyazaki, so if you are at the window's seat you can overlook the city from the sky.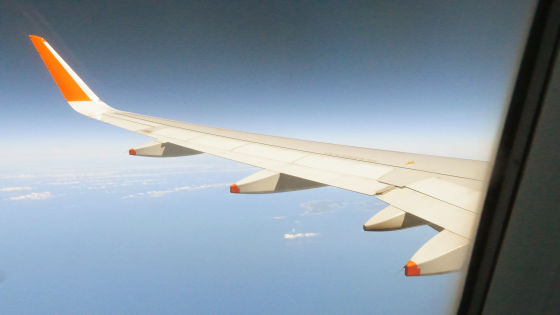 While arriving in Okinawa, I finished my 2 hour flight and arrived in Okinawa.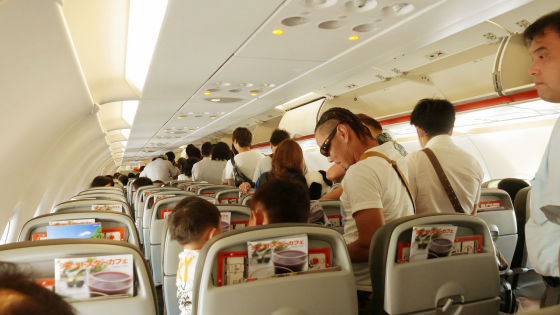 It is rather cramped because the spacing between the seats is rather narrow, but enough considering the price was "a comfortable air travel". People who wish to have a large seat may be able to sit on a large space with extra fee. If it is a domestic flight, the upgrade of the seat is about 1000 yen, so even if you pay additional fee, it is mostly cheaper than major airline.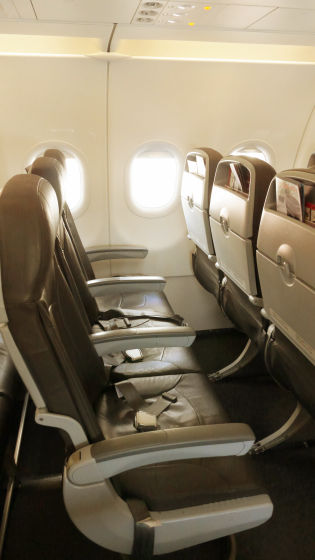 Arrived safely to Naha airport.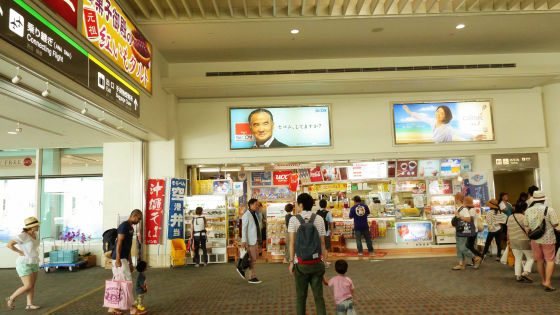 It was the same temperature as Osaka, because Naha of the day was at a maximum temperature of 32 degrees.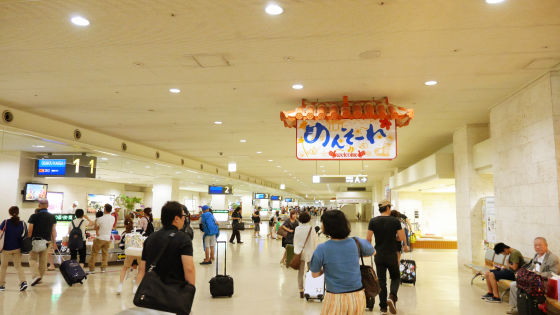 Since LCC companies are selling frequently as advertising etc., it might be better to check each company's e-mail magazine, Twitter, Facebook, etc. Especially when you are on a new line you are selling a lot, so it is especially recommended for those who are vacant a few months later.