The first series serial cartoon cartoon "Bay Max" in Disney history started with magazine SPECIAL, and also the first day before yesterday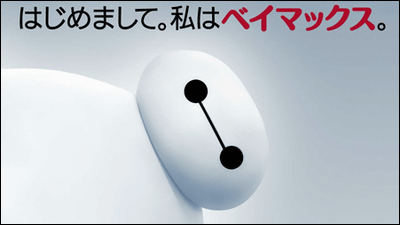 "Frozen"The next work by Walt Disney · Animation · Studio which is hitting a big hit is" Bay Max "released on December 20. This work is an adventure that depicts the bond and courage of 14-year-old boy and care and robot Baymax, and it is decided that the first manga series will be performed as a Disney animation work. Prior to that, "Bax Max [Episode 0]" which was also mangaized the first day of the main volume which is also the first in history will also be posted.

Bay Max | Disney Movie
http://ugc.disney.co.jp/blog/movie/category/baymax/

Hilo, a lonely boy who lost his brother Tadashi who was the beloved existence by a mysterious accident. It appeared before Hiro such as the bulky whitish big body of Bay Max. Bay Max is a care robot that Tadashi made to protect people's mind and body, so that he can also heal Hilo kindly. However, Tadashi entrusted the mission hidden by Bay Max ... ... the synopsis of this movie.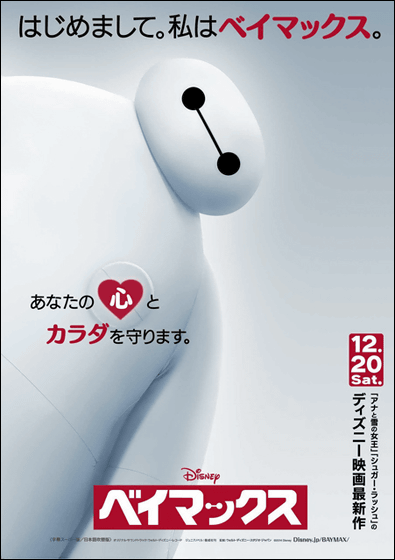 The stage of the work is like a city that combines San Francisco and Tokyo with an imaginary city "San Francisco." The elements of Japan are included as an accent, such as townscape and building appearance, signboard kanji, etc. In addition, the face of Bay Max is designed with reference to Japanese "bell".

Japan's manga was thought to make this "view of the world with Japanese culture wonderfully included" larger. Director Don Hall himself likes comic books hoped to develop manga as "I wanted to convey" Japan's inspired "Bay Max" to the world through [manga] from the beginning. Although single-shot cartoonization such as "Rapunzel on the Tower" "Warley" and live-action movie "Pirates of the Caribbean" series has been done so far, in Bay Max, Episode 0 ", and" Story Manga "in which the previous story is lifted will be held for the first time in the history of Disney.

Working on a manga version is a weekly Shonen Magazine serial series "Phi · Brain's last puzzleHaruo Ueno who was in charge of drawing ". First, episode 0 is posted on Weekly Shonen Magazine 36 · 37 merger number released on August 6, and serialization starts with magazine SPECIAL 9 from August 20.



The movie "Bay Max" is a nationwide road show on Saturday, December 20, 2014, and distribution is Walt Disney Studio Japan.

"Bay Max" Hiro & Bay Max is in soccer! - YouTube


The original title is "Big Hero 6", the original work of the same name by Marvel Comics is a preliminary work, but it is almost a different thing. Japanese subtitles are not attached, but long trailers look like this.

Disney's Big Hero 6 Official US Teaser Trailer - YouTube


Also, the voice of Baymax is such a feeling and the voice of a male who is pretty soft, is Scott Adsitt who is in charge. If there is a dub version, who will be in charge?

#MeetBaymax - YouTube

© 2014 Disney. All Rights Reserved.