A combination of pigs and kimchi is a "fermented kimchi roast pork bowl" sample of iron plate taste review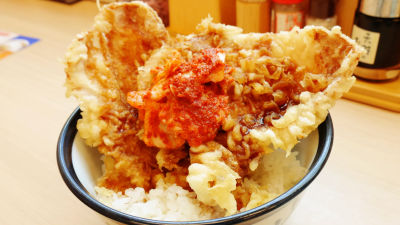 Tanya sold in May "Ginger dahlose pork bowl"On July 3 (Thursday) as the second bullet"Spicy kimuchi rose pork bowlWe released the. It was a combination of swine and kimchi that seemed to be summer like stamina, so I went to eat at once.

2nd bullet Kimchi loose pork bowl (with half-baked egg) | limited time | in-store menu |
http://www.tenya.co.jp/menu/season/season02.html

Arrived at Tenya.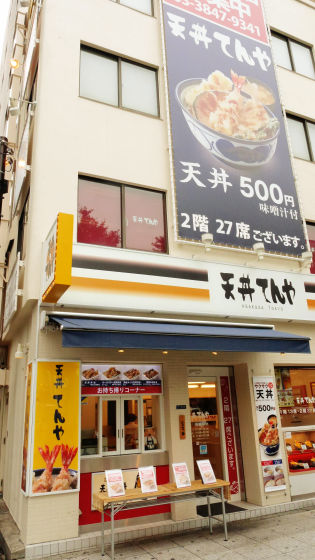 Appeal new products even inside the store.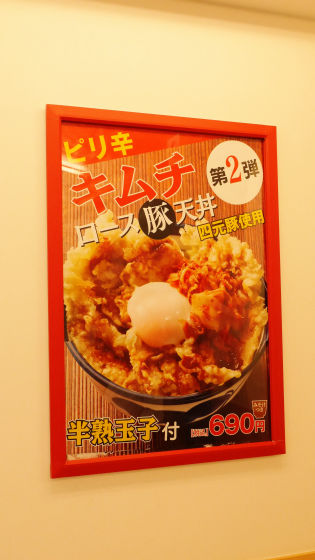 I found a new item in the seat. I will place an order immediately.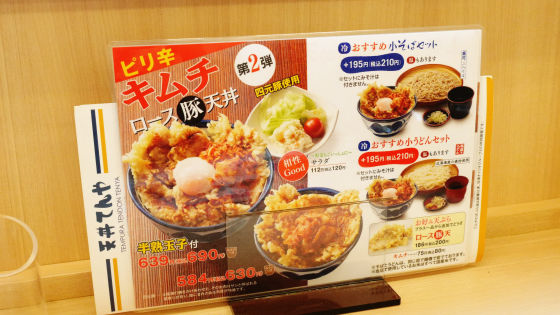 Waiting in less than 10 minutes "Pirate kimchi loin pork bowl (with a half-baked egg)" arrived. Price is 690 yen including tax and miso soup comes with it.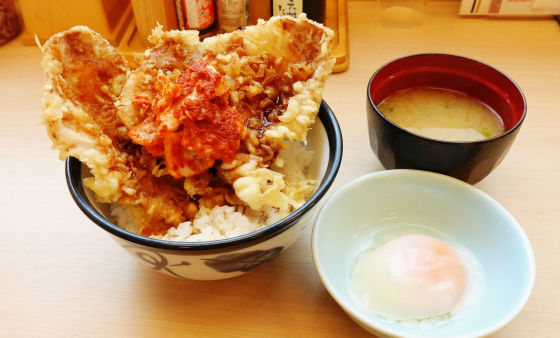 Kimchi is tapped in the middle of a pork kimchi rose pork bowl (with a half-baked egg).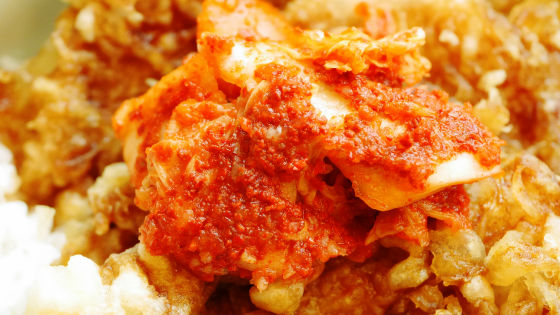 For loose pigs AmericanYuan Hoguse.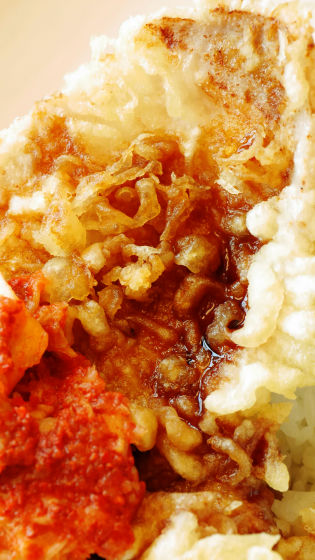 Three pieces of roast pork 's tempura was on and it sticked out of the bowl.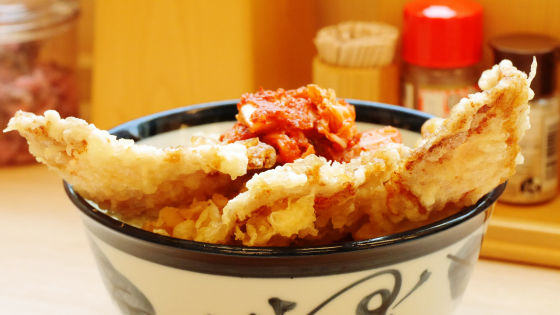 I have plenty of clothes.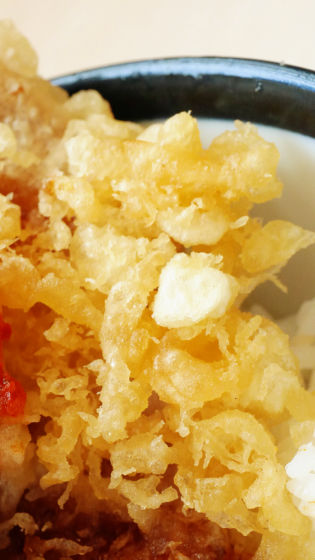 First of all, trying to eat Kimchi only, it is unexpectedly sour taste better than pungent taste. Although umami and salty are somewhat thin, it may be thought of compatibility with roast pork bowl. Kimchi is stronger in acidity as fermentation proceeds, so it seems that shelf life also affects taste.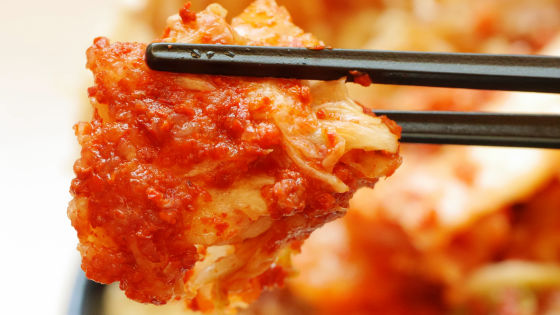 Tempura of sweet clothes pork loin is slightly heavy with clothes and pig fat and compatibility with sauce of the bowl is not bad, but taste slightly diluted. Even if I eat it with kimchi, I feel that it is slightly sweet and salty, so it might have been a bit more dense seasoning.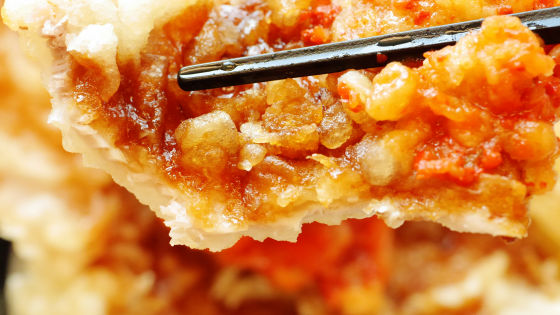 When I eat about half, I will introduce mature eggs.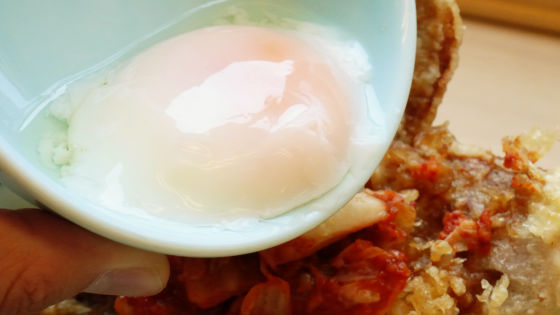 When eating with eggs with semi - egg eggs, the texture of the eggs that were pulped and the egg 's richness are added to make it easier to eat. Salinity and thinness of sweetness may stand out in extra.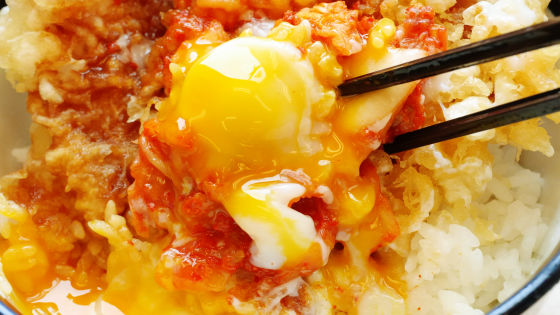 Miso soup comes with a set when eating a bowl of rice in the shop, but it seems that it can be said that quite quality is high if it is free.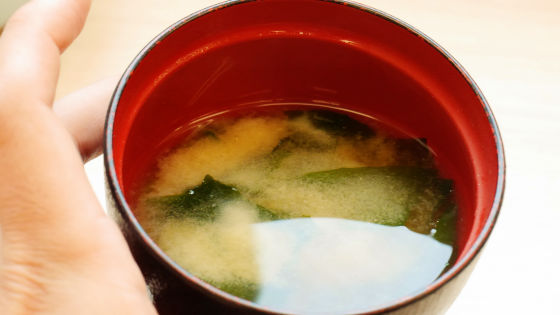 Pirific kimchi rose pork bowl is on sale for a limited time. In addition, the source flavor is scheduled for the next time limited loin pork bowl.