"Holmes is a public domain" and a free judgment is given to it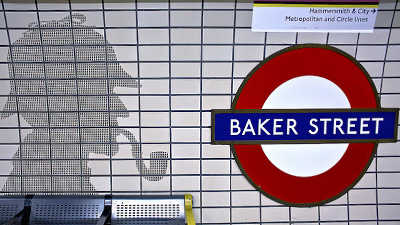 ByBarbara Piancastelli

Novel novel "Scarlet research"And short story novel"Adventure of Sherlock HolmesSpeaking of characters that are widely popular in numerous formats such as TV series, movies, and animation, the honor of "name detective" is also highSherlock HolmesBy the authorArthur Conan DoyleStill died in 1930Charlogian, OrHome GianThe enthusiastic fans called so many studies continue. Such Holmes work is 60 novels consisting of 4 full lengths and 56 short stories, but in a lawsuit raised in the United States over the location of the copyright, "Holmes's work group, except for a few worksPublic domainIt belongs to "judgment was given.

Sherlock is Free - At Long Last! | Leslie S. Klinger
http://lesliesklinger.com/2014/06/sherlock-is-free-at-long-last/

Sherlock lives in public domain, US court rules in case of the heckled brand | Books | theguardian.com
http://www.theguardian.com/books/2014/jun/16/sherlock-public-domain-court-doyle-estate-copyright

This lawsuit was filed by Mr. Lesley Klinger, an American researcher in Holmes, an organization that manages Doyle's copyrightConan Doyle Estate(Conan-Doyle Foundation) "that caused the opponent. Mr. Clinger is a novel based on a series of Holmes works called "gospel (or scripture)" in 2011A Study in Sherlock: Stories Inspired by the Sherlock Holmes CanonAlthough I published it, it originated from the fact that a copyright complaint was made from the foundation at that time. Please note that this group is now Mr. Doyle's deathOperated by clanIt is an organization being done.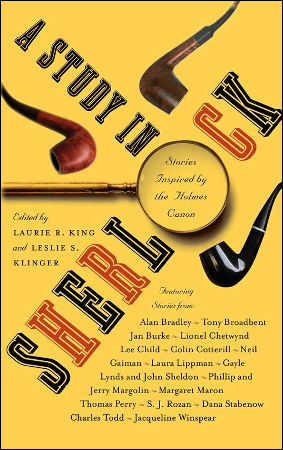 When Mr. Klinger publishes the above work, the Doyle Foundation is Mr. Klinger and a publisherRandom HouseWe asked for payment of copyright fee to Random House, and we paid $ 5000 (about 400,000 yen at that rate) as its usage fee. However, while royalties were paid, Mr. Klinger continued to assert that "Holmes work belongs to the public domain".

Mr. Doyle 's copyright in Japan has disappeared in 1991 and has moved to the public domain, so anyone can freely use the work now, but in America the situation is somewhat different. A short edition published by Mr. Doyle in the later year "Case book of Sherlock Holmes"Of the works included in 1923 or later, the copyright remains for the maximum of 2022 until the year of publication, and the publication permission of the work related to the Conan-Doyle Foundation that manages the copyright is obtained It is necessary to pay the thing and the copyright fee. Furthermore, the foundation insisted that there was a copyright in the works before 1923 because of the fact that the foundation is "a work by Mr. Doyle who still has copyright" and he has not admitted free reuse There is a background.

After that, Mr. Klinger newly influenced the work of Holmes "In the Company of Sherlock Holmes: Stories Inspired by the Holmes CanonAfter publishing "Doyle Foundation" again, I received a message requesting payment of copyright fee, but refused this time this time. Then, if the foundation does not respond to the payment of the copyright fee, it acted to put pressure on the bookstore selling books.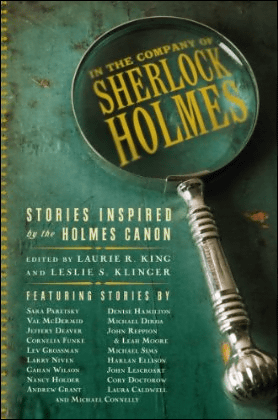 In response to this foundation 's action, Mr. Clinger gets a lawsuit against the foundation as "it violates US copyright laws". On Mr. Clinger's blog on February 25, 2014, "50 copies excluding 10 works since 1923 already have their copyrights extinguished and they have shifted to the public domain and Mr. Holmes and Mr. Watson Since the figure of a person in the story has been drawn in detail in 50 works already copyrighted, it is free to reuse, "the circumstances leading to the lawsuit are briefly summarized.

Suing the Conan Doyle Estate | Leslie S. Klinger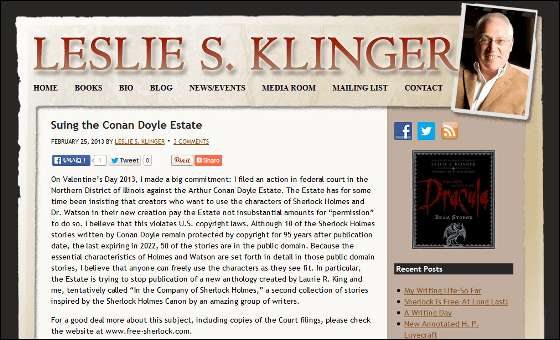 In response to this complaint, the Foundation says, "Because Mr. Holmes and Mr. Watson's portrayal have evolved over the last ten works, the first 50 works are not drawing a perfect figure "Asserting the validity of making all Holmes works subject to copyright. But the court admits Mr. Clinger's claim as "the logic that Mr. Holmes and Mr. Watson's personality will evolve to the end" will lead to reviving the copyrights that have already disappeared " I made a decision.

(Judgment text · PDF file)- klinger - 7th - circuit - opinion - c.pdf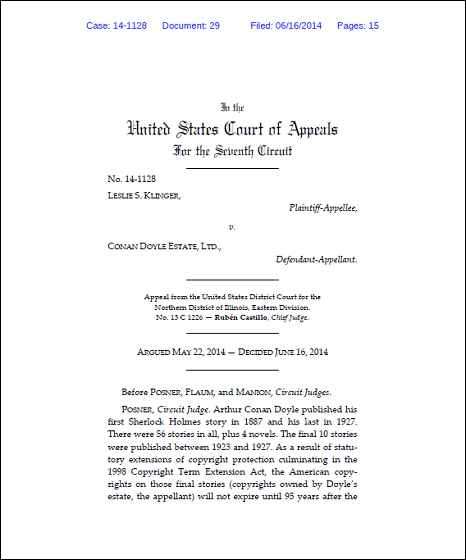 Mr. Klinger talks about this judgment "I am extremely satisfied," as well as showing my willingness to publish my next work this autumn, "At the same time, energy for writing comes up from love for 60 works by Mr. Doyle We are expecting that judgment will stir up motivation for many people as well, "he says hope for creation from creator who loves Holmes work.

In addition, the Doyle Foundation has said that it has not decided whether to appeal yet.
in Note, Posted by darkhorse_log