I bought "Shinjuku Nakamurayadu supervised red curry twister" and "red hot chicken" at KFC and tried it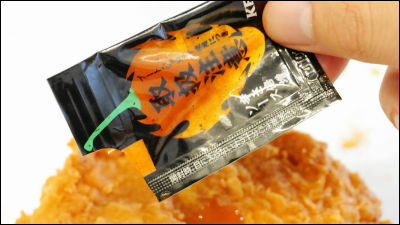 Kentucky Fried Chicken will release a hot menu every summer, but this year from Wednesday, June 25Shinjuku NakameyaSupervised by "Red curry twister"When"Red hot chickenWe released the. Red curry twister is used by Shinjuku Nakamuraya's commitment curry, and Red Hot Chicken is limited to 100 stores each "Spicy doubling sourceI went to a shop and ate and eat it because I was able to eat it with a stick.

Use spicy red curry sauce supervised by "Shinjuku Nakamuraya" Spicy delicious and rich blend well with summer "Red Curry Twister" New release on June 25!
http://japan.kfc.co.jp/news/news140618kfc.html

It is loved for 10 years. Seasonal Limited Dry Menu "Red Hot Chicken" perfect for hot season released on June 25! To celebrate the 10th anniversary from the first appearance, 1 piece of "Red Hot Chicken" is sold at 230 yen (tax included) of 10% OFF for a limited time from June 25 to July 23!
http://japan.kfc.co.jp/news/news140611kfc.html

Arrived at Kentucky Fried Chicken.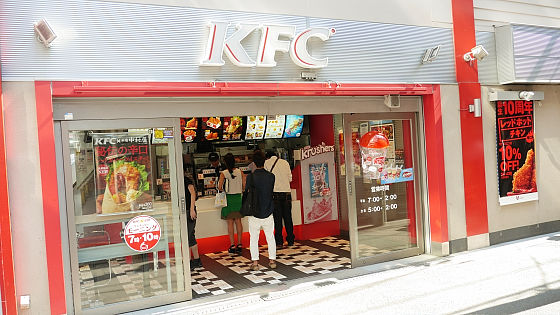 On the left side of the shop "Red Curry Twister"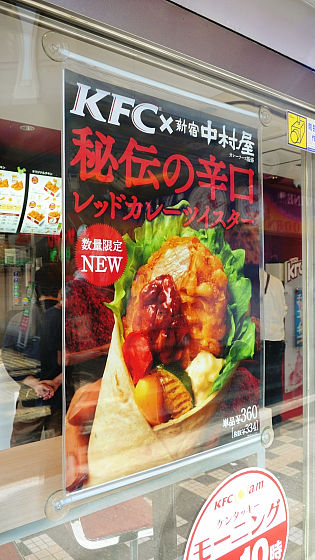 A poster of "Red Hot Chicken" is stuck on the right.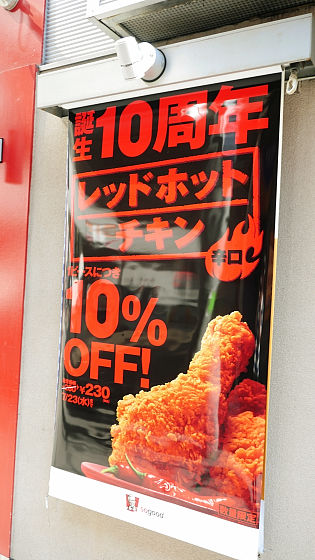 There was also a new product at the center of the cash register menu.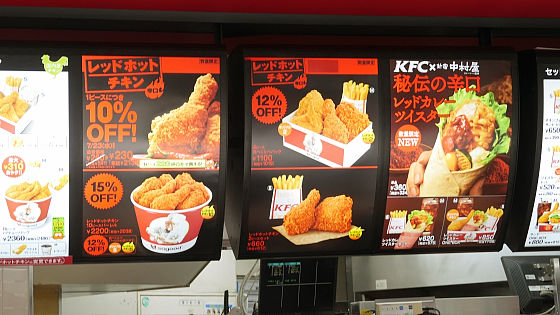 Also selling hot spicy dedicated sauce for Red Hot Chicken. I will order it at once.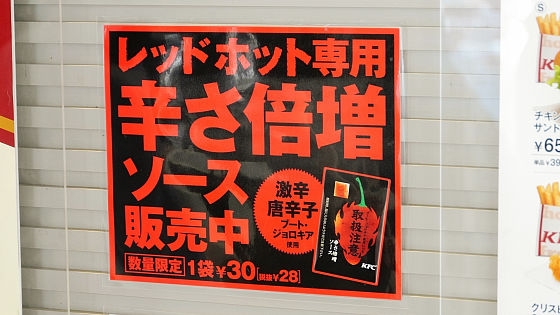 I received "Red Curry Twister", "Red Hot Chicken" and "Spicy Doubling Source" at the cash register and went to the table.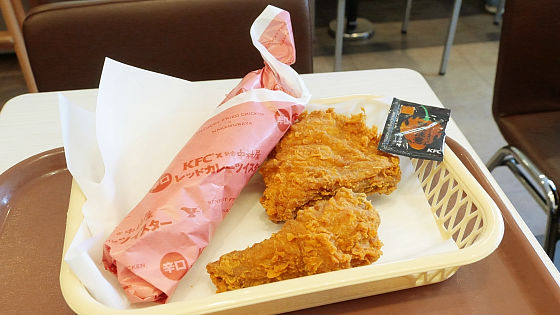 Red curry twister (360 yen including tax)Kernel crispy· Vegetable · Red curry saucetortillaA piece rolled in.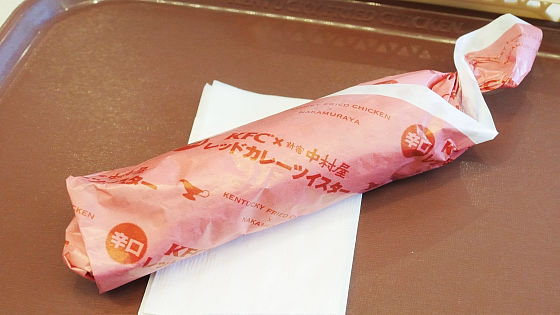 For the wrapping paper, use a special thing written as "KFC × Shinjuku Nakamuraya Red Curry Twister".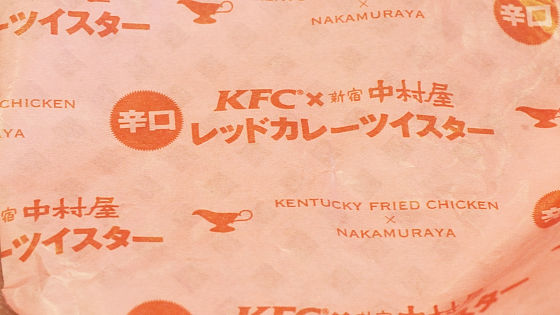 From the wrapping paper, there was a spicy scent of curry.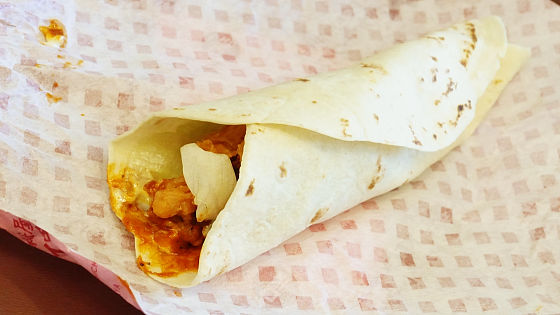 When opening the tortilla of red curry twister it is like this.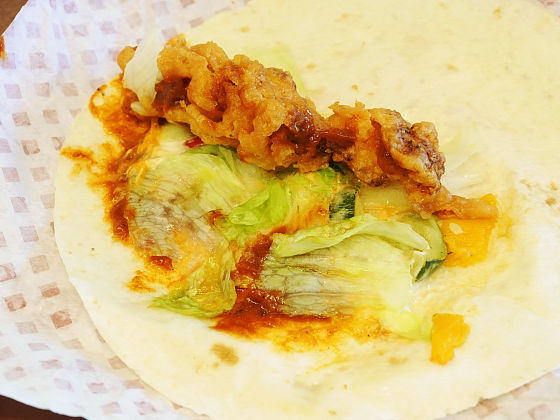 Red curry sauce is red as its name.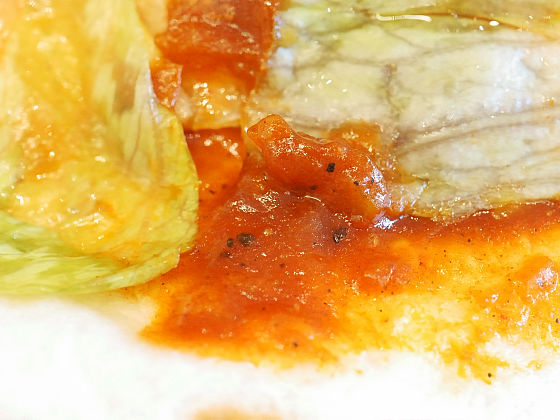 It also contains white mayonnaise and red and yellow colorful paprikas.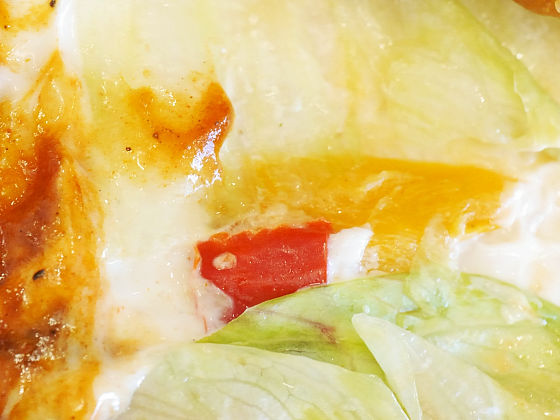 Plenty of lettuce as well.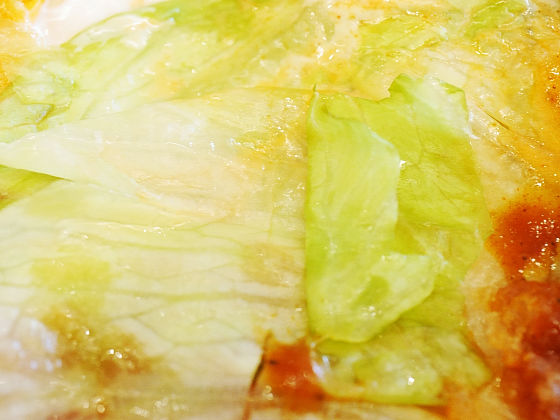 Kernel crispy seems to be able to enjoy the texture of crispy clothes without getting sticky with sauce.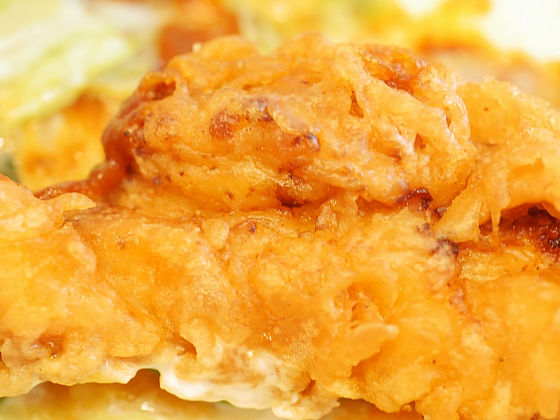 The tortilla had browned marks.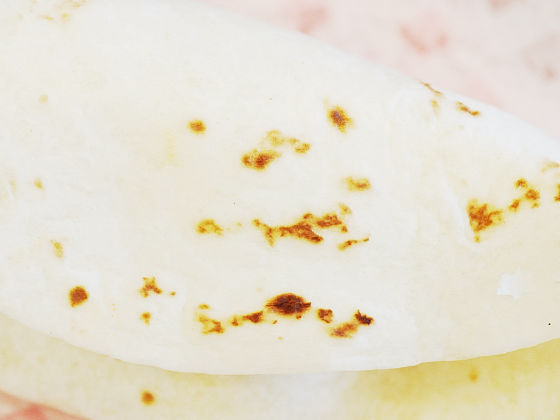 I will repatriate and eat it.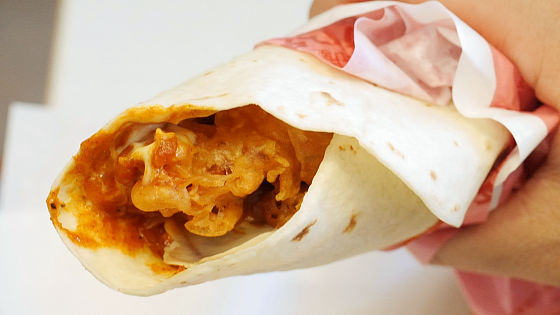 The crispy chicken texture and red curry sauce compatibility are outstanding, and the taste of chicken curry spreads in the mouth. Although spicy is as spicy as it is to the throat rather than the tongue, the chicken is packed with delicious taste, vegetables are also included and it is not intense so it seems to be able to eat other people who are not good at hot objects.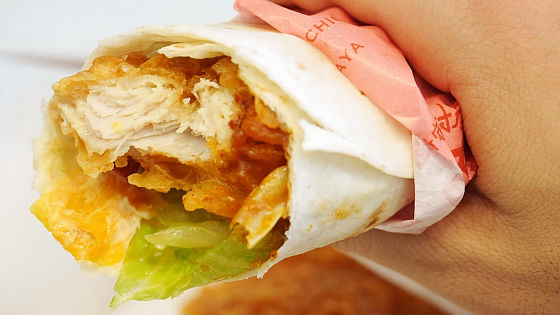 Good compatibility between red curry sauce and mayonnaise. When you eat it with a slightly dry curry, it becomes a mild and rich taste. Considering quality and quantity, the price of 360 yen seemed to be a reasonable price.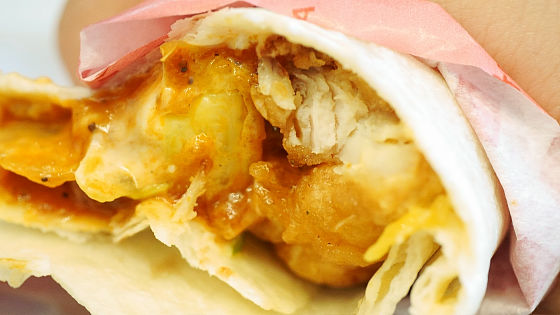 Red hot chicken (260 yen including tax) was offered for wing origin and near the waist. Of course, I will also order a hot spirit source (30 yen including tax).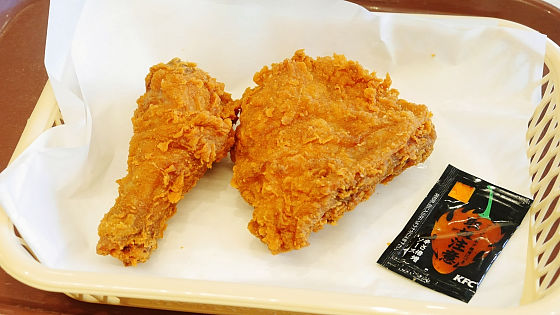 The surface of a little red chicken is crisp fried and you can see the spice grains.



First of all, trying to eat the part of the wing origin without applying anything, the taste of chicken and pepperhabañero pepperIt's delicious with a taste of flavor, crispy outside and juicy inside. If you say habanero, depending on things a tongue hurts like a tiny bitter pain, but there is not such strength.



There are also parts where hardy powder used for seasoning is hardened, so be careful when eating. Spicyness seems to be able to eat without problems if you can eat dry curry.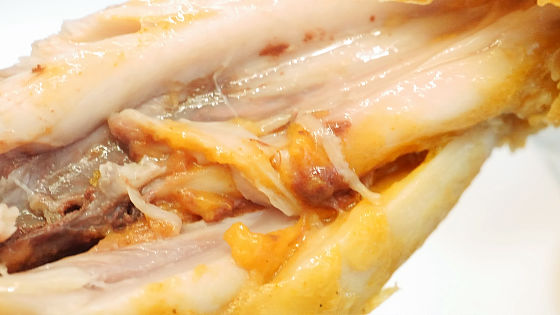 To the chicken which is more juicy near the waist, I am going to eat it with a hot sauce sauce.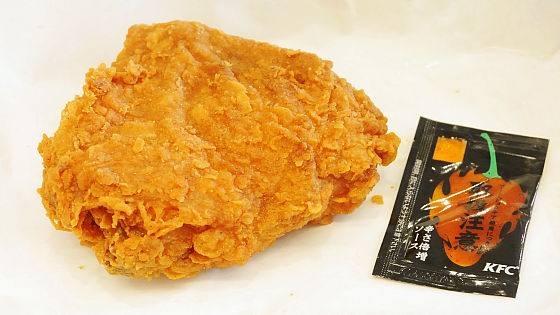 Spicy doubling sauce contains red pepper paste · brewed vinegar · red pepper puree · salt · lime concentrated fruit juice · grated garlic · pepper · edible vegetable oil · pepper · pepper · coriander · basil etc.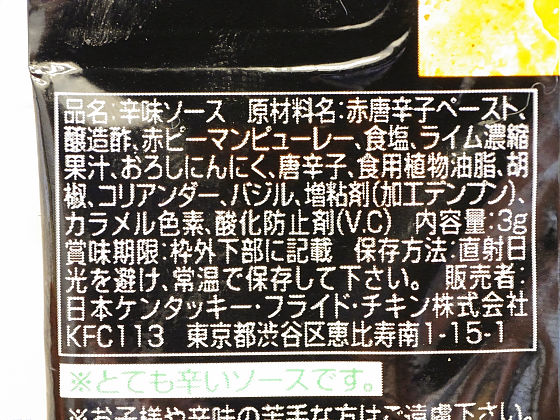 I will add plenty of spicy doubling sauce to Red Hot Chicken.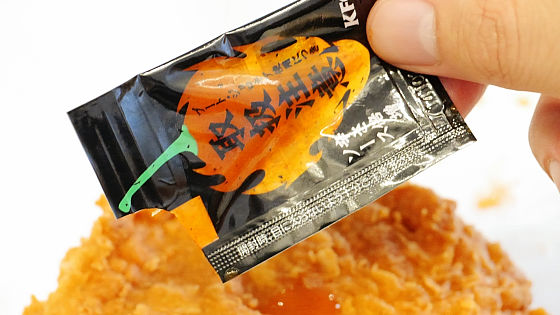 Although the fragrance is not intense, the red color looks dangerous from the appearance.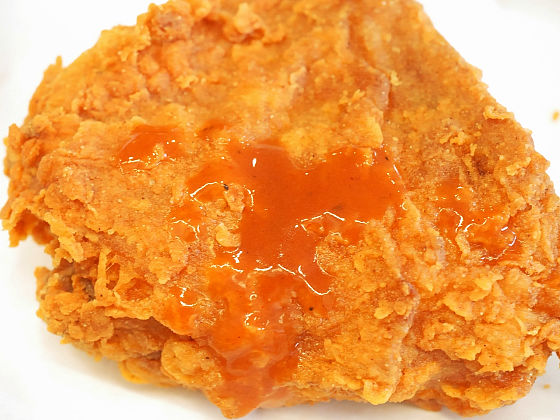 Spice granules can also be confirmed.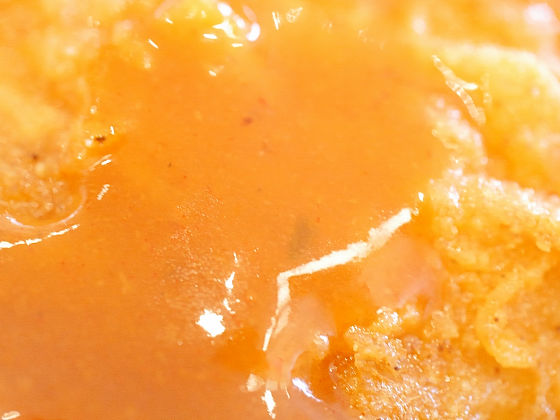 As soon as you have eaten the part with spicy doubling sauce, it becomes a source full of pungent, sour and umami, it becomes a stronger punch taste. Although I imagined the intense pungent taste that would leave spicyness on my tongue, I feel like I can refresh my mouth if I drink water without stimulation to that extent. Some people may be interested in stronger acidity or saltiness than hotness.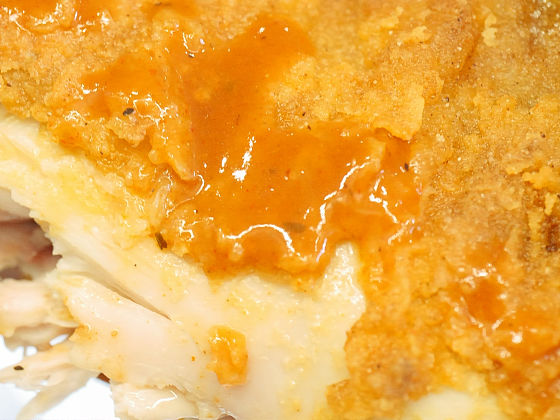 Red Curry Twister and Red Hot Chicken Sales both in limited quantity. In addition, Red Hot Chicken will be offered at a campaign price of 230 yen including tax from June 25 to July 23.