Japanese football Japanese national team vs. Colombia national team fight, unique supporters summary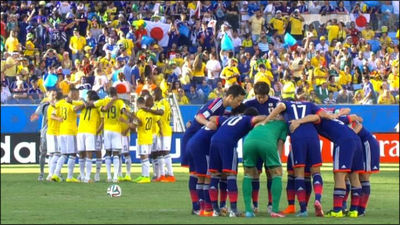 From 5 am on June 25, 2014, Japan national football team came to a match with Colombia national team with the aim of advancing to the finals tournament at the 2014 FIFA World Cup. It was a game that started from a very early time of 5 o'clock on weekdays, but we aimed to advance to the finals tournament, all over Japan being united and supporting.

The Twitter trend at the start of the game is like this, and 8 out of 9 are related to the representative of Japan to Colombia.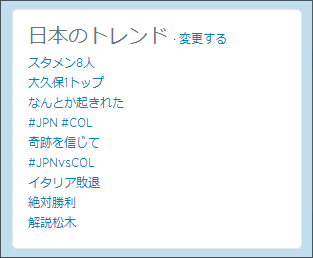 A score sheet was prepared on the timeline so that the World Cup match could be supported immediately.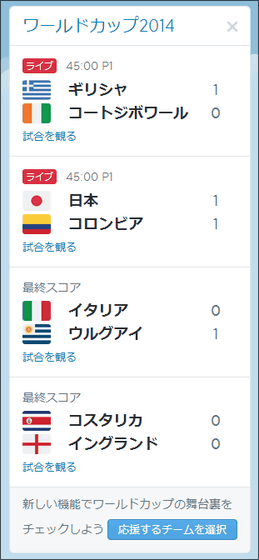 It seems that the scramble intersection of Shibuya on the 25th was quite quiet.

Shibuya is quiet at the moment (barPic.twitter.com/msSQAypYKC

- Yuuno Mine (@ mine_ rvs)2014, June 24
However, the police also exercisedStupidityIt seems that he was pretty much alarmed.

The police in Shibuya also started preparations! Of course preparation for victory!Pic.twitter.com/WdcKCMhlzg

- DJ Tsuyoshi (Hana Life) (@ DJ _ Tsuyoshi _)2014, June 24
It's almost like watching the game in front of the TVI will explain like a fanMr. Yasutaro Matsuki explained his explanation of the representative of Japan to Colombia, which was a topic in football fans.

Mr. Matsuki's commentary from 5 am on the morning for me not very familiar with football is pretty heavy

- With you (@ naraito)2014, June 24
Mr. Matsuki's commentary has been eaten from tons of cutlets in the morning

- Falcon pigeon (@ takahato)2014, June 24
Why.Just say Matsuki's commentaryI am trying to win and break through GL.But ... I think so ...I should not be alone ww

- miki @ MTK 48 / T / № 7 & amp; 8 (@ Miki_ aube)2014, June 24
Although the Japanese delegation holds the leadership of the game, the first half goes on, but Colombia's counter will be awarded a preliminary score to Colombia by a certain PK donation.

Japan wants to keep up at the same tie in the first half. I smell the score (J)# Diaihyo#World Cup# JPNJapan, PK loses first place: Asahi Shimbun Digitalhttp://t.co/STvUNtZXoMPic.twitter.com/29 FEX 5 Z 1 w O

- Asahi Shimbun soccer manager (@ asahi_soccer 1)2014, June 24
However, at the 40th minute of the first half of the day, the Japanese delegates are doing quite a lot of shoots and it is clear from the numbers that the shoot consciousness is dramatically changing.

[Japan 0-1 Colombia first half 40 minutes] Match status - ball dominance rate - number of shoots#World Cup# Diaihyo# JPNhttp://t.co/sm2slPoRs2Pic.twitter.com/qEj0PeLnVI

- Haifinton Post Japan Version (@ HuffPostJapan)2014, June 24
And Shinji Okazaki 's heading goal just before the end of the first half came to the same tie by Japan.

Colombia national team started the second half with Ace's Hames Rodriguez. The fear of Colombian counter is increased at once.

With Hamezu, the quality of the team rises about three. . . My heart has already died.

- Yuuki Yuuki @ The World Cup with no princess (@ yuukikouhei)2014, June 24
Please do u eh yeah yeah yeah yeah yeah yeah yeah yeah yeah

- Uchu ~ is a tweet (@ ajax 0506)2014, June 24
Akan Ahammadan

- Summary of Football Summary (@ kokunwww)2014, June 24
I'm glad that quadrards are gone, but James is the strongest ... ... ...

- Hon D @ Manzaa support (@ honD_gooner)2014, June 24
In the latter half Japan 's representative continued to push in Colombia, but Colombia effectively added at the counter, and finally it was 1-4 and the Japanese delegate was lost. The point difference has been opened, but the impression that Colombia who took the opportunity accurately was a bad guy or both one and two were good.

#JPNvsCOLFinal ST# JPN14#COLGoles#JaponOkazaki 45# ColombiaCuadrado 16 ', Jackson 73', 81 ', James 89'Pic.twitter.com/MFbXad4CSD

- fastforme (@ fastfor_me)2014, June 24
There were also many individual supporters who went to Brazil and cheered Japan representatives from the field.

Japanese supporters cheering for World Cup Colombia matchhttp://t.co/ooZLrVS4XQ#World Cup# DiaihyoClick here for Featured World Cuphttp://t.co/4P3T3F8TRBPic.twitter.com/jbIeR4jztr

- AFPBB News (@afpbbcom)2014, June 24
Ippei, a frog, also went to Brazil to see the field.

This is the formation! No, I thought it was noisy this time ,,,Pic.twitter.com/UmVcqoaR2a

- Ippei-kun (@ ippei 69)2014, June 24
Supporter to become a national flag and support

World Cup Japan World War II First half of Japan Japan 1 - 1 Colombia# WorldCup# JPN#COL# DiaihyoPic.twitter.com/CBK4Eit 34O

- Japan national team (@ _ Daihyo_tw _)2014, June 24
On Twitter, beauty supporters who took a moment to watch TV became a hot topic.

Everyone would have been interested in this girl, but I'm concentrating on cheering here ....Pic.twitter.com/1Y0E6dbBGm

- Oshiihara? (@ Djkakihara)2014, June 24
Doggy supporter

Anyway Japan has no choice but to win!決勝T進出するぞー(>_<)☆fight! It is! It is! It is! It is!Komame is excited tooI started soccer.# DiaihyoPic.twitter.com/f9S8a3nix7

- Minami Yui (@ yuiminami 12)2014, June 24
Nyanko supporter

Please be patient (-;;)# Diaihyo# JPNPic.twitter.com/PkV2Z6TQKK

- Aya (@uno_com)2014, June 24
Very small supporters as well.

Cute little Japanese supporter# JPN# Diaihyo# WC 2014Pic.twitter.com/80 NLgf 2 yja

- は な ろ う ろ (@ hana_taro2014)2014, June 24
Japanese MVP# Diaihyohttp://t.co/Yn98sHLIXw

- Shui Hu (@ Schuichie)2014, June 24
Colombian supporters and Pacoiri.

Las hinchadas comparten en el estadio Arena Pantanal.#COLVs# JPN.#FairPlay# Mundial 2014Pic.twitter.com/Gcbs0hVISM

- Selección Colombia (@ FFCFSeleccionCol)2014, June 24
En Arena Pantanal con hincha Japonés.#juegolimpioPic.twitter.com/AnSDFOgwbY

- Samuel Azout (@samuelazout)2014, June 24
Yuru Kara also participated in support.

To all the Japanese delegates, thanks for your hard work ~ Although the result was disappointing, Mayu Makoto gave me the courage to fight so hard ~# WorldCup# Diaihyo# JPN#JPNvsCOLPic.twitter.com/Rh8p4Cr1x0

- Kyoto Prefecture Public Information Supervisor Makoto Makoto 【Official】 (@ kyotomayumaro)2014, June 24
Of course, there were a lot of supporters who sent ale from the front of the television in Japan. This is the state of public viewing in Kannami-cho, Shizuoka prefecture.

【World Cup PV】 Kannami cho, Shizuoka prefecture. In the hometown of Atsushi Uchida, 200 people are watching with a serious expression. Also the appearance of a junior high school student before going to school. Junior colleagues are also supporting from your hometown! There is still! ▼ European league watching tour wins!http://t.co/SZSe8kj6WhPic.twitter.com/jCQLy6fHbz

- Asahi Newspaper Football Present (@ asahi_soccer_pr)2014, June 24
Public viewing was also carried out at Toyosu cinema.

【World Cup PV】PV at Toyosu cinema also done! A huge screen in the movie theater ... There is power. Supporters are watching while eating popcorn ♪___ ___ ___ 0http://t.co/SZSe8kj6Wh# Diaihyo# JPNPic.twitter.com/wTzGS9uosW

- Asahi Newspaper Football Present (@ asahi_soccer_pr)2014, June 24
It seems that 400 people gathered from the morning at Tokyo Tower Public Viewing.

Okazaki's goals equalize! Adidas' Tokyo Tower Public Viewing is a great success!Pic.twitter.com/oAqbZLRcxZ

- Asahi Newspaper Football Present (@ asahi_soccer_pr)2014, June 24
Public viewing of the World Cup at AGOO in front of Kansei university! It is! It is! It is! Crossing shoulders, national anthem singing! It is! It is! It is! The university students gather from the morning! It is! It is! It is!Pic.twitter.com/GMB2sExZNy

- Kansai University Times (@ kandaitaimusu)2014, June 24
Public viewing was also held at school gymnasiums and a lot of students gathered.

I am tired from Japan! It is!Public viewing at school gymnasium from 5 o'clock in the morning bPic.twitter.com/mvXyXmNast

- Yu (@ yu 0709 u)2014, June 24
Public viewing Hurts! It is!Pic.twitter.com/T6BCWBaM78

- Future Koizumi (@ machaaki_k)2014, June 24
The sunshine lover of the Japanese body (σ ゚ ∀ ゚) σ The result was too subtle, but it was fun!Pic.twitter.com/5 xSaMqltqo

- SurperShiryu (@ surpershiryu)2014, June 20
Everyday Public Viewing!Beginning ~ * · ゜ ゚ · *: ......: * · '(* ゚ ▽ ゚ *)' · *: ... ...: * · ゜ ゚ *Pic.twitter.com/gUVxuRXpEX

- Yoshida Yuuki (@ yukinoco_net)2014, June 19
A salaried worker before commuting also cheered for support while spending sleeping.

During public viewing wPic.twitter.com/F3g04hPWJP

- Tehu (@ tehutehuapple)2014, June 19
In addition, the scrambled intersection in Shibuya seems to have disbanded without a celebration like the first round of the World Cup.

I also have a scrambled intersection in Shibuya frozen.Pic.twitter.com/ALu 8655 aef

- Hirokiri-kun, Mr. Yoshiro-san's. (@ 701 _ tintik)2014, June 24
in Note, Posted by logu_ii