Wapper alternate all-you-can-eat Burger King "B" iking "campaign challenge report, the highest record is 7 minutes in 30 minutes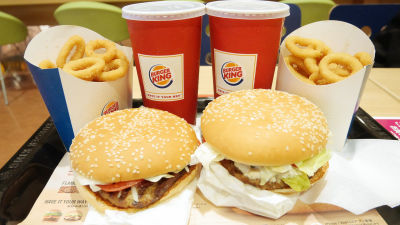 Burger King regularly offers Wapper's all-you-can-eat event, but in a week from June 20 (Friday) to June 26 th (Thursday), the Wapper will be replaced and the unlimited "B" iking "campaign We are doing. This time I visited 83 shops in Burger King nationwide from 14 o'clock to 23 o'clock, so I went to a shop in a hurry and challenged.

~ Can you go over the battle event winner? It is! ~ "Wapper" alternate "" B "iking" campaign From June 20 (Fri) to June 26 th (Thurs) held!
[PDF]https://www.burgerkingjapan.co.jp/release/pdf/PressRelease140619.pdf

Arrived at Burger King.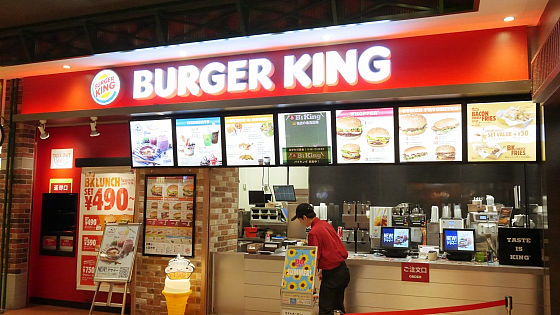 The signboard of the campaign is affixed.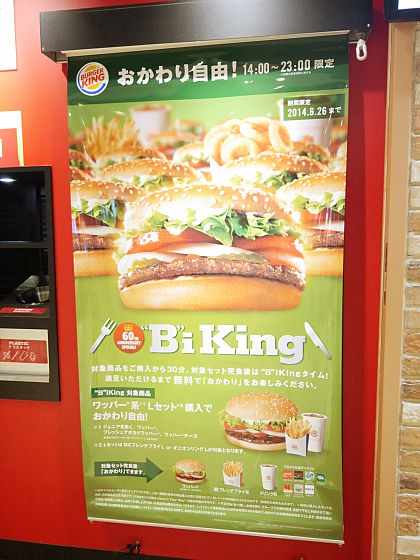 "The best record of our shop" has become visible at a glance. Immediately after the start, 0 pieces.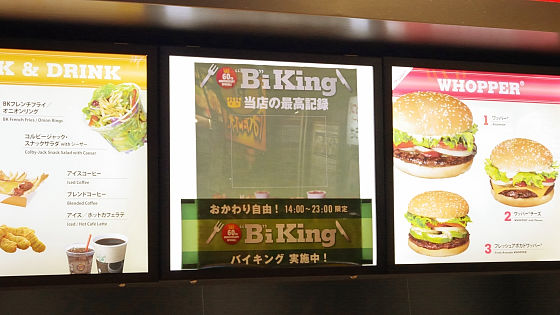 I will order two menu items for all you can eat at the cash register. This time we ask for a set of Wapper, and when we finish eating all, we can change Wapper French Fry M · Soft Drink M. Time is 30 minutes and it is short for all you can eat.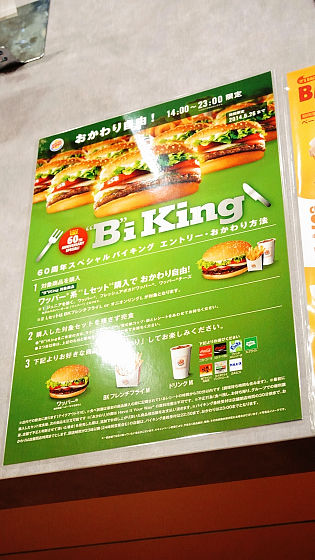 A detailed rule looks like this. If you transfer it to someone who does not have all you can eat, you have to pay for it.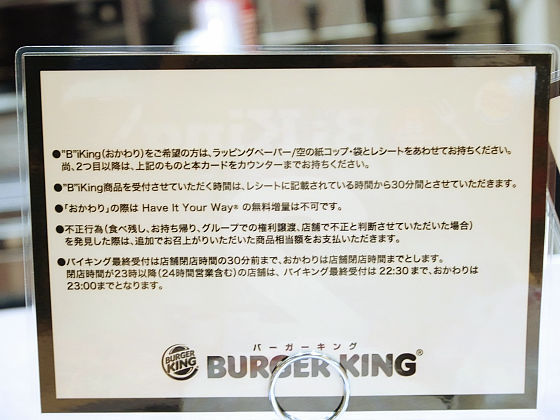 I will receive two tags and wait at the table.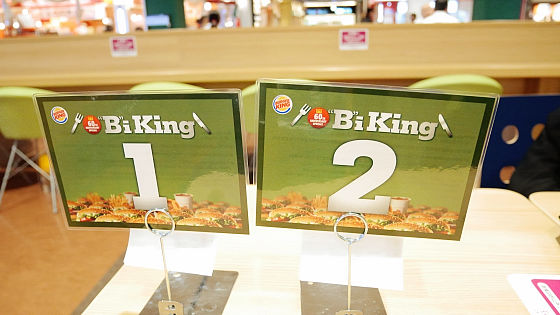 Wait 5 minutes for a set of two people arrive.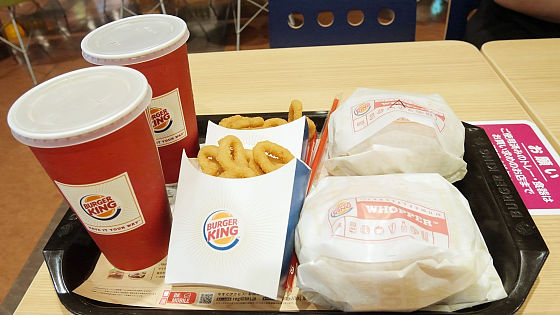 A set drink.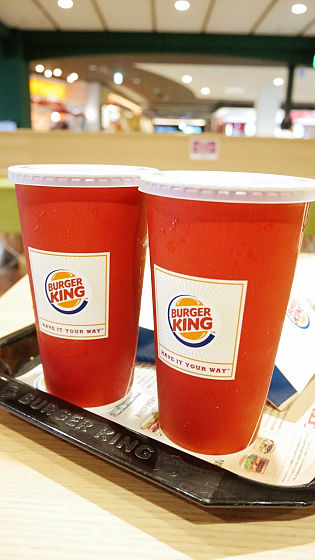 This time I order an onion ring that seems unbearable on my stomach than potato.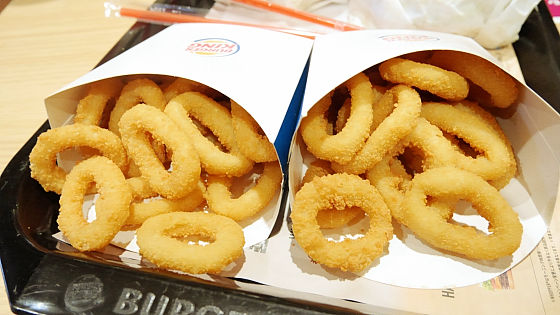 The first burger chose Wapper and Fresh Avocado Wapper.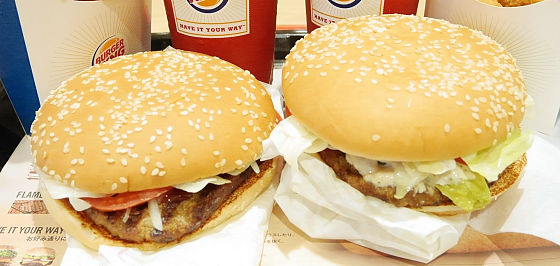 I will start eating all you can eat at once.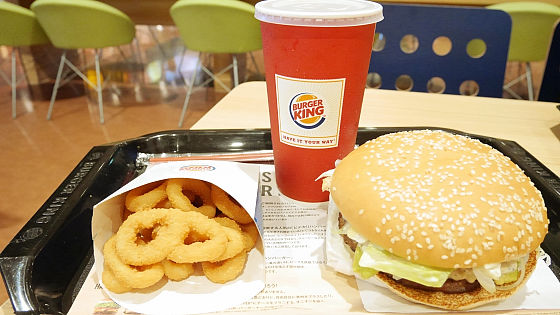 The onion rings are thick and crispy. The onion is sweet and good.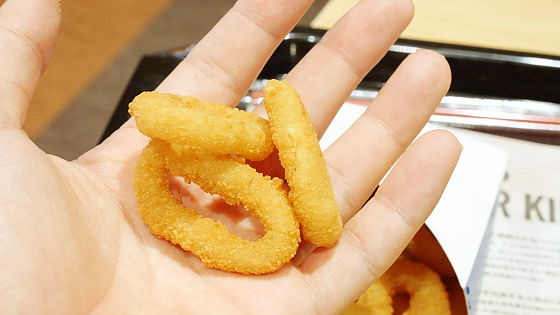 The drink ordered Gingeraire, but it goes well with junk food.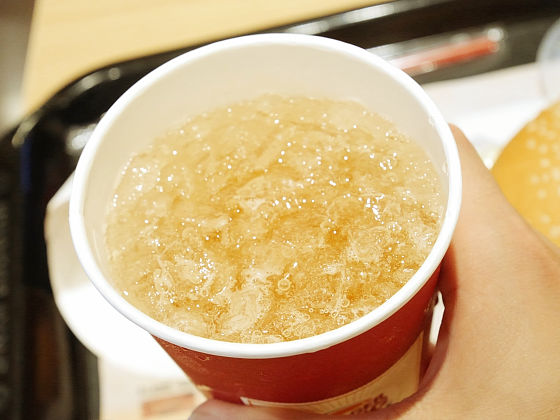 Fresh avocado wrappers are quite thick.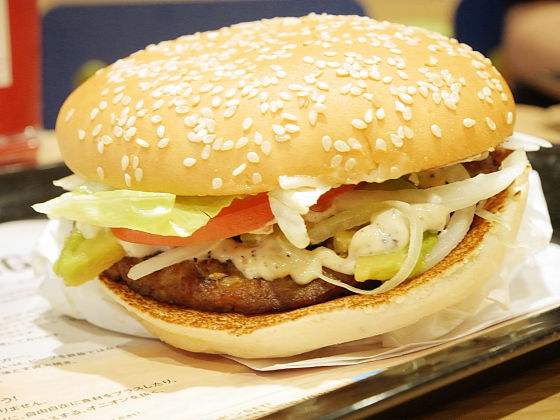 When you take the upper Sesamibans, you have vegetables such as avocado. Patty is 113 grams as much as a quarter pounder.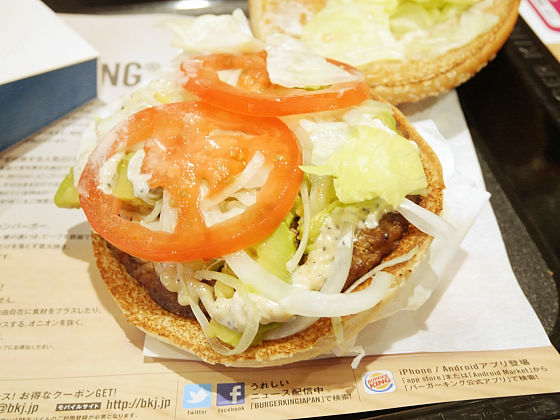 I will eat it at once.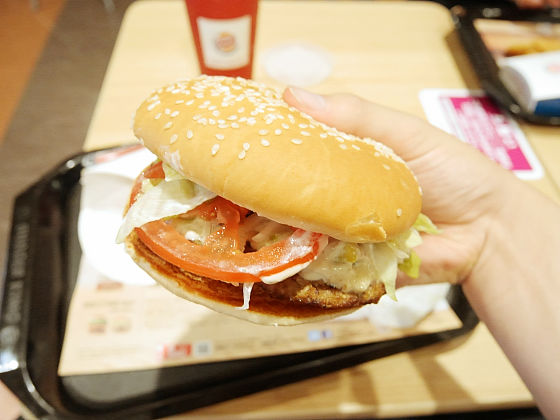 Finished with punch with taste of pepper in avocado · mayonnaise. The beef is fragrant with direct fire, and the buns are full of sesame with plenty of sesame ... .... There is no time to taste as it is all you can eat with a 30 minute time limit.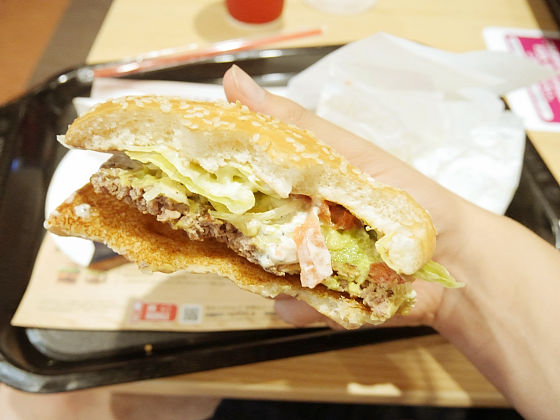 Pour in a drink and clear the first one. 15 minutes has already passed at this point.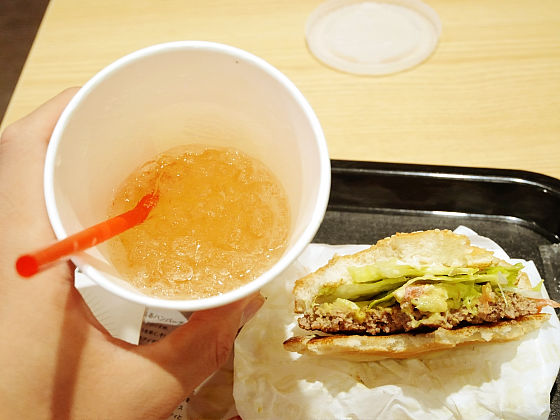 Go to the counter with the container emptied and receive a refund.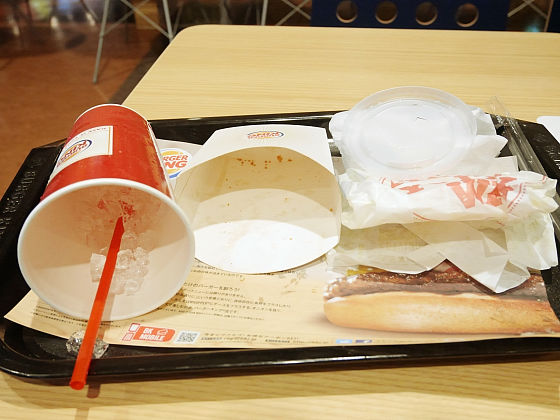 When I went to the counter, I brought a new job with a wahper in 1 or 2 minutes. Wapper cheese · fresh avocado wapper can not be asked because only usual wappers can be ordered in place.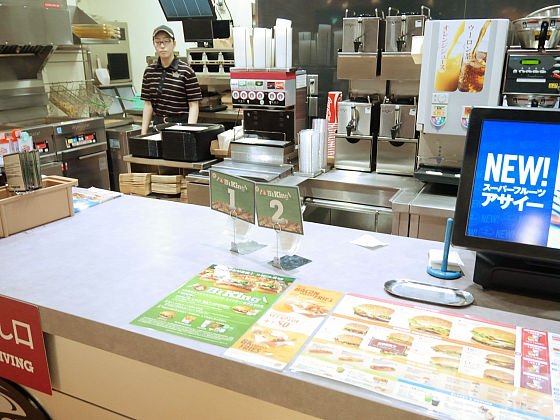 When asking for the second item, the second receipt will be put on the pop.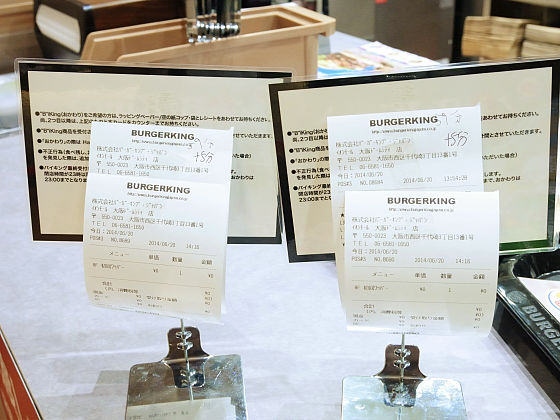 Take the substitute Wapper to the table.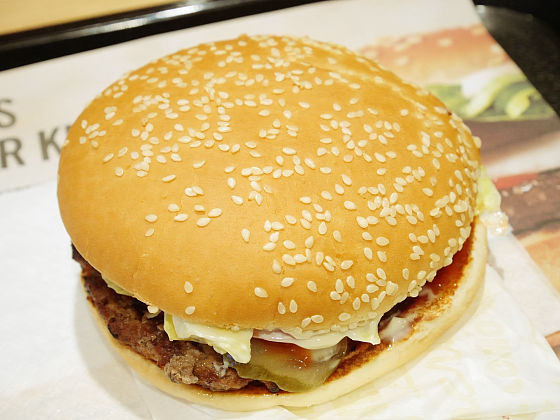 Lettuce, tomato, onions, pickles, direct fire grill patties are sandwiched in the whipper.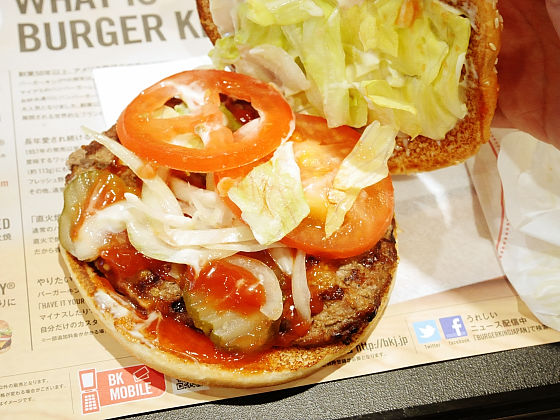 Challenge the second one.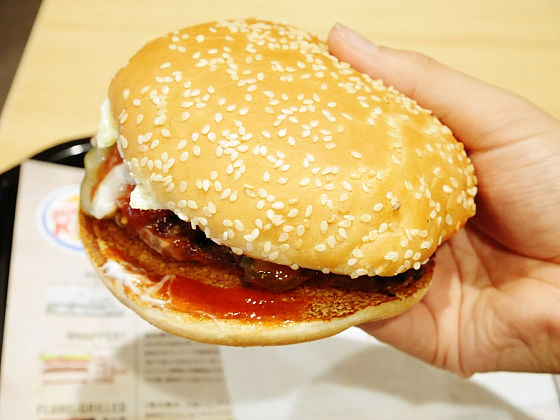 Wapper's savory beef taste and vegetable harmony are nice feelings, but the stomach is already oil and the intestines begin to be damaged by the amount. McDonald 's hamburger is 275 kcal, but with Wapper has 661 kcal and more than twice the calorie, the satiety center gradually starts to be done.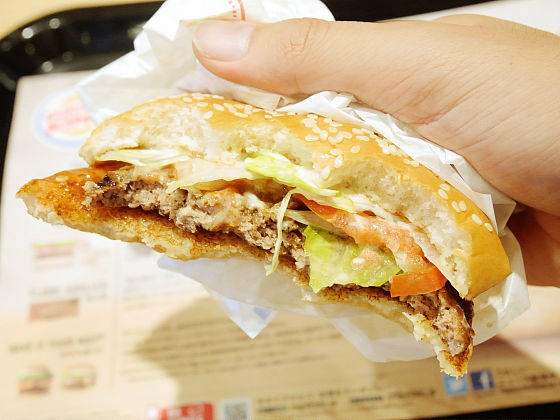 I managed to finish it. At this point 25 minutes have passed since the start, one more time limit.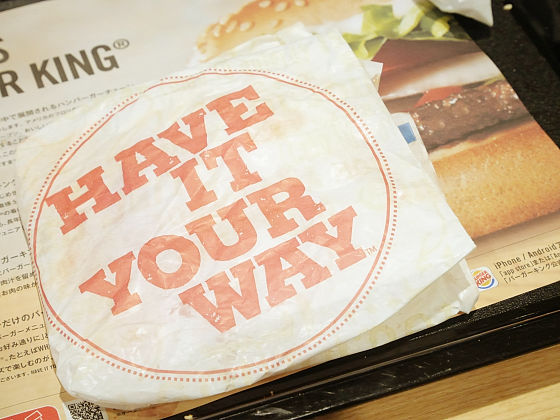 I went to checkout and ordered a third hamburger.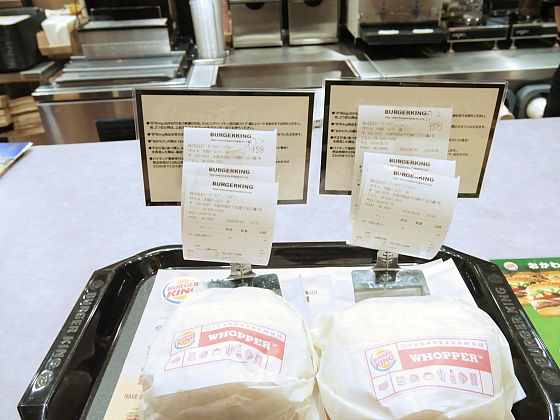 Three receipts were affixed to the pop.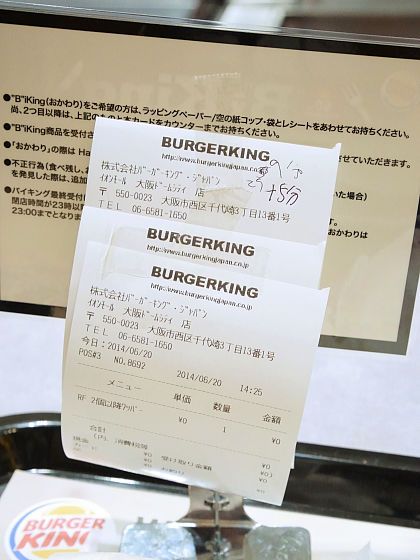 "I do not want to see Wapper anymore ..."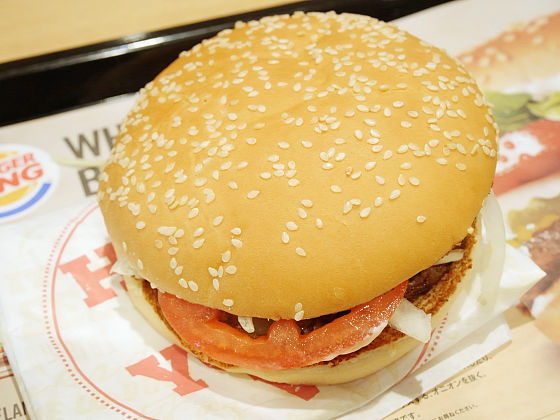 I only eat more than I have ordered.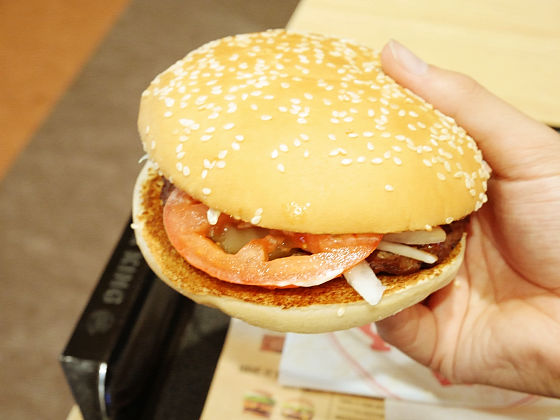 Although I had eaten at a pace not even 1 to 10 minutes ever, the hands to eat suddenly stop, the tightness is felt on the stomach, feeling to ease when Belching comes out. Begging hiccup, there is a strangeness in the body ...... Calories are 160 kcal for Gingerja L, 449 kcal for onion rings L, 446 kcal for onion rings L, 756 kcal for fresh avocado wappers, 661 kcal for wahper, total of 2026 kcal and a calorie intake (1800 kcal to 2200 kcal) I am taking it with food. Since we are eating Wapper, ordinary people should be pretty painful.



After all it took more than 20 minutes to eat the last hamburger and finished the last bite. I ingest 2687 kcal with one meal, the stomach and stomach became very painful.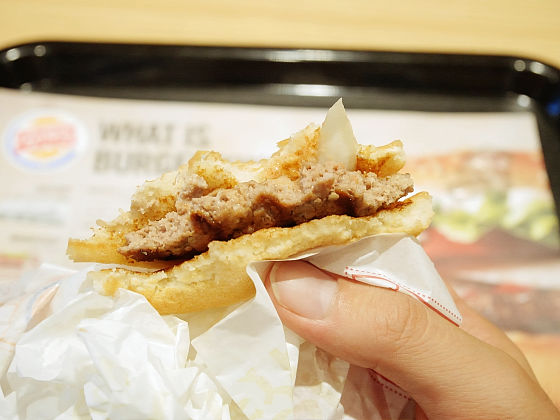 It seems there was a fierce fellow who ate five at different table. Before this campaign was held, it seems that the "B" iking "battle event was held in Roppongi, but the winner said he ate seven woppers in 30 minutes.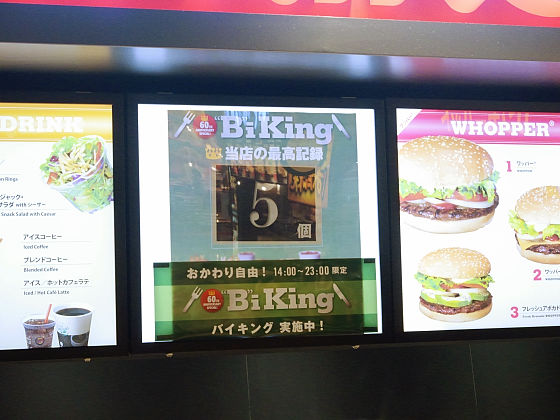 This campaign of Burger King is all you can eat all you can ask for an L set of Wapper · Wapper cheese · Fresh Avocado Wapper, the price is 940 yen ~ 1040 yen including tax. People who have confidence in stomach bags, because the campaign period is short, it is until June 26 th (Thursday), so we should go for a challenge now.