Terms of Wikipedia have been updated and clauses clearly prohibited are newly added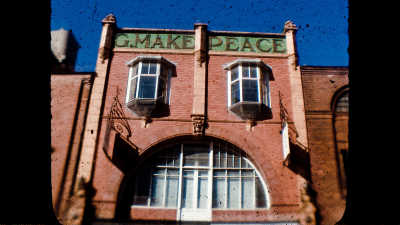 BySergio Morchon

Internet encyclopedia which anyone can edit content freelyWikipediaAbout posting / editing articles posting as an unrelated person while receiving reward from clientStealth marketing"(Stema) has been regarded as a problem. Run WikipediaWikimedia FoundationTook this situation heavily as "to lose the accuracy, transparency and objectivity of Wikipedia articles", announced that it will change the terms of use and clearly prohibit stemmer acts. Under the new agreement, if you receive compensation and edit, you will need to disclose the employer, customer and partner in the text.

Making a change to our Terms of Use: Requirements for disclosure - Wikimedia blog
https://blog.wikimedia.org/2014/06/16/change-terms-of-use-requirements-for-disclosure/#Japanese

Wikipedia, which has the greatest feature that everyone can create and edit articles, content is formed by volunteers and intellectuals' good intentions. However, it can not be denied that there is a possibility that the advantageous contents can be altered by a specific person by misusing that feature. Actually, such a steman act was undertaken as a business "Wiki-PR"Has also evolved itself to receive warnings from Wikipedia.

"Writing impersonation" that bothers Wikipedia and its black stroke stemmer company "Wiki-PR" company? - GIGAZINE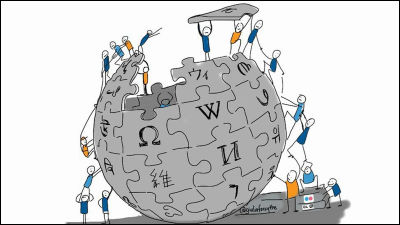 On Wiki - PR 's website, as a catch phrase "Easy way to correctly introduce your story with Wikipedia" and "We consult consulting with thousands of customers with the Wikipedia community" , "The industry's largest Wikipedia consulting farm will help you to display your site in Google search on the top" is written. In addition, some Internet security software judges the site of the company as "dangerous", so care must be taken when accessing.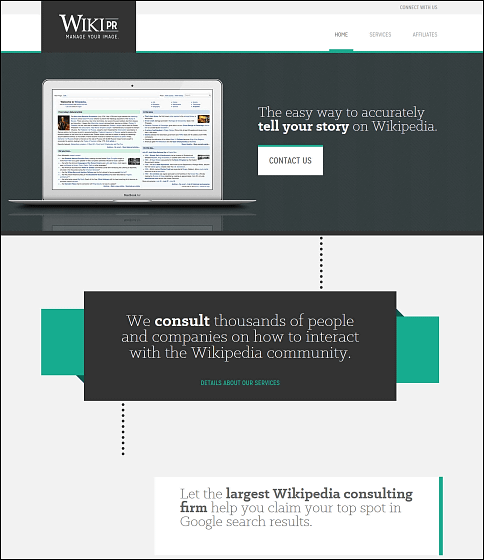 In order to solve these problems, the Wikimedia Foundation has revised the Terms of Service on June 16 with the aim of clarifying and strengthening the prohibition of concealment of paid edits on all Wikimedia projects.

Making a change to our Terms of Use: Requirements for disclosure - Wikimedia blog

Change to Terms of Service: Requirements for Disclosure

Today, the foundation will make important changes to the Terms of Service. This change will clarify and enhance the prohibition of concealment of paid edits on all Wikimedia projects.

500 million people use Wikimedia as a source of information every month. The editor of the Wikimedia community continues to work without fail for the purpose of maintaining the accuracy, transparency and objectivity of the article, but it is necessary to identify the conflict of interest and eliminate prejudice is. Such education may occur if paid edits are made for promotional purposes, especially for customers who pay compensation. The Wikimedia Foundation will continue to support the Wikimedia Community's efforts to maintain articles without promotional content.

To change
With this change, a new subsection is added to Section 4 "Disclosure of Contributed Contributions"Avoidance of specific activitiesWill be added. The Wikimedia Foundation Board of Councils will explain the changeA letterHas been issued. The Foundation will also help explain how to apply changes in specific casesFAQHas been created. The Foundation recommends that you read the revision, the letter, and the full FAQ, but the most important points are as follows.

If you edit for volunteers and for fun, nothing will change. Continue editing! You are a member of a wonderful volunteer community that contributes to an unprecedented free source of information available to people around the world.

· You are hired by museums, libraries, archive repositories, museums (GLAM), or similar organizations that you may pay to staff who contribute goodwill in your specialty field, not about your institution Even if you continue editing! The FAQ provides additional guidance on when you need to disclose.

· If you are rewarded for editing, you will need to disclose paid edits to comply with the new terms of service. In order to fairly disclose your views, you need to add your affiliate to the edited summary, user page, or talk page. For details, please read the FAQ.

· If you are editing with a reward, rules other than the terms of service may apply. Additional disclosures are mandated by specific policies on individual Wikimedia projects or related laws of your country (such as laws prohibiting fraudulent advertisements), or paid advocacy editing is completely prohibited It may be. Details of the legal issues and risks associated with undisclosed paid advocacy edits can be found in this FAQ.

· Individual Wikimedia projects may consult and implement alternate disclosure policies appropriate to the specific needs, as explained in more detail in the FAQ.
The revised regulation does not prohibit any edits made at a fee at all and it is said that it prevents the implementation of stealth marketing by causing the necessity to describe such editing in the text It is a point.

The contents of "Restrictions on Specific Activities" and "Letters" and "FAQ" stated in the text can also be confirmed from the links below.

Restrictions on specific activities
https://wikimediafoundation.org/wiki/Terms_of_Use/ja#4._.E7.89.B9.E5.AE.9A.E3.81.AE.E6.B4.BB.E5.8B.95.E3.81.AE.E5.88.B6.E9.99.90

A letter
https://meta.wikimedia.org/wiki/Board_letter_on_paid_contributions_without_disclosure/ja

FAQ
https://meta.wikimedia.org/wiki/Terms_of_use/FAQ_on_paid_contributions_without_disclosure/ja