Looking back at the process of evolution that Android does not know where to stay, at once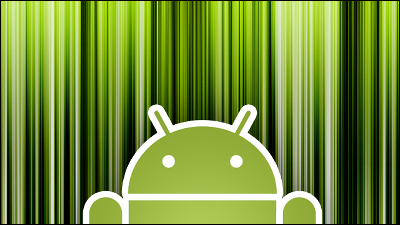 ByLynn Wallenstein

Google entered the Android OS in the smartphone market that Apple has opened up with the iPhone, and now it got a share to overwhelm iOS. Looking back on the history of seven years of evolution of Android OS that Google has grown up, with the OS screen display, it looks like this.

The history of Android: The endless iterations of Google's mobile OS | Ars Technica
http://arstechnica.com/gadgets/2014/06/building-android-a-40000-word-history-of-googles-mobile-os/

◆Android 0.5 (Milestone 3)
Originally Android was officially released on November 5, 2007, which was released in beta called "m3 - rc20a". At that time there was not yet version notation, but in the browser user agent it was "Android 0.5It was written as.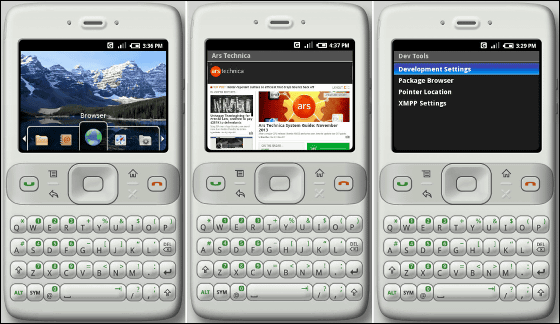 This movie introduces the prototype smartphone that was called "G-Phone" at the time with the concept of "smartphone OS" Android ".

Android Demo - YouTube


The UI looks something like this. Home screen from left, notification, application icon. Of course at the time it did not correspond to the touch operation so nothing happens even if I touch the icon.




Scale enlargement / reduction operation from the left, selection of wallpaper, volume control.




When calling, it is like this.




List of phone books. In addition, it was not possible to search the list from the number.




Google's search screen (left / center) is like this. The history seems to be displayed as a thumbnail (right).




This is Google Maps screen. Display size is too small and information volume is not large.




Android supports touch screen with "m3 - rc37a" released on December 14, 2007. The screen size of the emulator for Android has been expanded to 480 × 320.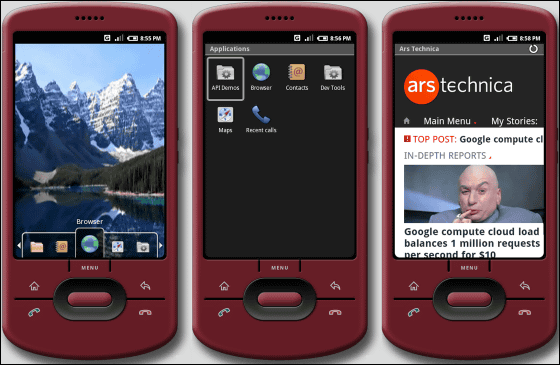 ◆Android 0.5 (Milestone 5)
Only three months after the release of M3, Google announced Milestone 5 (M5). At that time, Google said it had released a new version at a phenomenal pace of two and a half months.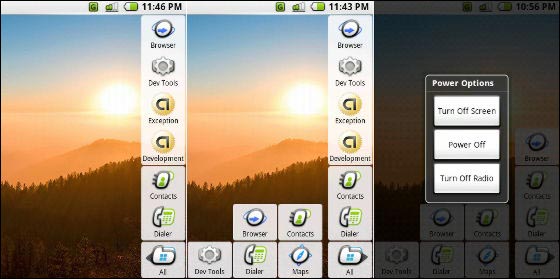 Notification Panel from the left, Google Maps, Developer Tool Screen. Today's familiar list view (right) has appeared.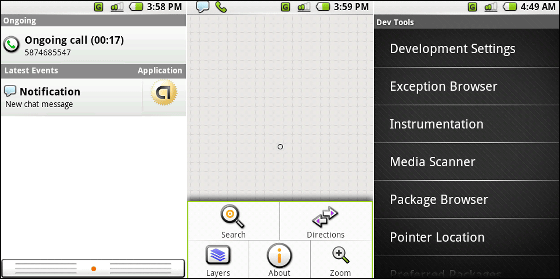 Dial screen also appeared in the telephone function. Finally it seems to be a smart "phone".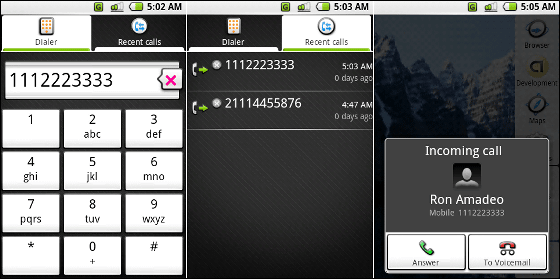 Hold function (right) is also installed.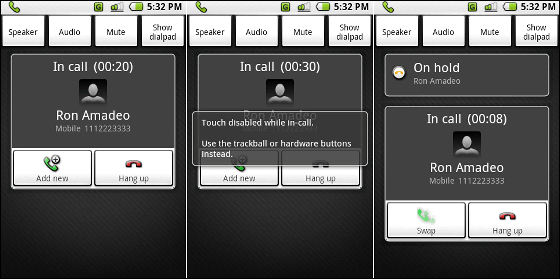 The browser screen also evolved considerably from M3. However, it does not correspond to enlargement / reduction by pinch out · in like iPhone, and it has the zoom button used in Google map.




◆Android 0.9 Beta
Android 0.9 was released in August 2008 half a year after M5 publication. Finally Android 0.9 was given the name "Beta (Beta)" by Android. Home screen and icons look like this.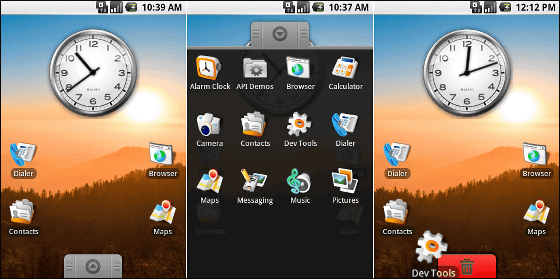 The screen of the operation of adding an icon to the home.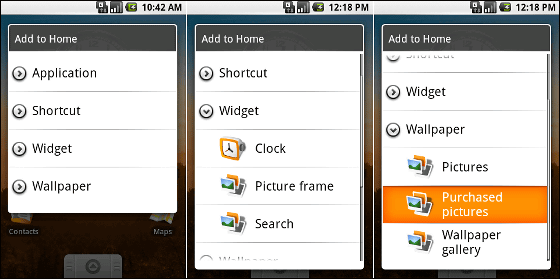 As soon as the widget (left) appears.




Home screen from left, recently used application, power option, lock screen. You can see that the functions and designs underlying the current Android OS were already shaped at Android 0.9.




This is the "horizontal" home screen disappeared last in Android 0.9.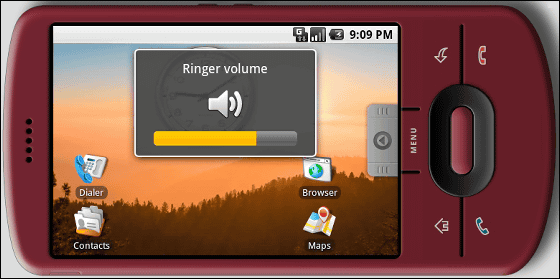 Adopted a notification panel that added a section at the top of the screen, stopping the shortcut icon to the application.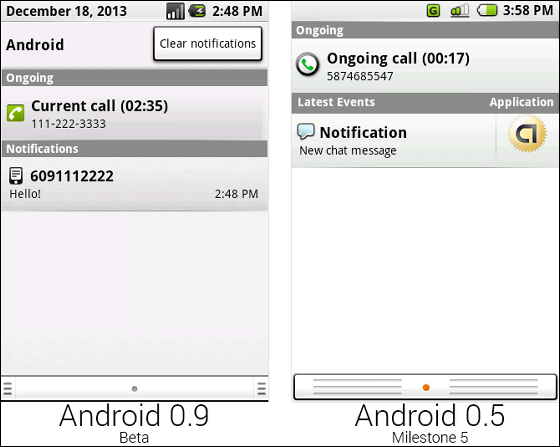 The green line on Android 0.5 (right) is colorless.



Zoom control buttons and in-page search windows are arranged at the bottom of the screen. The operability with one hand has also been improved.




Call screen such as dial screen changes like this.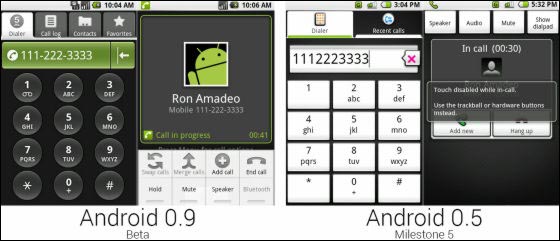 Phonebook list does not change very much.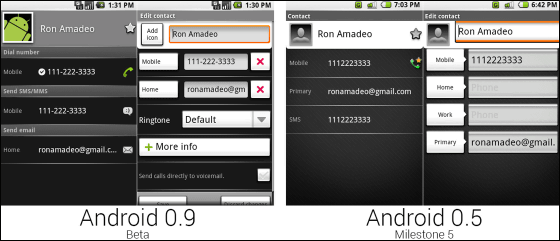 Alarm and calculator app appeared on Android 0.9.




You can see that Google Maps is also evolving considerably.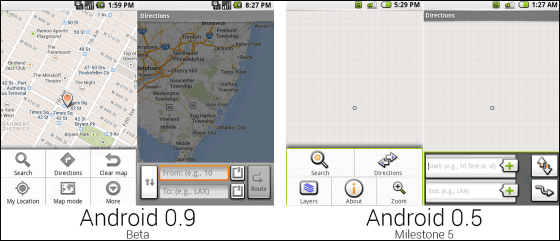 The Street View function (right) has also been integrated into the Google Maps app from individual apps.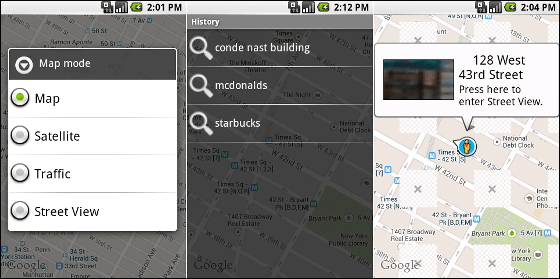 This is an SMS application chat window. It is also possible to attach photos / music etc.




The music player application looks something like this.




The gallery application also supports transparent folder (left) and grid display (center).



There is also an image editing function.




◆Android 1.0
Android 1.0 finally debuts at T-Mobile G1 (AKA the HTC Dream) in October 2008.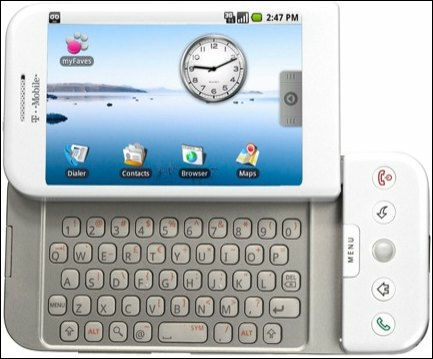 Default application increased significantly.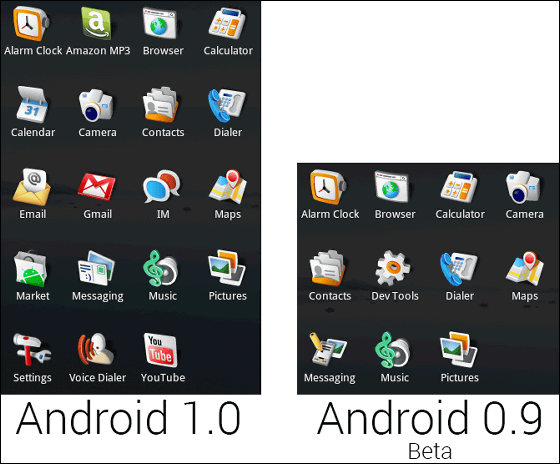 At that time the app store was "Android Market"




This is a Gmail inbox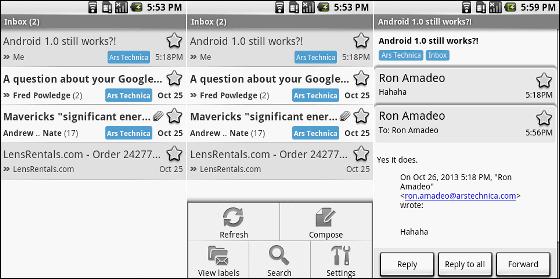 Gmail label display screen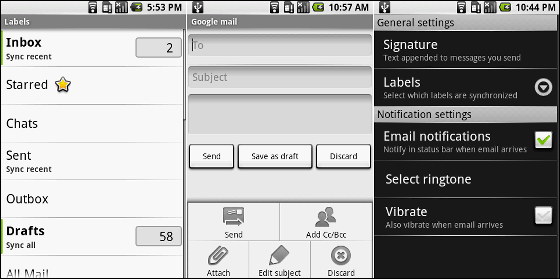 The YouTube application looks something like this. The control seek bar was a specification hidden automatically.




The camera application looks something like this. Since there was a shutter button on the smartphone, there was no shutter icon on the screen.




Calendar application




The setting screen looks something like this.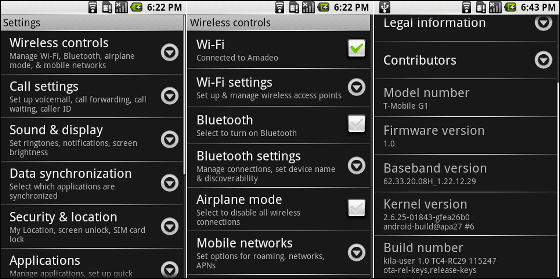 It corresponds also to the dial operation by the voice command and the pattern lock.




◆Android 1.X
Updated version 1.1 was released in February 2009 four months after the appearance of Android 1.0.




In Android 1.5 which appeared in April 2009, the design of the on-screen keyboard is refined.




Candy name was adopted as codename from Android 1.5, and the first memorable version 1.5 was nicknamed "Cupcake".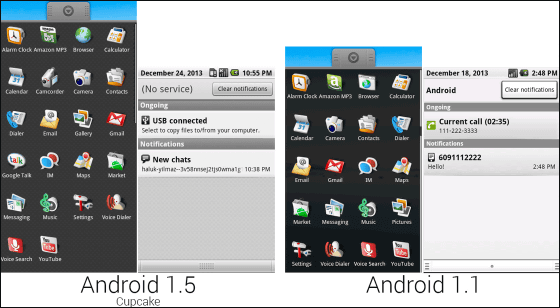 In Android 1.5, a smartphone without a physical keyboard for the first time "HTC Magic" appeared.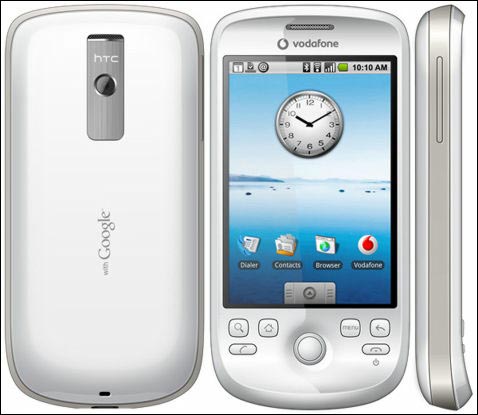 Switch between movies and cameras is easy to understand with icons.




The calendar application is also more colorful.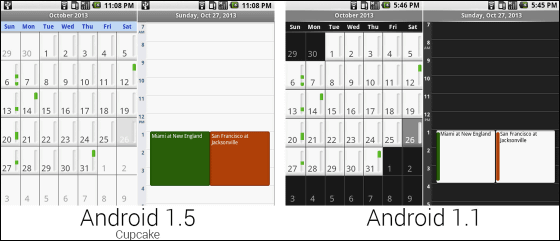 It is now highlighted (right) in text copy / paste.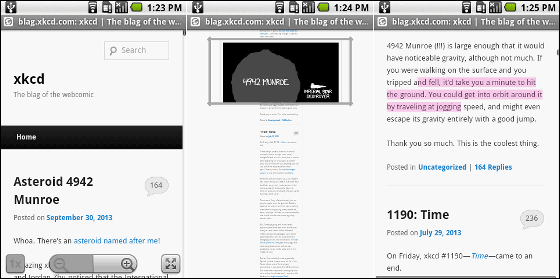 Pattern lock changed to transparent design.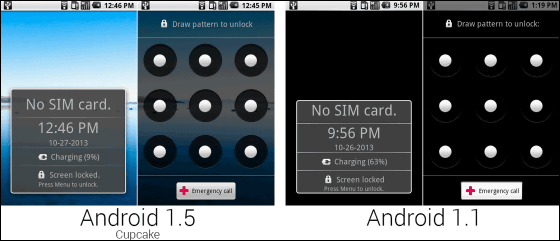 It was able to support uploading directly from YouTube to smartphone for the first time on Android 1.5.



Android 1.6 (Donut) launched in September 2009. Android Market changed image to green color.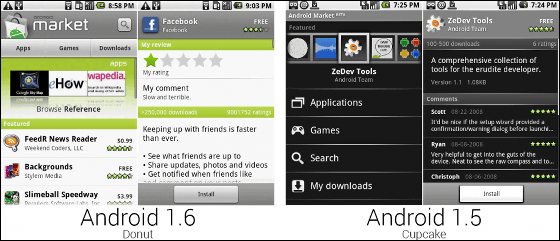 The camera application looks something like this. However, the viewer (center) did not correspond to the left and right swipe operation, it was necessary to tap the arrow icon.




From the left, widgets, search bar in the top, notification setting screen, gallery application.




◆Android 2.0
Since the release of Android 1.6, Android 2.0 (Eclair) was released in only 41 days, the first major version was upgraded.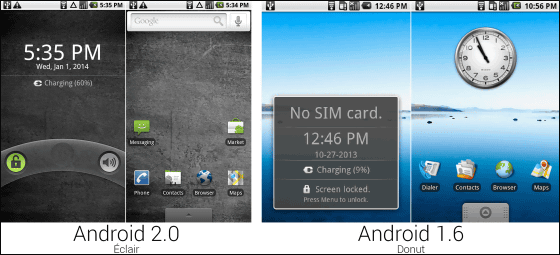 This is Motorola Droid on Android 2.0 device.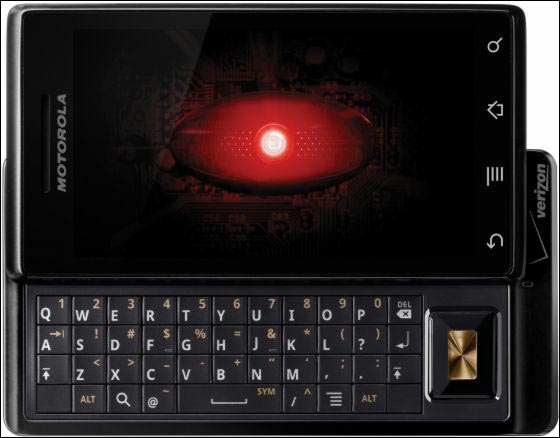 Icon design changed to flat feeling.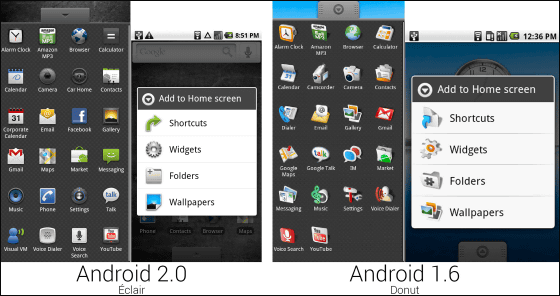 The main feature of Android 2.0 is the navigation function of Google Maps.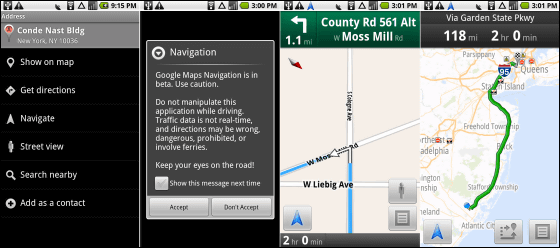 The call application screen was also changed to sophisticated design.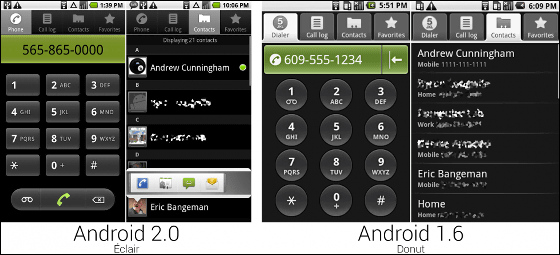 Although the calculator remains simple, the amount of information is up in the browser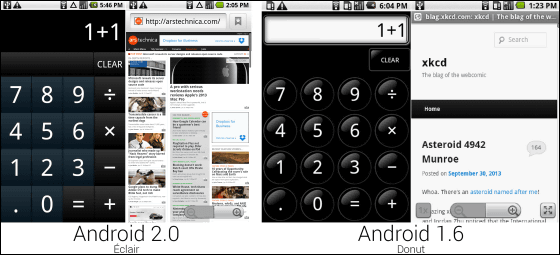 Motorola Droid is equipped with a camera flash for the first time.




E-mail application also evolved, supporting Microsoft Exchange. In addition, it adopts a reception box that can integrate different mail accounts.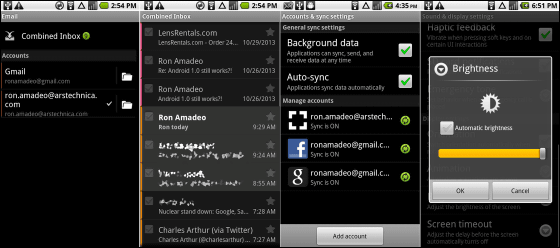 ◆Nexus Series Appears
In January 2010, Google announced its first model as its own brand smartphone "Nexus" series "Nexus OneAnnounced. HTC is in charge of manufacturing, and as a SIM lock-free terminal, it took a form of smartphone sales that has never been said "to sell online" at a price of 529.99 dollars (about 48,000 yen).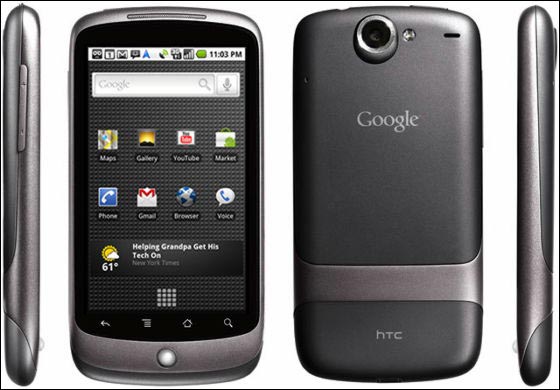 With the introduction of Flagship Android terminal that does not have this physical keyboard called Nexus One, we will finally start full-scale development competition with the iPhone.



◆Android 2.X
We updated the version to Android 2.1, but the code name will continue to use Eclair.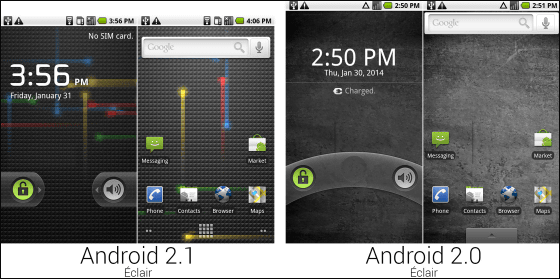 The gallery application is also more sophisticated design.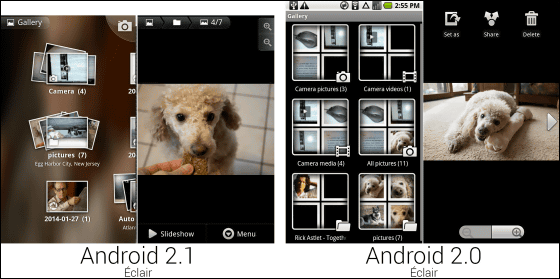 From Android 2.1, I fully utilize the animation function.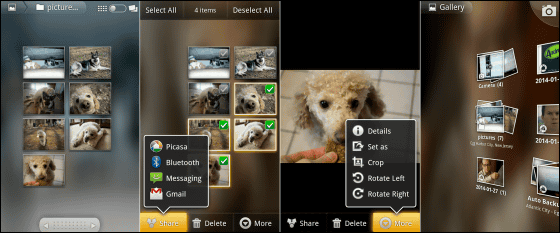 Revamped the clock application.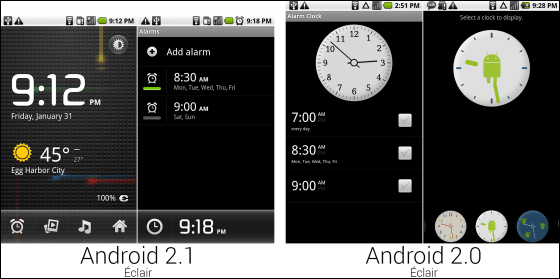 Google will update quickly. To version 2.2 (Froyo).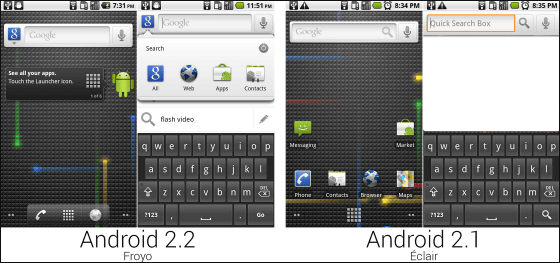 Flash Player (second from the left) also appeared. You can now browse the site using Flash.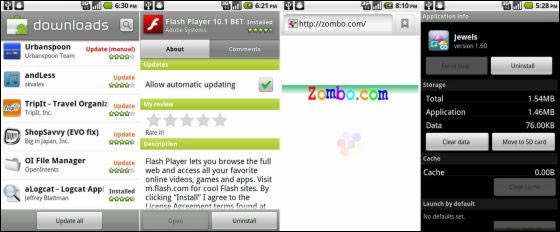 On Android 2.2, Twitter and Google's collaboration app was preinstalled.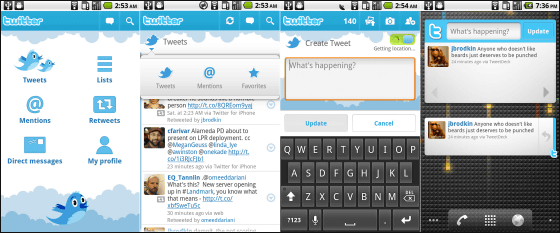 Android 2.3 (Gingerbread) was released in December 2010 after seven months from Android 2.2, and a big update was done to renew the UI. Android 2.3 uses Samsung's "Nexus SAlso appeared. The screen size is expanded to 4 inches.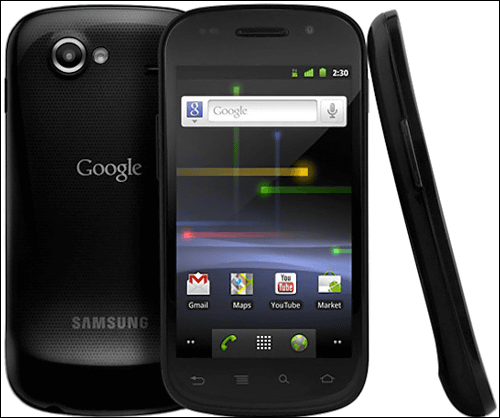 Adopted live wallpaper, new applications are added.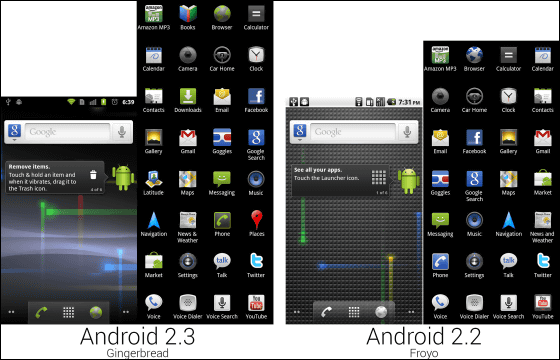 Android Market is more green color.



Changed the design of the application so that it can collapse.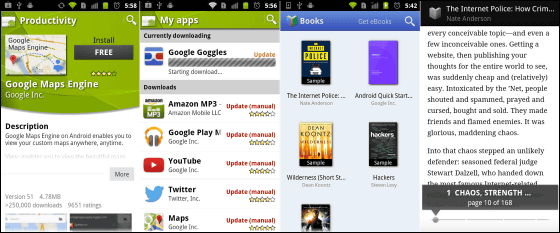 Supports video call function.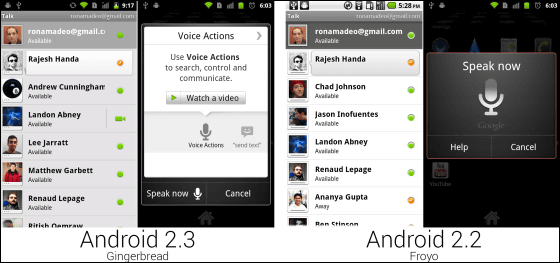 ◆OS for tablet terminal, released Android 3.X
With the advent of the iPad, attention is gaining attention on tablet devices, Google will release version 3.0 (Honeycomb) designed for tablet devices in February 2011 with full satisfaction.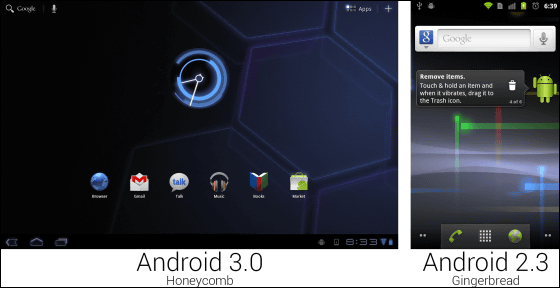 Motorola Xoom became Honeycomb's first tablet device.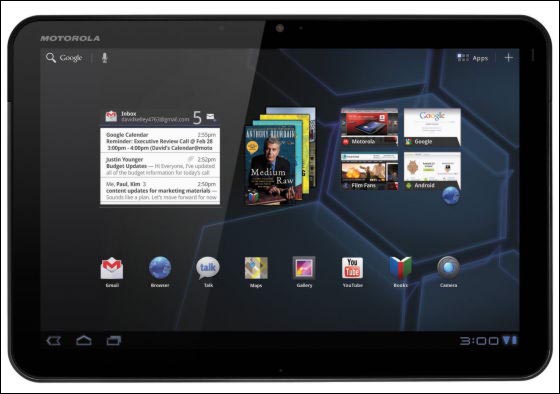 Improved lock screen and application interface for large screen.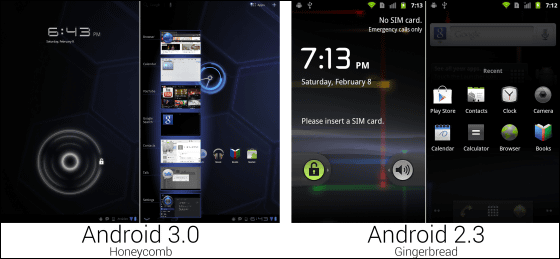 Since the application for smartphone was deleted, the number of applications decreased.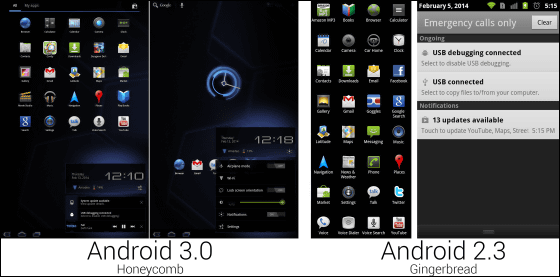 We adopted screen split layout so that we can make full use of large screen.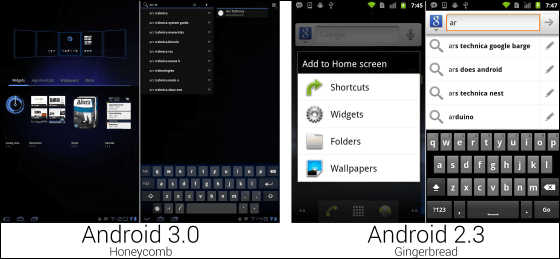 The design of Gmail has also changed to such a feeling.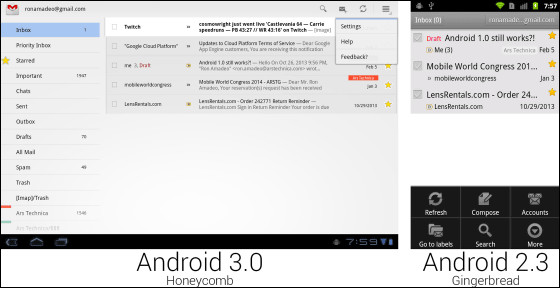 The design of the camera application is completely renewed.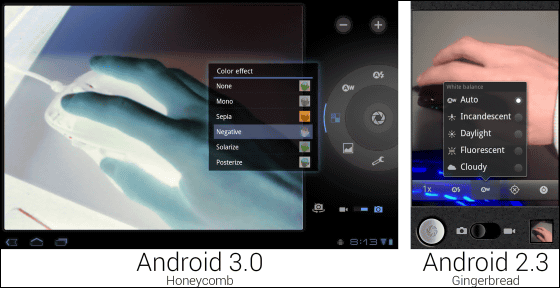 Google Maps has 3D view function.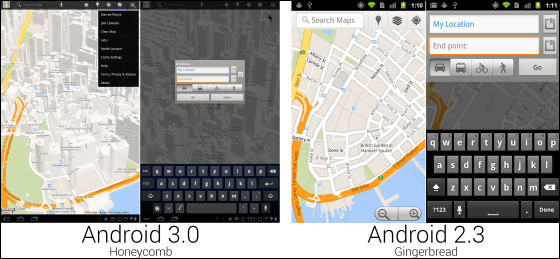 Android Market is a fashionableCard designAdopted.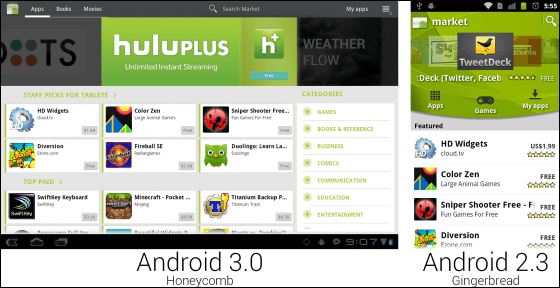 The YouTube application makes it possible to display a large amount of movies using the large screen unique to tablet terminals.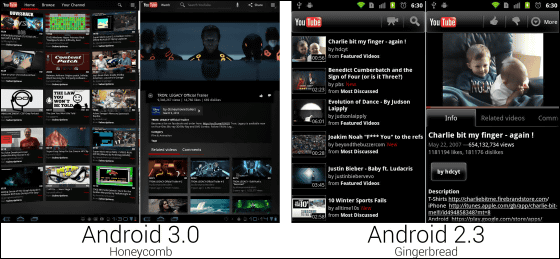 Gmail and calendar applications also support widgets.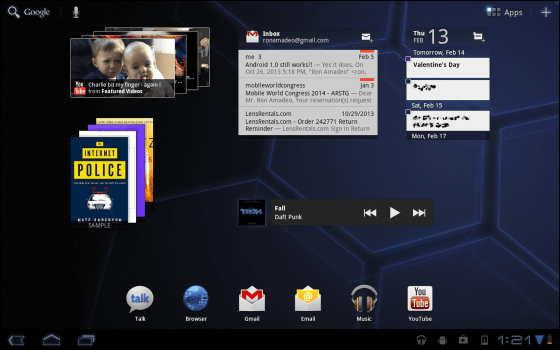 Update version issued three months after Android 3.0 On Android 3.1 you can freely change the size of widgets and application screens. Android 3.2 and 7 to 8 inch screen size tablet correspondence. I succeeded in capturing the No. 1 position of the tablet terminal from the iPad.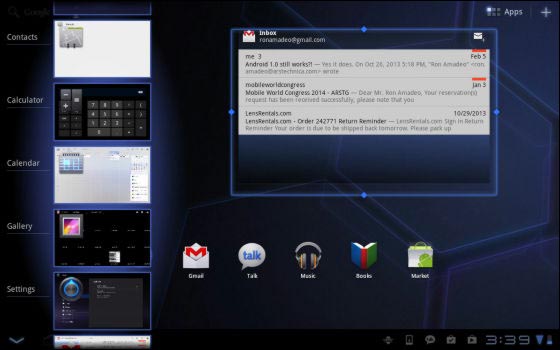 ◆Android 4.0
Android 4.0 (Ice Cream Sandwich) which was major update in October 2011, integrated OS of smartphone and tablet terminal. As a smartphone OS it has been updated for Android 2.3 for the first time in a year.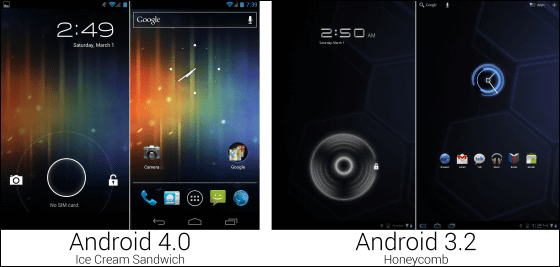 Android 4.0 is the first to correspond to Samsung's 720p movieGalaxy NexusDebut with. The screen size was expanded to 4.7 inches and was criticized as "too big" at that time, but in consideration of the big screen of the Android smartphone afterwards it should be evaluated as normal evolution.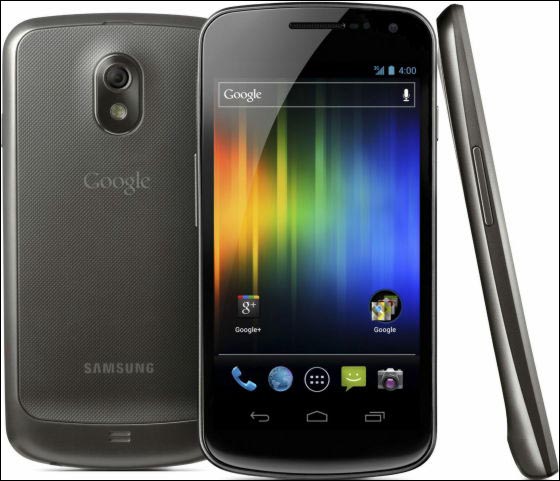 Android Market has changed to layout that is compact but easy to see.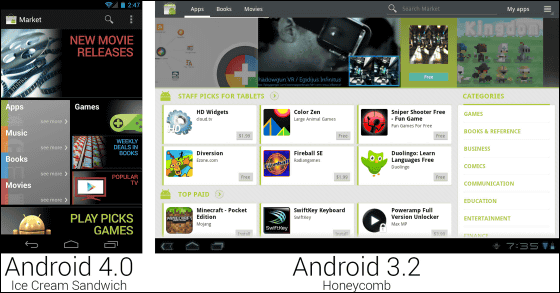 Thumbnails of application usage history etc are taken over from Android 3.X.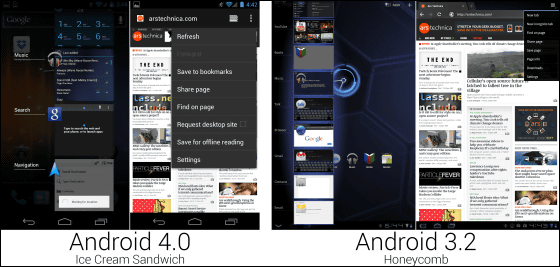 Gmail application also succeeded in gathering information more compactly.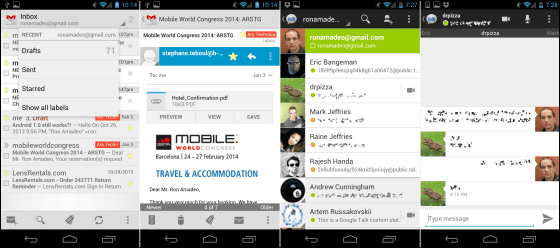 Telephone application has not changed much.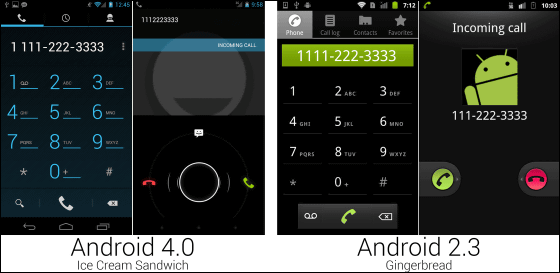 YouTube changed the movie thumbnail to a style that scrolls vertically.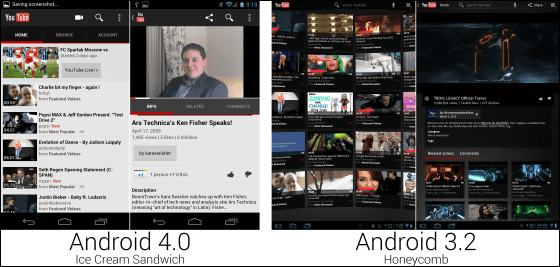 New features such as data usage and various tutorials are also available.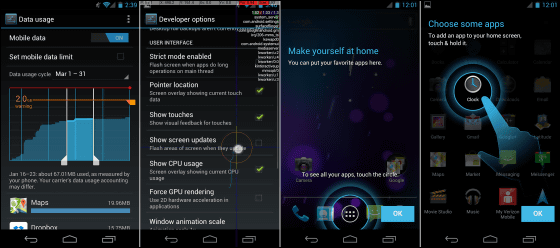 It corresponds also to NFC · Google Earth · application information screen etc.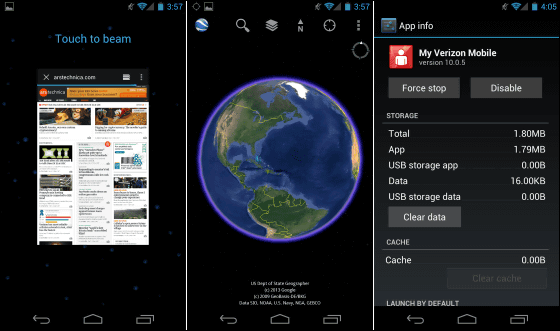 On March 6, 2012, Google unified content as "Google Play" brand. Google Market of the app shop has changed to the Google Play Store.




Android 4.1 (Jelly Bean) was released in July 2012 about half a year after the appearance of Android 4.0. Animation performance has improved drastically.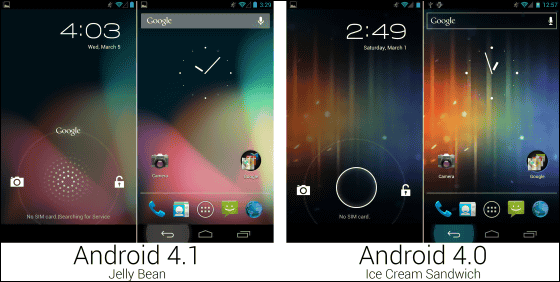 With the advent of Android 4.1, as a 7 inch tablet made by ASUSNexus 7Released. Low price · High performance and big hit model.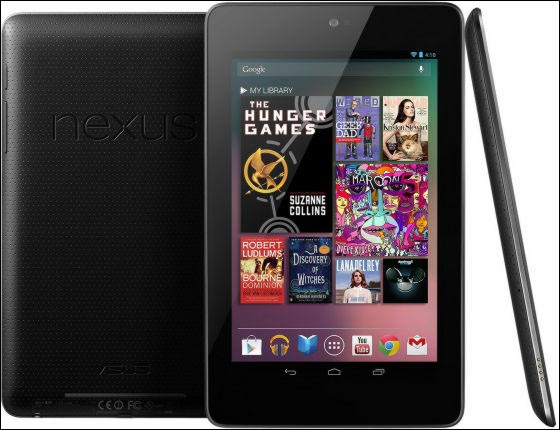 In addition to Google Now, introduction of predictive search function.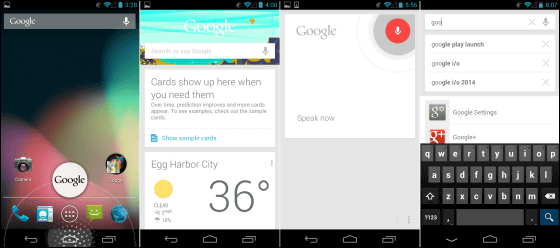 The design of YouTube has changed dramatically, and the amount of information decreases.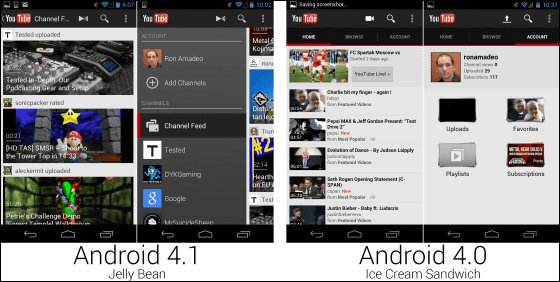 Upgraded to Android 4.2 in November 2012. The code name is still Jelly Bean as there are few changes.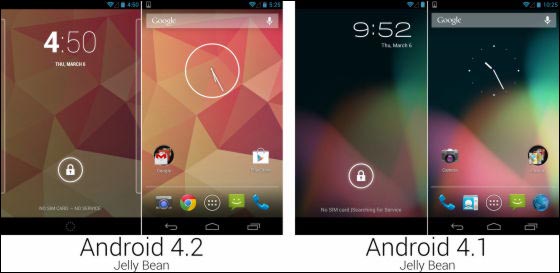 At the same time as Android 4.2, the 10 inch tablet Nexus 10 and 4.7 inch smartphoneNexus 4Has been released. Nexus 10 has a display resolution of 2560 × 1600, a high-spec model with 2 GB memory in the dual core of Cortex A 15. One Nexus 4 is popular enough to sell the first minute in one hour from sale.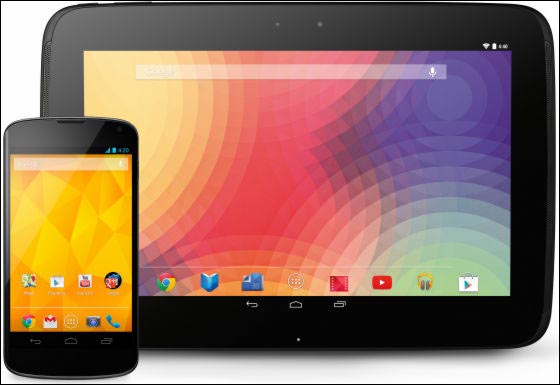 The lock screen and clock design also changed.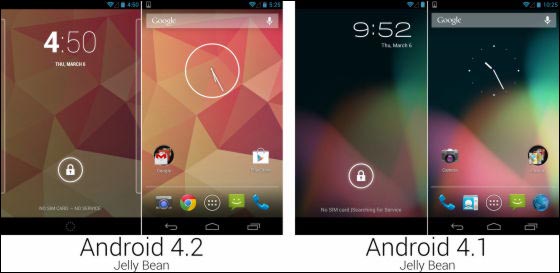 Android 4.2 adopts "quick setting" which allows direct access to the setting screen of screen brightness, network connection and data usage.



Furthermore, it is possible to add widgets to the lock screen and activate the camera by swipe operation.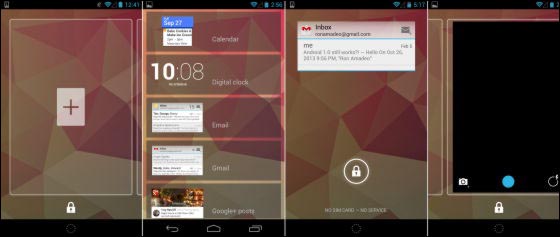 In addition, it is possible to use it by multiple users by registering your own gesture.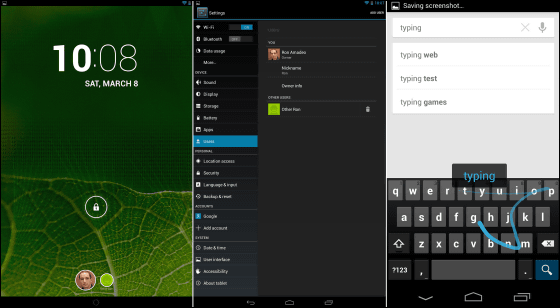 Jelly Bean further evolved into Android 4.3 with minor changes. The specification of Google Play is slightly changed, and specifications are color-coded for each content. Also, by making full use of card design, it is possible to correspond to every screen size.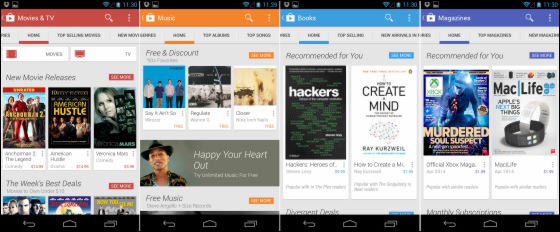 ◆Android 4.4
Android 4.4 (KitKat), developed with the goal of reducing memory usage, appeared on October 31, 2013. Google has partnered with Nestle and released KitKat of Android model.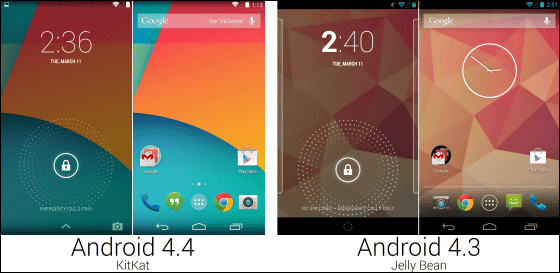 According to the appearance of Android 4.4, the high-end model of the Nexus seriesNexus 5It was succeeded to. Google sells Nexus 5 at about half its price, while other companies' high-end models are priced at $ 700 (about 70,000 yen).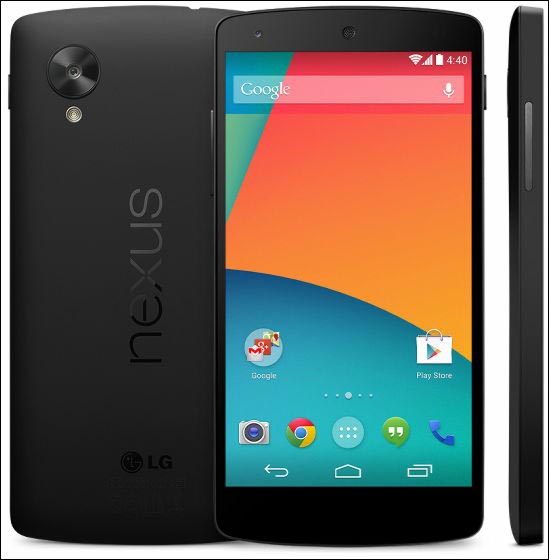 The color of the tab which was blue was changed to gray.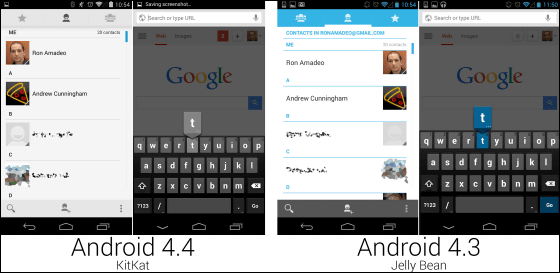 Long-lasting gallery app renewed to Picture app.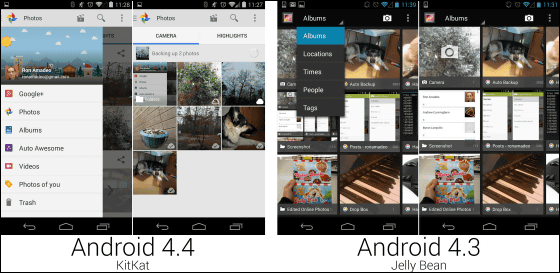 ◆Next Generation Android
Google announced a customized Android Wear for wearable devices. Google Glass and smart watch development is going further.




Android OS, which has been constantly changing its appearance for seven years, steadily robbed the smartphone / tablet terminal market which was a color of iOS, and finally succeeded in winning overwhelming share. In addition, how Google and Android growing in Google Glass and smart watch who are stealing lead to Apple and Microsoft are also important to evolve in the future.