Functions and action movies that seem to have "iOS 8" inspired by Android Summary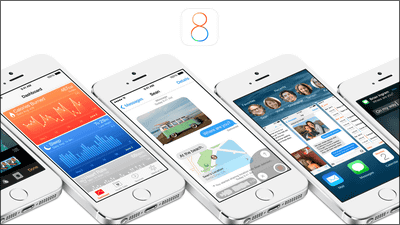 IPhone and iPad operate on iOS of operation system (OS) which Apple independently develops. So far for cloud servicesICloudAnd voice recognition functionSiriHas appeared, orchange designAlthough iOS has been taking various changes, such as being done,WWDC 14Finally the details became clear in "IOS 8What kind of evolution can be seen in?

Apple - iOS 8 - Overview
https://www.apple.com/ios/ios8/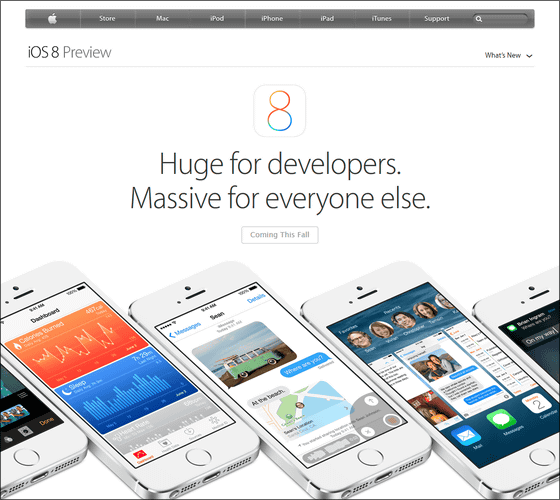 Although the official release of iOS 8 is scheduled this autumn, the beta version for application developers has already been released, and the place where this beta version iOS 8 is installed and actually used is released in the movie .

IOS 8 Hands-On - YouTube


◆ Spotlight search
Petting is not different from iOS 7 which became a flat design ... ...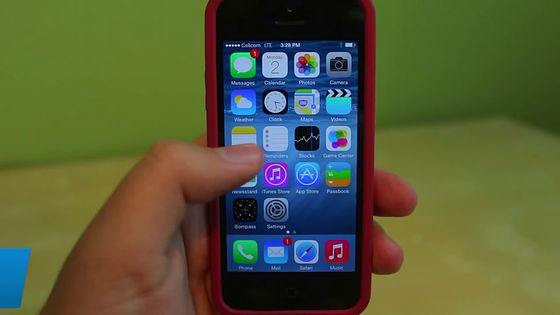 Spotlight search coming out by swiping down the home screen downwards is slightly different from that of iOS 7.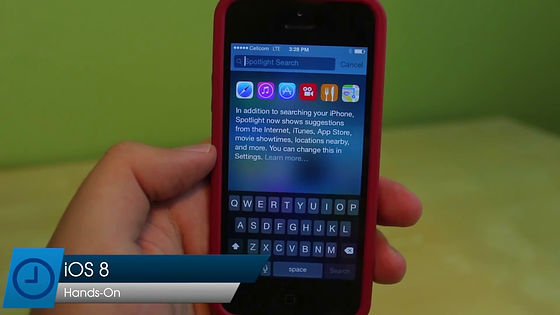 In Spotlight search so far, "Search iPhone" was displayed in the search bar, but from iOS 8 it seems that it will be displayed as "Spotlight Search (Spotlight search)". It is also characteristic that explanations about Spotlight search are displayed on the screen before the search.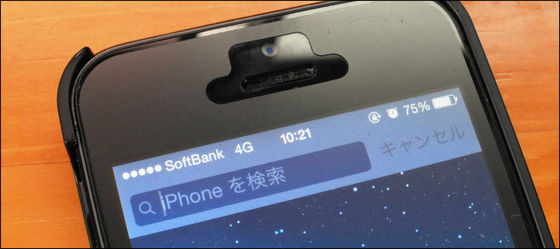 If you actually enter text and search, you can see similar features until you search for contacts and contacts and installed applications ... ...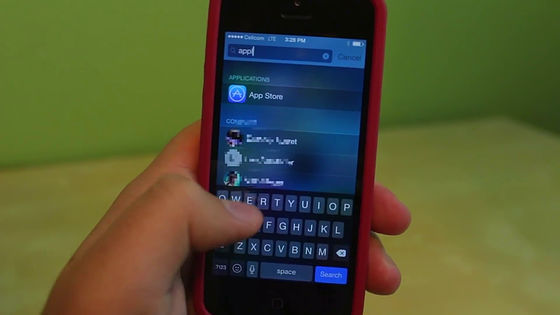 In iOS 8 Spotlight search, search results of search engines and Wikipedia are displayed, search results linked with topics of news and position information are displayed, searching through the iTunes Store · App Store · iBooks Store , It is becoming smarter to provide information that meets the needs of users.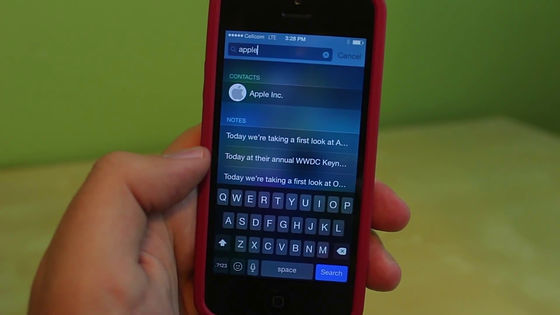 ◆ Photo app
The photo app looks something like this. There is almost no change in appearance as well.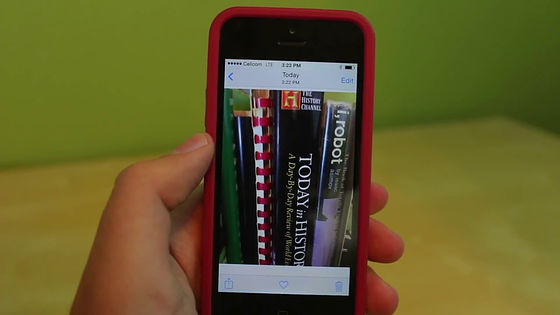 I feel that the filter is not much different from what is currently available.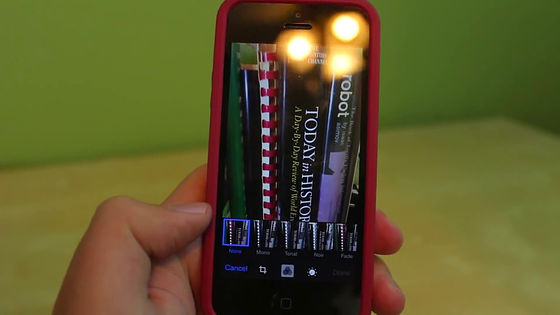 However, in iOS 8, more than 4000 APIs have been newly added, and iOS relays each application that was independently operated so that applications can be linked securely, and data and functions You will be able to exchange. So, for example, you may be able to use a Instagram filter from a photo app.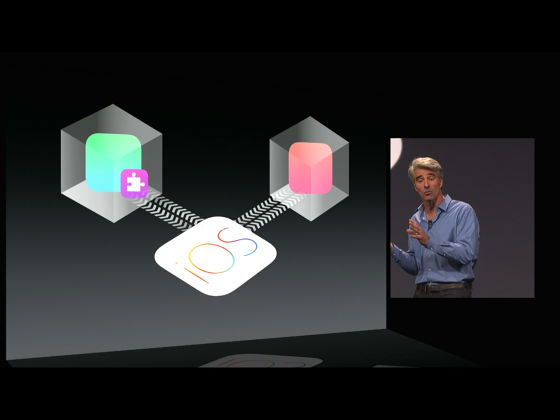 In the photo app, items "Light" and "Color" are newly added ... ...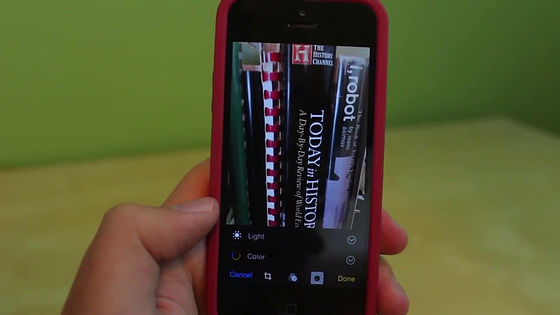 Swipe the screen left or right ... ...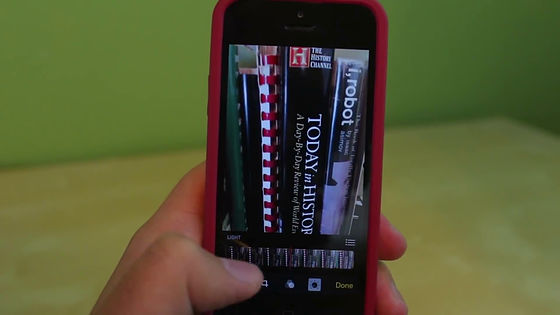 It is also possible to adjust the brightness of the photo.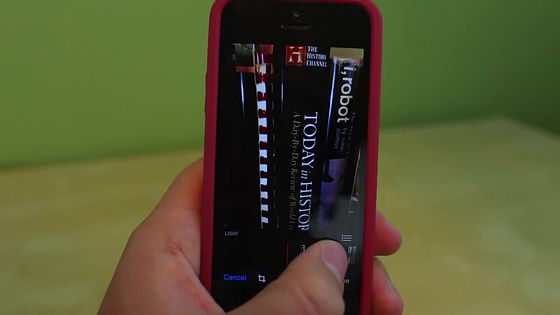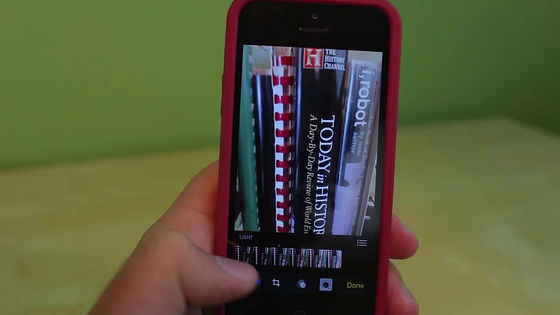 According to the slide displayed at the presentation made at WWDC 14, the camera applicationIndividual focus and exposure adjustment function and camera timer functionAnd seems to be added.

◆ Message application & keyboard
The appearance of the message application has changed slightly, and the design of the portion where the predictive conversion is displayed is replaced by the one of the white basic tone to the one of the gray base tone. In addition, the microphone icon is displayed in the place where the "send" button was previously ... ...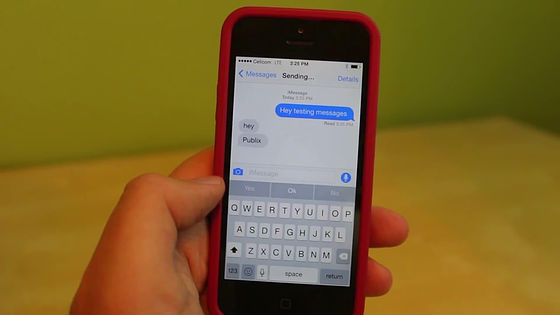 You can also tap this to send a voice message. I can send voice messages on LINE, Facebook, etc., is it a bit trend?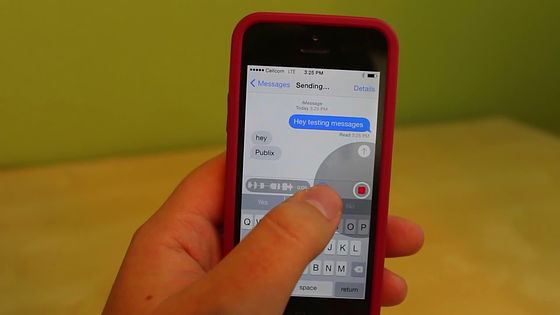 Also, the predictive conversion function of iOS 8 is evolving wisely, for example, predicting and displaying your own reply ... ....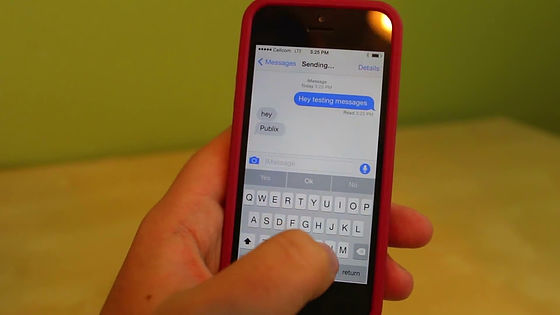 It displays predicted conversion contents that match the person who is mailing.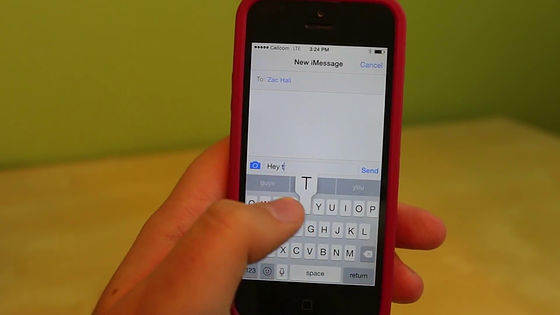 Furthermore, in the message application it is also possible to communicate your location information to the other party.

◆ Health management application
Newly announcedHealth management application for iOS is "HealthKit" and "Health"However, these will be used by HealthKit mainly in cooperation with third party equipment, Health seems to be able to manage all the information gathered by HealthKit in a unified way.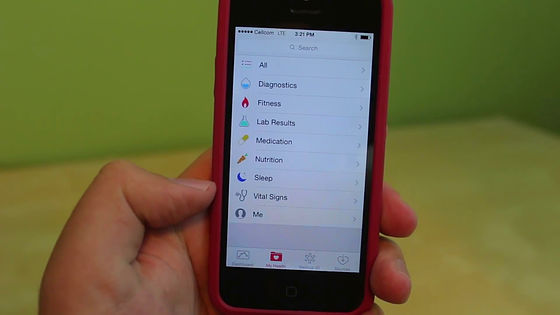 This is a Health application, as it is only possible to manage the data of individual health management applications collectively and there are quite a lot of items lining up ....



Detailed data can be confirmed with each one. Furthermore, it seems that the data seems to be a graph, and it seems that it is possible to share the data and display it on the dashboard.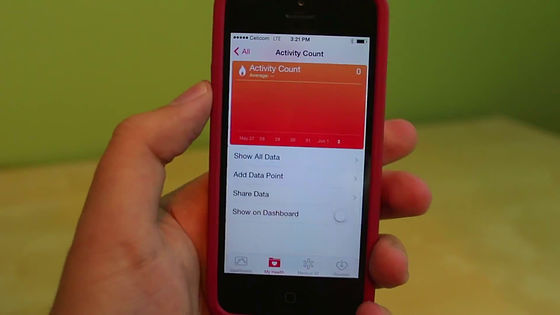 Although all such aspects are being improved, it is iOS 8, but some of the new features seem to have many functions inspired by rival Android.

Great artists steal: The iOS 8 features inspired by Android | Ars Technica
http://arstechnica.com/gadgets/2014/06/great-artists-steal-the-ios-8-features-inspired-by-android/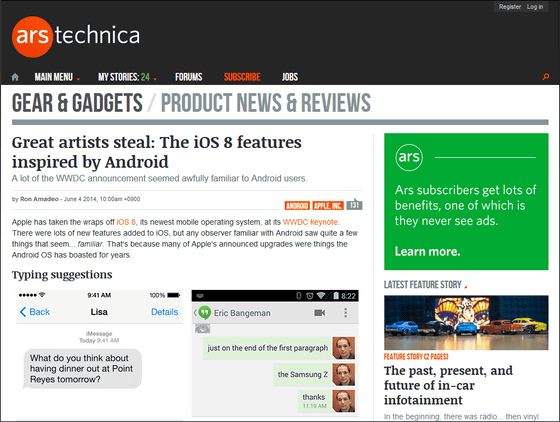 ◆ Predictive transformation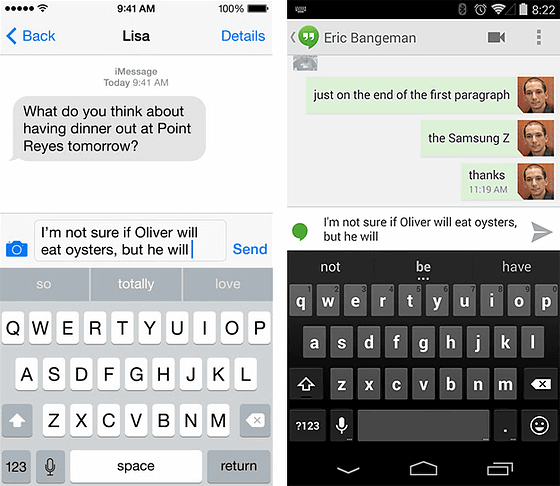 The predictive conversion function improved at iOS 8 has changed to something that prepares several answers to some kind of questions, unlike the previous prediction conversion function. For example, predictive conversion such as "movie" and "meal" will come out if the other person is asking "What is your movie and meal?" Android has a predictive conversion function since version 1.5, but predictive conversion of this is to display fixed predictions such as "B" for "A" and "D" for "C" .

Third party keyboard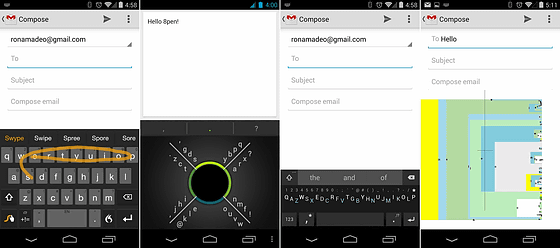 Apple finally launched a posture to accept a third party software keyboard. immediatelyMetaMoJi expresses intention to offer handwritten Japanese input "mazec" corresponding to iOS 8Or Japanese input systemATOK is considering developing keyboard for iOSIt is in a state of fuss with commenting. Until now iOS could not use a third party keyboard, so for example ATOKATOK PadWe have released an application called ATOK Japanese Input System only within the application.

On the other hand, Android has also released a third-party IME since version 1.5.

◆ In-app cooperation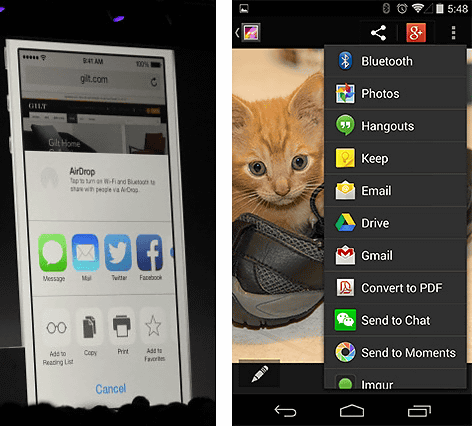 The intra-application cooperation API of iOS is more restrictive than that of Android. However, until now, for example, when editing a photo and posting it on Twitter, after editing with the photo editing application, it was necessary to close the application and open the Twitter application and post the photo. However, from now on, a share button will appear in the application, and after editing it will be possible to upload photos to Twitter, Facebook, etc, Ars Technica.

Also, Apple will not set 3rd party apps like defaults like native apps, but on Android it is possible for third party applications to behave like native apps, I explain the difference of the camp.

◆ Siri's enhancements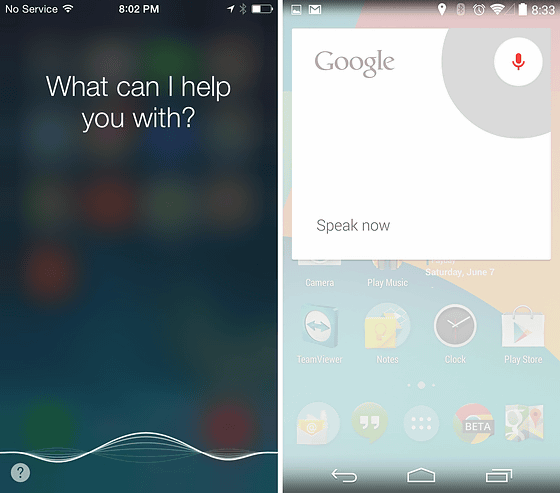 Apple released Speech Recognition Assistant Siri in 2011, and Google released Speech Recognition Assistant Google Now a year later.Google Now LauncherIf you say "Ok Google" when the terminal screen is on, you can start without tapping on the screen, but in Siri you talk to "Hey Siri" when the device is charging from iOS 8, like Google Now You will be able to start without touching the screen.

Also, from iOS 8 Siri has a song identification serviceShazamWill be incorporated, and it will become possible to distinguish what song it is by simply listening to music by Siri. So far, everything related to speech recognition has been done within Apple, but when we identify songs in cooperation with Shazam, we need to transfer the data to the outside. However, Ars Technica predicts that Google will do everything related to speech recognition, including song discrimination, within Google, so you can expect a faster response than Siri.

◆ Reply from notification center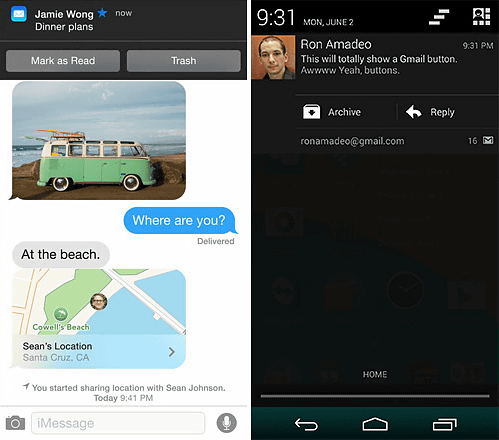 From Android version 4.1 it was possible to add up to two buttons in the notification area. On the other hand, in iOS 8 it is possible to reply to a message from the notification center or to "like" a friend's post. Ars Technica highly appreciates that this new feature is "more flexible and powerful than Android's notification area."

◆ Movie on the App Store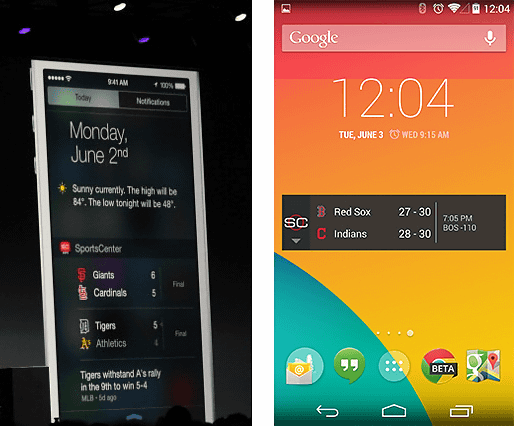 Apple made it possible to display the movie in the app shot screenshot of the App Store. Incidentally,Movie can be embedded from 2010 on Google Playis.

◆ Beta test
We love beta testing and we have introduced bet beta testing system for apps long before Apple.

Apple bought Burstly, which develops the test test distribution service "TestFlight" of the application, but from iOS 8, TestFlight will be built in iOS and beta testing will be easier.

◆ Widgets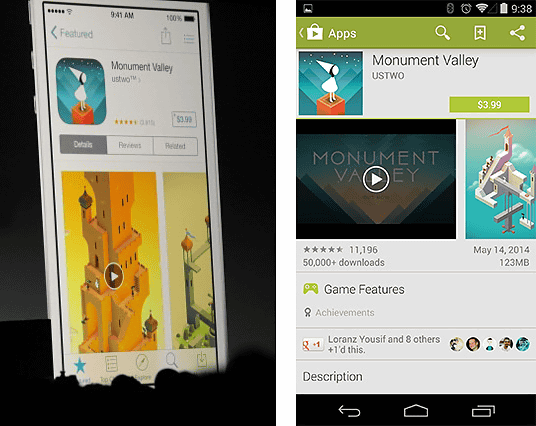 On Android there are widgets since version 1.0, and from version 1.5 are also banned to third parties, but on iOS only widgets are lifted from iOS 8 and only a small small application extension within the notification center is the only thing Parties can also use these.

◆CloudKit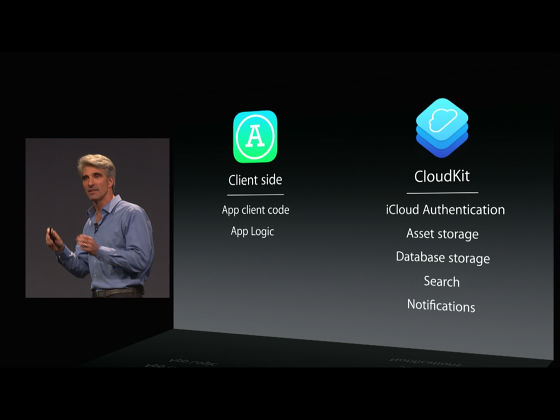 Apple's newly released CloudKit is to connect iCloud to developers' applications and leverage iCloud to part that we have left up to the server with authentication, including authentication. This means that developers will be able to easily use Apple's cloud for applications. This service is available for free storage and transmission, details of paid services are not disclosed at the moment.

In addition, as Google's own cloud serviceGoogle Cloud PlatformWe are deploying.

◆ Battery usage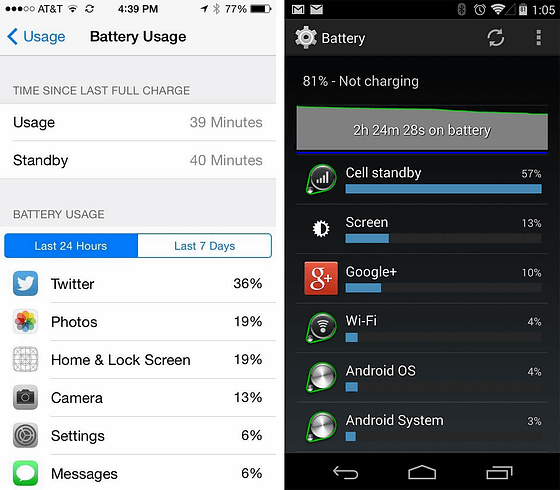 Although I was not talked about in the presentation of WWDC 14, IOS 8 will be able to see details of battery usage in detail.

On Android you can check the battery usage in detail from version 1.6, and the bar is displayed so that the usage ratio of the battery is visually easy to understand.