"IP radio" using Softbank's telephone network and Bluetooth connection income "G-TALK"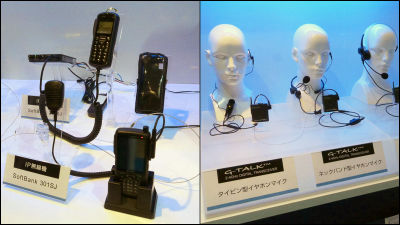 While mobile phones and smartphones have become widespread, communication using traditional radio equipment is ongoing at professional drivers' sites such as taxis and trucks. Although it is a radio that has been used continuously because there are merits that are not found in mobile phones,Wireless Japan 2014It is being held at the same timeTransportation system EXPOSo, by using SOFTBANK's 3G telephone network, it becomes possible to talk with areas in Japan "IP radio"A transceiver that can always talk up to five at a maximum using Bluetooth"G-TALK"Was on display.

News | Nishishi Electric Co., Ltd.
http://www.seiryodenki.co.jp/news/event/2014/0526140000.html

◆ "IP Radio" using SOFTBANK's telephone network
"IP radio" is a business wireless radio system that uses SOFTBANK's mobile phone network instead of the conventional radio base station.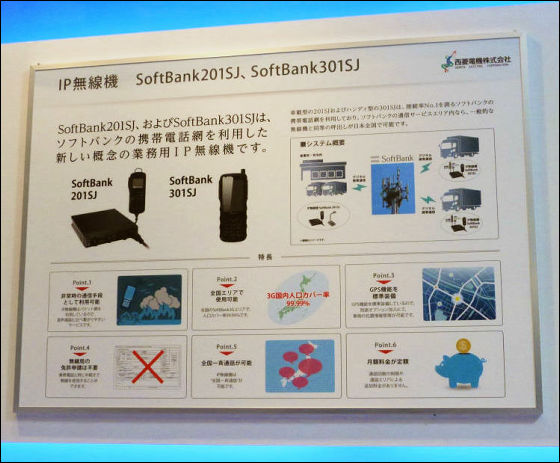 Two types of IP wireless terminals on display were stationary "201SJ" and handy type "301SJ".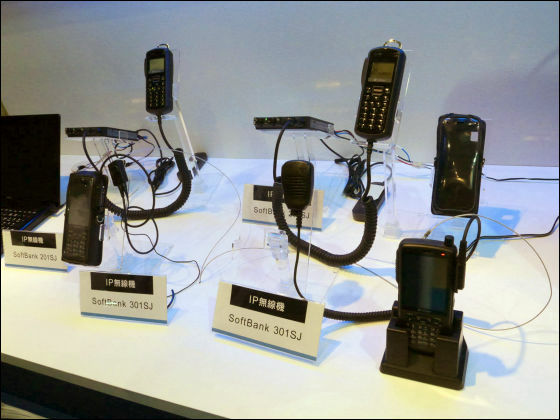 301SJ is a handy type that can be held in hand and can talk, but it is also possible to connect an optional speaker microphone. The main body is attached to a belt etc, and handling becomes easier if you hold only a small and lightweight speaker microphone in your hand.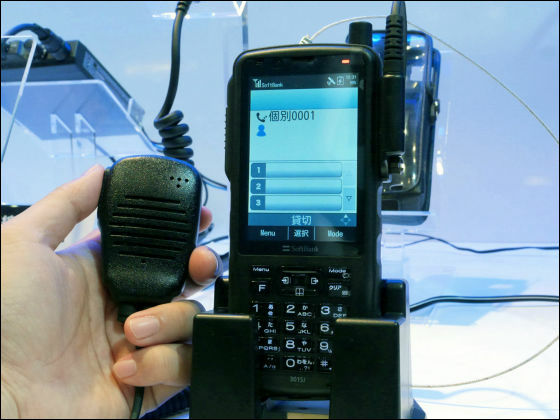 On the other hand, the 201SJ is a stationary type of radio that is often found inside a taxi or a truck.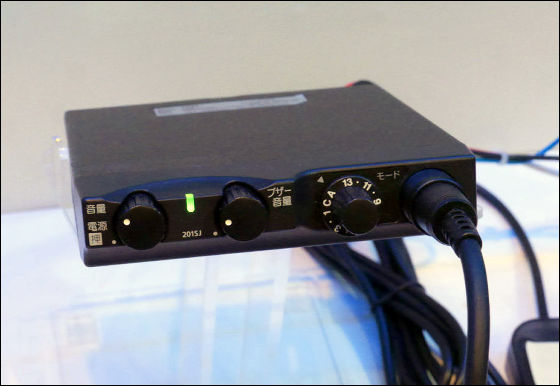 201SJ comes with speaker microphone connected by cable. The speaker microphone is designed to be hooked by a hook. Frequently truck drivers are talking to each other, "Yes, car, now driving △ △ ~ Please do."



Transceiver type used for communicating between leisure destinations and store staff of storesincomeUnlike, in order to use business radio, you need to set up wireless facilities and personnel "Radio stationAlthough it is necessary to set up, it was necessary to apply cost and manpower to apply for licenses necessary for equipment and installation.

However, if it is IP radio using SOFTBANK's 3G mobile phone network, installation of a radio station becomes unnecessary and application of licenses etc is unnecessary.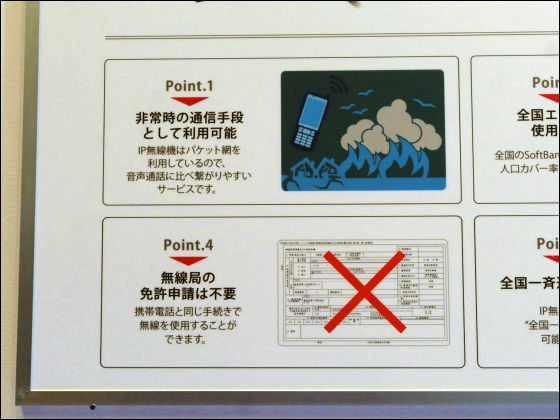 Since we are using a cellular phone network with a domestic population coverage rate of 99.9%, depending on the contract, it becomes possible to talk with areas in Japan, and it is also possible to tell the driver to drivers scattered all over the country through "nationwide call" .



Moreover, it is also a point that GPS function is installed and the fee is monthly system. It is becoming a system that could be utilized as a solution that can reduce the cost that was used in the past.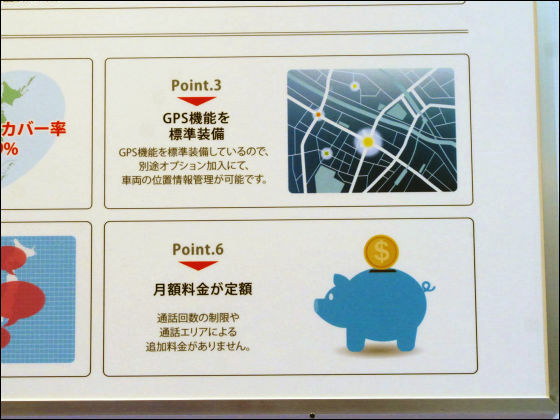 Details of IP radio can also be checked on SOFTBANK's website.

IP Wireless | Softbank Corporate Services
http://tm.softbank.jp/mobile/sbm/lineup/201sj/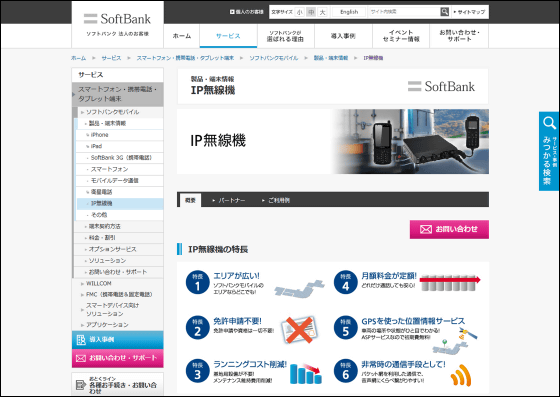 ◆ The transceiver "G-TALK" which can always talk up to five at Bluetooth
Also, in the booth, the equipment of the transceiver "G-TALK" using the radio waves of Bluetooth was exhibited. It was necessary to press incoming call button when speaking, but income which is widely used at shops and construction sites, etc. had to press speech button, but G - TALK is a wireless communication device which can solve such troubles It is getting.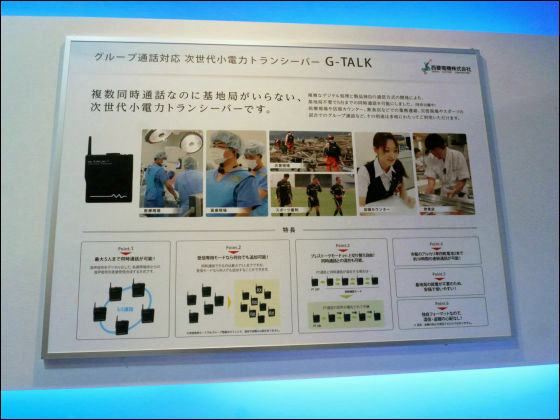 Earphone microphones of "tie pin type", "neck band type", "head set type", "pharyngeal microphone type" have been lineuped so that they can be used appropriately for a wide range of applications.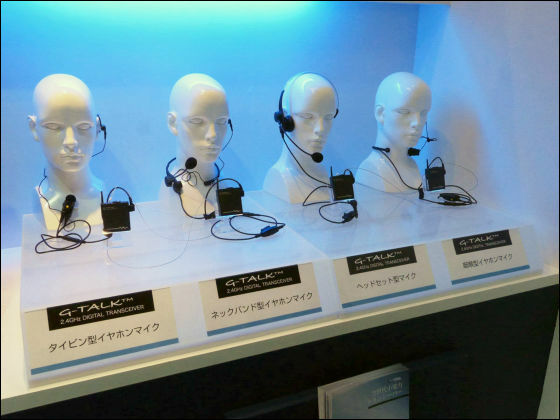 When I actually tried calling with G-TALK, I was able to feel the merit of being able to talk to each other without operating anything. Although the communication range seems to be 100 meters in the forecast, it is said that there is a slightly weak aspect in shielding by obstacles because it uses radio waves in the 2.4 GHz band. However, we will increase the number of relay terminals and cover each otherMesh networkIt was possible to cover the problem by constructing it.

Using the features that you can always talk and do not need to press the buttons, you can check the details of G-TALK, which you can expect to be able to use for communication between shop staff and bike touring, on the following website Is possible.

G-TALK | Top page Group call-type transceiver not requiring base stations
http://www.g-talk.com/