Will the data derived from the big data more important than the interview result in the future of hiring?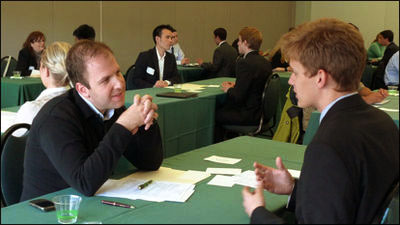 ByBpsusf

The number of electronic terminals that can be connected to the Internet and networks has increased so that various data can be gathered, so that the application method became attracting attention in recent yearsbig datais. Utilizing such big data "Finding talented people more suitable for companies"Or"Optimize enterprise laborAn attempt has been made to make it.

Job hunting is a matter of Big Data, not how you perform at an interview | Technology | The Observer
http://www.theguardian.com/technology/2014/may/10/job-hunting-big-data-interview-algorithms-employees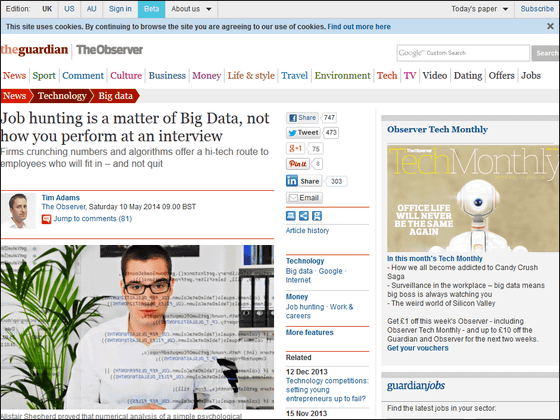 "Occupation" is obtained from the job history and interview results, but if there are people who have fortunately hired a civil servant, there are those who have occupied jobs that are not suitable for their abilities, and some people It is a thing with confirmed elements. Under such circumstances, it is necessary to trace people's communication and personalize all the information such as personal talent, skill, character, habit, culture, experience, subject of interest, hobby, etc., to derive the correlation between various elements, If it became possible to arrange the optimum occupation, what kind of job hunting activity would be?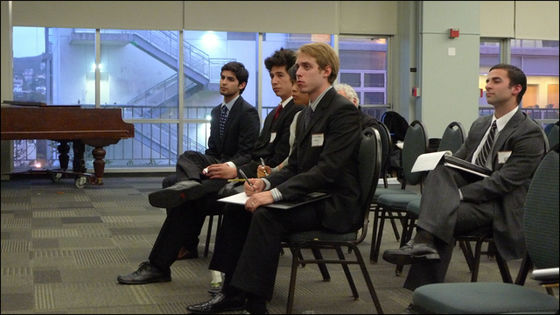 ByBpsusf

◆ Algorithm for making teams that succeed in business
Alistair Shepherd, a graduate of the University of Southampton, designed himself in 2009Wave forceI tried to start a business based on the innovation about. However, Professor Noam Wasserman of Harvard Business School, "83% of companies that have just started a business go bankrupt and two-thirds of the reasons for those companies going bankrupt is not just good or bad for the idea itself but simply comes from fund shortage I heard the advice that it is "It is said that he started researches on social engineering by giving up the planning entrepreneur.

Shepherd then "Optimize laborWe devise an algorithm for. This is an attempt to analyze big data on human performance, optimize productivity and try to derive success and happiness in the workplace, which he discovered at the time of university "human interaction in work It is a method derived by applying a typical competitive psychology model on "

Carl Gustav JungDeveloped based on the psychological typology ofMBTIAlthough there was a movement to analyze and utilize personal information so far so far, we can prove that the self-analysis method so far is an effective tool to succeed in real business It was not.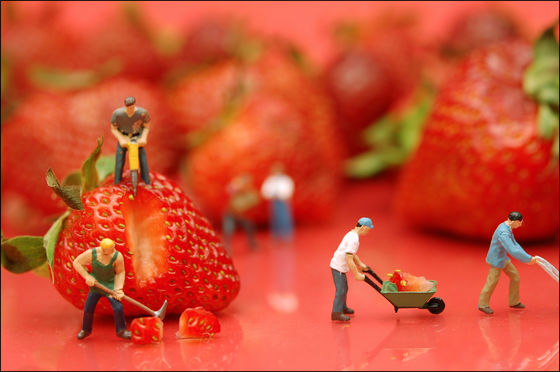 ByJD Hancock

Newly discovered by Shepherd is an algorithm for locating important data for "making a team to succeed in business". He seems to have derived this algorithm from "online date". Shepherd says, "Online dating is a very wonderful place, if you use this you can get answers to simple questions as a lot of data and derive" Which two pairs can pair a wonderful relationship " It was the best. " Shepherd is a pair and a set that promised to delete the dating site's account among the pairs paired at the online dating site as the definition of "the most successful pair".

And in order to find "the most successful pair", respond to the questionnaire written by the subjects such as "Do you like horror movies?" And "Do you have sex with your first date?" It is said that he gave up elements as much as possible about romance. After that, by combining the answer data for these questions and the latest academic thinking in behavioral science, we have derived a basic business-related relationship, that is, a basic algorithm for "making a team that succeeds in business" Thing.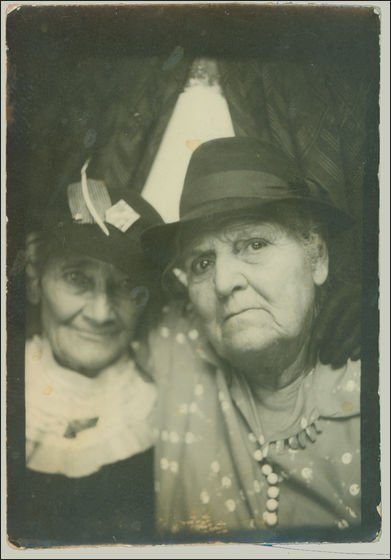 ByAnyjazz65

Shepherd later verified that the algorithms he created yielded correct results, at the University of BristolSpark!I went to the business competition of saying. This competition is formed by a team of eight unknowns forming a group of teams, with eight teams presenting ideas over a week and finally presenting in front of investors and competing for superiority or inferiority. Mr. Shepherd asked the participants to answer 25 questions according to the algorithms he created, ranked the eight teams from the question results and note the result on the envelope before this competition started I asked the competition judge "Please open this envelope after the result of the competition".

Mr. Shepherd did not have any information on skills, experience, education, etc. of the competition participant, but he / she gets a response to "I am irritated against a large amount of misspelling." As a result, the memo created before the competition started not only hit the winner of the competition but also succeeded in accurately hitting the detailed ranking. Even after this verification Shepherd also predicted the competition ranking over and over again to prove the accuracy of his algorithm and also made it clear that the accuracy ratio of the ranking was over 95% , It has also been found that evaluation by individual Shepherd's questionnaire will be much better than those evaluated by corporate executives from the interview.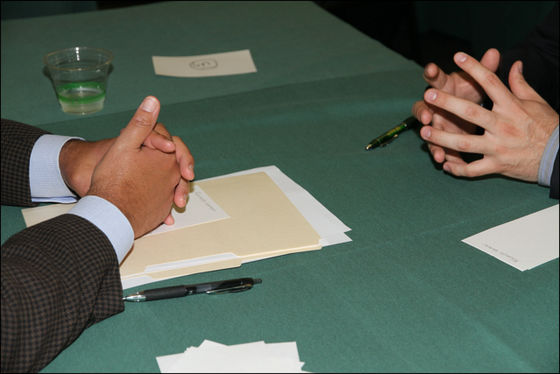 ByBpsusf

Lauren Rivera, a sociologist at Northwestern University, investigated recruitment of global investment banks, management consultants, law firms and other new recruits over the course of three years from 2006, and in decision making when hiring new recruits It is clear that it is "how to spend leisure time" which is the most decisive factor. As for what this means, recruiting person who adopts golf adopts people who like golf and recruitment tennis as hobby is that recruitment officer employed newcomers like tennis. However, according to Shepherd, "To work together with others to succeed, it is better to combine people with different basic values," according to this theory, adoption of existing interview format It turns out that the method is unsuitable for selecting a better business partner.

◆ Developing Employee Analysis Business "Evolv"
In the past, companies and managers have digitized employees and analyzed various elements. Rapidly growing based in Silicon ValleyEvolvUtilizes enterprise's big data to provide services that will analyze to optimize the workforce of employees. Max Simkoff, the founder of the company and his business partner, when working in a small private health and welfare enterprise, said, "The majority of our employees are part-time, with less than a year in beginner skills I quit, and I could not keep my experienced part in my company ".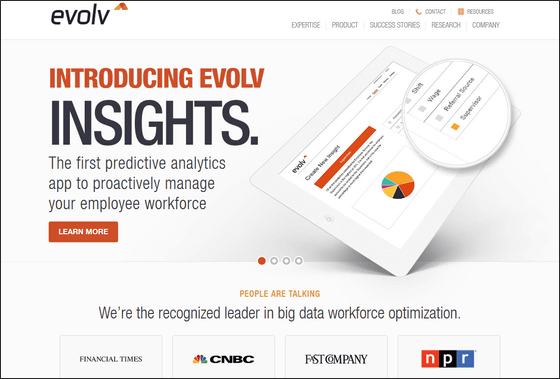 At this time Simkoff analyzed employee data and he thought that there must be package software to find employees who work for a longer period of time. However, when he searched for software in 2006, it seems that there was no such thing, "So far, for example, who has worked for how long, what kind of employee is productive and long Whether it will work for a period of time, we all rely on intuition, "Simkoff said. Simkoff started measuring Evolv and started to work on employee analysis business, which was left untouched like this.

Evolv gathers information such as "what kind of company and how long have you been engaged in occupation," "what kind of achievement did you leave," "who is the manager," "how much was the salary increase?" Analysis will be carried out taking these into account with national economic information, regional labor market information, even house prices. According to Evolv, "Our machine learning engine can investigate hundreds of billions of reports stored in the same company and even learn individual differences that can be explained by cultural differences and regional gaps In addition, we can predict to some extent exactly how long employees working at client companies are about to quit in the system. "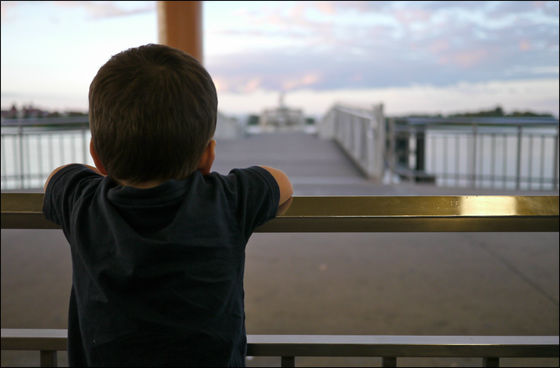 ByEduardo Merille

On the basis of these, Evolv provides customer companies with "analysis results by possible situations", and the behavior such as whether the client company should give bonuses to employees or should do training It seems to show guidelines. Evolv advertises that "If you use the company's service, you can reduce employee wear rate by 15%", and Fortune elects to its clientBest Companies to Work For 2014It is said that 20% of it is included.

◆ Our recruitment policy
GoogleCompanies with the best in the worldIt is a company that is said to be comfortable to work, but this is an employee survey on the annual "Googlegeist" and hiring a psychologist and a behaviorist economist to make a comfortable company It is an achievement that all employees are investigating various factors such as "how do you feel about living in the office", "whether the meal is delicious" or "the screen size of the PC used is appropriate" It seems to be said.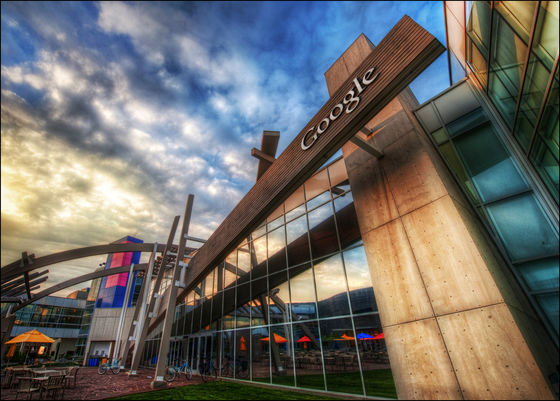 ByTrey Ratcliff

Sunil Chandra, who is deputy director of global recruitment at Google, commented that recruitment is one of the most important elements, and reveals that many employees are involved in the recruitment process. In addition, Google has received more than 3 million job seekers annually, and by organically analyzing each one of these, the number of interviews that have been conducted 10 to 12 times in the past is now 4 or 5 times It was said that he succeeded in reducing it to. Besides, from the huge number of hiring data collected by Google, I also know that the result of the test is totally different from the actual performance after joining the company, taught the element which became clear by utilizing big data He is me.

Chandra said that there is no "secret algorithm" used in recruitment, but it is better than the person who excelled in the interview technique, the result of the test is good or has a qualification as humble leader and team work I am looking for talent that I can do. In addition, we revealed that we are paying attention so that no bias will occur as a result of all the persons in charge only conducting the examination, "We seek recognition ability, learning ability, leadership etc. We are cherishing the so-called Google-likeness. "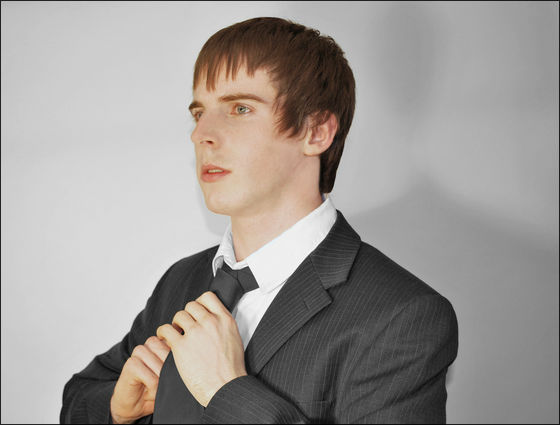 ByAlex France