Ultrahigh durability smartphone "TORQUE (torque)" compliant with US Defense Department's MIL standard Quick hit movie & photo review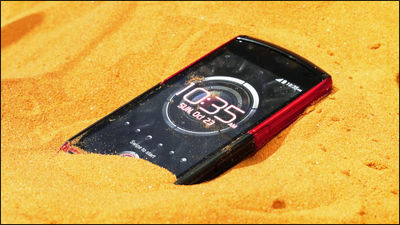 Clear the durability test prescribed by the US Department of Defense such as waterproof / dustproof / shock resistant / vibration resistant / solar insulation / moisture proof / temperature durability / low pressure correspondence / salt water endurance,MIL-STD-810A smartphone boasting high robustness conforming to G is "TORQUE (Torque)"is. It was held on May 8Au presentation 2014 SummerAs I was exhibiting at the palace, I caught something with Petapeta.

The strongest smartphone "TORQUE (torque)" of the strongest in au history according to the US Department of Defense procurement standards (Note 1) appears | 2014 | KDDI CORPORATION
http://news.kddi.com/kddi/corporate/newsrelease/2014/05/08/336.html

There are lots of people at TORQUE exhibition booth.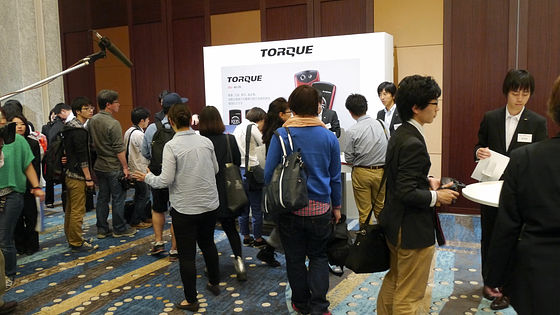 TORQUE is a very popular visitor. It was displayed in sand, water and ice to express high durability performance.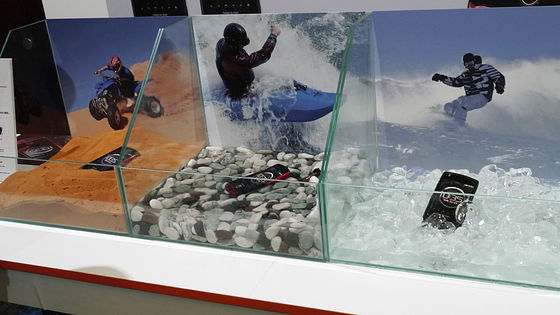 TORQUE has a 1.4 GHz quad-core processor and about 2 GB of memory, the main body capacity is about 16 GB and the battery is 3000 mAh.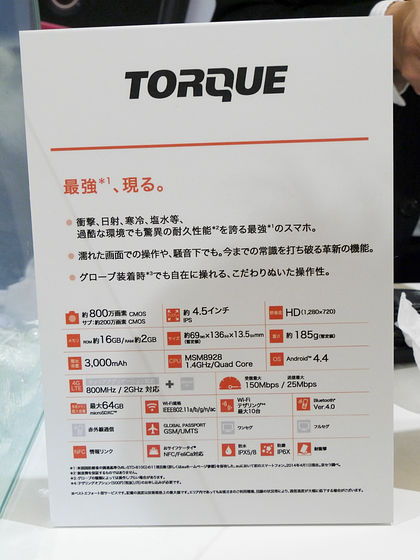 It can also be linked with Casio's G-SHOCK to display notices such as phone, e-mail, Twitter, Facebook.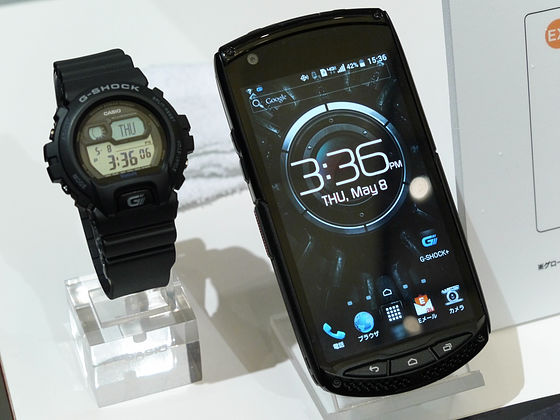 It actually looks like this when you bring it in your hand. The display size is about 4.5 inches and the resolution is HD (1280 × 720).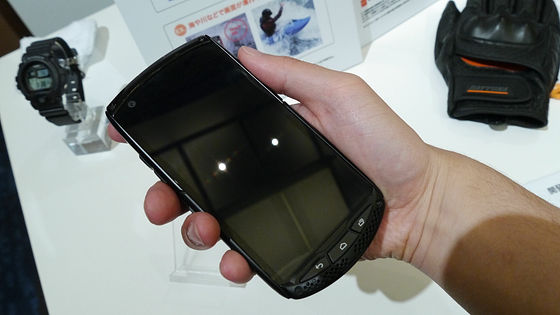 There are three hard keys and a speaker at the bottom of the main unit.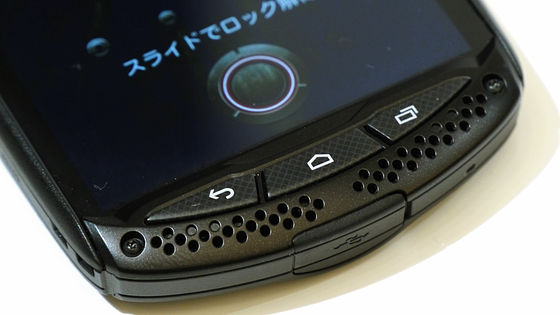 When you press the Home button, "Camera" "Start" "Phone" is displayed like this. For example, if you swipe your finger in the "Camera" direction and unlock it in this state, the camera application will start up as it is.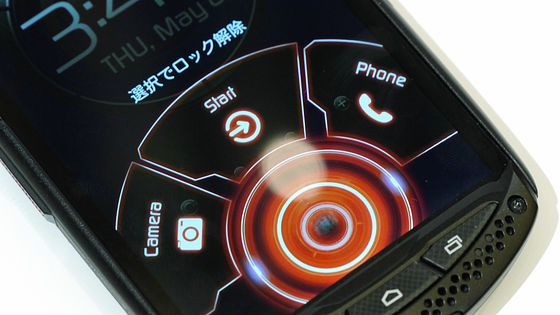 It is about 185 grams in weight, contrary to the appearance that looks tough, I felt it was surprisingly light when I tried it.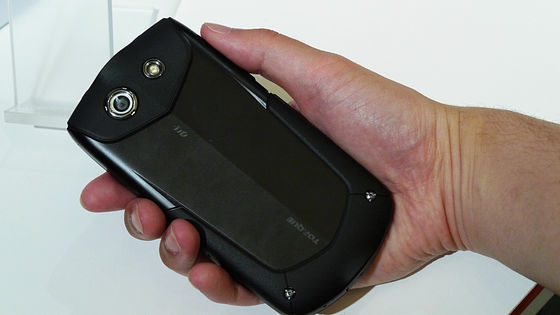 The main camera is about 8 million pixels.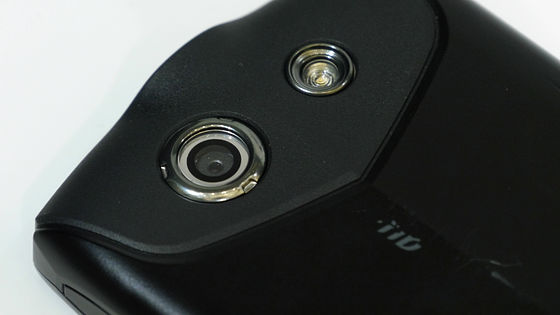 On the back side, "au" and "TORQUE" logo are printed, it looks like metal screws like screws and rugged appearance, it is designed to completely separate from other smart phones.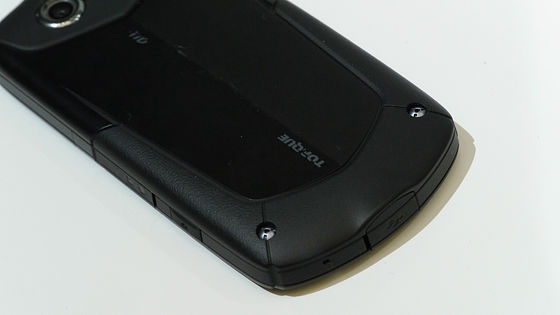 Handsfree button · earphone jack · power button from the left on the top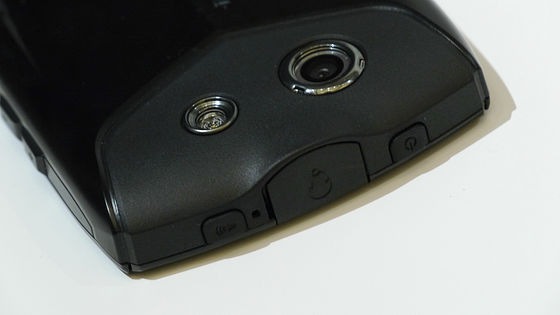 MicroUSB port for charging on the bottom.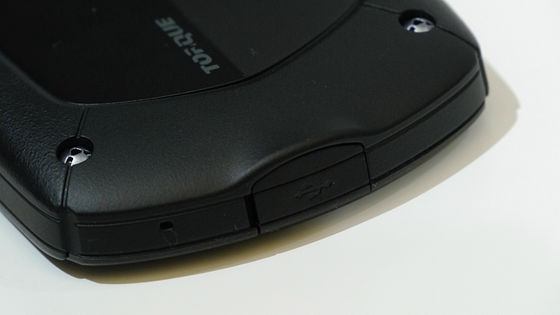 When opening with Pakari, it feels like this.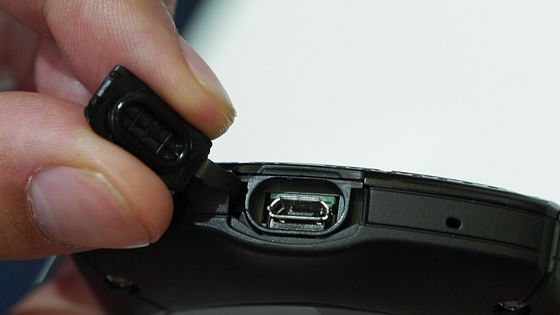 On the left side you can adjust the volume control button and the red assignment key (you can set some applications to launch by pressing the key).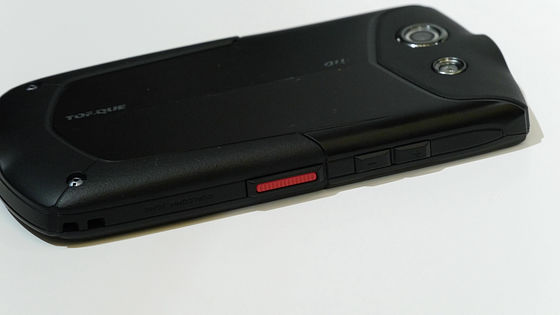 On the right side are three microSD card slots, nanoSIM card slot, camera buttons.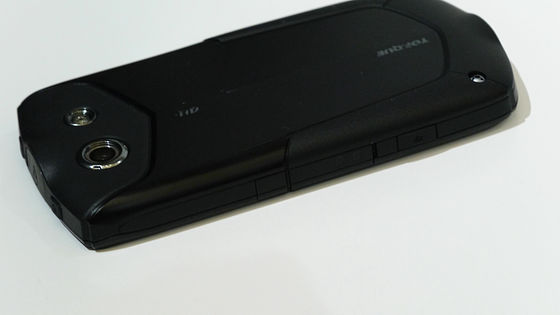 There are microSD card slot and nanoSIM card slot when you remove the cover.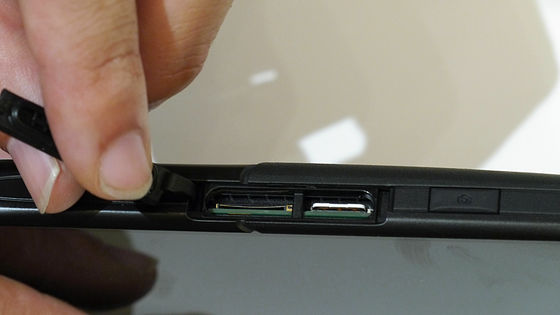 Detailed durability performance of TORQUE is as follows.

Waterproof (weather, immersion): waterproof performance against rain and flooding for 30 minutes, and waterproof performance of IPX5 / IPX8

Dustproof: Performed a continuous 6-hour dust test (8.9 ± 1.3 m / sec, 10.6 ± 7 g / cubic meter), and IP6X dustproof performance

Impact resistance: A test to drop the plywood (lauan material) in 26 directions from a height of about 1.22 m

Vibration resistance: Vibration test for 1 hour continuous (3 directions each 1 hour / 20 to 2,000 Hz) is carried out

Resistance to solar radiation: Continuous 24-hour solar radiation test (total of 1,120 W / m 2)

Moisture proof: Perform high humidity test (45% / 16 hours, 95% / 8 hours for 10 days) for 10 consecutive days

Temperature endurance (high temperature, low temperature)
Operating environment: -21 ° C / 50 ° C: 3 consecutive hours each)
Storage environment: -30 ° C / 60 ° C (each 4 hours continuous)

Low pressure compliance: Low pressure test of continuous 2 hours (57.11 kPa / about 4,572 m) is carried out

Salt running endurance: Test conducted to dry for 24 hours after spraying 5% salt water for 24 hours in a row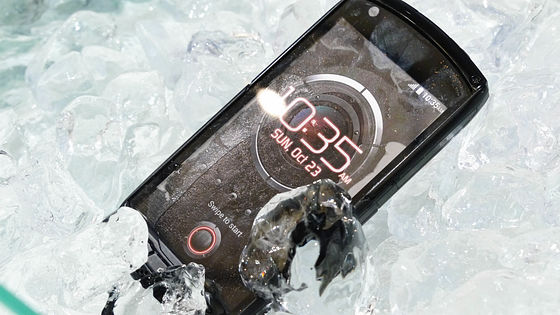 Even if TORQUE is playing a glove or the screen is wet with water, the touch panel responds exactly, so it looks convenient when you enjoy winter sports or when you are playing in the sea or a river.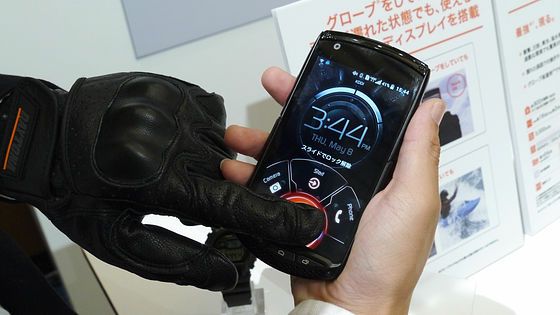 You can see how you operate TORQUE while wearing a glove from the following movie.

Touch TORQUE while wearing gloves - YouTube


TORQUE is also Qi compliant and wireless charging is also possible.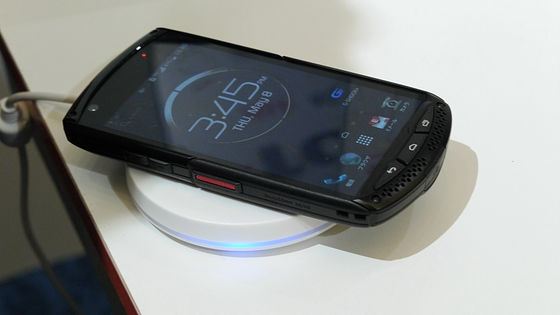 TORQUE is scheduled to be released in early August 2014.