I have tasted the healthy hamburger steak and strawberry juice of Shizuoka's local restaurant "Sawayaka"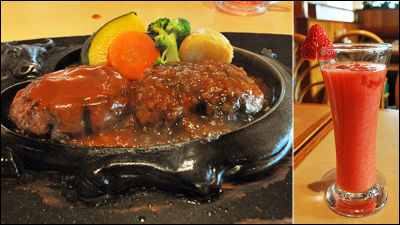 Shizuoka citizens are surprised to hear that "There is no" refreshing "outside the prefecture" is said to be surprised Shops are familiar with "Char-grilled restaurant refreshing"is. I decided to try tasting the popular seasonal menu "Ichigo Juice", as well as where the secret lives, "Genkatsu Hamburg" that gathers popularity by actually visiting the stores.

Crunchy hamburger char-grilled restaurant refreshing
http://www.genkotsu-hb.com/

I arrived at a refreshing shop.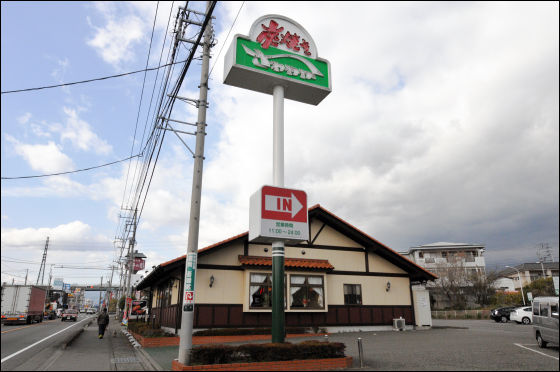 The picture of "Kenko Hamburger" on the entrance of the parking lot appetizes appetite.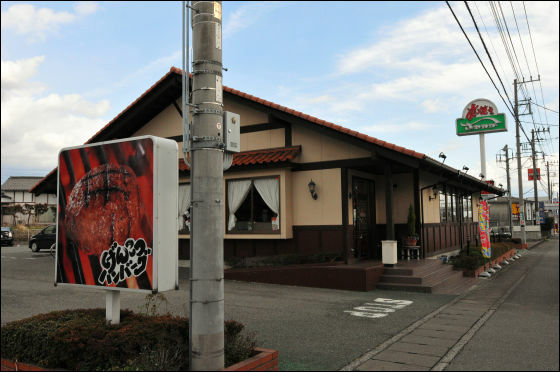 Suppresses spiritual feelings and enters the store.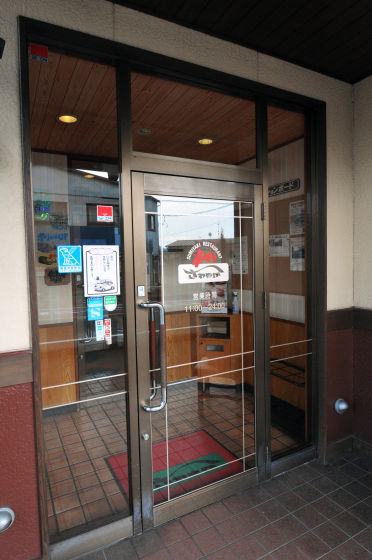 This day was during the founding price fair in March, and it was a great deal price of 999 yen including tax with a bottle of drink and rice or bread, and seasonal vegetable soup set in healthy hamburger steak.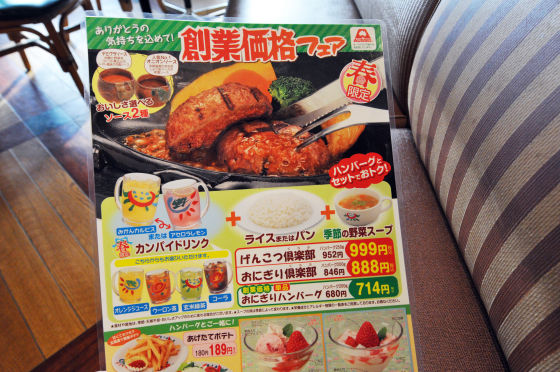 New arrival information - Fresh refreshment price fare from 6th (Thursday) to 12th (Wednesday) | Char-grilled restaurant refreshing
http://www.genkotsu-hb.com/news/2014/02/-3612.html

I ordered a healthy hamburger steak with 250 grams of meat used. In the kitchen, a hamburger like a mass of meat was set on a charcoal stove.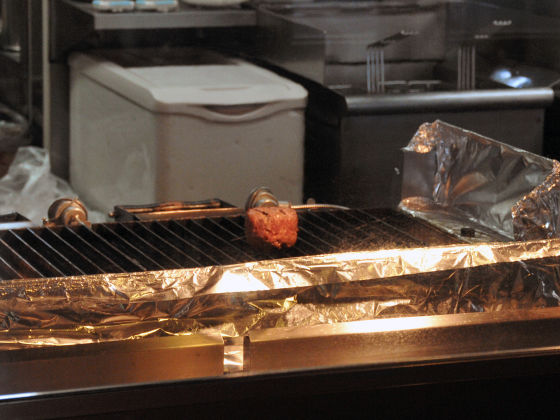 A good smell burns with charcoal fire is drifting inside the shop.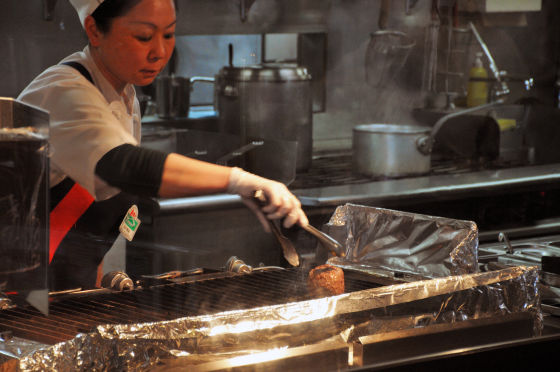 Waiting About 10 minutes, the healthy hamburger steak has been carried. Literally, big fish huge big hamburger has a nice feeling with grilled eyes, it looks delicious as it is, but the last shop clerk's finishing starts here.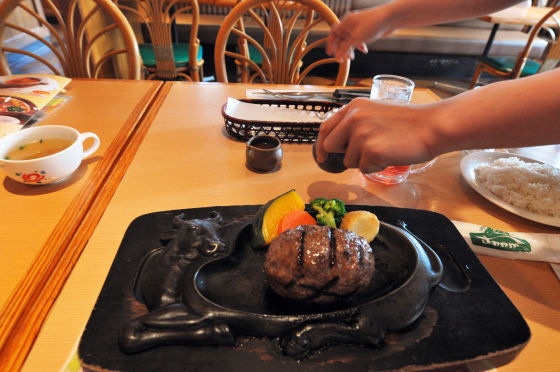 First of all, we cut the hamburger into two.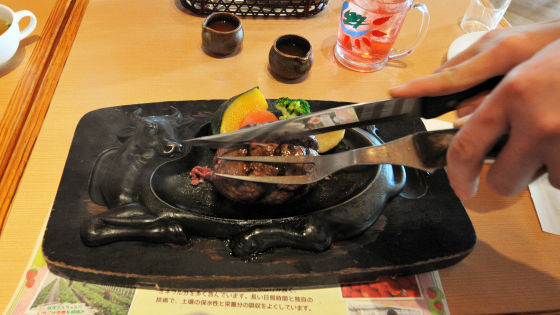 In the cracked hamburger steak, the lean state where the lean remains remained. The surface is firmly baked, but leaving lean in it is refreshing.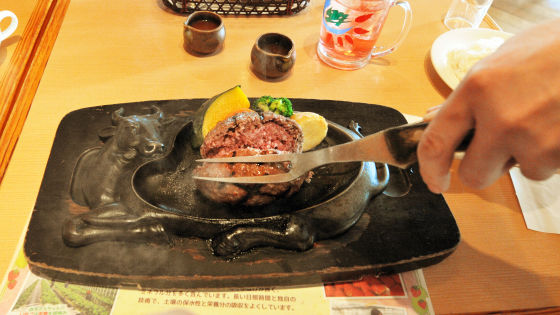 The hamburger which became two in a row is arranged on an iron plate with the incision down. It became a feeling that it got it somehow becoming two, but regrettably it was due to mind.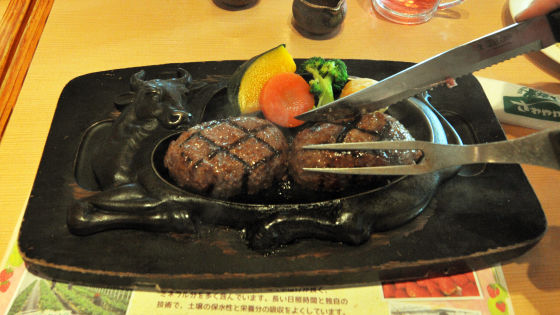 Here the clerk pressed the hamburger with "fork and knife" on the steel plate "Gyutsu". Meat is burnt at a stretchsizzleThe sound increases. It is mysterious that you can be hit by the feeling that taste of hamburger steak spreads in your mouth just by listening to this sound.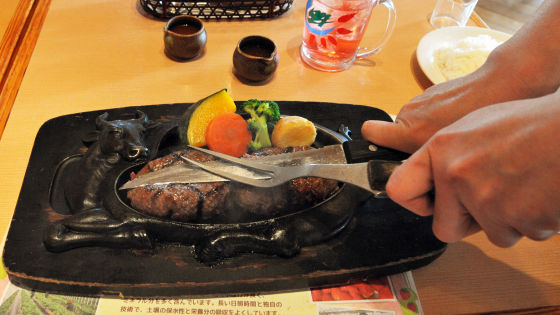 When you look at it close, you can see that a tremendous amount of gravy jumps. From the angle of the clerk's wrist, it seems that the degree of loading of force is transmitted.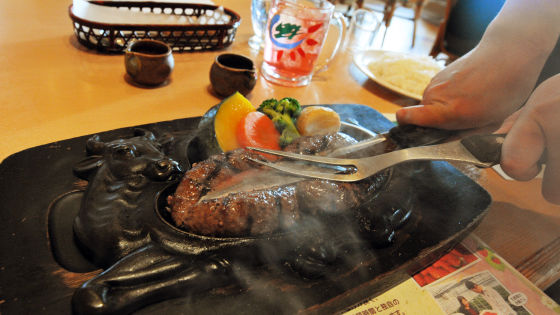 Finally it is the completion of the health hamburger with putting the sauce. Two kinds of sources are prepared and it is designed to select either one, but it was also possible to choose both types of half.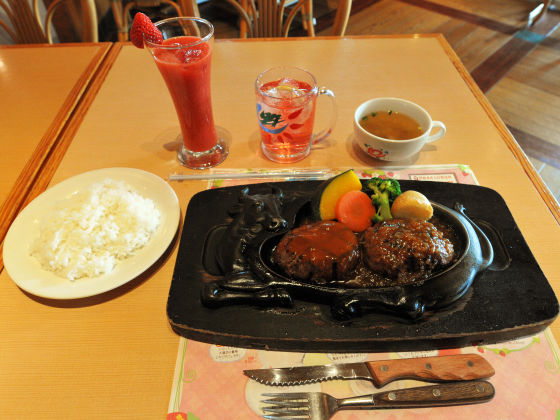 It is "demigra sauce" which it is jju on the iron plate. It is a Western-style sauce with a flavored tomato stuffed with meat and vegetables, and its aroma is also rich.



On the other hand, it is "Onion sauce", a refreshing popular number one. It is finished in a Japanese style sauce based onion from Awaji Island.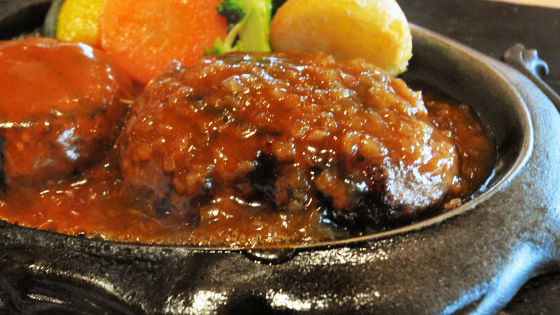 In addition, when finishing, we recommend that you carry a desktop paper sheet in your hand and guard it from the flying oil. The end is like this with oil, so defense is mandatory.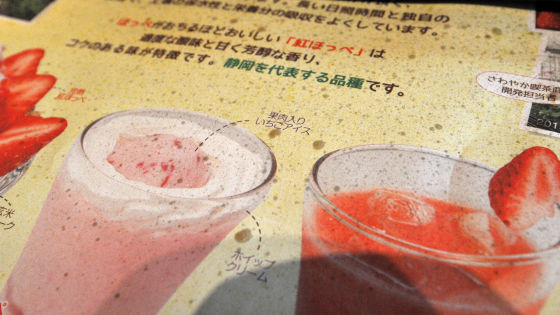 Let's eat healthy hamburger steak. Trying with a knife, inside the hamburger which remains in the lean state lean as lean. In general hamburger steaks through the middle of most cases, leaving lean meat is a refreshing way of baking. By leaving the lean dare, it is a cooking method to taste the original meat texture and taste. Even those who are not good at lean meals can be relieved because they can get fire through inside.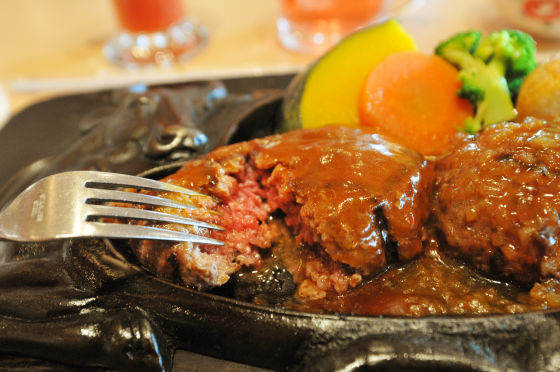 First of all, it is one from the one who took demigra sauce. On the outside it is fragrant, crisp and crunchy, but when bought quickly you can feel the red meaty texture and sweetness of the meat. This is already a roast beef rather than a hamburger steak or a texture close to Yukke. It is a peculiar taste that the flavor of raw meat and the fragrance of hamburger come at the same time. Demigra sauce is rich and complements the sense of volume of hamburger steak.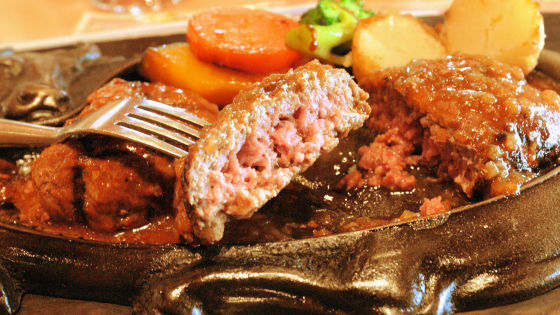 Next I will eat it as an onion sauce called popular number one. Even though it is the same hamburger steak, this is a source that makes you feel refreshed and refreshing. The sweetness of the onion and the flavor of the soy sauce that was refreshed, the sour sauce sauce was also a source to complement the taste of hamburger steak.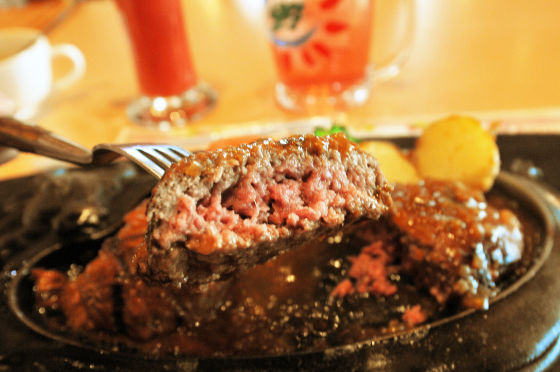 The thick pumpkin accompanied by the hamburger steaks firmly through the inside, and it feels a plump texture and sweetness.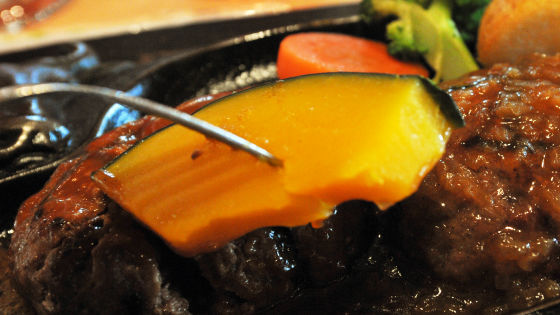 To the carrot, it looked just good and was browned.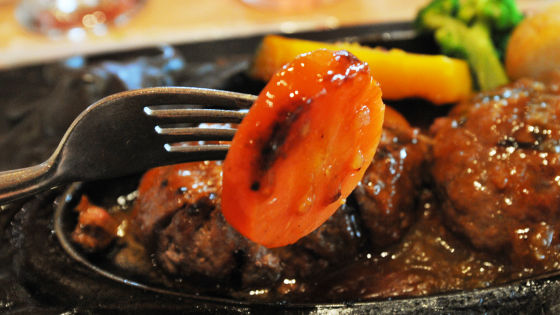 If you eat broccoli with plenty of hamburger sauce, the taste will increase.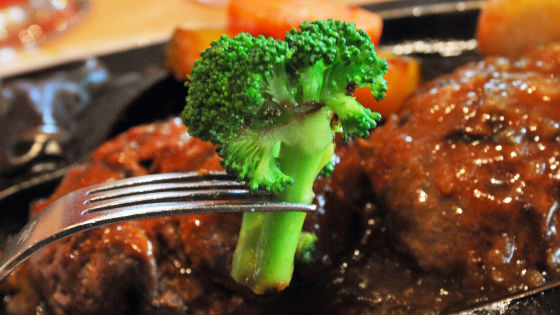 Small potatoes also had plenty of fire through.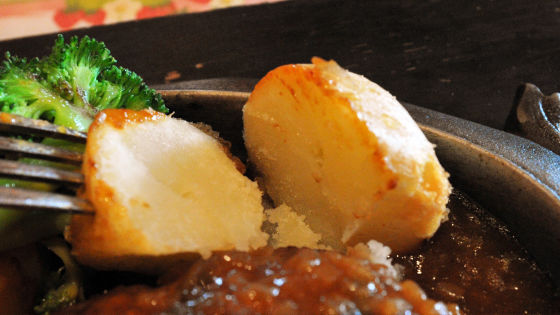 Together with hamburger, I ordered "Strawberry Juice" which is offered at the seasonal menu from February 6th. The juice that we used about seven strawberries of "red cheek" is made after order has been made.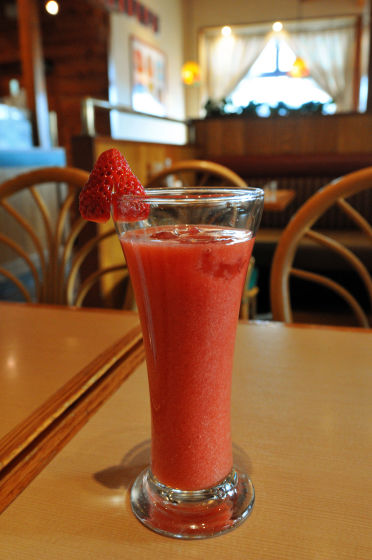 When you drink a bite, you will be attacked by the illusion that you just put strawberry in your mouth as it is. Strawberry and syrup, just juice made with ice only, you can not feel any extra taste at all, you can feel the taste like juice concentrate only the sweetest part of strawberry. When I tasted it well, I felt the bluish taste of the "hat" part, which I felt as strengthening the realness of strawberries.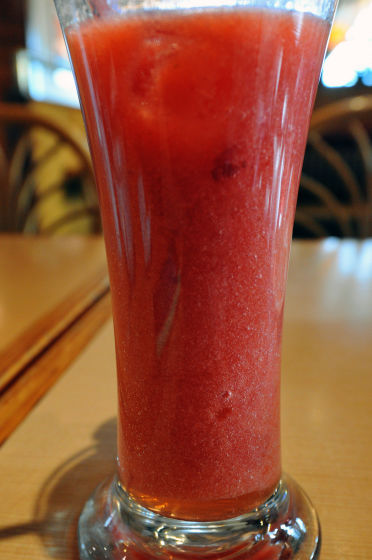 Hamburg is still left. Let's add pepper sauce placed on the desk.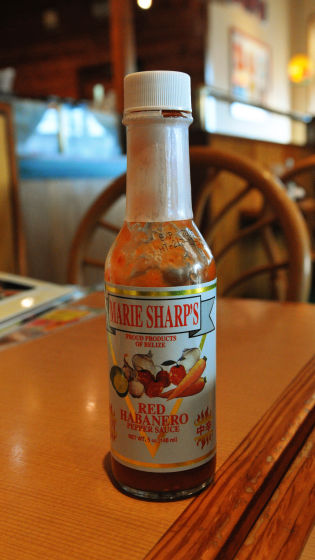 The sauce that used jalapeno plus a bit of a stimulus that gave me tightness to the taste of the meat.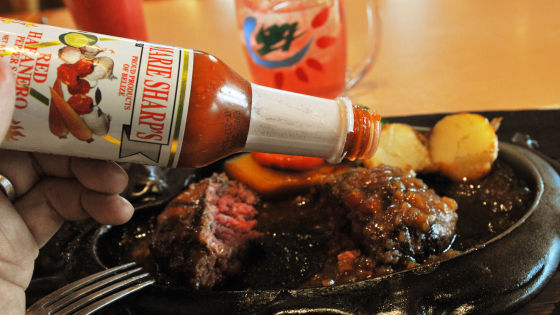 In the end, we put a cheek cheek which was attached to strawberry juice in a mouth and made it a mouthful of tightening. It seemed to reset in the mouth filled with the meat's flavor with a refreshing flavor.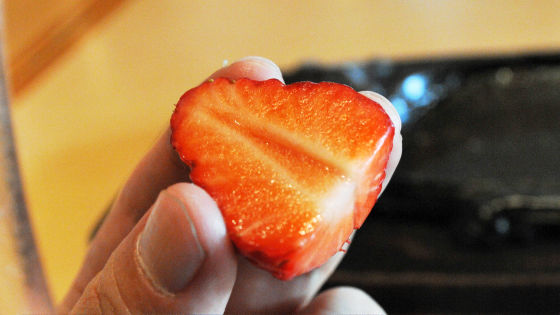 It was 250 grams and generally a slightly larger hamburger steak, but I ate it to the end at once. The refreshing policy is to aim for "the best regional store in the region", he said that he does not have any intention to advance to other prefectures so far. If you think that you want to go to Shizuoka to eat this hamburger steam, it may be that it has gotten into the operation of "refreshing" anymore.