Nitere gets a business for Japan, "Hulu" business for the Japanese market, animation · movie · drama is further strengthened and 980 yen per month is continued for 2 weeks free of charge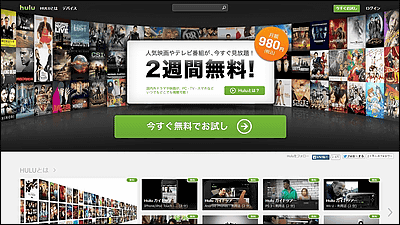 The first episode of overseas popular TV drama can be seen with user registration unnecessary or it will be from a smartphone if it is a paid member but it will be from a tablet but it is unnecessary to ask questions from any environment and movies and programs It was announced that Nippon Television acquires and inherits the business for Japan of "Hulu" which made it possible to see things seen from smartphones at home PC. Nippon Television already has built a billing system with "Nippon Television Demand", but by this "Hulu" get you will enter the "flat-rate video distribution" business.

Hulu's business for the Japanese market is inherited and entered into flat-rate video distribution
~ Hulu's work lineup is also greatly enhanced ~
http://www.ntv.co.jp/info/pressrelease/757.html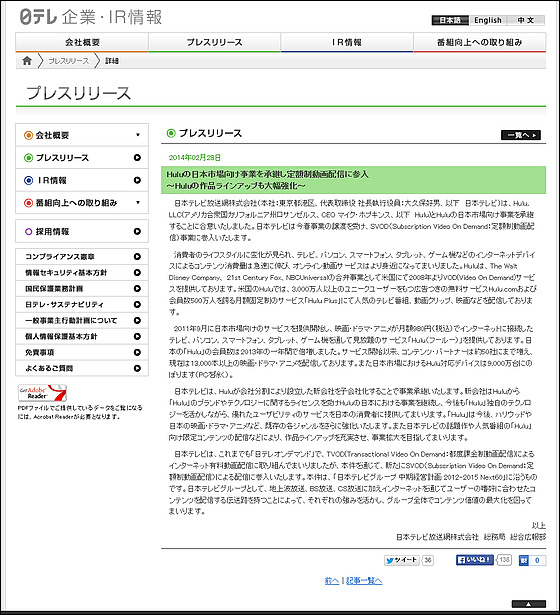 Hulu began offering services for the Japanese market in September 2011, with movies, dramas and animations serving as a service with a monthly fee of 980 yen (including tax), the number of members of "Hulu" in Japan is 2013 The number of contents partners has increased to about 50 companies, and now it is said that they are delivering more than 13,000 movies, dramas and animations, but the exact number of members is unknown.

Meanwhile, the original headquarter Hulu in the United States has developed Hulu.com, a free service with advertisements with over 30 million unique users, and Hulu Plus, a monthly fixed service service with a membership of 5 million, Acquisition by Nittele this time is to inherit the business by converting the new company established by Hulu company split into a subsidiary.

The new company received a license on "Hulu" brand and technology from Hulu, continued Hulu's business in Japan and will further strengthen existing genres such as Hollywood and Japanese movies, dramas and animations in the future, Japan It will be aiming for business expansion by enriching the work lineup by talking about television's topic work and distribution of limited content for "Hulu" of popular program.

In addition, what is written "1 talk free" on the upper right can be seen as crisp because it is unnecessary for user registration, and "director of Shawshank" and "director of Green Mile" produces "walking DeadThe first episode of "The first episode of the first episode seems to be continued and continued as long as Nitere's press release is ongoing.

Popular program works | TV program viewing | Hulu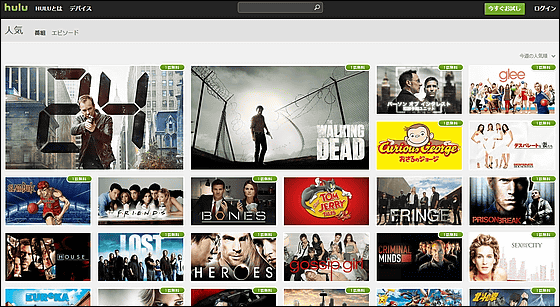 2014/02/28 11:49 Addendum

Hulu's CEO Mike Hopkins has issued the following message.

Information on Hulu in Japan
http://blog.hulu.jp/2014/02/28/hulujapan/

Today, I have an important presentation on Hulu service in Japan. Hulu has provided services that have never existed in Japan since about three years ago. There are 90 million Hulu compatible devices in the Japanese market, such as televisions, Blu-ray players, game consoles, smartphones, tablets connected to the Internet. And to date, we have grown to distribute 13,000 movies, dramas and animations from nearly 50 content partners. Currently in Japan Hulu, more than 1,000 movies such as "Armageddon" "Ironman" "Slumdog Millionaire" "King's Speech" and more than 1,000 movies and "24-TWENTY FOUR-" "Big Bang · Theory" "Gossip Girl" "Walking · Dead "and more than 12,000 episodes of TV dramas are distributed.

We have concluded that it is the best choice to sell Japan that has grown so far to a strategic buyer. We will announce that we will transfer Japanese Hulu to Nippon Television Network Corporation (hereinafter: NTV). After the business transfer, Nippon Television will be responsible for Hulu's daily management and business responsibilities in Japan.

Japan Television is the leading television station in Japan that has won the first average audience rating for three consecutive years. Broadcasting started as the first commercial television station in 1953, celebrating its 60th anniversary in 2013. From the beginning of negotiating about this case, Nippon Television was understanding the value of the service Hulu team built in Japan. I am proud that we created a service that makes us think that it is a powerful asset to a television station that leads Japan. I believe that Japanese television will bring Japanese Hulu to a new level.

We will license and support brand and technology for Japanese business in the future. You can experience the user experiences and product innovations that have not changed until now for people who have enjoyed Hulu in Japan. We appreciate the efforts and contributions of Hulu's team members in Japan and Managing Director Buddy Marini so far. I think Nippon Television is highly appreciated by Japanese team members and I am looking forward to seeing them doing a great job in the future.

In addition to day-to-day management, Nippon Television will add popular TV programs to Hulu's service. Specific content and timing will be announced later. I am extremely pleased that Nippon Television will be able to provide even more amazing entertainment experience to Hulu's existing members and new members in the future.
Hulu's business in Japan is full of possibilities. Japan TV will grow further by Nippon Television, and we can concentrate on American business. I'd like to once again appreciate the royalty and passion for Hulu from all over the world, our customers and our partners.