Apple announced record revenue, iPhone gained 69% share in Japan in Japan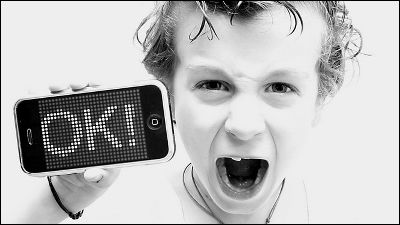 ByMassimo Regonati

Apple announced its financial report for the first quarter (October - December) of 2014 on January 26, local time, and reported a record $ 57.6 billion (about 59050 billion yen) in sales during the same period, It was announced that it recorded.

Apple (Japan) - Apple Press Info - Apple announces results for the first quarter
http://www.apple.com/jp/pr/library/2014/01/27Apple-Reports-First-Quarter-Results.html

Apple - Apple Financial Results - Q1 2014
http://events.apple.com.edgesuite.net/14pijnaefvpijbnfdbvpijnbaefgvpjbnaef01/event/

Apple Q1 2014 earnings call
http://live.arstechnica.com/apples-q1-2014-earnings-call/

Apple Posts Record Q1 Revenue, but Guidance Sours After-Hours - The Mac Observer
http://www.macobserver.com/tmo/article/apple-posts-record-q1-revenue-but-guidance-sours-after-hours

Apple Q1 2014 earnings call live blog - The Verge
http://live.theverge.com/apple-earnings-q1-2014-live-blog/

Apple Reports Strongest Ever Quarterly Earnings: $ 13.1 Billion Profit on $ 57.6 Billion in Revenue in Q1 2014 - Mac Rumors
http://www.macrumors.com/2014/01/27/apple-earnings-q1-2014/

Overall sales were $ 57.6 billion (about 5.90 trillion yen), an increase of about 3.1 billion dollars (about 320 billion yen, 105.65%) compared to the same period last year, the gross profit margin was Although it fell from 38.6% to 37.9%, operating income has also reached record highs as sales growth exceeded that. The net profit amounted to 13.1 billion dollars (about 1.34 trillion yen) at the same level as the same period of the previous year, and although net sales and gross profit increase, net income is flat.

Breakdown of sales is as follows. The iPhone accounts for about 56% of the total, followed by iPad (about 20%), PC (about 11%).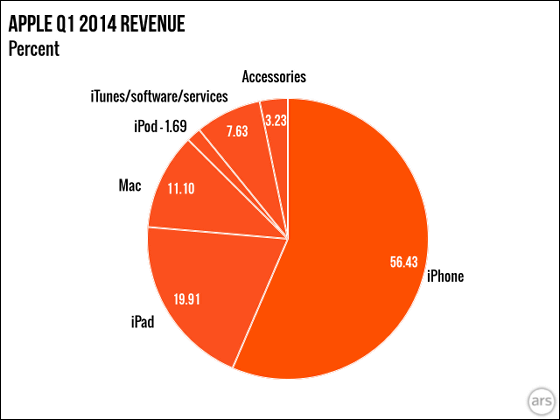 Comparing sales performance of iPhone, iPad Air, new MacBook, etc with the same period last year, it looks like this. Even though the iPhone will increase by 51 million units (3.21 million units), iPad by 26 million units (3.14 million units), PC by 4.8 million units (78 thousand units), the iPod will reach 6.55 million units It is about half that of 12.7 million units.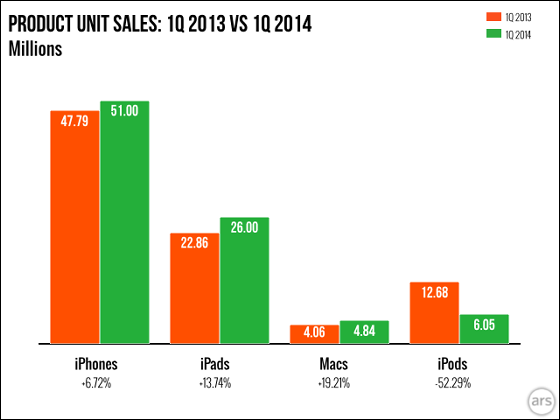 In the iPhone 5s / 5c, growth in China Mobile in China and NTT Docomo in Japan is remarkable. Due to NTT docomo's participation in the iPhone market, it has been announced that the domestic market has grown 40% and that in the domestic smartphone market iPhone gained 69% share. In addition, sales in the mainland of China have doubled, and growth in the Asian region has become remarkable.

In the tablet in the US iPad gained 78% share. The transition to iOS 7 is also proceeding and it has increased to 80% of the total.

In addition, sales at the iTunes Store reached $ 2.4 billion (about 246 billion yen), which is the highest record in the same period.

Apple shows high adoption rates for business use,Fortune 50097% of companies ranked in,Fortune Global 50091% of iPhones are introducing iPhone.

Also,Present new products multiple times a yearWe are also giving positive answers about market forecasts.

Apple has announced forecasts on the results for the second quarter of 2014, including: (Data in the parentheses are data for the same period of the previous year)
·amount of sales: $ 42 billion to $ 44 billion ($ 43.6 billion)
·Gross profit margin: 37% to 38% (37.5%)
in Note, Posted by darkhorse_log