IBM announced that it sold server business to Lenovo for about 240 billion yen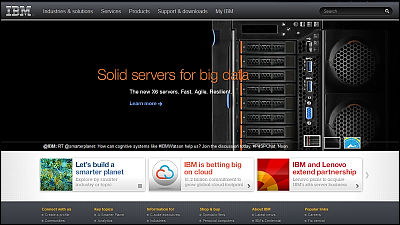 IBM announced that it has agreed to sell x86 server business to Lenovo for $ 2.3 billion (about 240 billion yen). With this agreement, Lenovo is to take over related assets, patent rights, development / sales work of IBM's x86 server business, and take over all 7,500 employees and enter full-fledged enterprise server operations I will.

IBM News room - 2014-01-23 Lenovo Plans to Acquire IBM's x86 Server Business - United States
http://www-03.ibm.com/press/us/en/pressrelease/43016.wss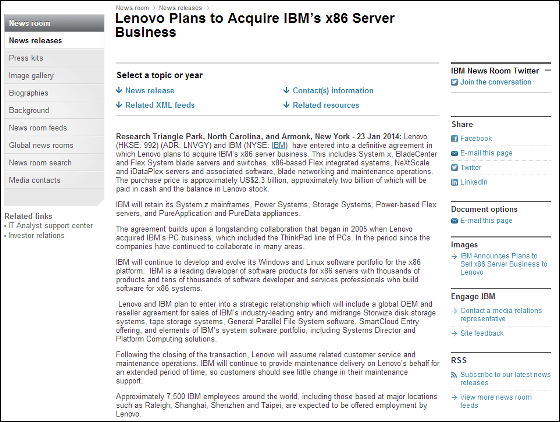 Lenovo Agrees to Buy IBM Server Business for $ 2.3 Billion - NYTimes.com
http://dealbook.nytimes.com/2014/01/23/lenovo-buys-ibm-server-business-for-2-3-billion

IBM sells to Lenovo, such as x86 server "System x", blade server "BladeCenter" "Flex System", etc. Mainframe products such as "Power Systems" and "Storage Systems" continue to be owned by IBM Become. Lenovo will pay about 2 billion dollars (about 20 billion yen) out of the purchase price of 2.3 billion dollars (about 240 billion yen) in cash and the rest will allocate Lenovo's own shares to IBM.

Lenovo's CEO Yang Yun-chan said, "I am convinced that Lenovo can be a big success in the server business like the PC business," commented on the acquisition. Lenovo and IBM were negotiating about acquisitions of server business in 2013, but IBM did not reach an agreement on the amount side, such as requiring $ 4 billion (about 41 billion yen). Dell and Fujitsu were also listed as candidates for selling outside Lenovo.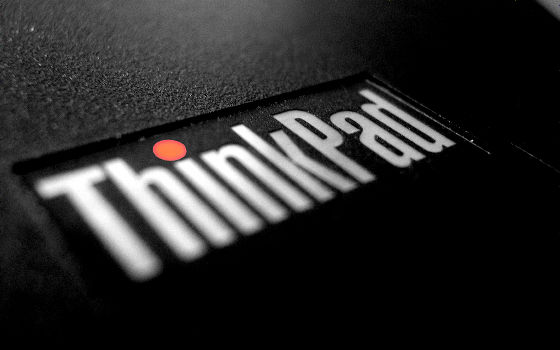 ByLincoln_Wong

According to the New York Times, IBM is planning to switch from hardware and other hardware business such as server to cloud service and software business. Lenovo, which acquired the server business, in 2013World's best share of PCAchieved. The mobile business is also performing well, in China it is the second largest smartphone brand after Samsung Electronics,Advance to AmericaWas announced.