"Next Generation Cool Running" Jamaica Bobsleigh team is procuring funds necessary for participating in the Sochi Olympics by donation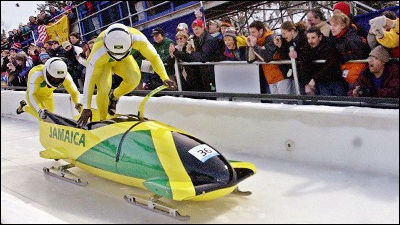 Jamaica's Bobsleigh team has been playing for the first time in the Winter Olympics in 1988 for more than 20 years but the Jamaican national team did not participate in the 2006 and 2010 winter Olympic Games. However, in 2014Sochi OlympicsHe said that he decided to participate for the first time in three tournaments and reveals stories on financing that they are struggling to participate in the Olympic Games in interviews with multiple media.

Winter Olympics 2014: Move over Usain Bolt - Jamaica's cool runners are back and hope to qualify for Sochi Games - Telegraph
http://www.telegraph.co.uk/sport/othersports/winter-olympics/10572373/Winter-Olympics-2014-Move-over-Usain-Bolt-Jamaicas-cool-runners-are-back-and-hope-to-qualify-for-Sochi-Games.html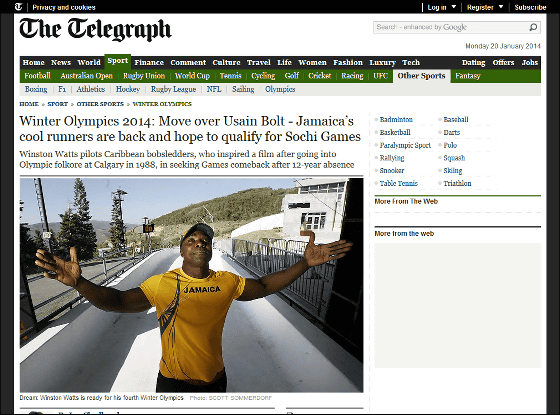 Jamaican bobsled team raising money on PayPal to reach Sochi Olympics | The Verge
http://www.theverge.com/2014/1/19/5324410/jamaican-bobsled-team-2014-winter-olympics-fundraising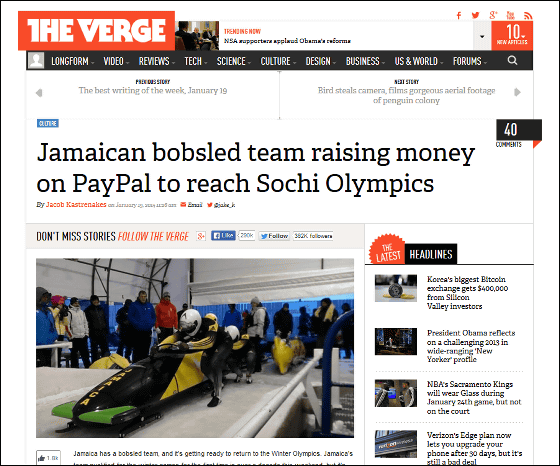 Winston Watts played in 1994 and 1998 as well as the Bobsleigh Jamaican representative at the 2002 Olympic Winter Games. The fact that a team of Bobsleighs came out to the Olympics from Jamaica, a country of everlasting summer, became a hot topic, and the 1993 film "Cool runningIt also became the subject of ". While I was a Watts player I was a successful Jamaican team in the Olympic Games, but after he retired I could not compete in the Olympic Games because of serious financial difficulties.

Watts who did not see this situation retired from retirement and returned to active service this year. In order for the team to participate in the Olympic Games, we changed from a four-person system to a two-person system, and we decided to challenge for the Sochi Olympic Games this time. As far as Watts says, he is progressing according to the plan, but as a final big problem, the problem of financing the team's management fund remains.

Watts playerBBC"Our team needs to purchase travel expenses to the Olympic venue and a new bobsleigh warrior to enter the Olympic Games, so we need a total of $ 40,000 (about 4.2 million yen) of funds." It is.ESPNIt is reported that the Jamaican team needs about 80,000 dollars (about 8.4 million yen), which seems to require a large amount of financing for Olympic appearance anyway.

# BREAKING: Jamaica's 2 man Bobsled qualified for Winter Olympics in Sochi. CONGRATULATIONS !!!!#JamaicaBobsledPic.twitter.com/Ns1nnhqn9b

- Team Jamaica (@ Jamaica Olympics)2014, January 18
Watts has already put in assets of about 164,000 dollars (about 17 million yen) on the team and is working hard desperately to get the necessary funds from various places to go Sochi. He said that he is raising donations at PayPal for fund raising and selling his autobiography. From the circumstances such as Watts, the team calls the team "next generation cool and running", and I am hoping for support.

The Olympic Games Association of Jamaica is seeking donations to the Bobsleigh team, currently about 14,000 dollars (about 1.46 million yen) is gathered.

Help the Jamaican Bobsled team get to Sochi! # JamaicanBobsled | Crowdtilt.com
https://www.crowdtilt.com/campaigns/help-the-jamaican-bobsled-team-get-to-sochi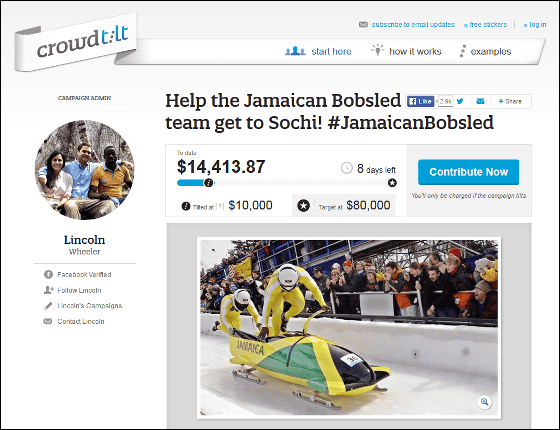 in Note, Posted by logu_ii