Cup noodles with an unbelievable amount of mayonnaise "EDGE Oni Mayo Yakisoba" Tasting Review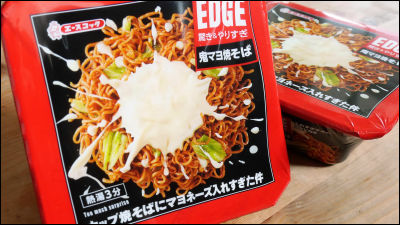 Speaking Mayonnaise, it is a versatile seasoning to match various dishes such as salads and fried noodles,People who love mayonnaise too muchAboutMayorIt is one of the seasonings that is popular in Japan as it calls it. It was made for people who love such mayonnaise "EDGE Onima Mayaki Soba"It is said that you can taste" surprise "and" overkill "which can not be tasted with existing products, so I actually tried it.

EDGE Ogre Mayo Yakisoba | Product Information | ACE COCK Co., Ltd.
http://www.acecook.co.jp/products/4901071207113.html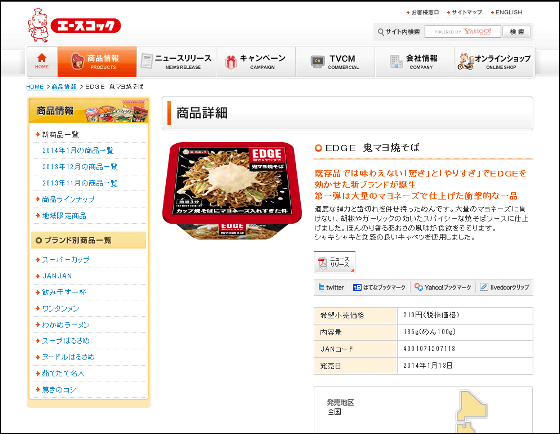 This is EDGE Oni Mayo Yakisoba. Just by looking at the package, I can guess that there will be a tremendous amount of mayonnaise.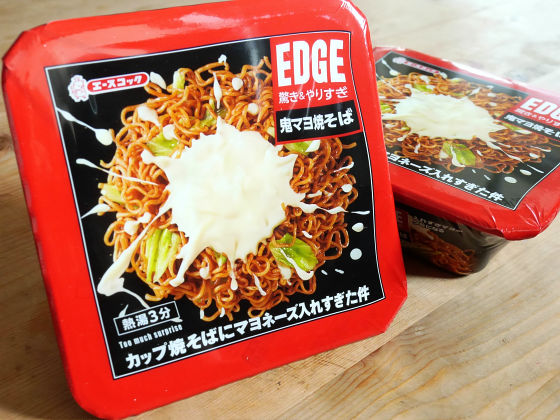 In the lower part of the package, "a case of putting too much mayonnaise into cup fried noodles", this is also a catchy copy that is easy to understand.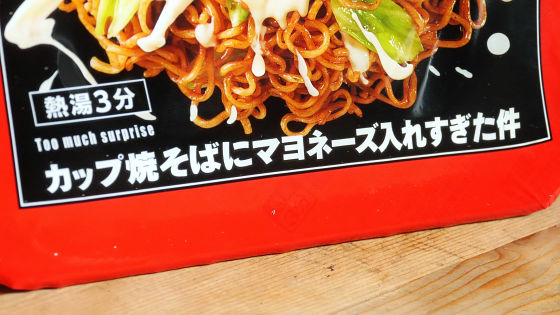 Mayonnaise can be confirmed as raw materials, of course, there are 100 grams of noodles.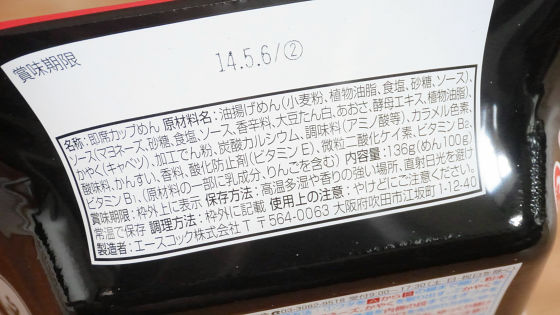 This is a nutritional information table, 721 kcal per meal.Payang sauce and fried noodlesBecause the soup is 90 g and 518 kcal, slightly calorie is high.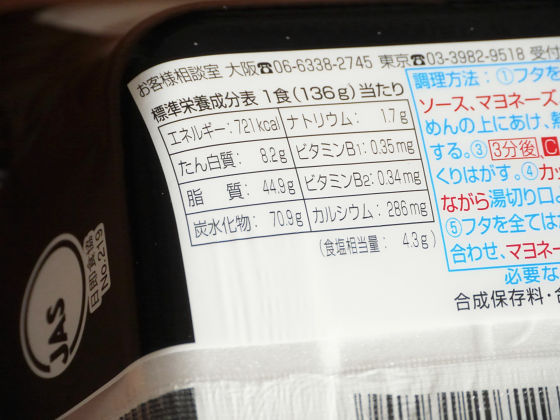 EDGE ogre Mayo fried soba requires wheat · egg · milk ingredients · apple · soybean to be included in raw materials, so people with food allergies need attention.



With such a feeling when removing the vinyl on the surface, how to make is the same as ordinary cup fried noodle.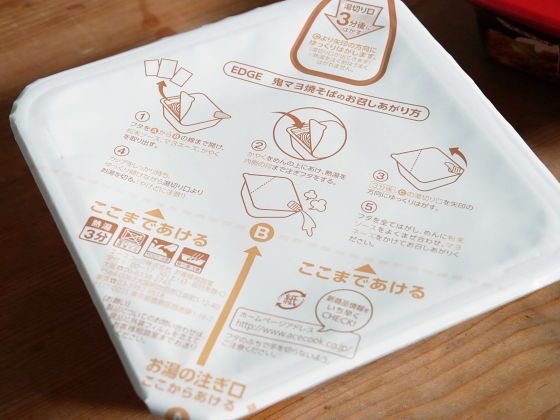 Open the lid and take out 3 of the powder sauce · mayonnaise · powder sauce from inside. Mayonnaise is overwhelmingly among the three, and its presence is outstanding at the time of the subdivision bag.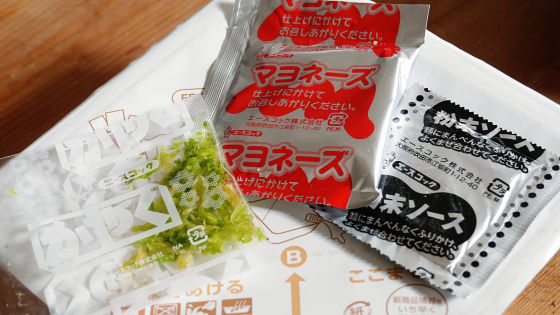 Let's put it in first ...



Pour hot water ...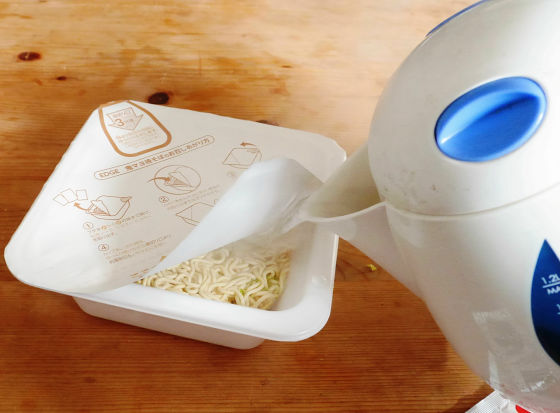 Wait 3 minutes.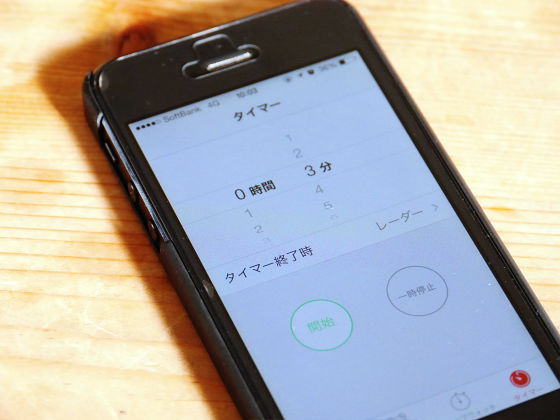 After 3 minutes it is hot water cut.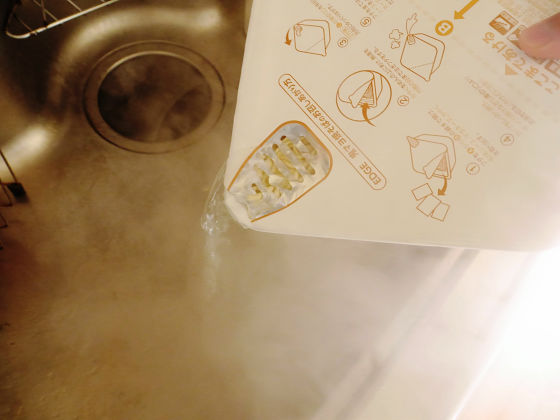 Next, put a powder sauce ... ...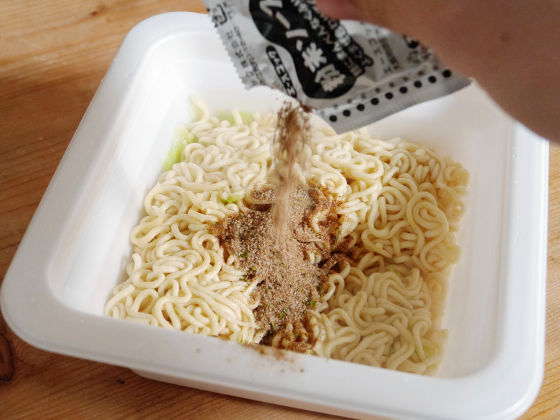 It often makes me and the source tangle.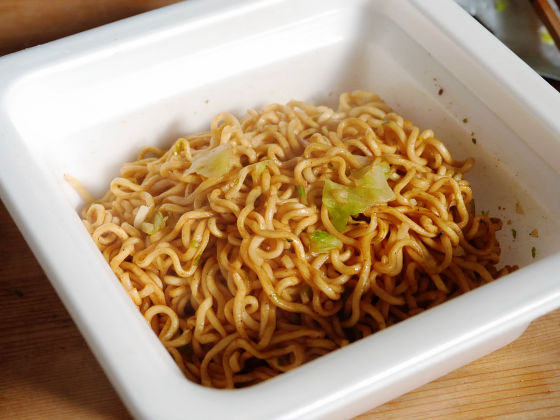 The color of the source is slightly diluted like this.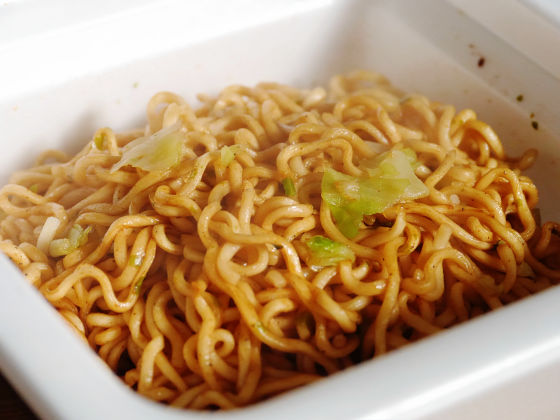 And complete with the supplied mayonnaise is complete!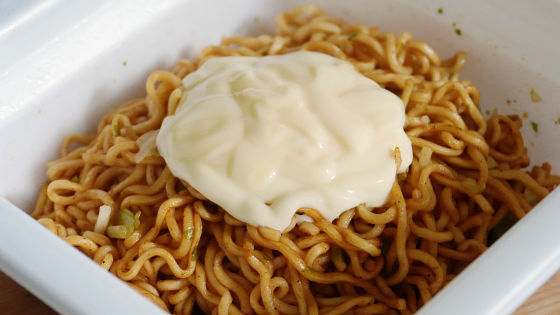 Compared with the package, there is no lie in the amount of mayonnaise.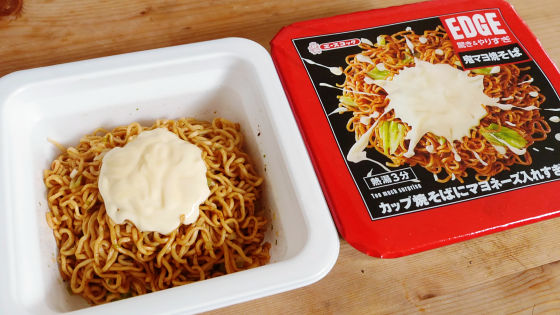 If you bite yakisoba with mayonnaise, I will eat a bite. EDGE Ogre Mayo Yakisoba seasoning seems to be reasonably likely to be claimed by mayonnaise and not such a thing, the source is diluted and the mayonnaise is finished in a rather mellow fried noodles. Whether the sauce is tasteless or a large amount of mayonnaise is introduced, the taste is not too strong, and depending on the person, if you feel a little unsatisfactory if you do not put too much mayonnaise. Rather than the taste of impact with a large amount of mayonnaise, it is becoming the source fried soba with the whole as a leading role with mayonnaise.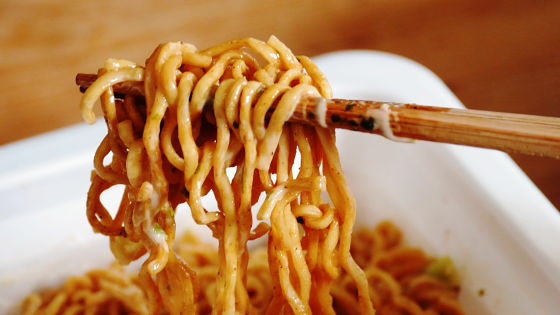 Noodle has a good texture and is not defeated by the impact of taste, but at first it is only a fairly small amount of cabbage.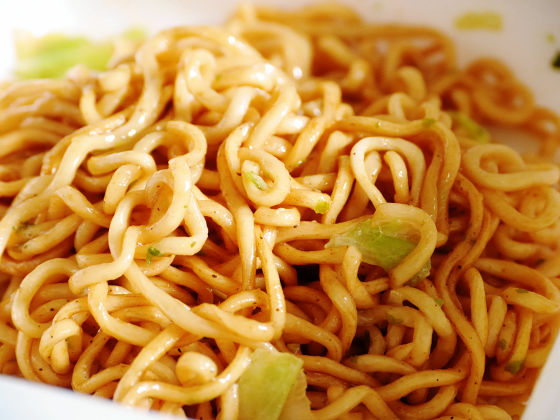 In addition, EDGE Onimiyaki soba is on sale on January 13, 2014 (Monday) nationwide.