I tried salmon teaing and Umeboshi teaing of freeze-dried authentic Ochazuke "adult rice menu"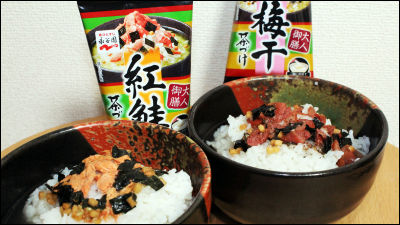 Teaing is a handy food that you can easily taste at various times, such as when you are hungry, when you are having a night out of study at night, or after drinking alcohol. We have sold tea-making products for a long timeNagataniFrom products that freeze-dried full-fledged ingredients with its own recipe "Adult set menuIn the series "Umeboshi" and "Salmon salmon" were sold, so we decided to taste it at once.

Adult Tomisawa Umeboshi Teaing | Product Information | Nagatani
http://www.nagatanien.co.jp/product/detail/8/41/471/

Adult salmon salmon teaing | Product Information | Nagatanien
http://www.nagatanien.co.jp/product/detail/8/41/470/

"Adult meals" series has become individually packaged items.



Since the raw materials are displayed on the top of a lot of content, you can see that plum teaing contains a large amount of "seasoning plum" which is the main ingredient.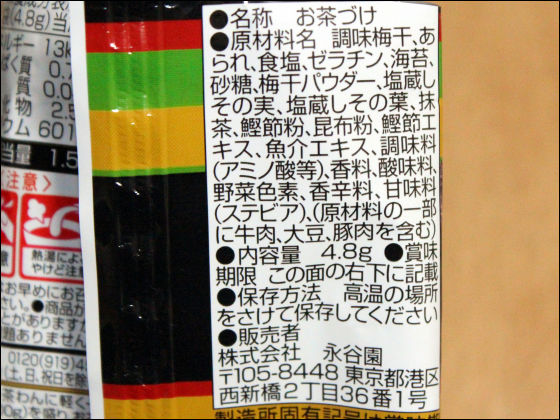 Salinity equivalent per meal was 1.5 grams,The company's general productsCompare to 2.4 grams, it is quite modest.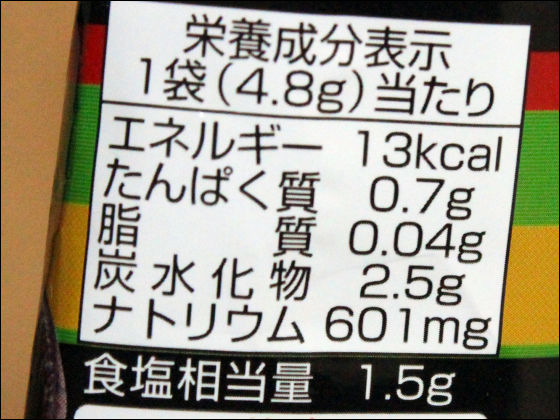 Even with red salmon tea, "red salmon" is listed first.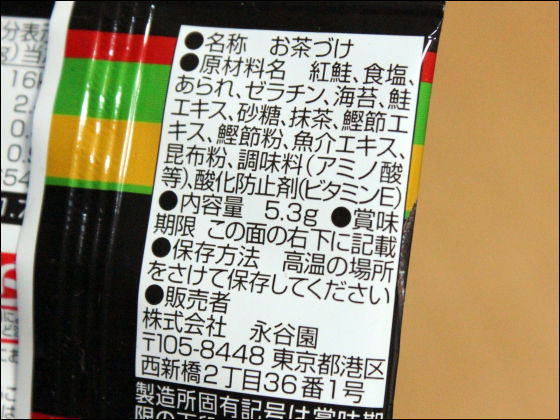 This is also a salt discreet 1.7 grams. The content is 5.3 grams, which is larger than 4.8 grams of Umeboshi teaing.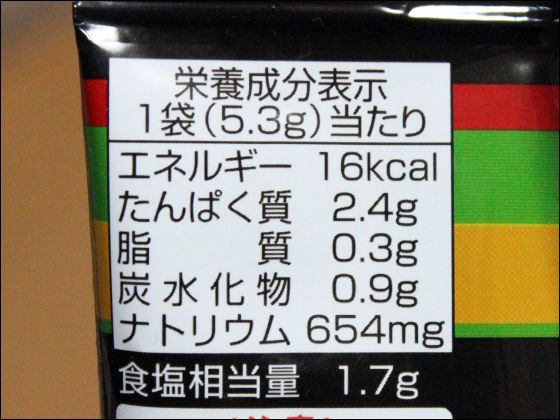 I tried to remove the ingredients from the bag. It is freeze-dried shaped into a square cube. It was not put in the inner dish, only the food was packaged.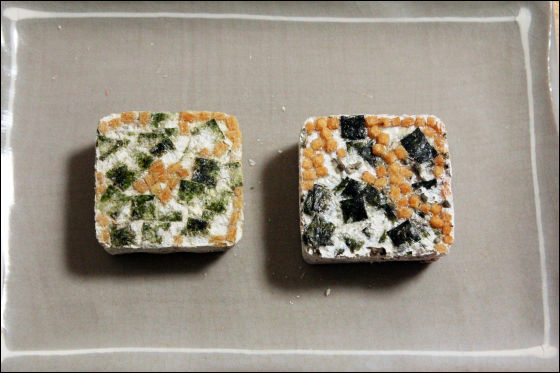 This is Umeboshi teaing. You can check glue and hail.



On the bottom, I found a red-colored umeboshi.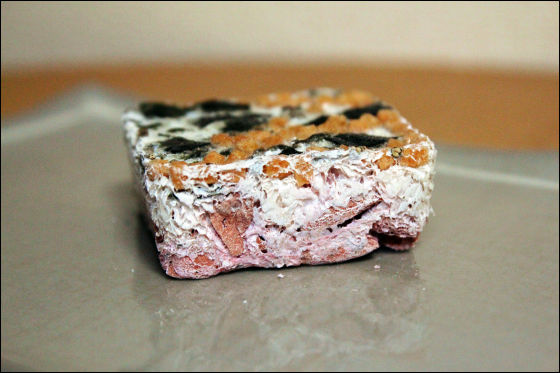 Saut sal mer tea is like this.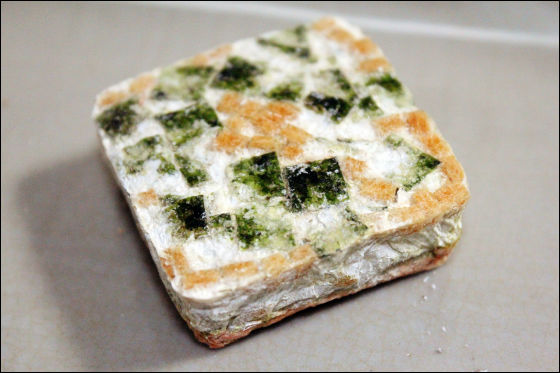 When turning over the top and bottom, the bottom of the body was full of salmon body.



This time, the company's standard product for comparison "Salmon teaing"Or"Umeboshi teaing", And"Dashi ChopzeI tried it together.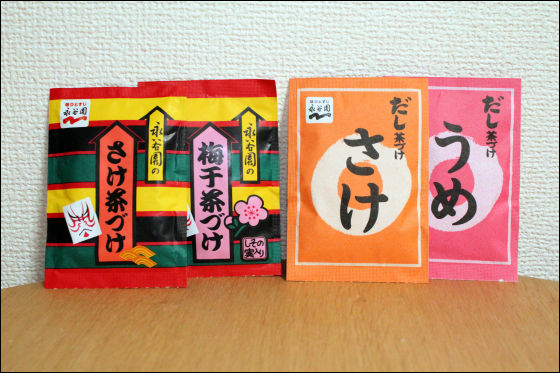 The difference in contents is like this. "Salt teaing" of the standard product "seasoning granule" is listed first, salmon is "salmon flake" is used.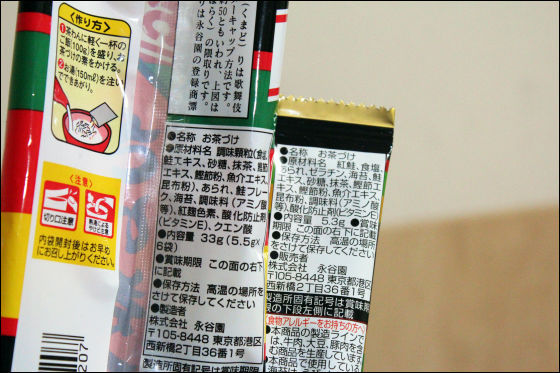 Two kinds of "adult meals" and two kinds of "teaing" and two kinds of "dashi chazuke" are set and the tasting starts at a stroke.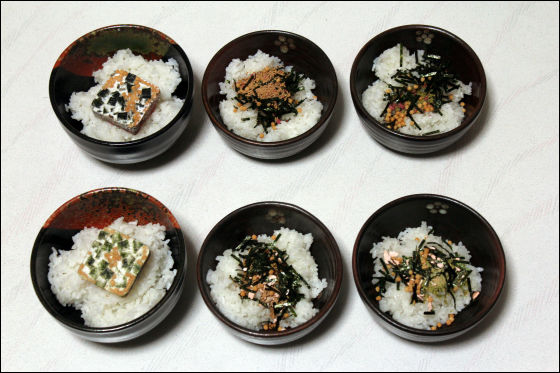 I will pour hot water to adult mezen umeboshi tea ceremony.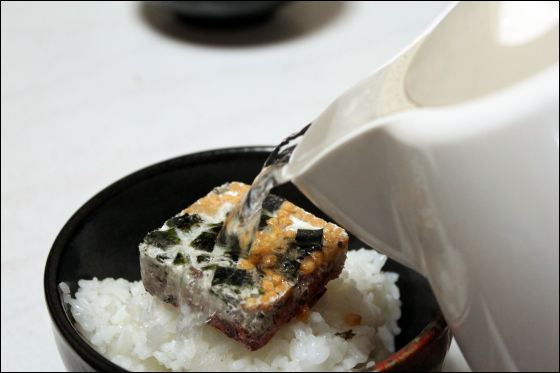 The chunks of freeze - dry were soon disentangled. A delicious flavor of Umeboshi drifts in a faint order.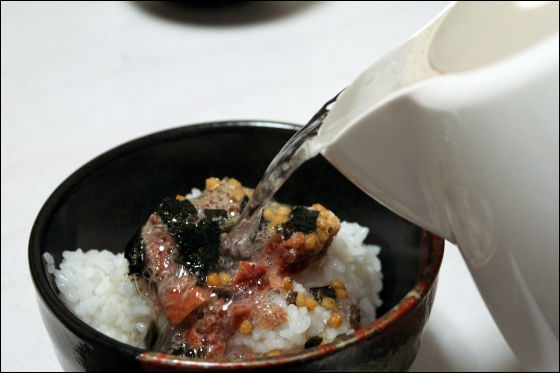 Likewise, the red salmon tea ceremony was relaxed soon.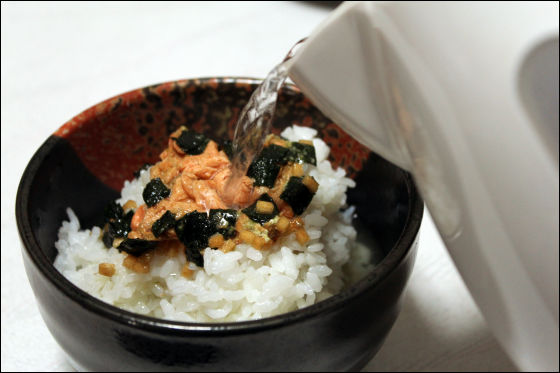 Umeboshi which was cut greatly has only freeze - dry, it is quite authentic.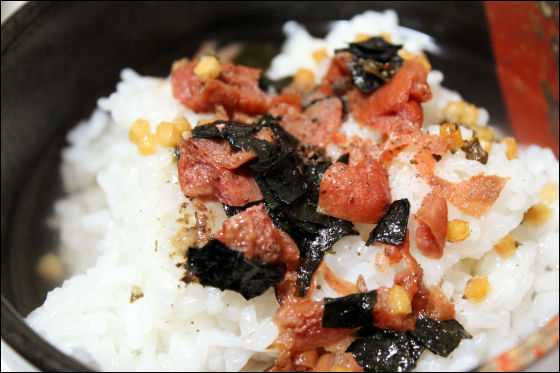 The body of the red salmon also has a solid texture, it looks as if you unfastened the freshly baked salmon.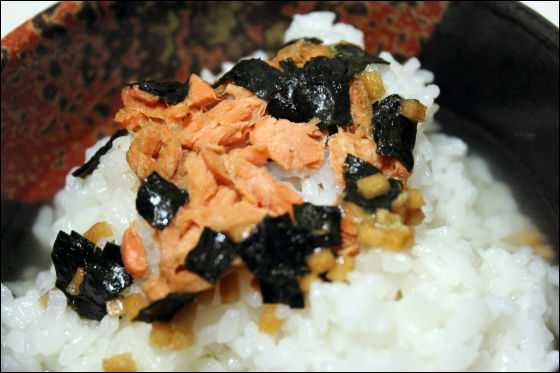 I compared the ingredients. It is in good condition to say that "Umetsu teaing" on the left is "adult meals" and right is the standard product "Umeboshi tea", it is totally different thing.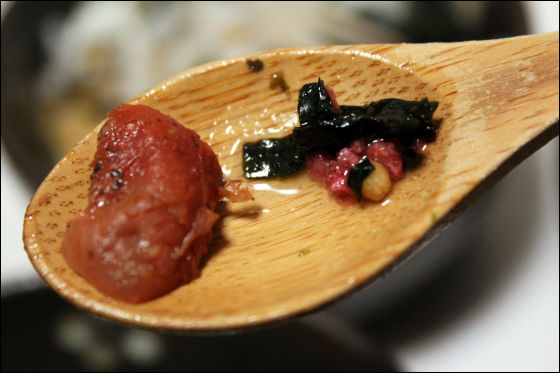 Soup salmon is the same. While the flake is used in "bamboo tea" on the right, it seems that the salmon body is used as it is in "adult meals".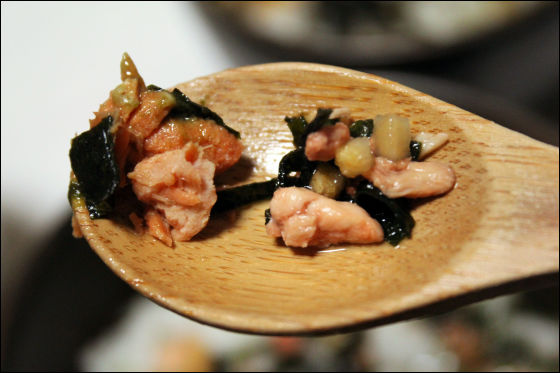 First of all, adult meal pickled plum tea is bitefully paked. Umeboshi texture has a volume, rich in flavor, and as expected is a freeze dried ingredient. Bonkuna extract and kelp powder are used for seasoning of dumplings, but the flavor of Umeboshi stands out because it is finished as smoothly. Compared with the classic "Umeboshi teaing", the salt content of Dashi was kept low, and it was a flavor that felt to place importance on the flavor of the ingredients.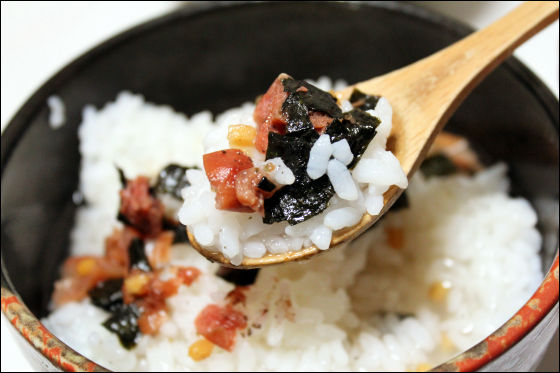 Next, adult salmon salmon teaing is also pakuri. I am surprised at the rich crisp of salmon. This is also a freeze dried food, as well as a crisp, as well as a rich flavor of the salmon body. This has become a tea-flavored dashi, but it has become a seasoned seasoning as well, and I felt the aim of the development team to be able to enjoy the salty flavor.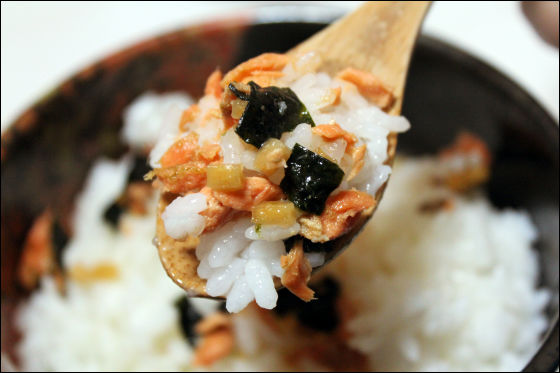 The price of "adult meals" is one serving and includes tax of 141 yen. Considering that the classic "tea ceremony" is 130 yen for three meals, it is a high price setting, but the commodity corresponding to the price was firmly felt. For Amazon, 6 sets of foods are sold for shipping fee / tax included 888 yen.

Amazon.co.jp: Nagatanien Adult Tomoe Umeboshi Teaing 1 x 6 Pieces: Food & amp; Beverages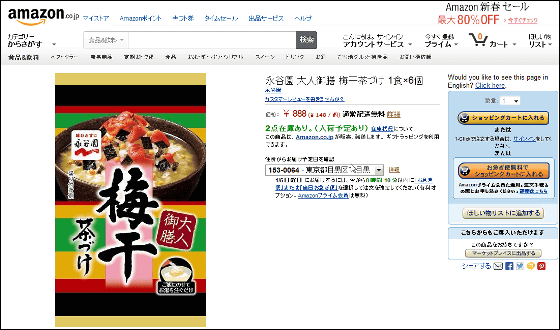 Amazon.co.jp: Nagatanien Adult Oshimari Salmon Teaing 1 table × 6 pieces: Food & amp; Beverages