The truth of "Songs of the iPhone Antenna" Jobs danced in Apple's antenna problem

ByBrian Fitzgerald

Doing a unique PR also makes it famous AppleHowever, at the time of iPhone 4 launch, it got severe accusations from the media due to the antenna sensitivity problem at the time of iPhone 4 release, and at the press · conference "The media is delighted if the successful person hurts, you should not buy it unless you want iPhone 4. If you do not like it, You should take it to "IPhone antenna songIt was a topic that Steve Jobs appeared after shedding. How did this antenna song flow? The process of musiciansJonathan MannSays.

Steve Jobs Danced To My Song - Where You Lead I Will Follow - Medium
https://medium.com/where-you-lead-i-will-follow-indeed/9e805c0f482d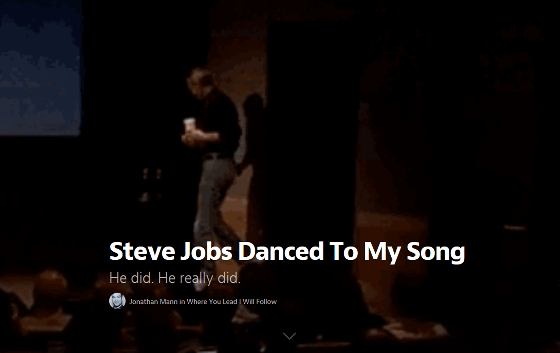 In 2009, Mann who was unemployed creates one song a day "Song A DayWhile writing about the project, I wrote and played songs with freelance, and I kept eating daily.

Two months after the start of the project, heOnline Video ContestsI found a website called. Online Video Contests organizes various contests related to music on the Internet, thousands of participants from all over the US competed for their own music every week. Mann who was interested in Online Video Contests registered on the website and participated in a total of 12 contests in 12 days, it was said that he was able to win quite a few money by winning 2-3 contests out of 12 Thing.

One of the contests Mann attended was Microsoft's search engine which was just released at the time "BingIt was about things. The content of the contest is simple, you can create a commercial song for Bing and if you win it you can get a $ 500 gift card. Although the prize money is not many, Mr. Mann is conditioned on "participating in due date" and "the winner is decided by the judge rather than voting", the Bing contest fulfilled the condition. So Mann posted songs and movies that he made in just a few hours.

The following is actually "Bing Goes The Internet" posted by Mann

Song A Day # 202: Bing Goes The Internet - YouTube


A week later, in the contestVictoryMann was informed, but this was surprising to him. Because Mann says "You've got to Bing it Bing it, You've got to Bing it Bing it." (You find it in Bing, find it in Bing) "with a movie sung with a camera It was because I thought it was a terrible thing.

And after a further week, the songTechCrunchIt is taken up by.

Bing Has Succeeded ... In Finding The Worst Jingle Ever | TechCrunch
http://techcrunch.com/2009/08/05/bing-has-succeeded-in-finding-the-worst-jingle-ever/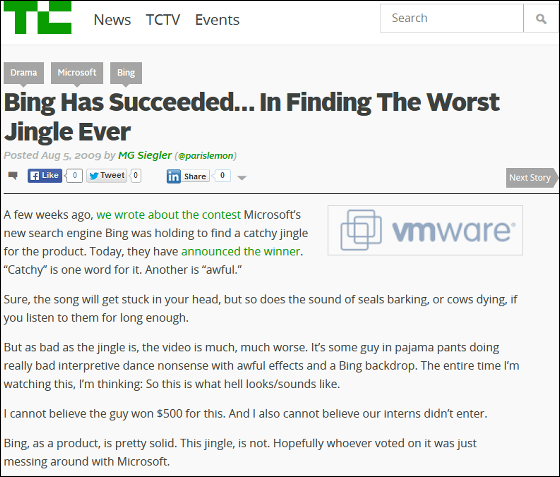 The headline of the article is "Bing succeeded by discovering the worst CM song in history" and it is quite painful. Mann is used to being stupid on the Internet, I usually ignore it, but this time it was different. TechCrunch is a well-known website, and the writer MG Siegler who wrote the article was quite famous. Mann who felt "This should be commented" Mann said, quoting the article in the article that "This will not leave your head, it sounds like a seal call or a dying cattle sound" A song for MG SieglerPost to YouTubeI will send an email to Siegler. Mr. Siegler liked this joke and since then Mann has created a song about TechCrunch and sent it to Siegler as an article that continues to be used as an article.

And in 2010, it will happen the day before Apple press conference. At that time Apple had been heavily criticized by the media about the antenna sensitivity problem,Watergate IncidentIt was called "Antenna Gate Incident" by taming. So Mann, who thought anti-Apple movement was silly, decided to make a song for Apple defense. Mann who thought that "If songs that defended Apple are picked up in TechCrunch, it will be touched by many people," Mann posted a movie of songs made in about two hours. I got to sleep by sending an email to Siegler.

The next morning, Mann who was checking the mail will find a mail not from TechCrunch. It was an email from Apple.




Mann thought of reading the mail and thought that "someone is trying to fish myself", but the telephone bell rings when he is taking a shower. Amazingly, the phone was from Apple's advertising staff. When Mann who agreedly accepted the use of the song is watching the state of the press conference relayed on the Internet, "The iPhone Antenna Song" is shed on the stage at the start time, and when the movie is over, Steve Jobs " Thank you for coming, I found this movie on YouTube this morning, I could not stop myself to share. "

The following were actually streamed at press conference "The iPhone Antenna Song"

Song A Day # 561: The iPhone Antenna Song - YouTube


Mann said, "It was the most surreal time in my life." A spokesman later talked to Mann, "When the song is playing, Steve was dancing behind the stage," in a movie that actually recorded a conference, Jobs who is jumping lightly at the time of appearance You can watch. You can see GIF animation of Jobs jumping by clicking the image below.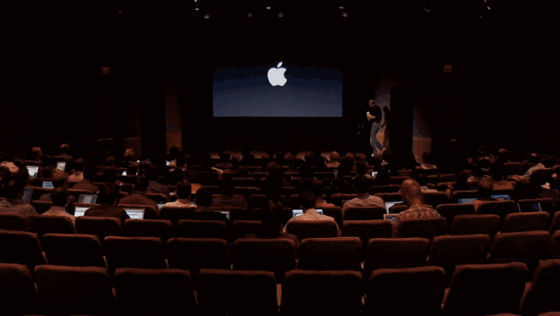 Mann laterSteve WozniakI made a birthday song for the invitation to a 60th birthday party or met at a partyTEDMEDI was asked by co-founderTEDFounder ofRichard Saul WarmanWe are sending busy days to make birthday songs. Mann, who has built up his career with Apple, started from unemployed days, trying to make one song a day, TechCrunch, and Apple, "All the beginning was to make a work and share it freely on the internet "I tell you.

In November 2013 Apple foundersSteve JobsTwo years passed since the death, but in the NetherlandsSteve Jobs SchoolIn Japan,Spirit the spirit of Steve Jobs and publish that wordIn that sense, such influence is alive in every sense.
in Note, Posted by logq_fa