"Tabasco" was chocolate or jelly beans so I actually tried it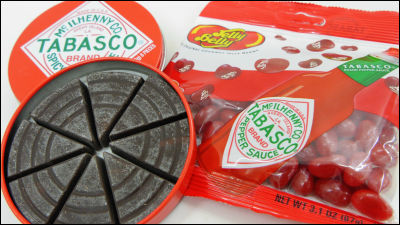 Speaking of Tabasco is a seasoning enjoying pasta and pizza just a little bit of it, it is not a frequently used thing but "if there is noticed there is a" existence. Combining such Tabasco with sweet candy such as chocolate and jellybeans "Tabasco Spicy Dark Chocolate"When"Jelly Belly Tabasco BeansI found it, so I tried to verify that taste so lazily.

TABASCO®Brand Spicy Chocolate - TABASCO® Country Store - McIlhenny Company
http://countrystore.tabasco.com/TABASCOsup174_sup-brand-Spicy-Chocolate/productinfo/03293/

Tabasco beans new release! - News
http://www.jellybellyjapan.com/news/new-products/2013/11/19/tabasco-beans.html

The left is "Tabasco Spicy Dark Chocolate" and the right is "Jelly Belly Tabasco Beans." It seems to be very painful on both designs based on red.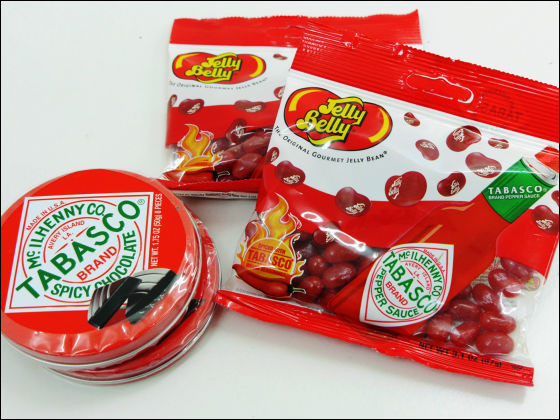 When looking side by side with real Tabasco, it looks more reddish than Tabasco.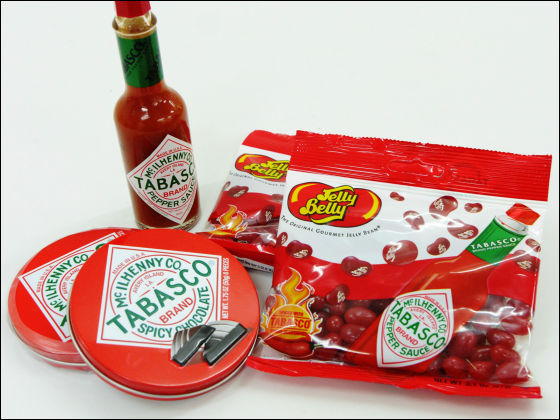 Tabasco looks like this when I look around.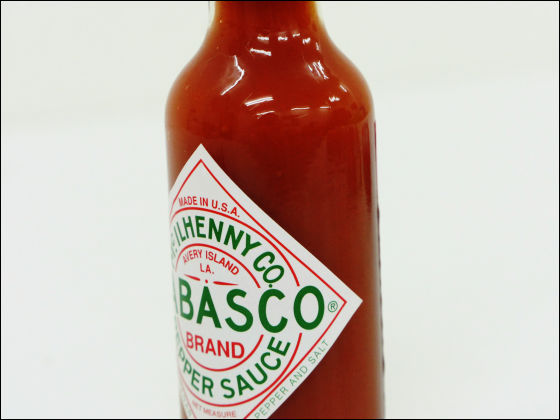 Taking out Tabasco in the vessel, it has an orange color rather than a red, with a tone and a sour scent.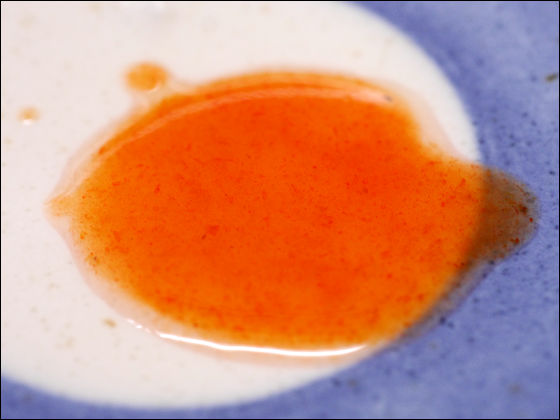 ◆ Tabasco Spicy Dark Chocolate
So, let 's try challenging' Tabasco Spicy Dark Chocolate 'first.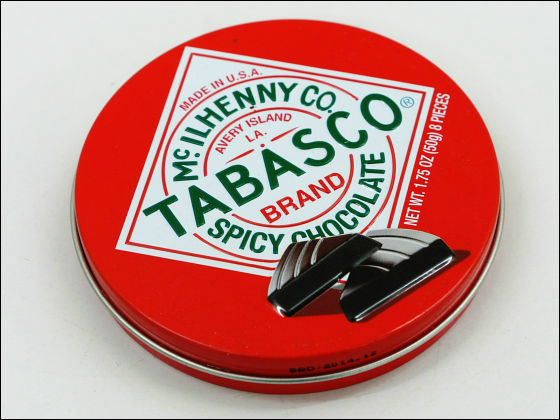 "Tabasco Spicy Dark Chocolate" has a content volume of 50 grams, and found the characters of red chilli and vinegar in the raw material. Because ordinary chocolate contains things that can not be thought out, I lost my mind unexpectedly.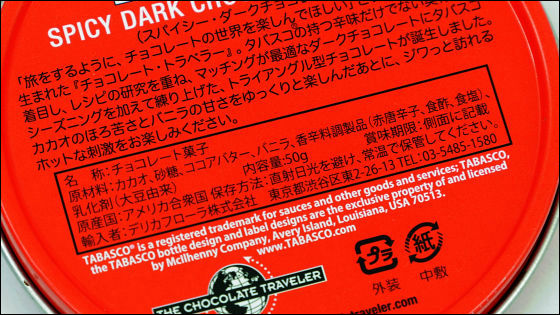 The size is about this size when you have the case in your hand, so much will not be.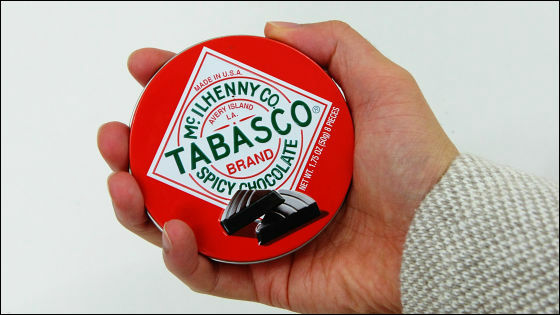 When it is arranged side by side with Tabasco, I realize that the character of "PEPPER SAUCE" written on the Tabasco logo is changed to "SPICY CHOCOLATE" while faithfully reproducing the design.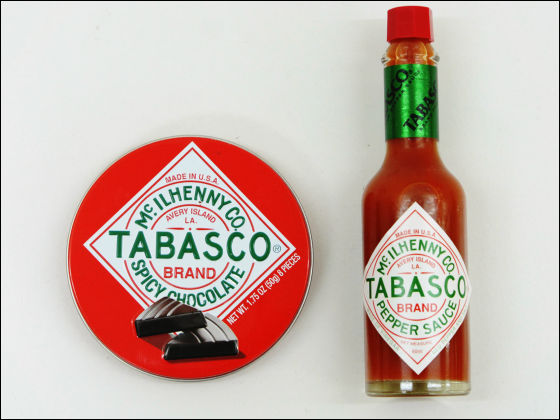 I never opened the lid and the lid, the sweet smell of chocolate flushed from inside.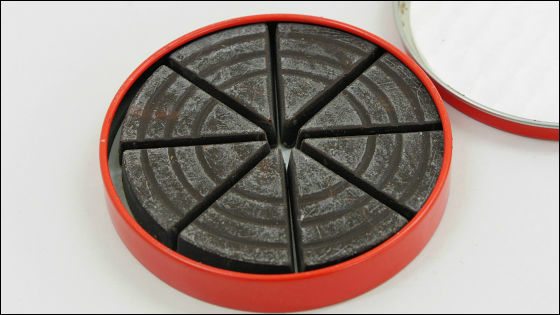 One piece of chocolate looks like this. It looks like just chocolate, there is no irritating smell reminiscent of Tabasco by the scent drifting.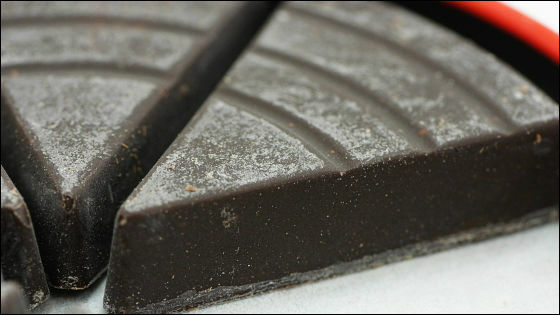 It's about this size when you have chocolate in your hands.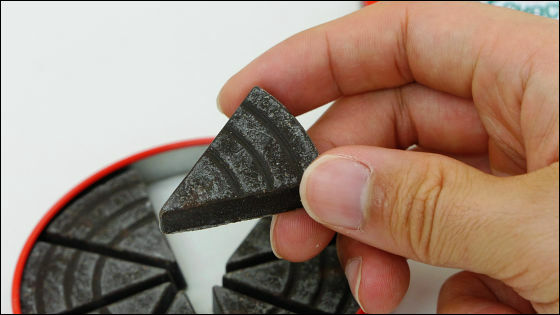 Try eating a bite, "Eei, leave!", The taste was a bitter sweet ordinary bitter chocolate. Chocolate is slightly consolidated and has a good texture with a crisp sound. I melted chocolate in my mouth halfway, and I thought that it was "ordinary chocolate ...", and it will be awfully hot. However, it is not too hot, and it is enough to add a small stimulus to bitter bitterness of bitter, so the impression that "Is this Ali in this?" However, because there was no sour taste, I could hardly feel Tabasco feeling.



◆ Jelly Belly Tabasco Beans
Following chocolate, we also tried eating "Jelly Belly Tabasco Beans". The compatibility between chocolate and Tabasco was unexpectedly felt, so expectations are also required here.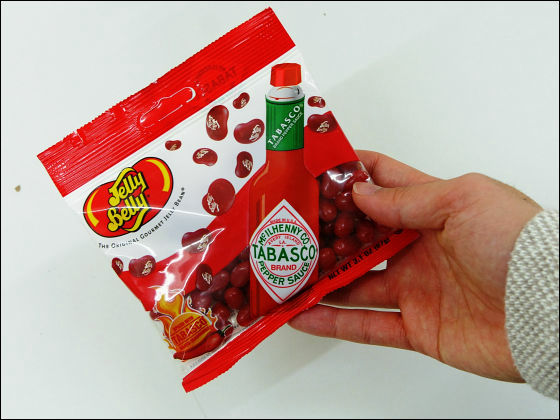 The content volume is 87 grams, and in the raw material nameTabascoI found the letters. Whether this is good or bad ......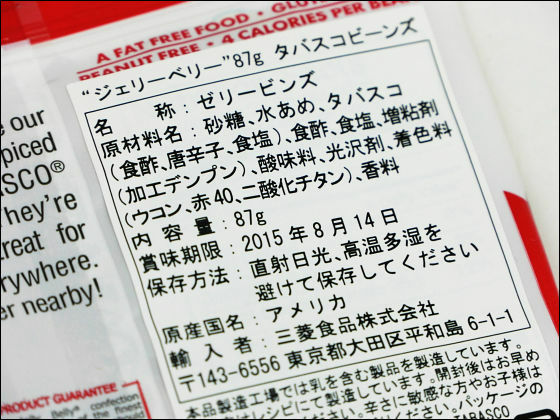 Looking side by side with Tabasco, it looks something like this, the color of Jelly Beans is not dark like dark strange.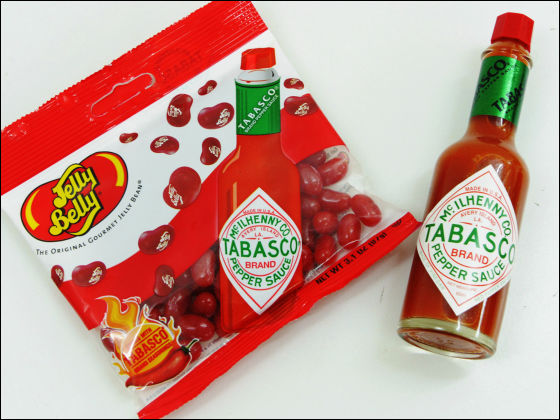 Kind kind design easy to open because the bag has a cut.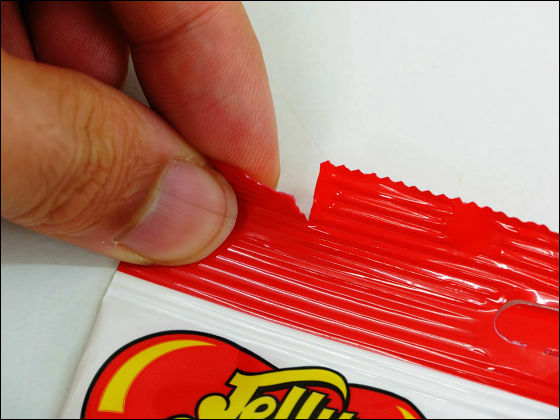 As soon as I put it out to the vessel, too bright red jellybeans appeared. At the time of opening, a scent with a distinctive sour taste drifts and it can not be said anything.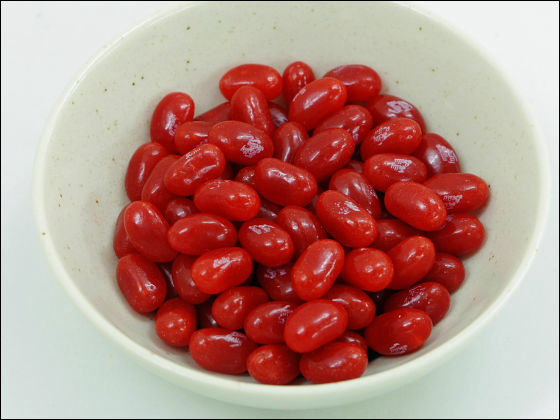 The size of one bean's grain is about this.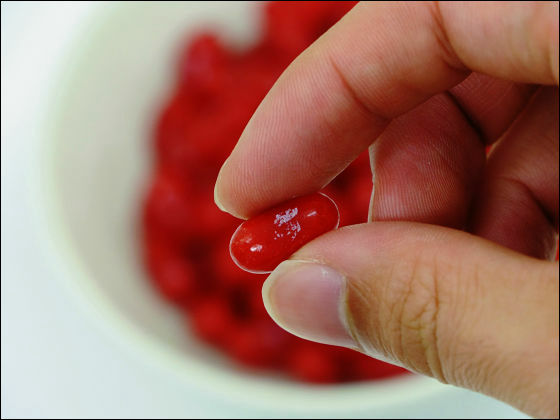 Cut the beans and the cross section is red.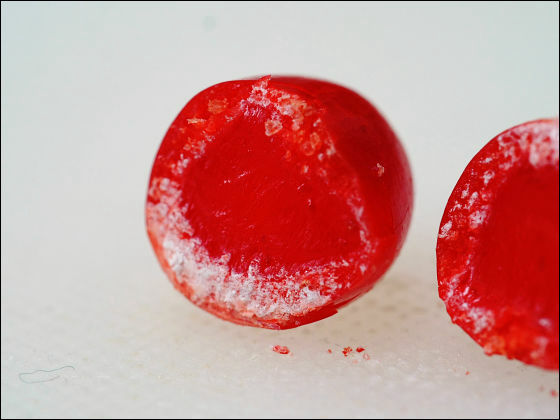 When eating it actually, although it has a slightly sweet jellybeans feeling, it is hot and sour, and a unique fragrance fills the mouth with a jaegege. The taste is exactly like "Tabasco taste", it has been seasoned faithfully to Tabasco considerably. Jelly Beans' s like sweetness and ginky texture combined with the spicyness, the odor is blurred in the nose and it is impossible to say anything. Is not it the only salvation that you can not feel acidity as much as Tabasco?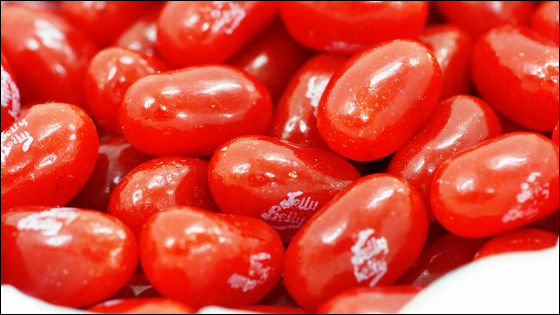 No one will eat Tabasco beans as it is .... So I decided to arrange a little. Jelly beans of flavor is usually prepared.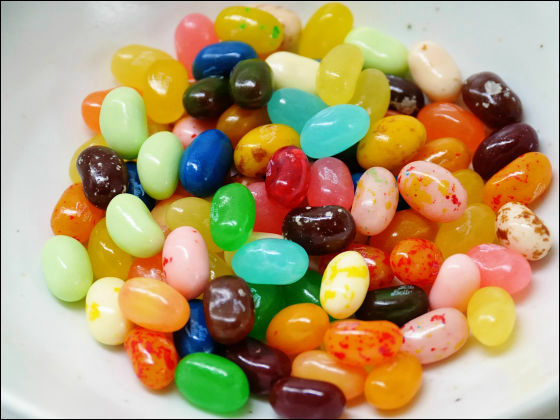 Then I will play with Tabasco beans in hand.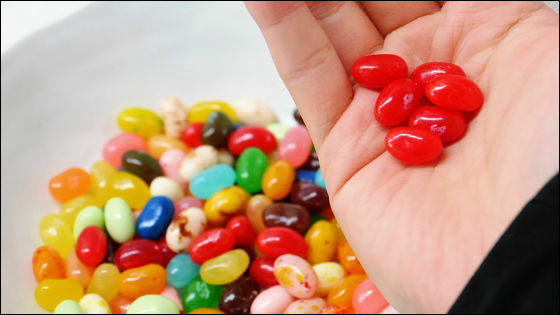 "Oops! There were Tabasco beans in delicious Jelly Beans!"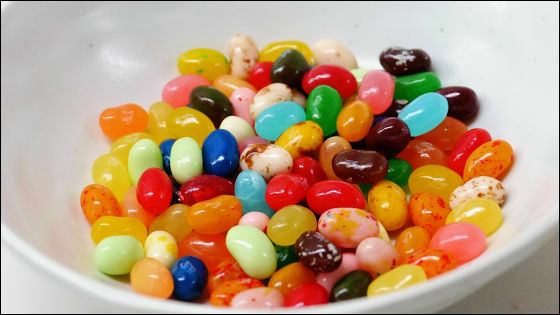 Even if you look closely, you do not know which is which, so in this case you may be able to eat (?) Without worrying about Tabasco taste.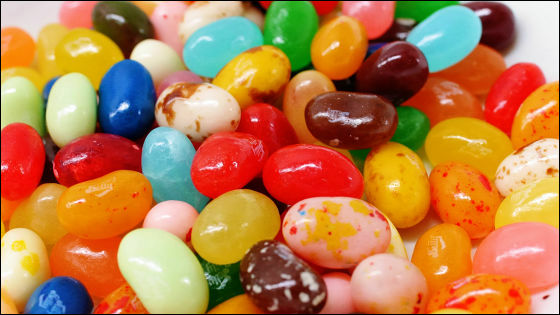 In addition, "Tabasco Spicy Dark Chocolate" is 480 yen at Amazon, "Jelly Belly Tabasco Beans"World Plaza Yahoo! shopCan be purchased at 330 yen. If you prepare it as party goods during New Year's holidays, Tabasco beans will be used for punishment games etc.

Amazon.co.jp: Tabasco Spicy Dark Chocolate: Food & amp; Beverages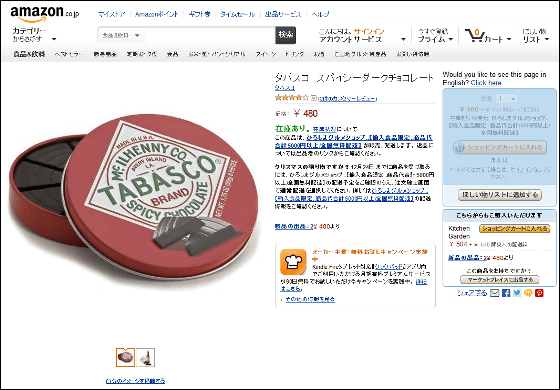 Jelly Belly Tabasco Beans 87g Bag: ca-je-tb: World Plaza Yahoo! Store - Yahoo! Shopping - Online Shopping, Online Shopping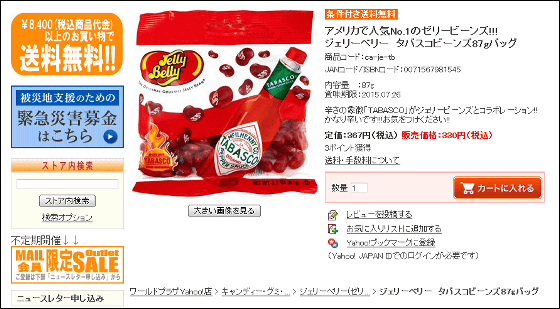 ◆ bonus
TABASCO.COMAccording to Japan, it is the second largest consumer of Tabasco in the world. When Japan was occupied by the United States after the Second World War, Tabasco was brought to Japan as an American military rule, and seems to have spread throughout Japan as a seasoning for pizza and spaghetti from there.