The number of visitors is 450,000, the appearance of "Yuru Character Sammy in Hanyu" on the first day of the event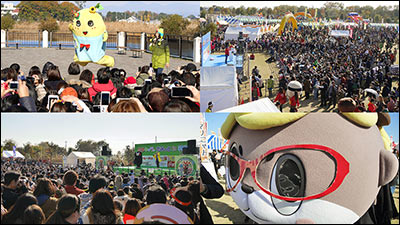 Yuru Character world's biggest event which gathered 450,000 visitors in the 4th year held "Yuru Character Semitic in Hanyu"What kind of event is it? I have seen the state inside the hall.

Yuru Character Semitic in Hanyu
http://www.city.hanyu.lg.jp/kurashi/madoguchi/character/02_culture/02_kankou/yuruchara/yuruchara.html

The venue is Hanyu City Hanyu Suido Park in Saitama Prefecture.

View Larger Map

On the south side of the hallFunassyi(Funabashi Tourism Association in Chiba Funabashi Tourism Association), the Blue Stage · Red Stage · Green Stage is arranged, the tents where the sale of meals etc. are being done, the booth tent of the characters line up.




On the north side of the hall there was a yellow stage and a class B gourmet tent, so we enjoyed B class gourmet as well as loose character events.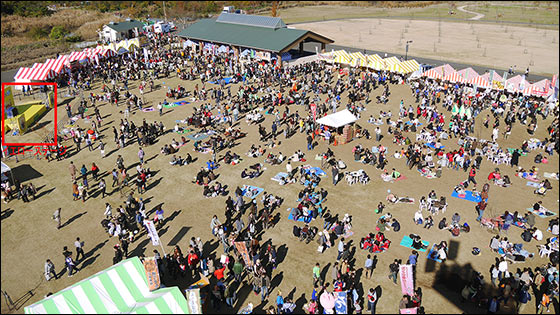 OtherRice grade gourmetCorner is prepared ... ...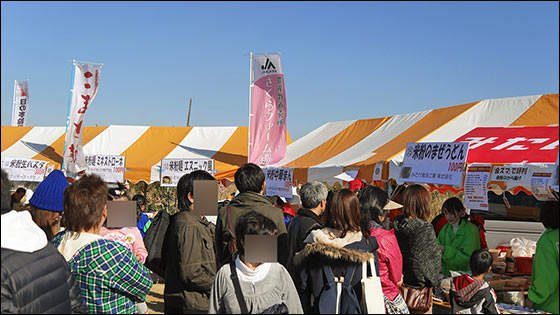 Contests of cooking rice flour are also being held.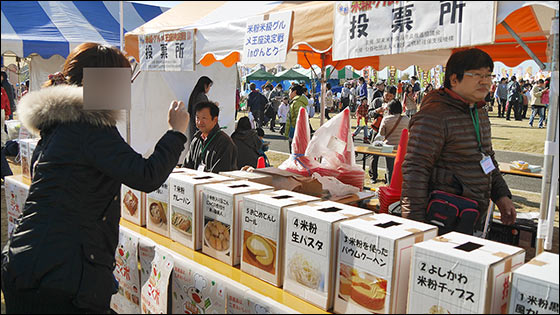 The state before the event started,Melon Bear(Yubari city in Hokkaido) found a wrapping car.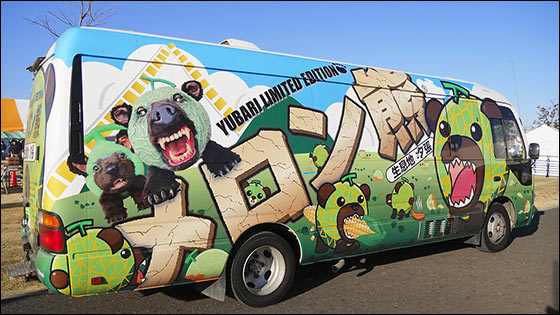 The first Guinness world record challenge event on the first day, the state of the challenge is "I went to the achievement of the Guinness World Record at "Yuru Character Sammi in Hanyu"You can read from.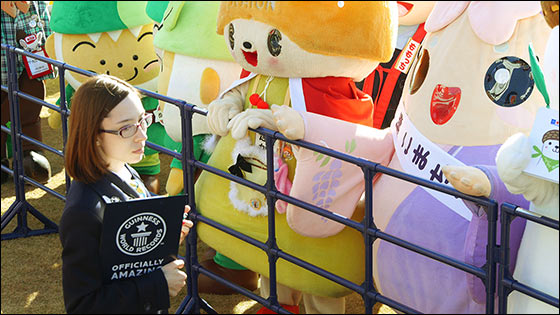 After the Guinness World Record Challenge event, the event will progress simultaneously in each stage. I decided to miss the stage of the character I wanted to see if I did not plan well.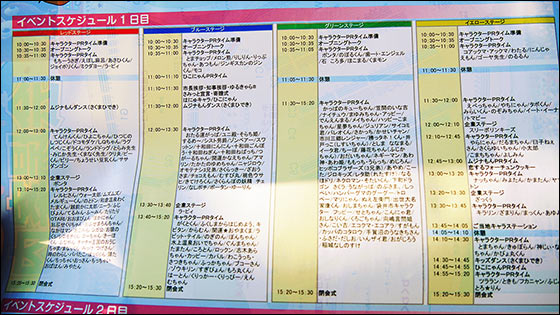 The characters started to move freely.Towada Nachachichi(Towada-shi, Aomori Prefecture) has been reproduced up to the long whisker root, and it has quite a huge impact.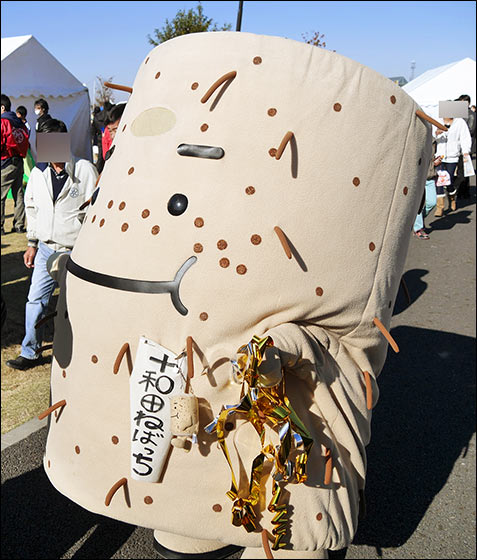 I stand up and appeal before my own boothKonnya(Japan Konjac Society)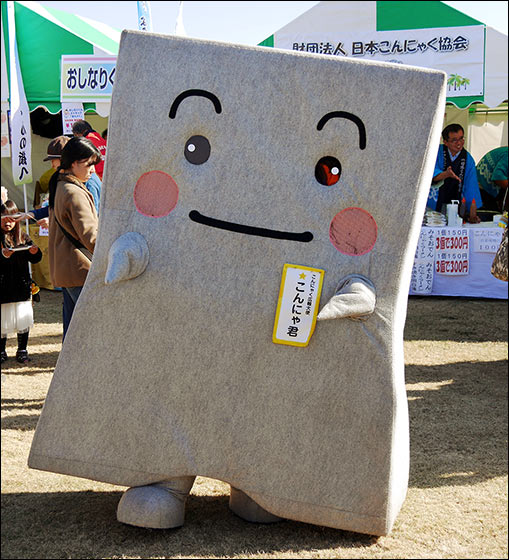 It is Santa specification according to the seasonI love you(Aichi prefecture AiNishi city), this is lotus root.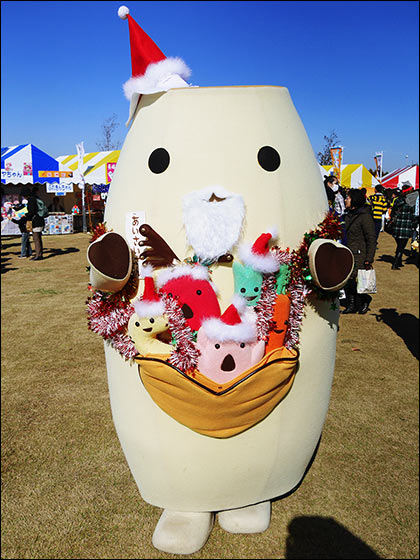 Melon Bear Special AdvisorNacha(Yubari city in Hokkaido)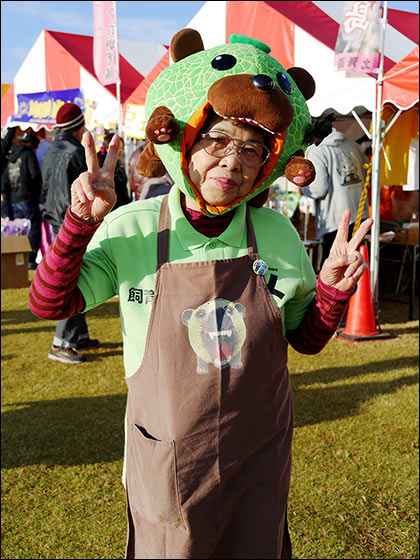 Melon Bear is not constantly being rampant but sometimes responds to friendly.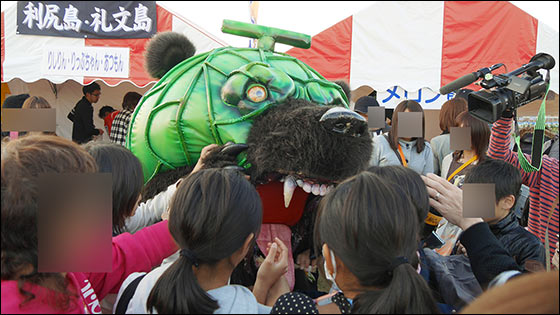 More than 80 participation from Saitama prefecture of the venue,Koinoborin I and II(Saitama prefecture Kazo city) can see what looks like a face but it is a pattern.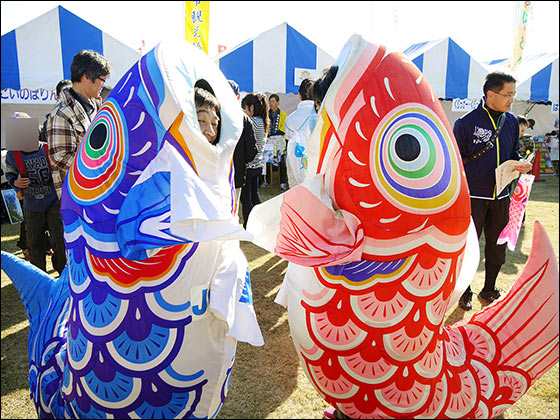 There are still many audiences of dressed and persistent.



Opening talk began at each stage, local character Hanyu's loose charactersMuzyna Mun(Hanyu City Saitama) ·Iama-chan(Hanyu City, Saitama Prefecture) has appeared at the Blue Stage, which is also full of spectators.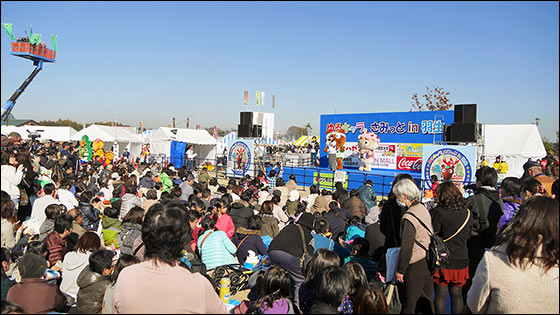 Sana na · bowa(Nagasaki prefecture Sasebo-shi Kujuku-jima) three people,Kind of(Yanagase shopping street Gifu city Gifu prefecture informal retirement in March 25) was cardboard, but here is a paper bag.




A group of rhinoceros marching in line with a shout.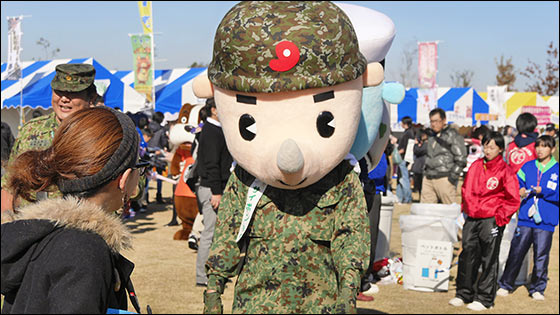 Sipon "Riku" "Umi" "Sora"(Ministry of Defense Self-Defense Forces Saitama local cooperation headquarters) I am went past.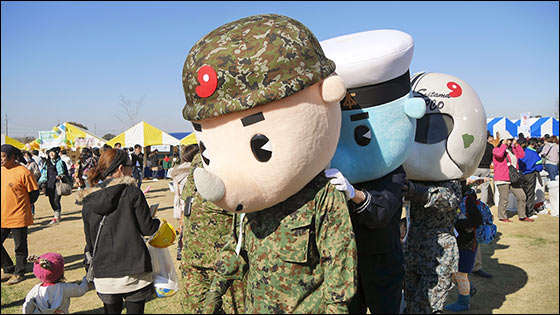 It's Kappa! All members!I met up with you.Kappy(Shiki-shi Commerce and Industry Association of Shiki-city, Saitama Prefecture)Shigaki Ara(Shiki city Shiki city Saitama prefecture Shiki city commerce association) also encountered.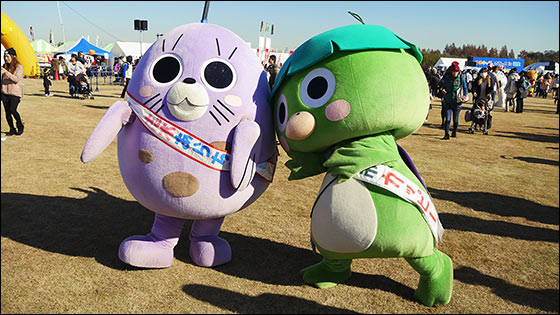 Sheep's Shitsuji(NTT DoCoMo, Inc.) and many other companies' characters.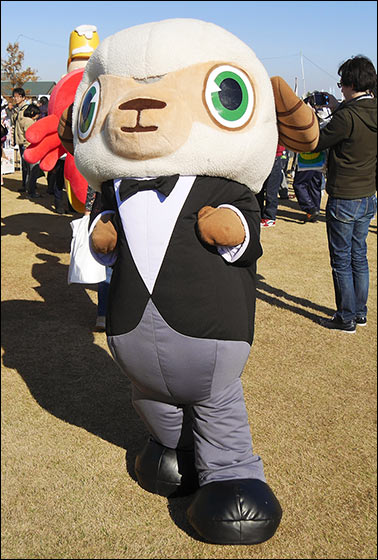 Heisei Daimyo Ieyasu-kun(Hamamatsu city in Shizuoka prefecture) with glassesShinjo(Suzaki city, Kochi prefecture)



On the green stageKumamon(Kumamoto Prefecture) appeared, there are conditions that audience seats are wider and easier to see than the stage where Funassie will appear, and the number of spectators has exceeded Fu Nishi.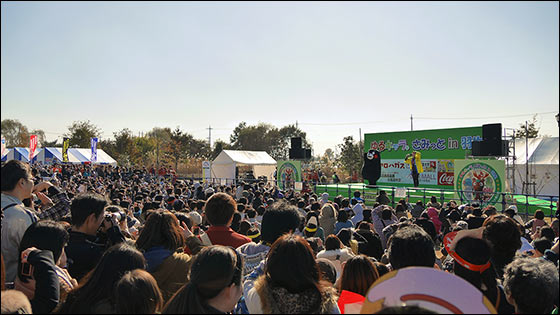 At 11 o'clock, all the parking lots are full and the shuttle buses are caught up in traffic jams and "There are more people than last year".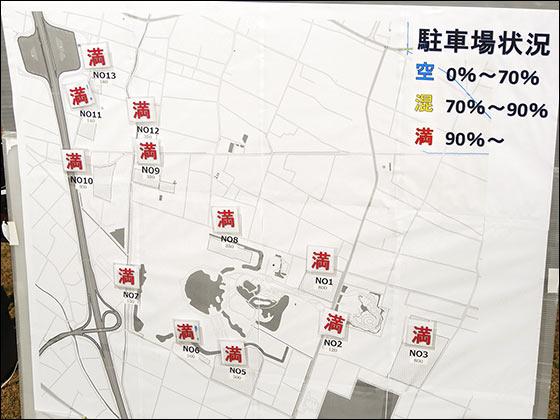 The area around the booth is filled with people like this, but it is spacious and can move around freely.




I tried riding with the crane that I was using for photography as it can ride with 500 yen (tax included).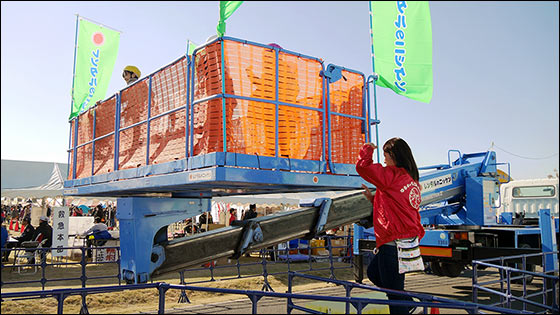 Hikkan(Hikone city, Shiga prefecture) on stageTiny uncle(Amagasaki City, Hyogo Prefecture) is heading.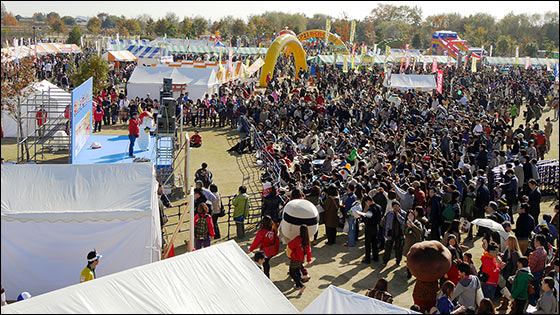 The state of the B grade gourmet corner, if you look closely ...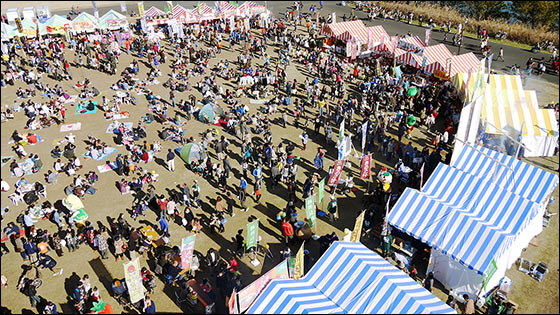 Ayumi(Higashimatsuyama city, Saitama Prefecture) ·Pink(Higashimatsuyama city Saitama prefecture) There were a lot of people.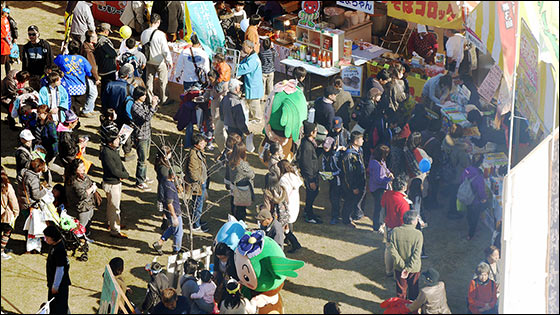 The scenery seen from the 15 m above the ground is so interesting that it can be thought that "I want to observe it for a while". Small in the center and dancingMike(Hobako City Osaka Prefecture)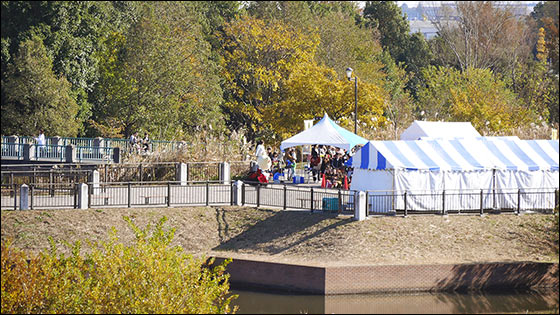 I was responding to shooting in a square somewhat away from the main venueNyunjemon(Konan Town, Kiga City, Shiga Prefecture), you can enjoy finding characters by finding characters that are in surprising places by looking from above.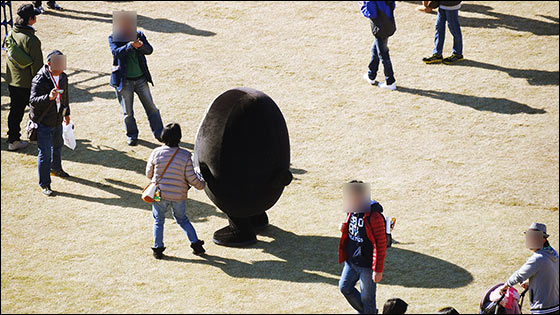 Descend from the crane and go back to the booth again, "kiss it" and kiss itTarumin · Fu ~ Men(Ikeda Town, Nagano Prefecture)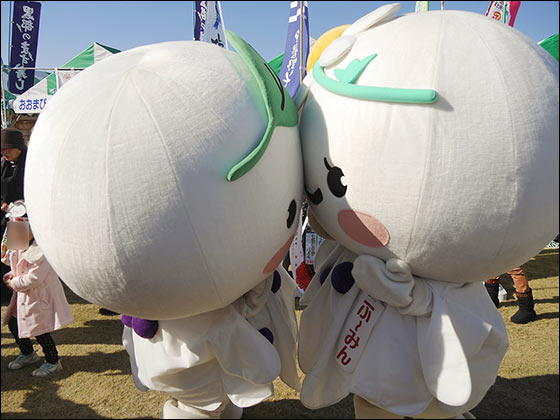 I am embarrassed.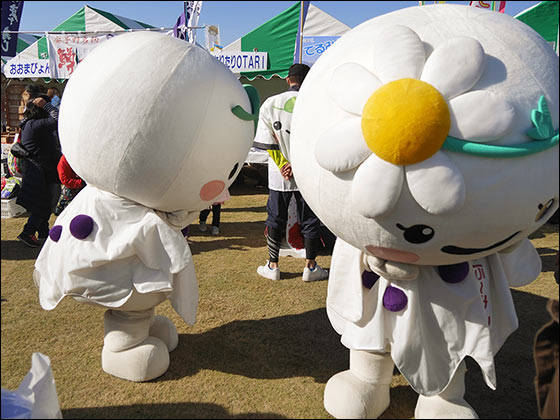 GCB 47(Your local character band 47)Yosuke IshidaI found out.



At this time it was a band member'sSummon(Sugamo Jizo street shopping street in Tokyo), accompanied by the same band memberKapal(Shiki City Sports Culture Promotion Public Corporation of Public Interest Foundation) and doing some kind of guerrilla event.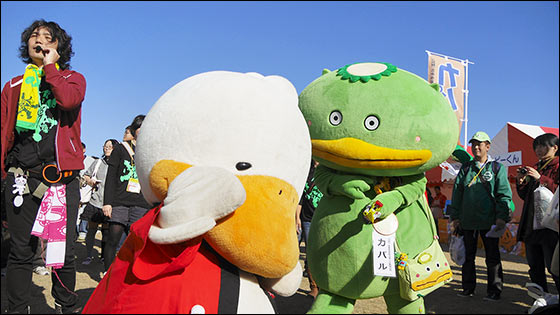 ThereKotaro(Sumida-ku, Kita-Tokawa River, Tokyo) came, Kotaro is not good at cucumber.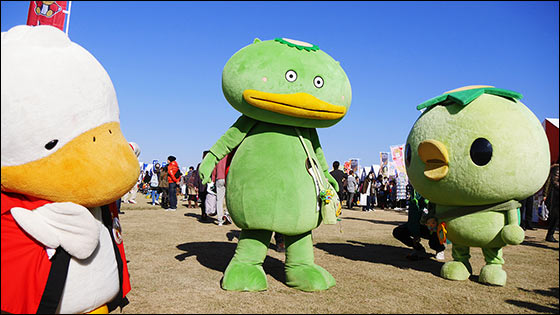 I thrust cucumbers into my mouth without forgiveness this time as well.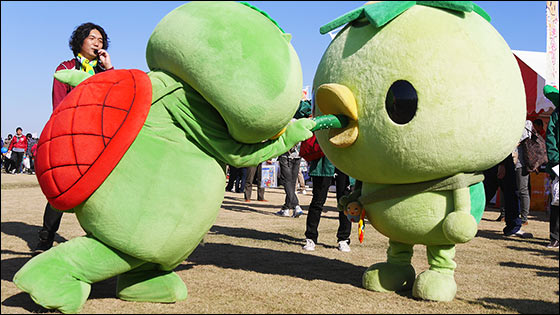 Kotaro escaping, Kapal is full of joy.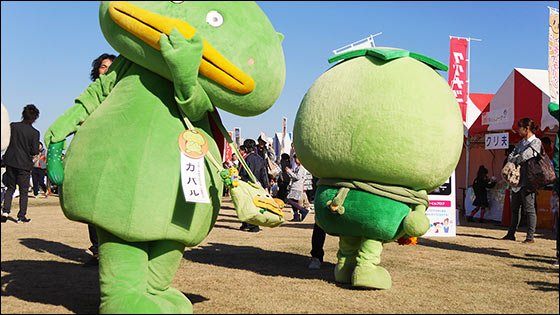 There is a crowd around the Kumamon booth. The crowd is so amazing that I have no idea what is going on at the booth.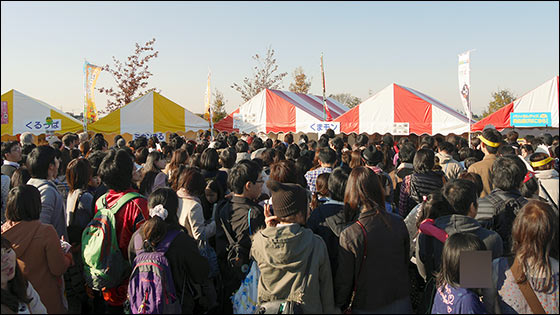 Kumamon was interviewed by TV when turning to the back, this attractiveness is truly satisfied simply by appearing without special performance.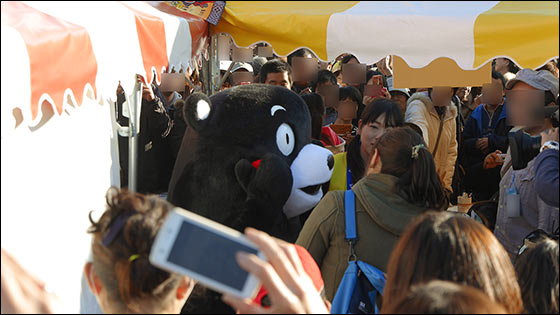 There are many things that a character is made up of a combination of several themesTsuru-chan(Aomori Prefecture Tsugaru-shi) is a combination of rice, watermelon, melon, apple, tomato, leek, potato and burdock and 8 different foods.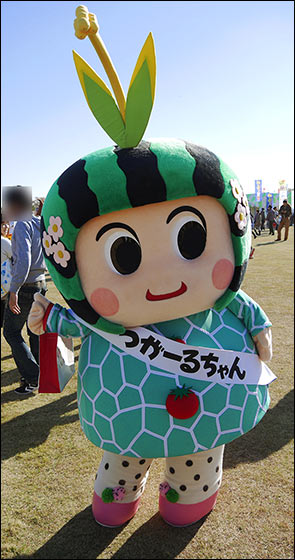 Towada Negin(Towada City, Aomori Prefecture) and Towada Nachachi are also preparing standalone characters for each special product.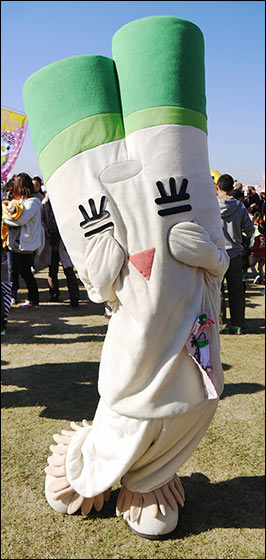 Some characters can understand the theme "Negi" at a glance, and some characters do not understand what they theme as the theme at first look.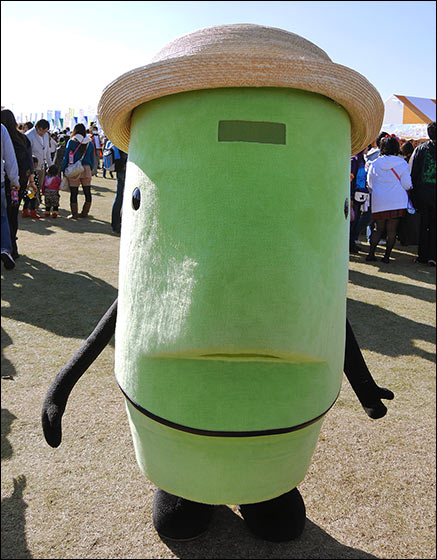 Kikuro kunI heard stories from the staff of Yamagata Prefecture (Yamagata Prefecture) and it was a character with the shape of Yamagata prefecture as a motif.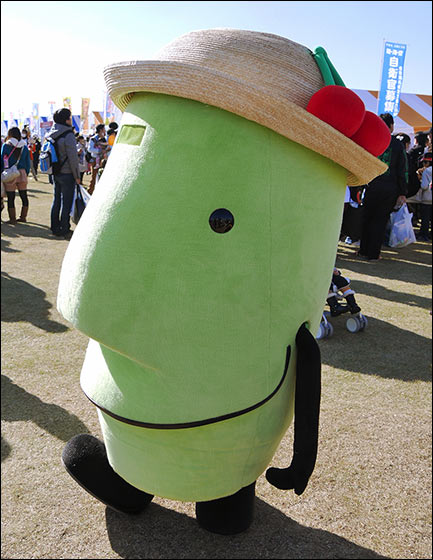 Funassy was waiting with a dedicated tent prepared for the street stage, frequently appearing on the stage of other characters as guests and boiling the audience.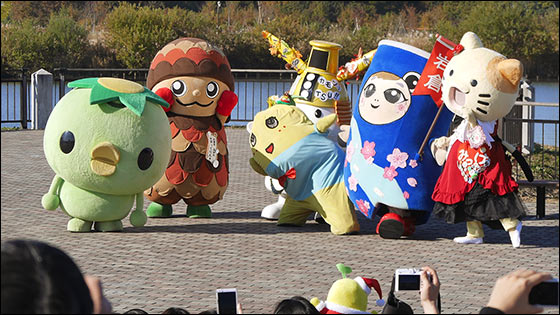 There is a place like a mini amusement park where children can play at the venue, and a mini steam locomotive is running. It is also possible to call on the characters who are going through the staff.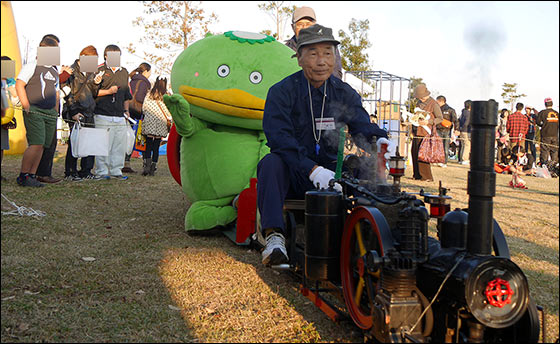 At 15 o'clock, the event is over and the return of the characters begins, but some characters remain in the venue until the end of tidying up the booth like Son Bear (Hacienda City Hokkaido City limited company Hacienda International).



What remained until the end of the last is a melon bear, it seems that it is still raging enough.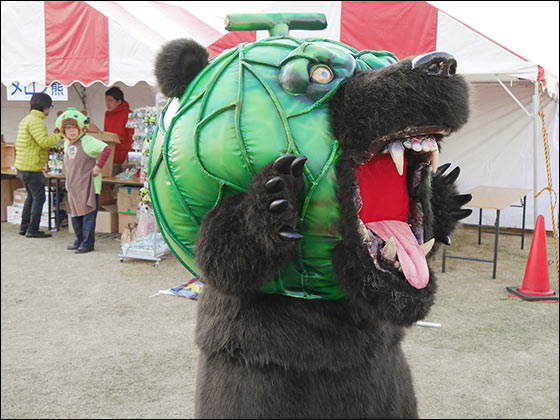 It is impossible to experience everything at the same time due to multiple stages and unexpected events, the time of appearance of characters is not announced beforehand, and the place of appearance is not only before your booth There are many accidental elements such as being in front of friends 'characters' booths, and it seems like a treasure hunt. The point that we can not be satisfied by just going once has been called a repeater and 450 thousand visitors I felt it was a factor to grow into a large event to collect. The state of the final day, which is full of content such as "Yuru Character Wedding" and "Law Character Grand Prix Awards Ceremony", guerrilla live etc will be posted later, so please look forward to it.

The restHere