I tried using a coffee maker "Cafe pro 503" that can roast and drip from raw beans with two buttons touch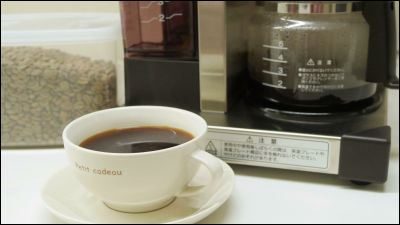 Many coffee enthusiasts are roasting raw beans themselves and extracting (driping) coffee in search of coffee which is fresher and more fragrant, but it is difficult to adjust the adjustment of roasted beans, so please cook stably and deliciously It is said that even proficient professionals are the most difficult business to brew. A coffee maker that can make fresh coffee in less than 30 minutes, such a difficult roasting can be easily and stably done by anyone with a button, even with a single button until dripping "Cafe pro 503I was able to borrow, so I tried it at once.

Coffee machine with roasting function Cafe Pro 503 / Coffee roasting 【Cafe Pro】
http://www.dainichi-net.co.jp/cafepro/mc/mc-503.htm

The box of the cafe pro 503 that arrived at the editorial department is about 70 centimeters wide and the weight exceeds 10 kg, so it is difficult to move alone by a woman.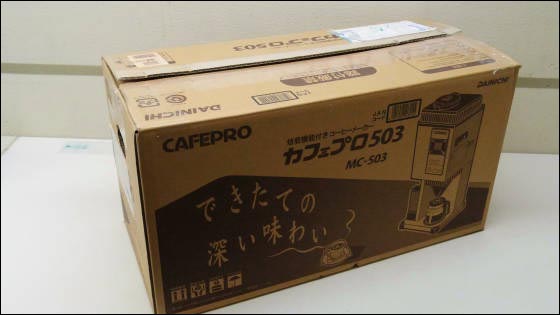 When opening it, the cafe pro body was packed so that it can withstand the shock at the time of transportation with Styrofoam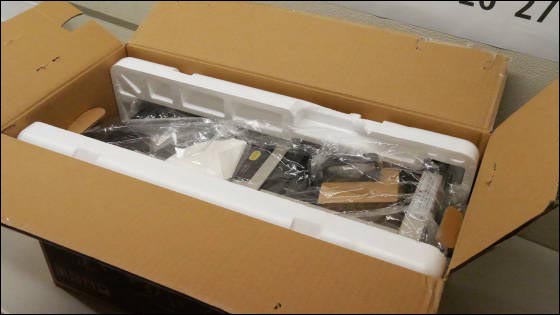 Café Pro 503 is heavy as 10.2 kg while looking at its size, so it is hard to get out of the box.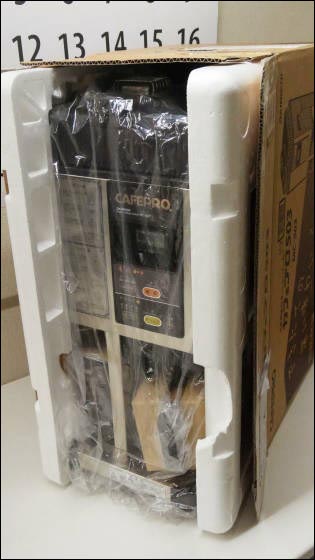 The body taken out looks something like this. Height 61.6 centimeters, width 24 centimeters, depth 26.5 centimeters. The main body made of stainless steel has an overwhelming presence, so it looks good to decorate it as an interior.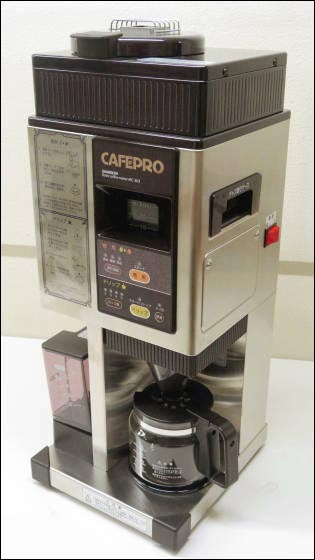 The back is flat. Since the power cord is considerably long at 2 m, you can choose the installation location.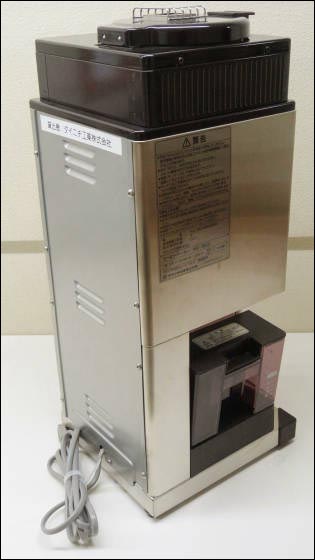 There is a lid on the top of the main unit, and coffee raw beans are introduced from here and roasted.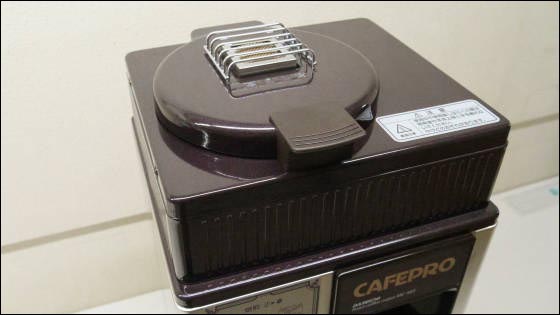 When opening the lid, it looks like this.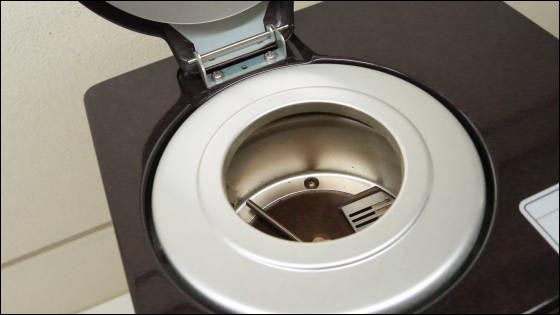 The roasting kettle employs a double roasting system that can evenly roast with electric heaters installed above and below. In addition, it has a built-in sensor that controls the temperature during roasting, and it automatically adjusts the condition of roasting.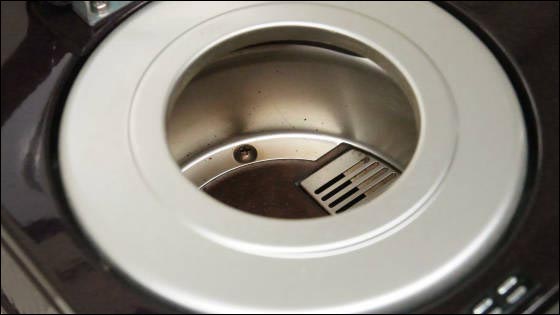 The mesh part of the lid is a deodorizing catalyst, it suppresses the scent at roasting.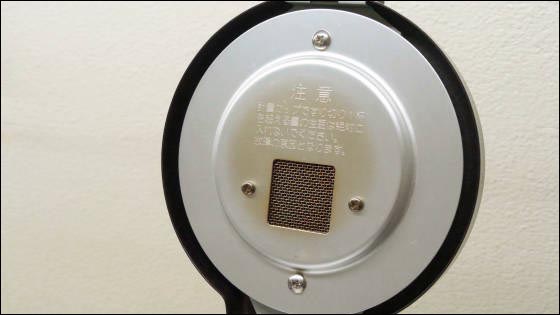 This is the front of the main unit. In "roasting driving" and "drip driving" the buttons are divided up and down. There was a small window above the button that could confirm the roasted coffee beans.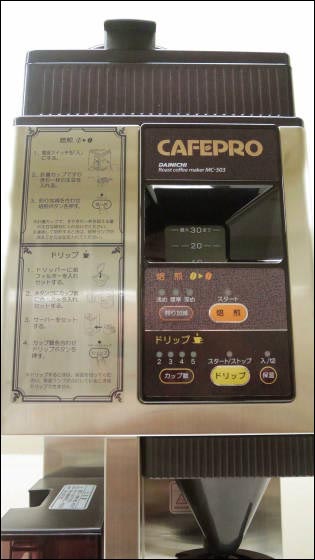 There is "chaff taking case" on the side of the main body, and the skin of raw beans accumulates here.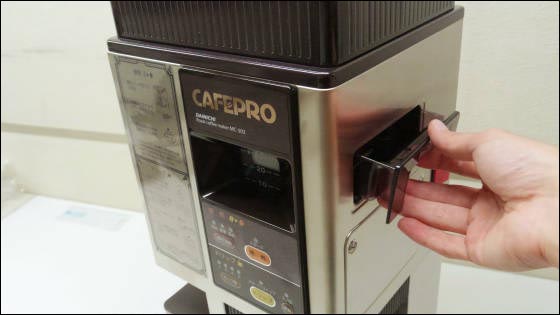 On the left side on the left side is a tank that puts water in. The side of the H type contributes to ease of portability.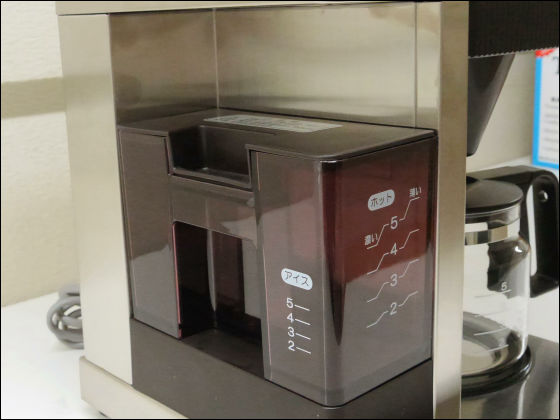 Drapper and server at the bottom right side. The server is about the same size as that of a common coffee maker, corresponding to five cups of coffee.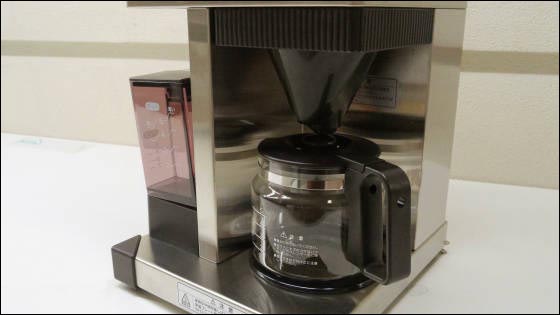 ◆Preparation
Before brewing coffee, wash the dripper, water tank, and server clean.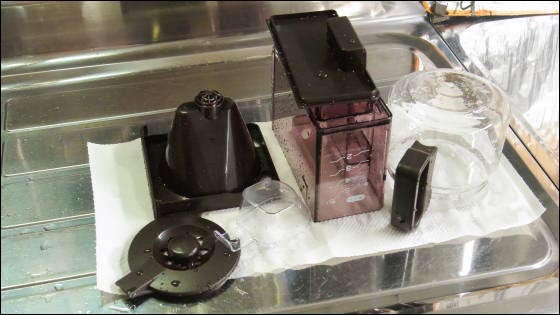 Next, prepare raw coffee beans. This time, cafe professional special selection raw bean "European blend"(3360 yen / 1 kg) is used.



Transfer 1 kg of raw beans to Tupper. Unlike roasted coffee beans, raw beans smell a little fresh.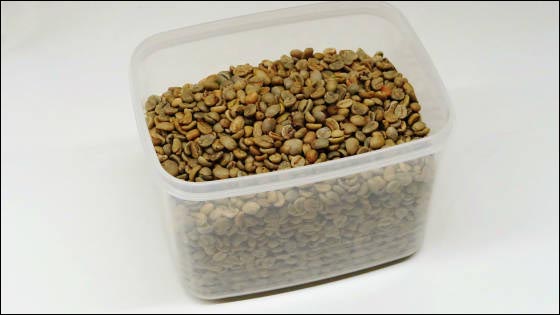 European blend is a blend of Indonesian "Mandelin No.1" Brazilian "Santos Discard" Ethiopian "Mokajima". The raw bean is so tight that it can not be broken even with a tooth.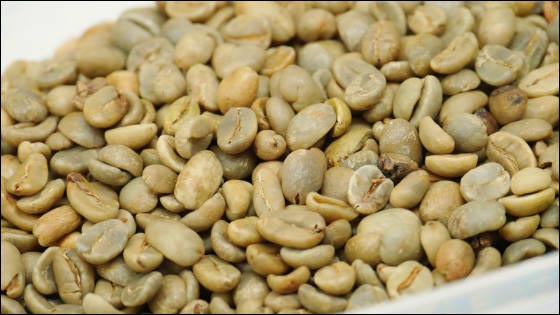 ◆Roasting
I will try roasting at once. It is a point to put raw beans one cup full (60 g) into the attached measuring cup. It is caution as it will cause trouble even if it is more than this. It means that about 10 cups of coffee can be roasted from 60 g of raw beans.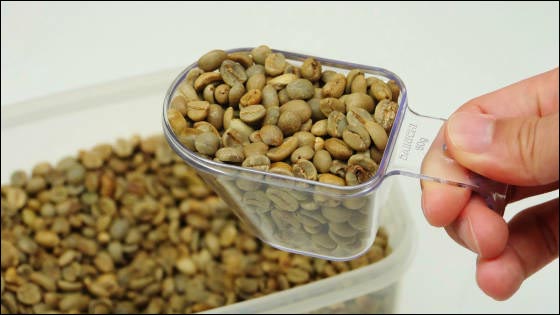 Open the lid of the main body and put the raw beans.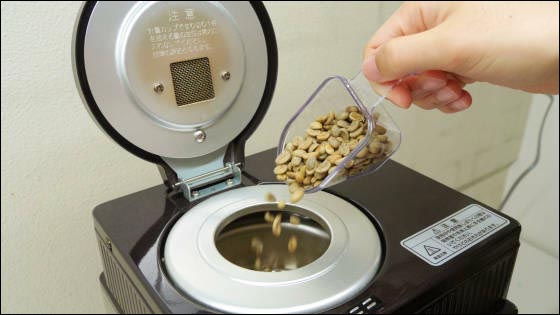 Since it is a small amount, heat flows steadily.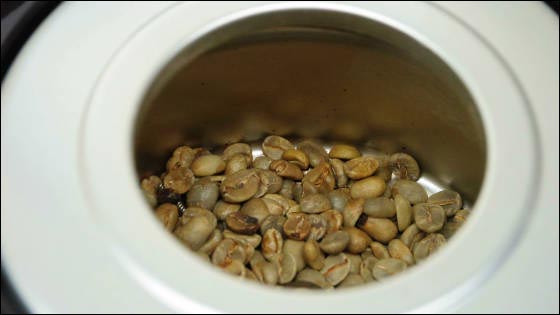 Close the lid ... ....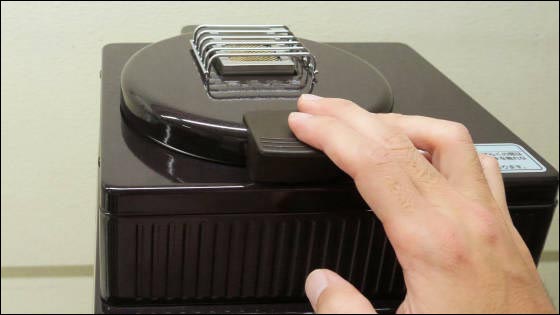 Turn on the power button on the side of the main unit.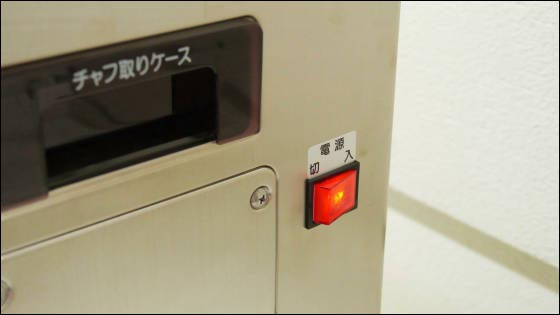 Cafe pro 503 can adjust bean roasting in three steps of "shallow, standard, deep". In "shallow" the acidity of the coffee is increased, while in "deep" the coffee bitterness becomes stronger. For this time, select "Standard".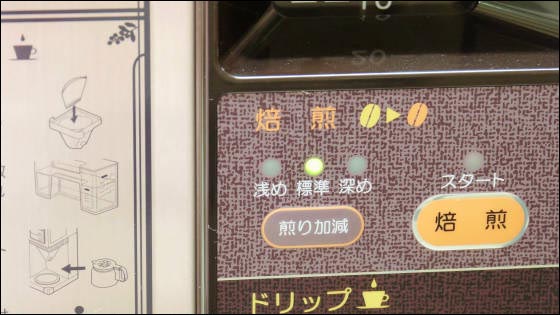 When you press the "roast" button on the front of the main unit, roasting starts. It took about 11 minutes to roast and 3 minutes to cool. I will wait for a while.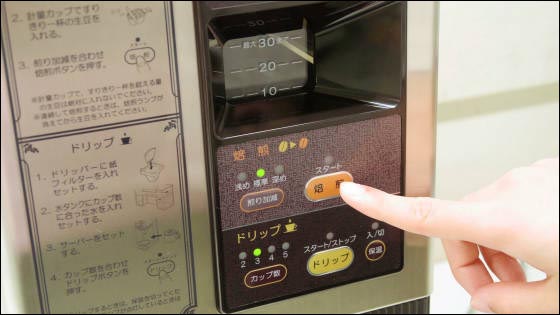 When roasting begins, you can hear the sound of jingling beans stirring beans and occasional crackling beans, but the sound is not so big that it drowns out to life sound. Smoke will soon come out and the scent of fragrant coffee spreads. In about 14 minutes the red lamp on the "roasting" button goes off, roasting has ended.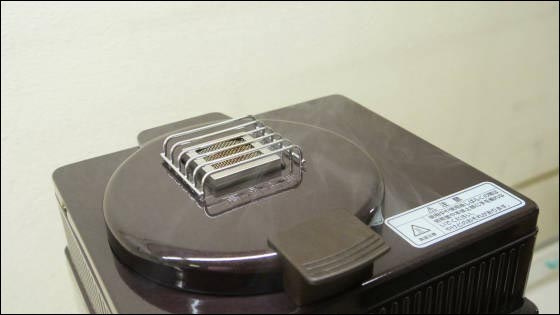 The state of roasting can be confirmed in the following movie.

Roasting green coffee beans at Cafe Pro 503 and such feeling - YouTube


◆Drip
Next, I will do a drip. First, set the paper filter in the dripper. Paper filters are common (Carita 102Equivalent) OK.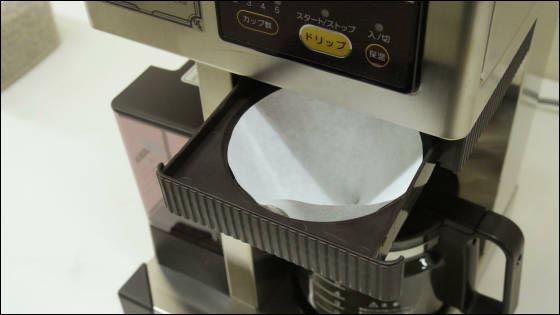 Next, put water in the tank. This time we will put in 3 glasses of water up to the scale of "3".



Set the water tank in place.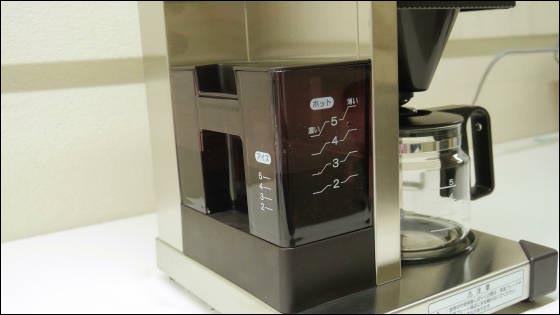 Café Pro 503 can specify from 2 to 5 drip amounts with "CUP" button. Because it is three cups, it is set to "3".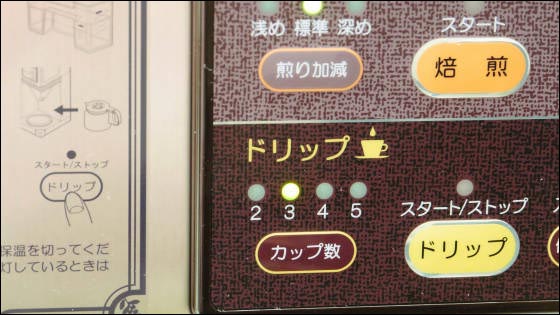 After that, if you press the "drip" button, drip starts.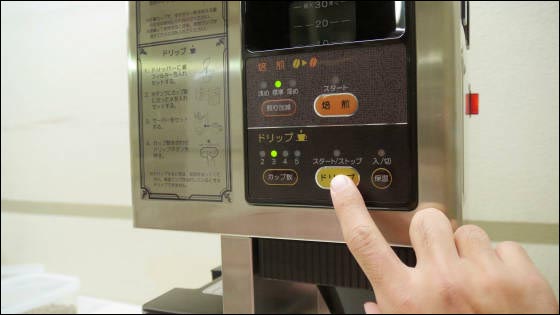 Coffee will be dripped with the sound of gobo gobo. Although the sound when grinding the beans right after the drip start is slightly large, the sound of coffee extraction is not about noisy about the ears at the time of dripping.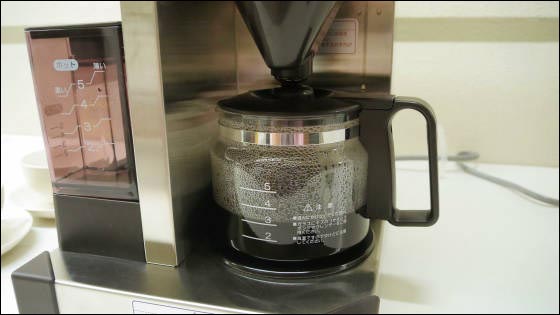 The state of drip can be confirmed in the following movie.

Drip with Cafe Pro 503 and feel like this - YouTube


Drip finished in about 5 minutes. We have a very good smell. I will pour it into the cup at once.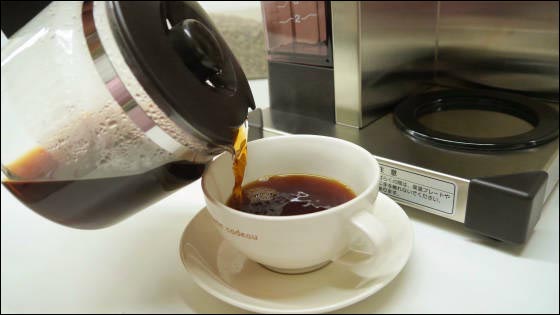 The finished coffee is a slightly reddish color with a preeminent scent. When I drink it, I can feel a bit of bitter / sour, but I can see that it is far more fragrant than the roasted drip coffee.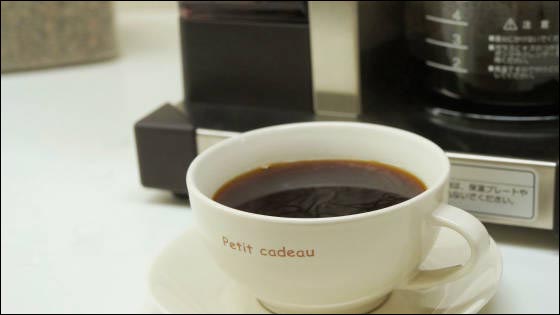 ◆Aging
As coffee roasts for a while, the scent increases and research results that the scent peak will be reached after about 4 days, such as coffee enthusiasts will discuss how much it is best to lay down It is place.

In this regard, Cafe Pro 503 can grind coffee beans when dripping, you can lay down the beans after roasting and before drip. Up to 30 cups of roasted beans can be stocked and you can check the stock of coffee beans from small windows in front of the main body.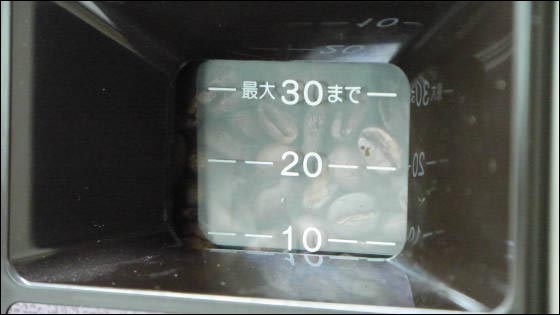 When illuminating with the light of the smartphone, you can check the appearance of the bean more clearly.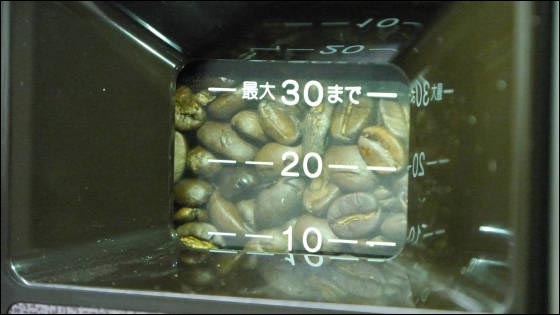 ◆Feedback I tried
The cafe pro 503 is an excellent one that can roast coffee easily with one touch, and it will perform fully automatically until dripping with one touch, and operability is easy and inevitable as a common coffee maker. . However, compared to coffee drifting from the roasted coffee powder, the finished coffee is as strong as you can tell if you drink a bite. It takes 30 minutes from roasting to coffee, and in the state of roasted bean stock, it can be brewed 5 cups of cup of coffee in about 7 minutes so it is practical. In addition, it is easy to just clean the drippers, servers, and water tanks and simply throw away the raw bean skin of the chaff removal case.

Café Pro 503 is a high price set as the coffee maker with a main body price of 49,990 yen (including tax and free shipping), but you can roast coffee beans stably and extremely easily, brew fresh coffee easily Considering that it is worth it is worth the price. It is also possible for coffee enthusiasts who are single-minded for aging after roasting because they can be laid after roasting.