"Amazon Instant Video" starting with the latest movies, drama, animation etc started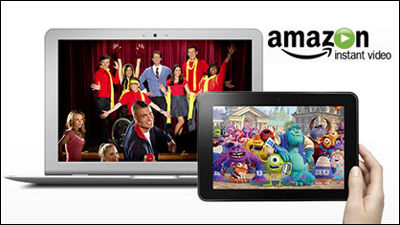 Amazon, which sells a variety of products ranging from everyday items to e-books, is now able to rent and purchase the latest movies and TV dramas,Amazon Instant Video"Started on November 26, 2013. Not only movies and TV dramas in Japan and overseas, the total number of movies that you can choose from a wide range of genres such as animation and comedy will be 16,311.

Amazon.co.jp: Amazon Instant Video
http://www.amazon.co.jp/amazon-instant-video/b/ref=topnav_storetab_aiv?ie=UTF8&node=2351649051

Movie can be rented and purchased from PC and Kindle Fire, rental starts from 100 yen. There are two ways of watching streaming and downloading, but only Kindle Fire is supported for downloading.

According to Amazon, some of the titles that will be available for rental and purchase from November 26 are as follows.

Monsters University
Les Miserables
Hobbit unexpected adventure
Knitting a ship
SPEC ~ Heaven ~ Metropolitan Police Department Public Safety Department Public Security Section 5 Unknown Case Special Counter Case Case
Helter Skelter
Code Geass: Lelouch of the Rebellion
Mobile Suit Gundam
Love, Chunibyo & Other Delusions!
JoJo's Bizarre Adventure
gossip girl
FRINGE / fringe
24 - Twenty Four
JIN - Jin -
Doctor X - Surgeon · Daimon Miriko ~
Flying flying public relations office


Actually, I will check the distribution status of movies on Amazon. There are 13 types of movies, including "foreign movies", "Japanese movies", "animation", "music", and "TV drama".




Foreign films are like this, from the latest works such as "splendid Gatsbybies" to classic ones such as "Toy Story".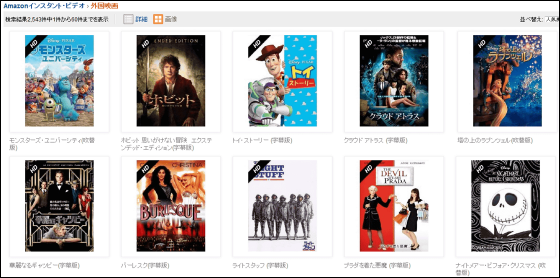 "Monsters University" rental is 400 yen, purchase is 2000 yen.




Anime is like this.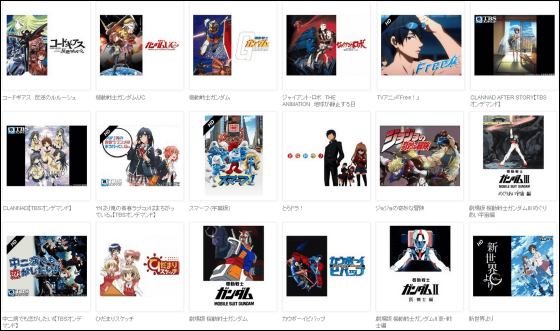 American TV drama



Japanese TV dramas include "Flying Flying Public Relations Office" and "JIN - Jin -".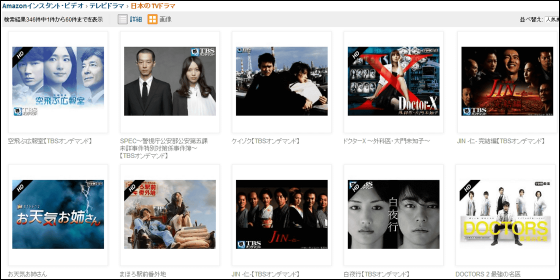 "JIN - Jin -" The first episode is available for rent at 315 yen.




There are also works for free animations and TV dramas such as "Code Geass - Lelouch of the Rebellion" and "24 - Twenty Foo - Season 8" only for the first episode.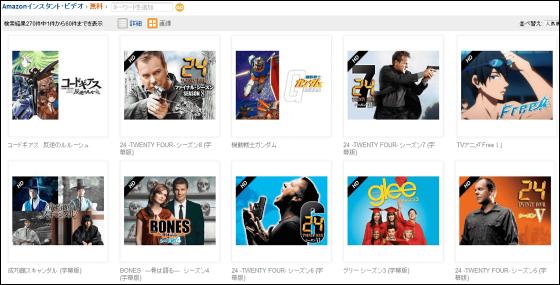 Although there is no big difference in price system compared to other services such as iTunes and Google Play, Amazon's instant video enters Amazon, which is a leading Internet mail order company, competition for video distribution service is intense It looks likely.