I tried to eat what kind of taste the scon + turmer's new product "Ukorn"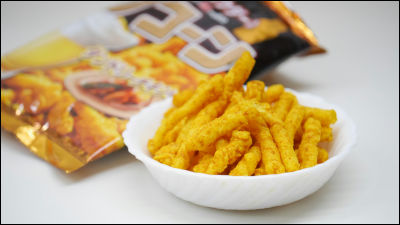 The lake shop launched in 1987SconeIs a popular item over 25 years since its release. So farScones reproducing the taste of Nissin-yaki soba U.F.O.And 7 times the volume of normal sizeChampion size sconeHas been sold. A new product that combines such a scone and "turmeric" which is said to be good for health will appear in December 2013 "Ukhon Tandoori Chicken Flavor"is. Anyway, I tried eating a bit before impacting what impact the taste of the impactful naming ukorn is.

"Scone" + "Turmeric" = "Ukorn" "Ukorn Tandoori Chicken Flavor" New Release - Turmeric Powder (Curcumin 30 mg)
http://koikeya.co.jp/news/detail/450.html

The package of "Ukorn Tandoori chicken taste" looks like this. It is designed to be golden to remind the turmeric image.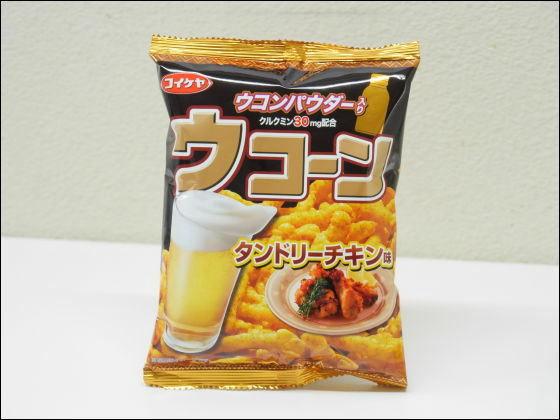 In the upper right corner of the package there is a description of "Turmeric powder entering", "Curcumin 30 mg formulation". It also includes an image of a bottle that I have seen somewhere.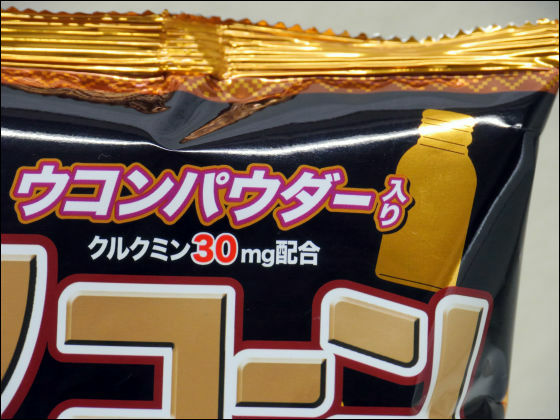 In addition, Tandoori chicken photos are designed as a taste image. Tandoori Chicken is a dish that you can bake chicken from before pickling it in spices such as yoghurt, salt, pepper, turmeric and so on.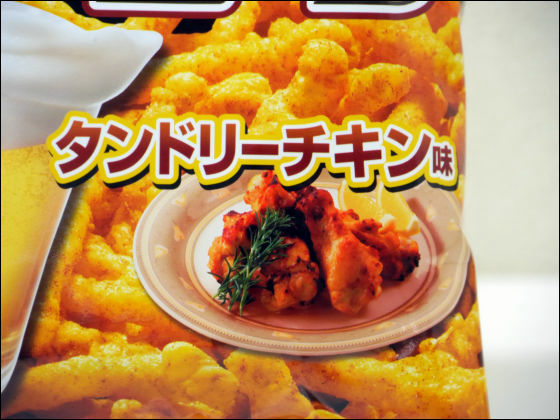 Raw material is like this. The third turmeric powder is listed after corn and vegetable oil. Besides that, spices such as garlic, curry powder, chili and so on are used. Contents are 50 g less than regular scones.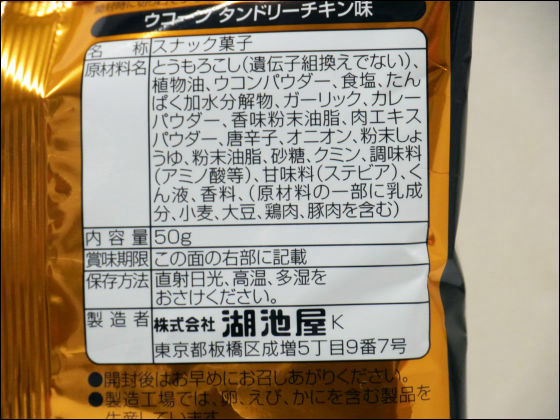 The energy per 50 g of a bag is 273 kcal, and the energy per gram is almost equal to the normal scone. Since it says "Please be careful as it gets stained with clothing etc., it will be stained," so it seems better to be careful when eating.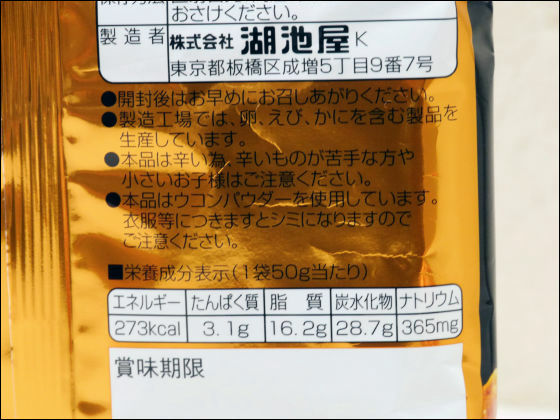 If you look side by side with "Scone Japanese style barbecue taste", you can see well that it is packaged in small size.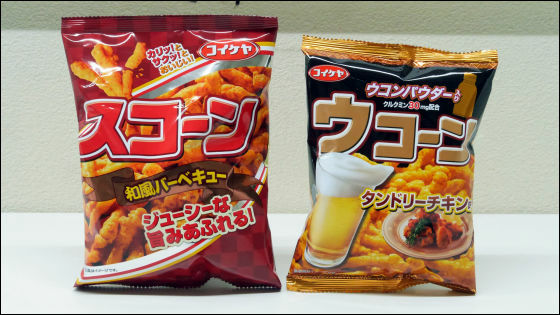 Opened. Spicy smell like curry drifts, it is exactly the smell of tandoori chicken.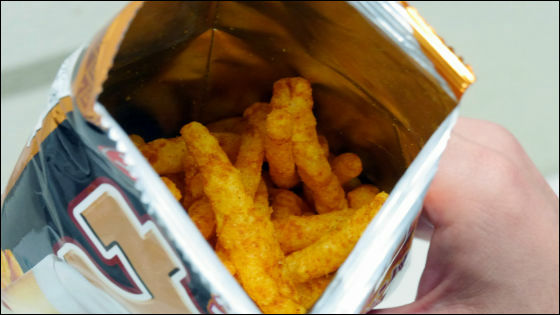 On the plate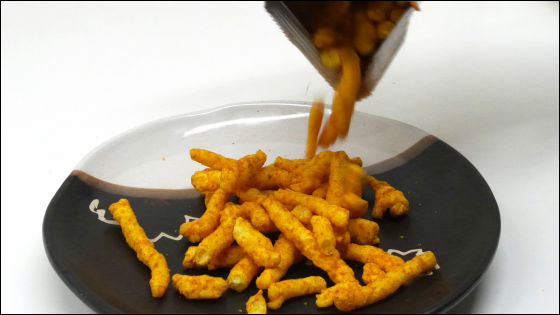 The shape of each one is the same as usual scones, but slightly yellow is a strong color.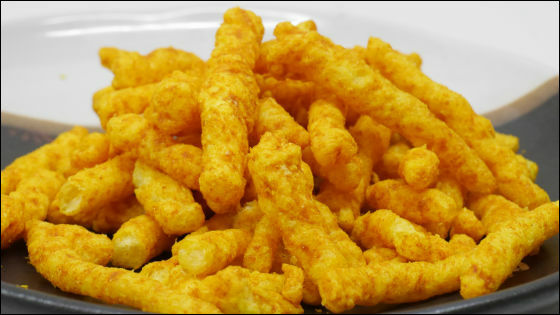 Powder adheres well to the unevenness of the surface which is also characteristic of scone.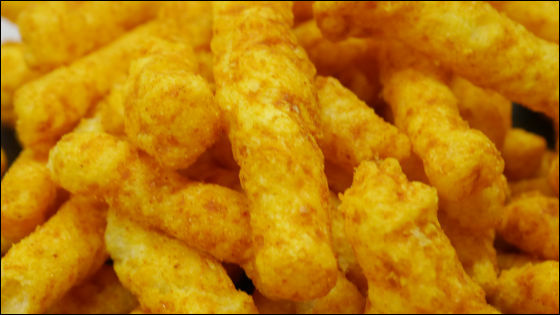 First is a bite. With a spicy smell of curry, a faint bitter taste is felt. Spicy aftertaste remains for a while, but gradually the ratio of bitterness gets stronger. The flavor of the baked meat is also felt, and the unique flavor of Tandoori chicken is well reproduced. The texture is the same as the previous scones and crispy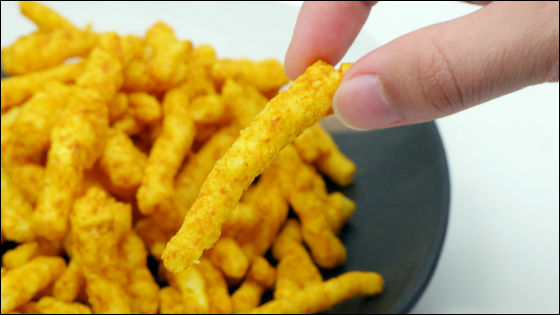 If you look side by side with Japanese style barbecue taste of scone, you can see that the left uchorn is more yellowish. The condition of powder does not seem to change much.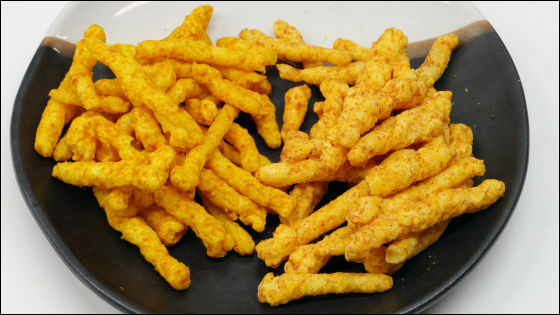 When comparing by eating alternately, there was sweetness of a Japanese style barbecue taste and it was seasoned with a dry spicy style with a spicy woolen spirit against the sweetish taste. Although it is an ukorn whose eyes are standing out to excellent impact naming, it is a serious adult snack, so it may be perfect for alcoholic snacks.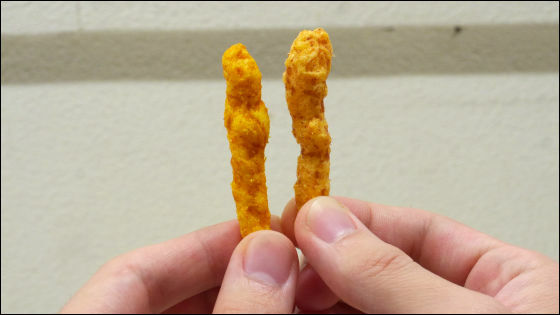 "Ukorn Tandoori Chicken Flavor" will be released on convenience stores nationwide from December 9 (Monday).