"SoundHound" which will search and search by melody if you listen to unknown music or humming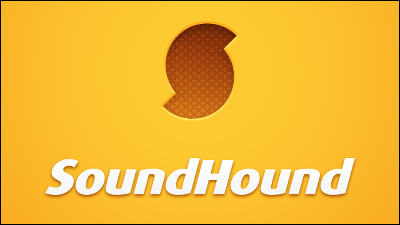 You can let the application listen to songs or you can search for songs simply by humming "SoundHound"Has already been downloaded more than 150 million times, the number of searches reached 5 million times per day,Various awards also wonHowever, since various functions have been installed for a long time, I actually tried using what functions are currently provided at the moment.

SoundHound Inc.
http://www.soundhound.com/

Midomi SoundHound for iPhone, iPod touch, iPad found in the iTunes App Store
https://itunes.apple.com/jp/app/midomi-soundhound/id355554941

SoundHound - Android application on Google Play
https://play.google.com/store/apps/details?id=com.melodis.midomiMusicIdentifier.freemium

SoundHound | Windows Phone application + game store (Japan)
http://www.windowsphone.com/ja-jp/store/app/soundhound/6bae10bf-e831-49b7-a51f-cee8e91c7b1d

BlackBerry World - SoundHound
http://appworld.blackberry.com/webstore/content/29100905/

Although it supports various OS, this time I will install iOS version which also has music player function.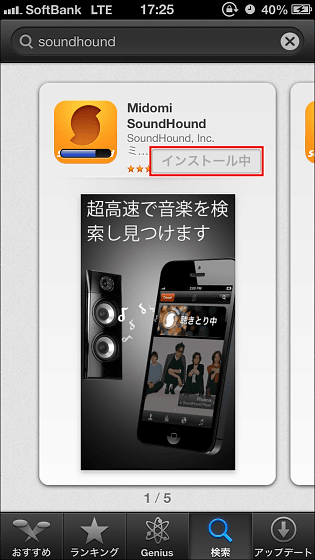 Tap "Open".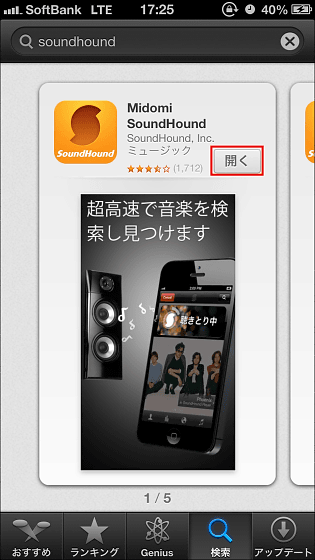 When you start it, a simple tutorial will be displayed.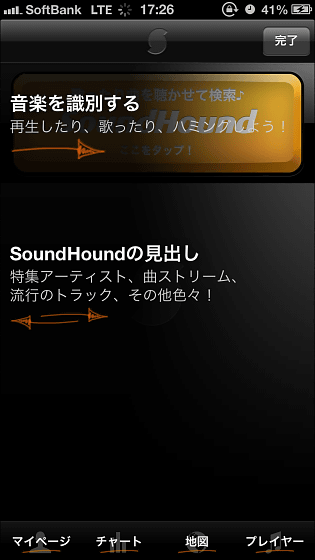 Tap 'SoundHound' in order to let the application listen to the music immediately.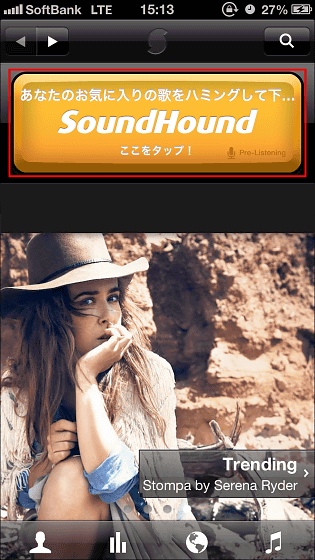 While listening to "listening" is displayed, let the music be discriminated by sending music from the personal computer.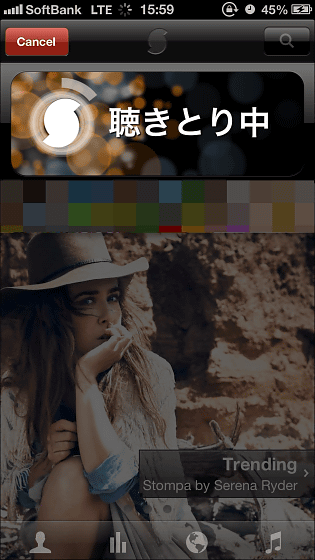 I was able to identify "The Strawberry Fields" properly in The Beatles.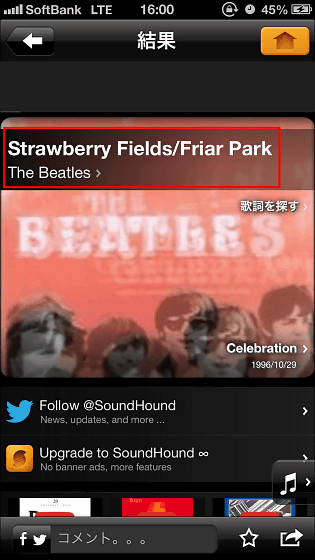 I heard "Kimigayo", it seems that I could not identify it for some reason, but related YouTube videos displayed on the lower side include "11 · 25 Date of Self-determination Yukio Mishima and young peopleIt is displayed, and may not be a mistake.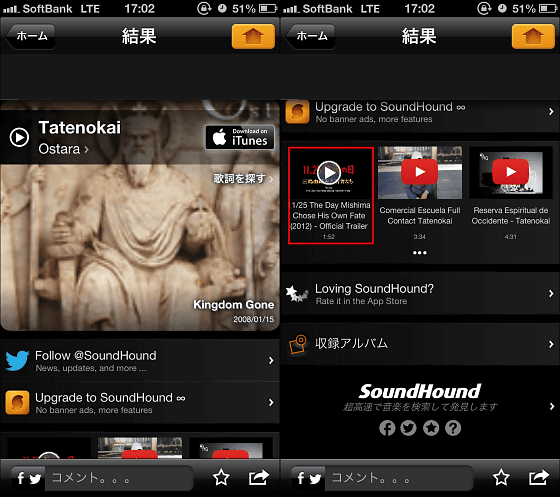 It is possible to distinguish properly even Japanese songs and new songs.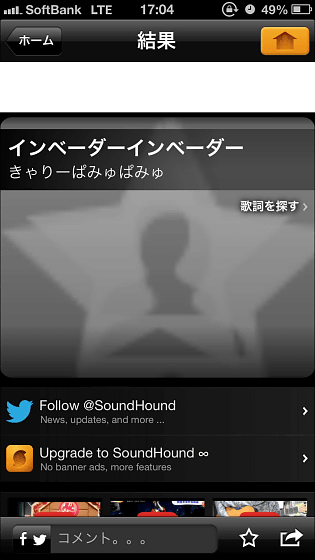 With a humming song "SatchanIf you try the song "also known here. Impression that the accuracy is quite high as it is still being used.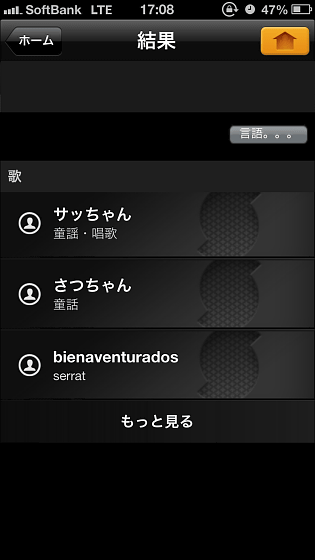 In addition to searching by sound, you can also search by song title, artist name, album name, lyrics.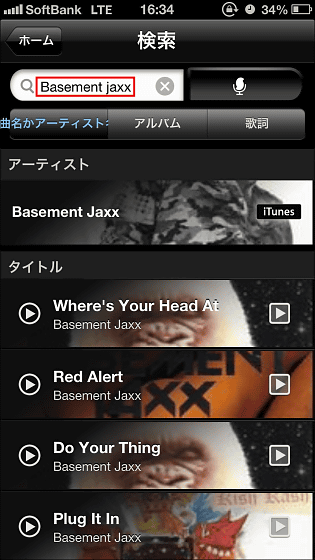 You can also purchase the songs you just retrieved on the iTunes Store.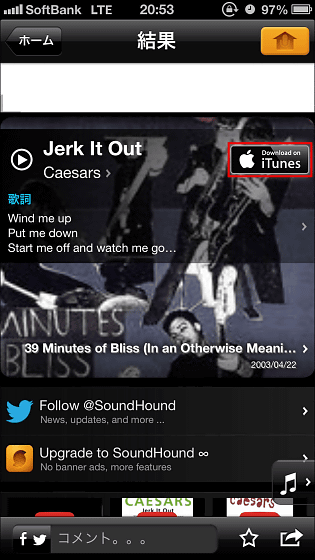 Four icons are installed on the top screen, and when you tap the "People" icon on the far left ... ...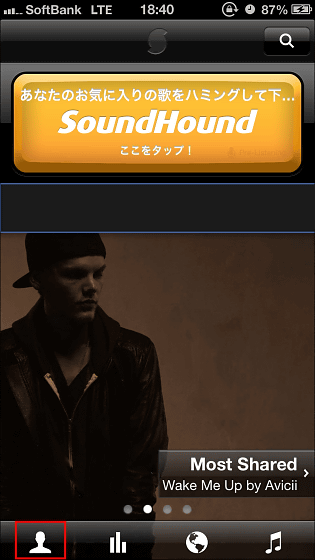 The search result so far will be displayed. Furthermore, to change various settings of SoundHound tap the "gear" icon in the upper right.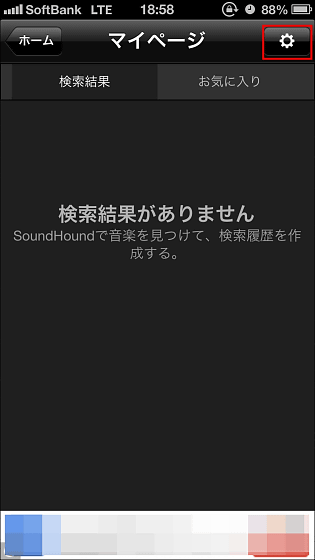 Tap 'Search settings'.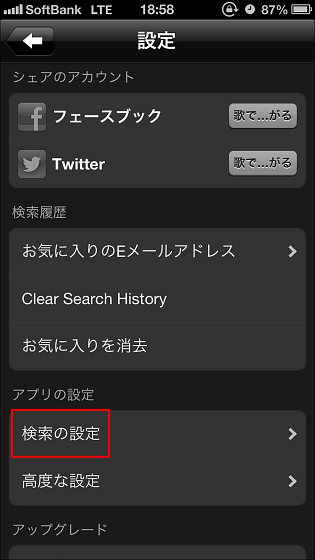 The default setting is like this. People who use only the music search function are convenient when "Search at application start" is checked and it is possible to hear the music which is suddenly out of the office.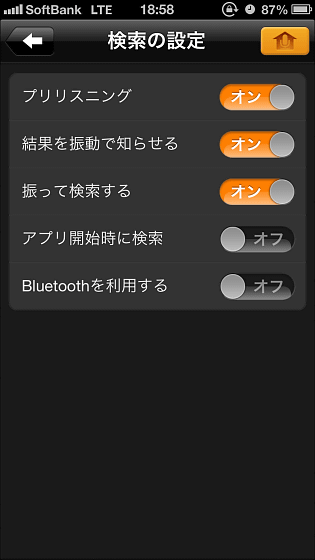 It is also possible to change "advanced settings".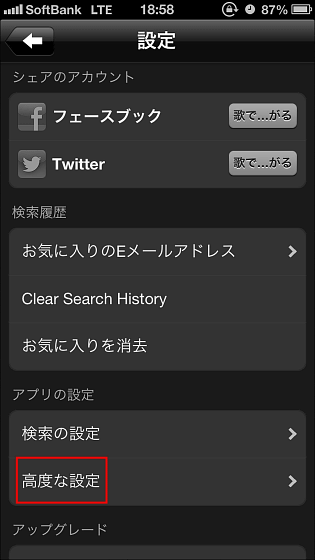 If you can not use SoundHound in overseas etc., you may be able to use it by tapping "Port setting" and switching from "Auto" to another port such as "80".



By tapping the "Bar graph" icon, the trend of the current music scene such as "Top Ranking Song", "Popularity Rising Estimated Song", "Tweeted Most", "Currently Searched Song" There is also a function to understand.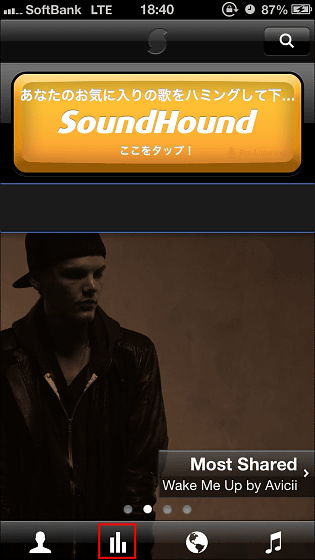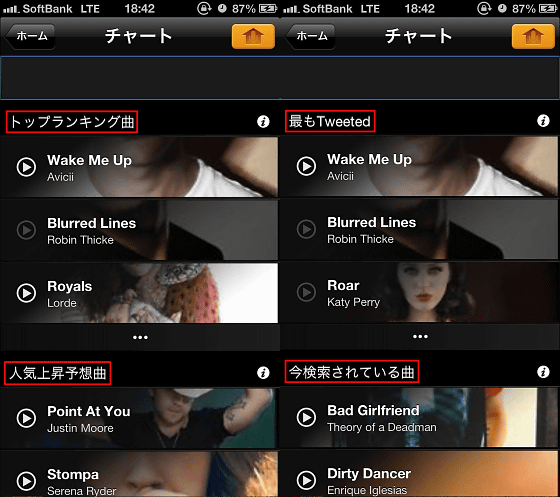 Tap "Map" icon, the latest feature released in July 2013 "SoundHound interactive map"Will be available.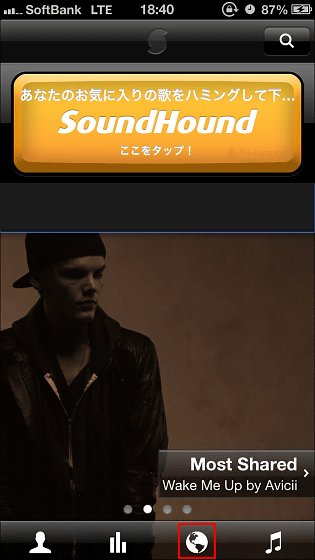 SoundHound This is a map showing in real time what the user searches now and what.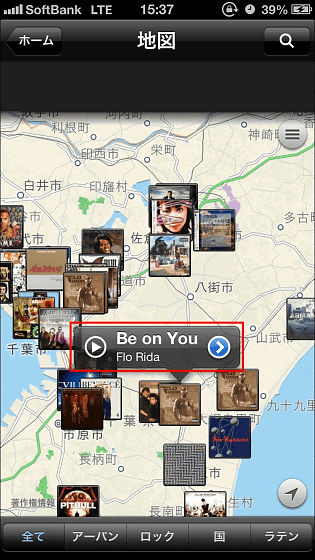 And the music player taps the "note" icon on the right end.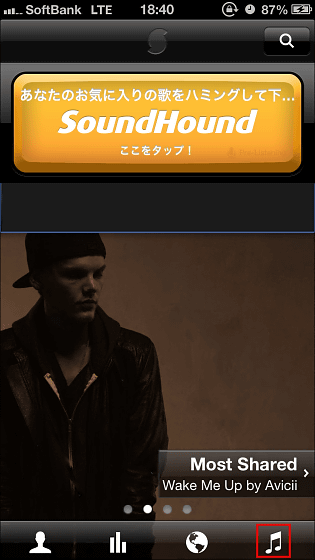 You can play songs in conjunction with iPhone's music.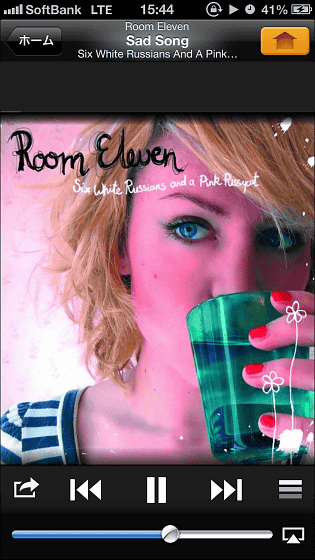 If the lyrics are in the database of SoundHound it will look like this and you can read the continuation of the lyrics by swiping up and down.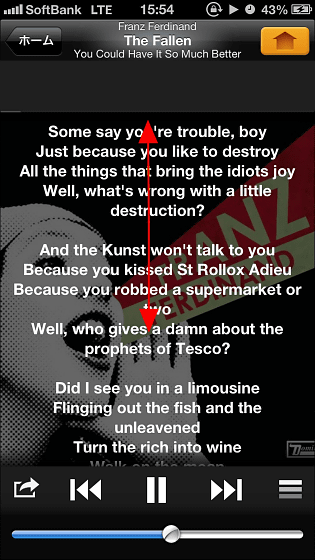 Also, if you tap the screen somewhere, "Song name", "Artist", "Album" that are currently playing are displayed in order from the top, and detailed information on each can also be checked.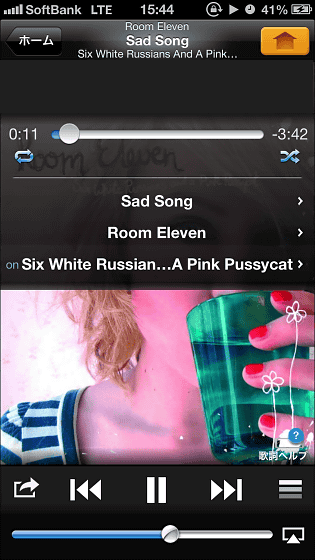 Detailed information is displayed after tapping "Song name", and if you have a song whose lyrics are not in the database, you can do Google search automatically by tapping "Search lyrics".



When you tap "Artist", you can check the history of your favorite artist in "Biography" ...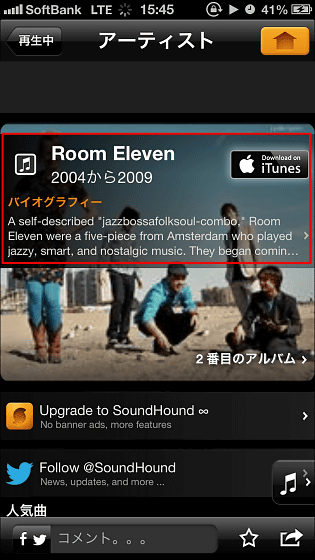 There are hidden fairly useful functions such as popular songs of that artist, YouTube, search for "similar artists" and so on.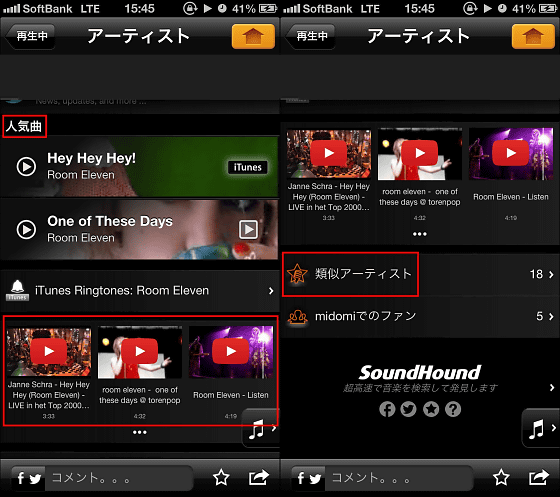 SoundHound is a popular application used all over the world, but many people think that it is an application that only installs songs while installing it several years ago. However, various functions have been added, and after searching for songs and expanding the range of their music, it becomes possible to deeply learn about the artist's details and music of a similar genre It was. People who do not use it for a while, there may be a fun discovery once you use it again. In addition, the paid version has advertisement elimination function and widget function, and the price varies depending on the OS, but it is between 500 yen and 600 yen.