Approximately 30,000 users of "2 Channel Viewer" credit card · address · phone number etc. leaked on Tor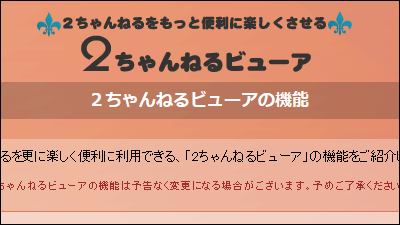 Large-scale bulletin board group gathered by many anonymous users "2 channel"2channel viewer (common name: ●)" is used to avoid the regulation when writing to old, or to read a thread that has become archaic old. Information registered when using this ●, 2channelcapWhenA tripPassword, as well as credit card number, address, telephone number, a lot of information has been found to be leaking, making it a big fuss.

2 Channel Viewer - 2 Channel more convenient -
http://2ch.tora3.net/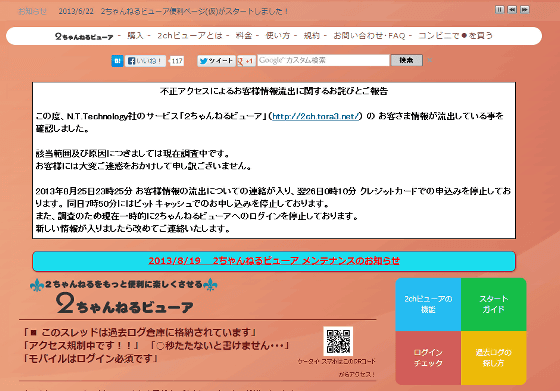 We operate a 2 channel viewerN.T. TechnologyI acknowledged that the personal information of the viewer user is leaked and it is currently being investigated about the applicable range and cause, but for some reason around 8:40 am, this announcement is deleted It is.

Originally it was found that an abnormal situation occurred from 21 o'clock to 22 o'clock on August 25, and at 22:56, "foreign national jin ★" was directed to other volunteers, cap pass I am informing you to send a new path for leakage.

☆ Contact & Report 12 ☆
http://qb5.2ch.net/test/read.cgi/saku/1321353512/701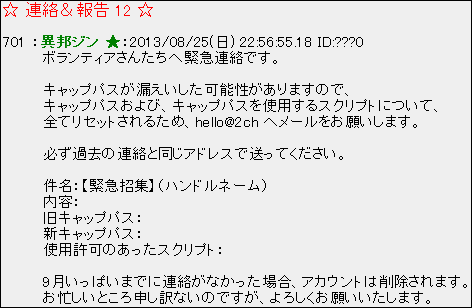 701: Foreign Jin ★: 2013/08/25 (Sunday) 22: 56: 55.18 ID: ??? 0
It is an emergency call to the volunteers.

Since there is a possibility that the cap pass leaked out,
For scripts using cap pass and cap pass,
Since it is all reset, please mail to hello @ 2 ch.

Please be sure to send it with the same address as past contact.

Subject: [Urgent Convocation] (Handle Name)
Contents:
Old cap pass:
New cap pass:
Scripts permitted to use:

If you do not contact before the end of September, your account will be deleted.
I am sorry that I am busy, thank you.

You can check if your personal information is not leaked at the following site. I made it.Stop signal ★He is one of the people involved in the management of 2channel. We announce that it is a real page with Twitter account.

http://j416.dip.jp/2ch/




According to the information on the above site, it seems that all people 's creca information has not leaked out, but just to be sure, those who used ● used to stop Clucka is said to be good.

Also, as examined by the editorial department, the following information is known at the present time.

First of all, the outflow information of this time is being uploaded starting from around 20 o'clock on August 21, 2013 in the following URL (Since it is on Tor, to accessTor BrowserInstallation is necessary).

http://xiwayy2kn32bo3ko.onion/test/read.cgi/ura/1360054308/77-88n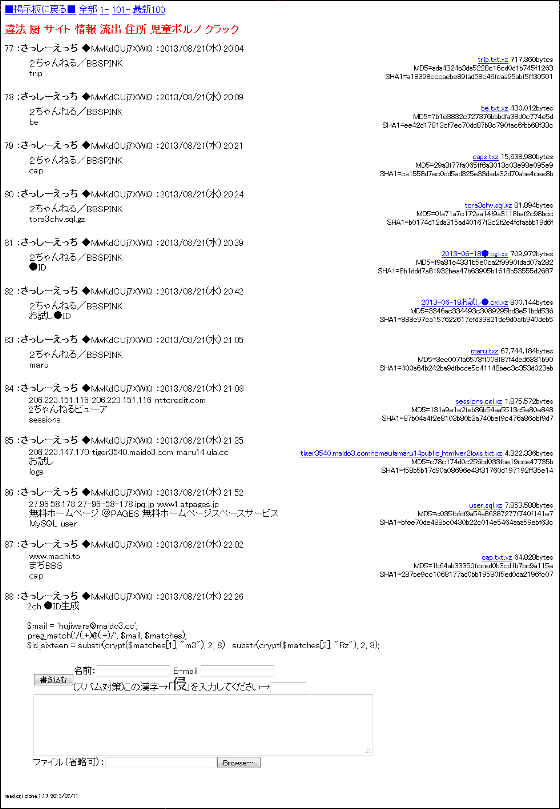 Of these, credit card information was included in "sessions.cgi.xz", which contains the following information.

· ● Date of purchase and date and time
·mail address
·password
· Country name
· Credit card holder
· Type of credit card used
·credit card number
· Credit card expiration date
·Street address
·phone number
· IP address at the time of purchase
· Security code (registered users only after 12:30 on 2012/11/02, about 13,85 in total)

These are the contents of the contents of the following ● ● application form, and it means that the contents entered in the form below has flowed out this time.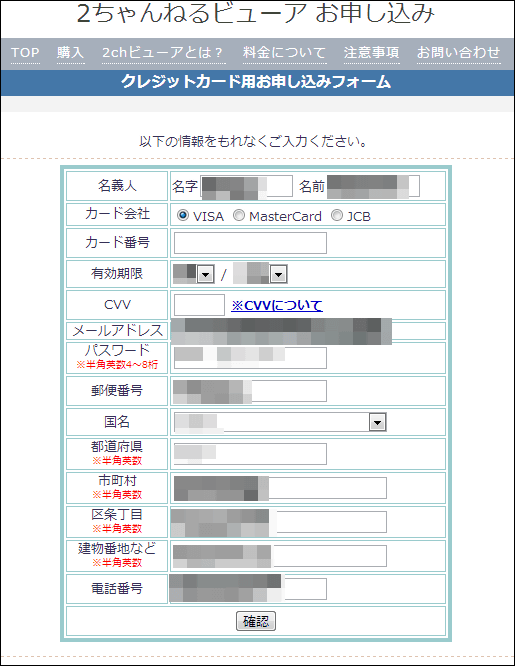 According to "sessions.cgi.xz", the number of leaked items is 32,586, but it seems that some 30,2506 people have leaked, probably because it contains about 80 test data. In addition, the date and time that the target leaked is from around 14 o'clock on August 1, 2011 until around 16 o'clock on August 11, 2013.

2013/08/26 19:53 Addendum
"Since the write log that leaked this time will be used,P2It will be irrelevant for the log written via via "Future Search BrazilI am out.

2013/08/27 9: 43
2 Channel's Viewer Official Website "Apology and Report on Customer Information Leaks due to Unauthorized Access (Reprint / Update)" was posted. As for the reason why it was posted once, it is said that "temporary posting is canceled due to complication of information".

2 Channel Viewer - 2 Channel more convenient -
http://2ch.tora3.net/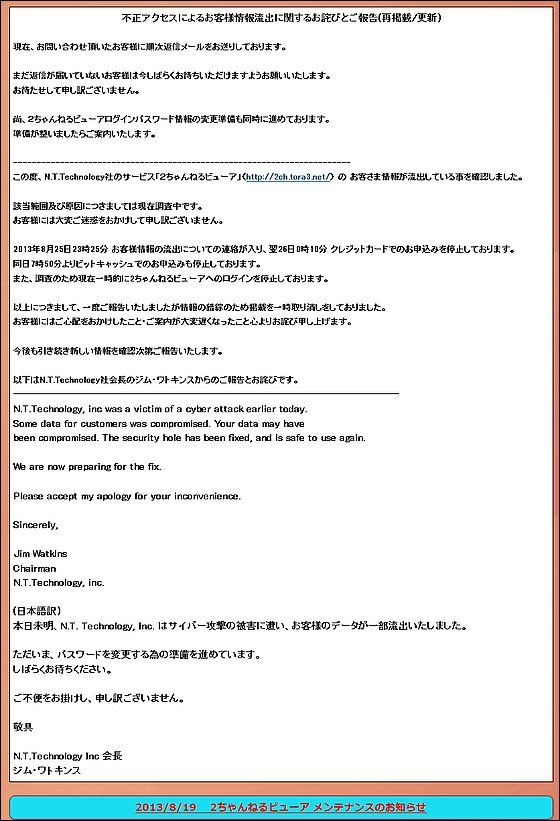 Apology and report on customer information leakage due to unauthorized access (re-posting / renewal)

We are sending reply e-mails to customers who inquired at the moment.

Customers who have not yet received replies should wait for a while.
I am sorry to have kept you waiting.

In addition, we are preparing to change the 2 Channel Viewer login password information at the same time.
We will inform you when we are ready.

------------------------------------------------------------------------------------ ------------------------
この度、N.T.Technology社のサービス「2ちゃんねるビューア」(http://2ch.tora3.net/) の お客さま情報が流出している事を確認しました。

The scope and cause are currently under investigation.
I am sorry for your inconvenience.

August 25, 2013 20:25 A message about the leakage of customer information enters, we have suspended the application with credit card at 0:10 on the following 26th.
From 7:50 on the same day, the application with bit cache has also been suspended.
Also, for the purpose of investigation, we are currently temporarily stopping logging in to 2 Channel Viewer.

Regarding the above, we have temporarily canceled posting due to complication of information though we reported once.
We apologize from the heart that we were concerned about your concern · our guidance was very late.

We will continue to report new information as we continue.

The following is an apology from the report from JT Watkins of N.T.Technology Chairman.
------------------------------------------------------------------------------------ ------------------------
N.T.Technology, inc was a victim of a cyber attack earlier today.
Some data for customers was compromised. Your data may have
Been compromised. The security hole has been fixed, and is safe to use again.

We are now preparing for the fix.

Please accept my apology for your inconvenience.

Sincerely,

Jim Watkins
Chairman
N.T. Technology, inc.

(Japanese translation)
Today, N.T. Technology, Inc. suffered a cyber attack and damaged some of your data.

We are currently preparing to change your password.
Please wait.

We are sorry for the inconvenience.

Best regards

President, N.T. Technology Inc.
Jim Watkins

2013/08/31 12: 41 Addendum
2 channel announced that it was officially announced that the viewer 's server was cracked. About p2.2ch.net seems to be safe.

http://2ch.net/0831.txt

The server of NT Technology's 2 channel viewer was cracked.

Personal information stored in the server leaked as reported.
http://2ch.tora3.net/
http://2ch.tora3.net/20130830.html


Although there are some reports that 2ch servers are cracked, it is the fact that it is currently confirmed that the server of NT Technology's 2nd channel viewer was cracked.


2 ch and NT Technology Inc. are separate organizations, and the management team of 2ch has no way to grasp what kind of NT technology's system is.


The 2ch server seemed to have included a system for debugging to send a 2-channel write via the 2-channel viewer to the 2-channel viewer's server.
Therefore, it is thought that writing using 2 channel viewer was accumulated in 2 channel viewer server.

Those who implemented the system for 2 Channel Viewer in 2 ch are now quitting and it is still under investigation to see what kind of system they actually implemented.

Currently, all 2 channels related to the 2 channel viewer are stopped.



Regarding the introduction of the 2-channel viewer system without checking what kind of system is to be installed in 2 ch, it was negligence of the 2 ch management side.
I would like to try to prevent recurrence so that the same itself does not occur.

We apologize in advance for those who suffered damage.
Also, sorry for the worrying about many people.

Also, as a service that can write similarly, there is p2.2ch.net, but we can not confirm the information leak from p2.2ch.net.


31/08/2013
It is the last day of summer vacation. Do your homework early.
in Note, Posted by logc_nt