Obviously you can get original in roughly one year when you buy a home 3D printer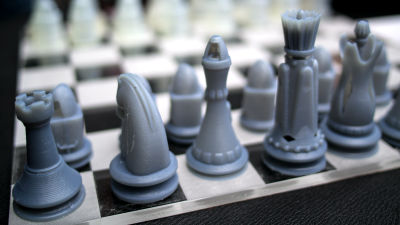 ByDaniel Williams

A 3D printer "Replicator 2" that can be purchased for 200,000 yen unitsIt was a story of December 2012 that I saw at affordability, only about six months laterAppeared less than 20,000 yenThe more the more the 3D printer industry moves, the sooner it is that the university's research shows that if a general consumer buys a home 3D printer, it can get its original in about a year. did.

Life-cycle economic analysis of distributed manufacturing with open-source 3-D printers
http://www.sciencedirect.com/science/article/pii/S0957415813001153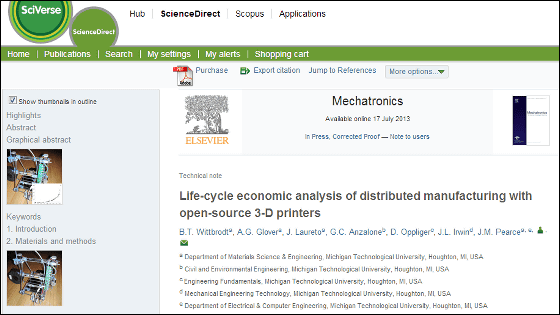 3D printers can pay for themselves in under a year - Computerworld
http://www.computerworld.com/s/article/9241274/3D_printers_can_pay_for_themselves_in_under_a_year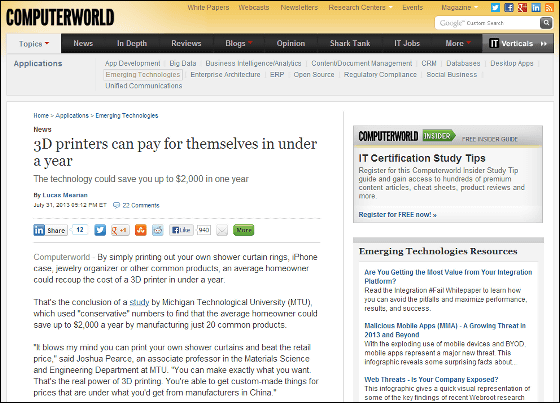 This is revealed by the research at the University of Technology Michigan (MTU), and when a general consumer like owning a home buys a home 3D printer, it can see a ring of a shower curtain, an iPhone case, If you make about 20 pieces of jewelry and other miscellaneous goods, it saves about 2000 dollars (about 200,000 yen) per year, and it is said that you can get original just by purchasing a 3D printer.

According to Joshua Pierce, Associate Professor of Materials Science and Technology at MTU, "With the power of 3D printing technology, we can make what we want, and the price will be cheaper than those made in China," It is. In the research, we included the probability of failing when the transportation fee, tax, or job of the printer was interrupted / resumed, but it was still bigger than purchasing 3D printers I understood.

"If you try to make something with 3D prints, it costs about $ 18 (about 1800 yen), but if you try to purchase the same thing online it costs at least 312 dollars (about 30,000 yen), which is $ 1943 (It costs about 200,000 yen), "said Pierce Associate Professor.

The reason for doing this research is that many people said that 3D printers are still not practical enough, or that they are not worth paying as much as 3000 dollars (about 300,000 yen), according to Associate Professor Pierce, "About 4 hours If you have one, you can make things that only save thousands of dollars. " When I tried using the open source 3D printer "RepRap" in the test, it seems that the investment collection rate has reached 200%.

from now on,Windows 8.1 comes standard with 3D print functionSo at some moment when it crosses a certain line somewhere, 3D printers will become popular explosively ... ....