I tried all kinds of Circle K Sunkus "Sherrie Dolce Gelato" of authentic material / manufacturing method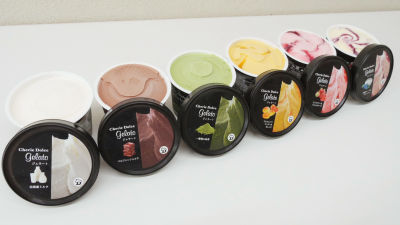 From July 16 (Tuesday) Circle K Sunkus' own proprietary dessert brand "Sheriel DolceFrom the seriesSheriere Dolce GelatoWe released six types. Although Ice cream is often sold at convenience stores and supermarkets, Italian-style milk fat content is low and gelato with low air content is sold under its own brand even at FamilyMart, but as there are not so many, buy it I tried a type.

Cherie Dolce - Gelato | Cherie Dolce | WAKUWAKU Town | Circle K Sunkus
http://www.circleksunkus.jp/wakuwaku/cherie_dolce/gelato.html

First of all, from standard Hokkaido milk. Photographs of milk bottle and milk gelato are printed on a package based on black with a sense of quality.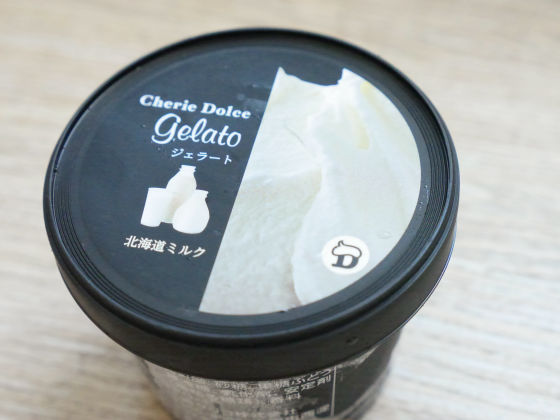 It can be imagined that milk fat content is less than 10.9% and Haagen Dazs vanilla taste is 15% less, which is a biscuit taste. Production isMie Glyco Corporation.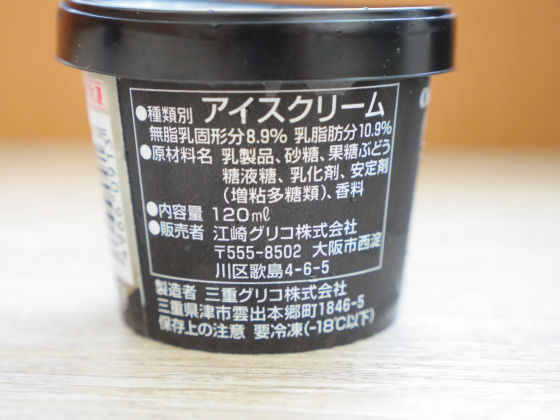 Approximately two thirds of the calorie of Haagen Dazs vanilla taste of 182 kcal with a capacity of 120 ml and 267 kcal in the same 120 ml capacity.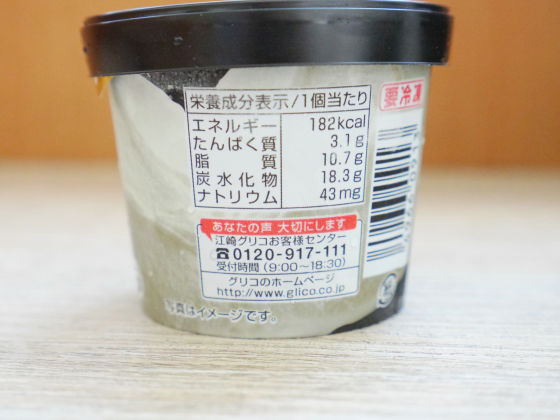 When you take the upper cover there is a golden inner cover. I decided to open it and eat it.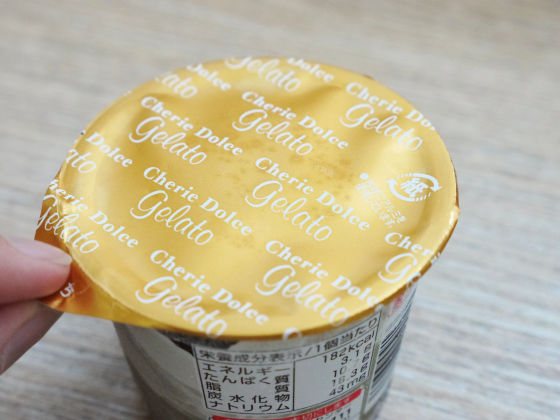 Since it becomes a gelato, it has a lower content of milk fat than ice cream and it has a firm feeling while it is smooth, and the texture is smooth. It tastes somewhat like condensed milk rather than milk or cream.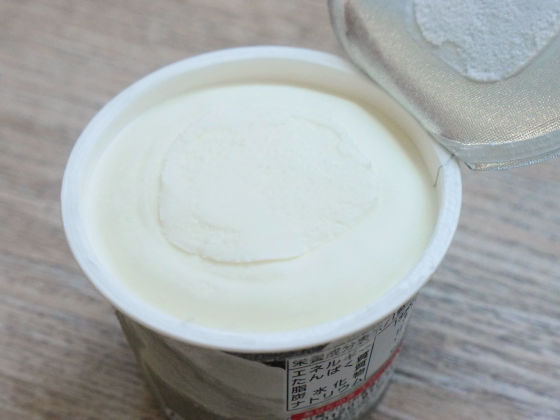 Belgian chocolat is said that cocoa liqueur is used for hidden taste in Belgian chocolate.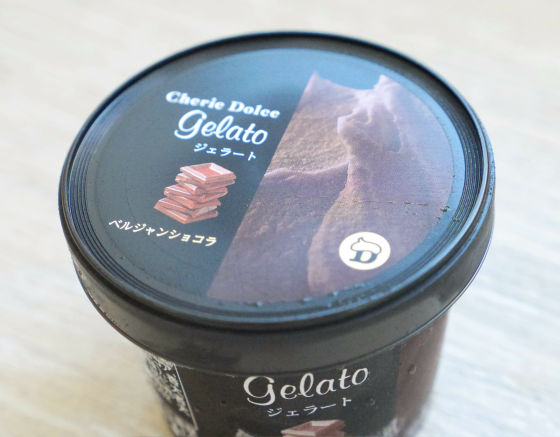 Milk fat content is 5% lower than milk, chocolate (100% from Belgium), liquor can be confirmed.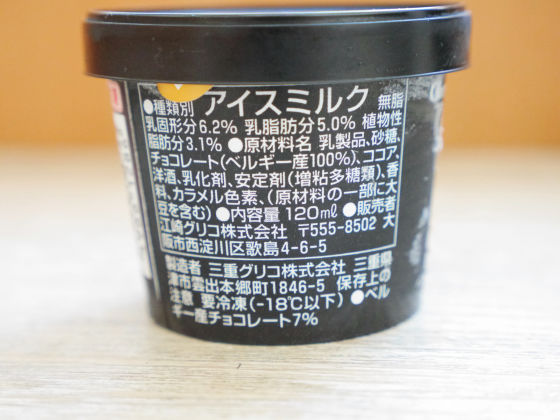 The calorie is 164 kilocalories, which is a little.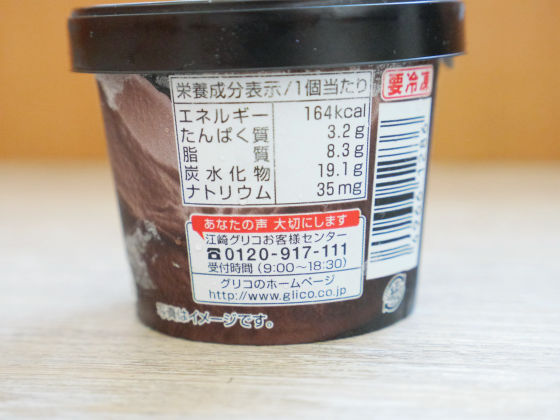 While I have little bitterness, I feel the taste of rich chocolate, I do not feel the taste of milk much. It seems that the taste of cacao liqueur is slightly felt and alcohol content is also being skipped, so even a weak alcohol seems to be OK. I have chocolate rich but I can easily eat it because the milk fat content is low.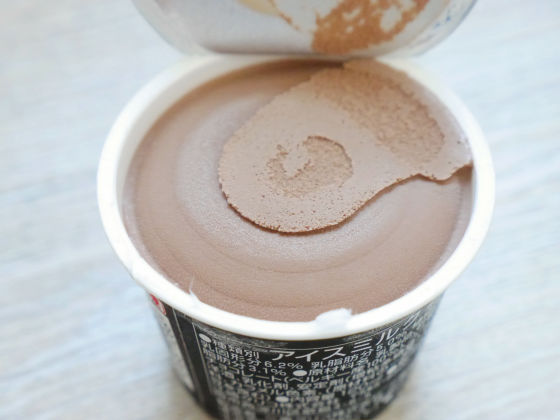 The first picking Matcha uses Matcha produced by Nishio from Aichi Prefecture, Japan, the production volume of Matcha.



Milk fat content is 8.2% Matcha for raw materials, unusual salt for ice can be confirmed.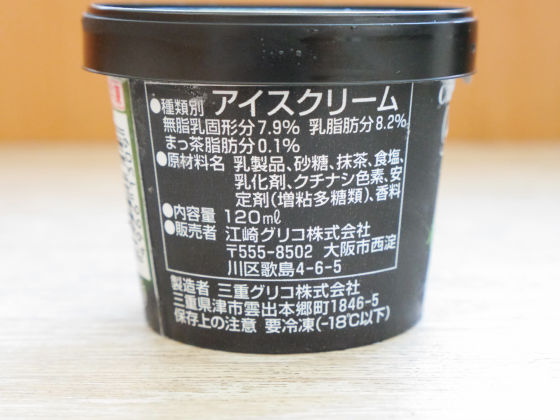 The calorie is 162 kilocalories and it is about the same as Belgian chocolate.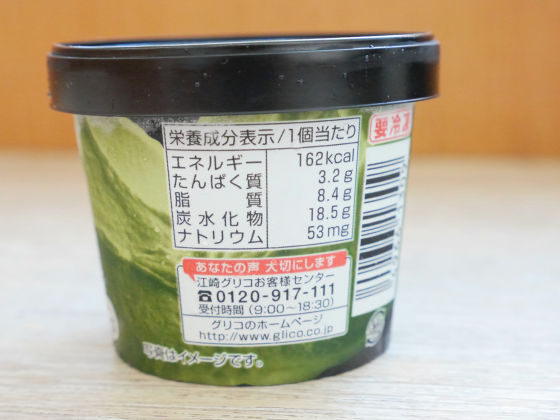 I do not feel the umami and bitter taste of Matcha much, it is like a matcha latte that matched with Milk rather than Matcha. It is refreshing and bitterness is also small, so it seems easy for children to eat. I almost felt the taste of salt.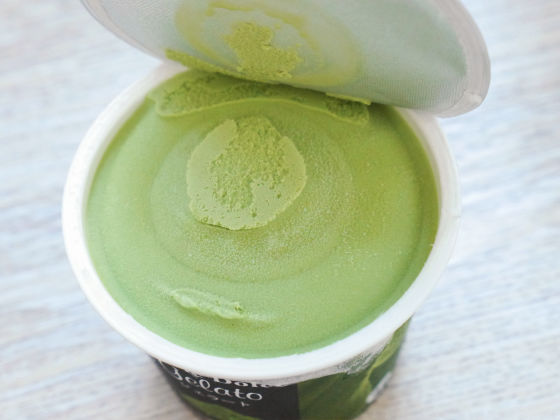 Alphonso Mango & Orange is used as Alfonso Mango, which is said to be the king of mango, and sour tasteful orange jam.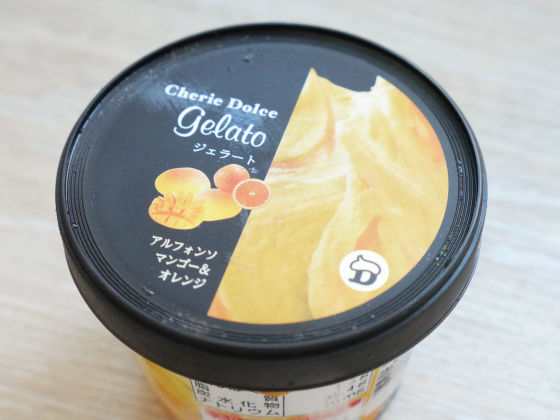 Dairy products can not be confirmed in the raw material, and it can be confirmed that 17% of pulp of mango, 7% of orange juice / flesh is contained.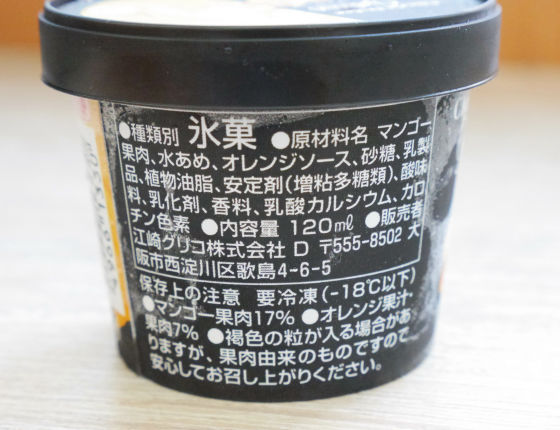 The calorie is 156 kilocalories and it is one of the gelato that has the lowest calorie among the six kinds of gelato tasted this time.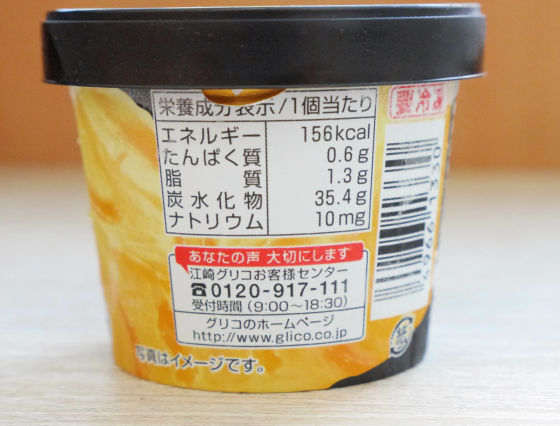 Although the compatibility of mango and orange is good, the taste of sourness is also unnatural and a little artificial taste. Orange's constituents feel a little sour taste, well peeled and well treated, sweetness is modest. The yellow sherbet part becomes the taste of Alphonso Mango, but the richness of the taste of mango is not felt and it is unsatisfactory feeling.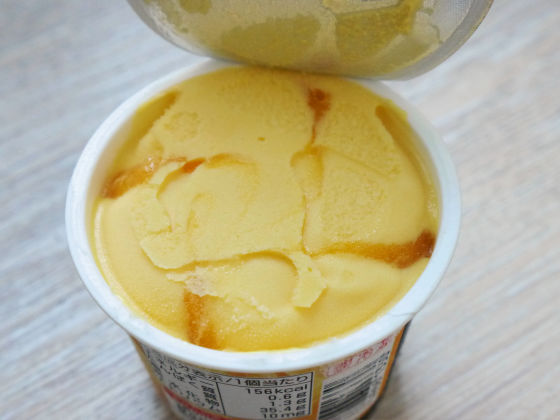 Strawberry & Franboise to Strawberry GelatoFranboiseThe mix of the contents is mixed.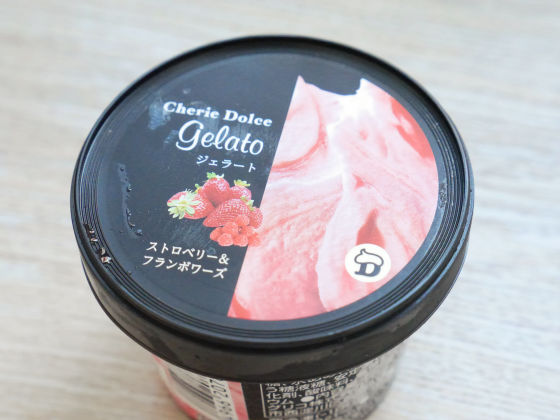 There is no milk fat content, the fruit juice and pulp of strawberry is 21%, the flavor of furubowaz is 7%.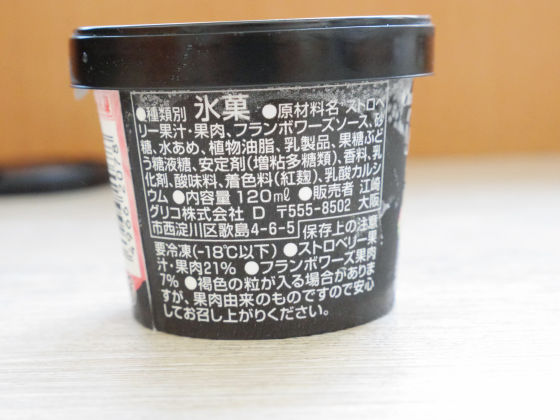 Strawberry & Franboise is also 156 kilocalories as Alfonso Mango & Orange.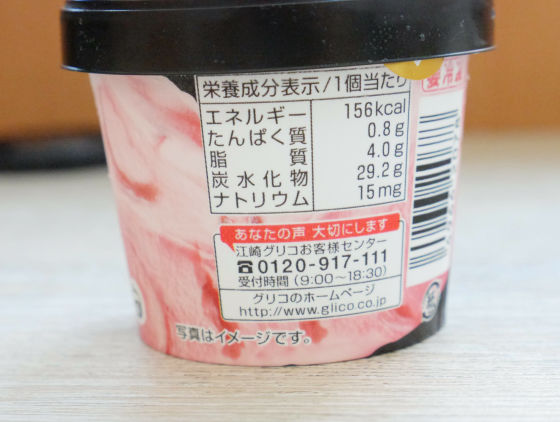 Although the acidity of Franboise in the concealed part is not intense, compatibility with strawberry is good. Just the part of strawberry's gelato contains fruit juice and flesh firmly but the flavor of the flavor is strongPocky's strawberry tasteIt has become somewhat cheap taste like, and the quality of this strawberry gelato is wanted by the ice cream of the high-end route.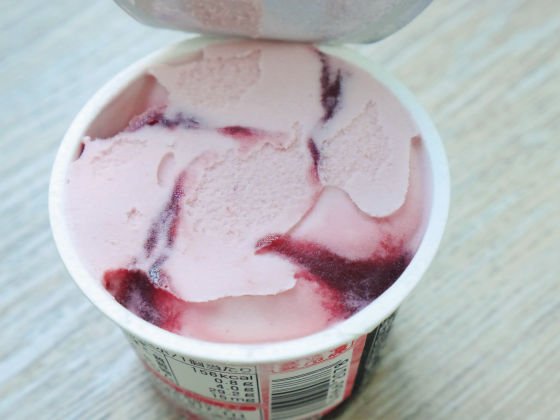 At the end there are 3 kinds of cheese & blueberries.cream·Gouda· Frequently used for tiramisu etcMascarponeThe gelato which used three types of cheese, the blueberry 's composition is mixed.



Milk fat content is as low as 5.9%, and raw material can be confirmed blueberry sauce. Blueberry pulp is 7%, cream cheese 12%, Gouda cheese 1%, Mascarpone 1% is used.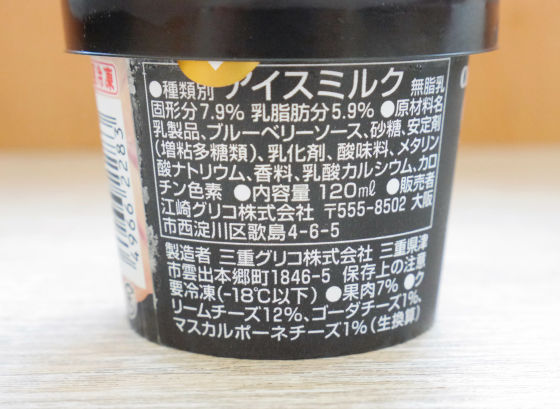 Calorie is 171 kcal. It is rather low compared to the use of dairy products.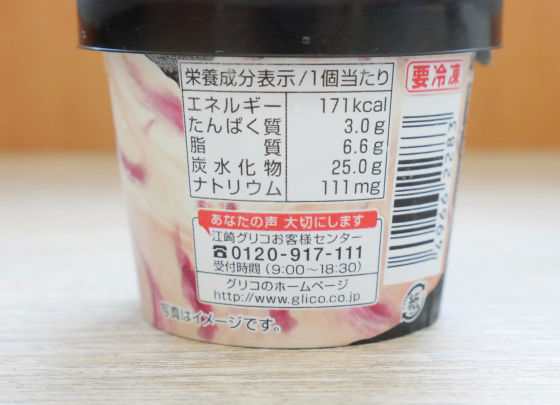 The richness of cheese is compatible with blueberry acidity. It is also good for the person who likes cheesecake, because the texture is good and it is a combination like cheese cake.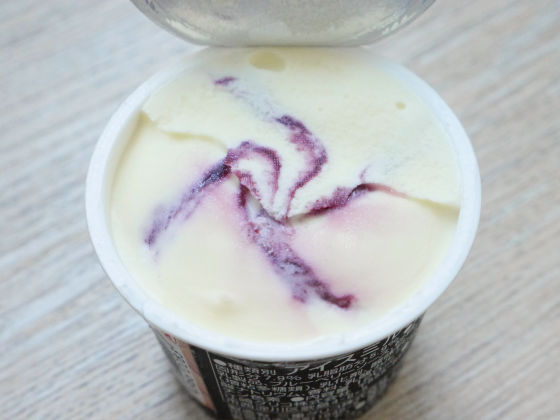 Both prices are 220 yen including tax and set somewhat cheaper price than gelato to buy at a specialty shop. Because gelato is often eaten in the hot summer of Italy, people who do not feel like eating summer thick rich ice cream are recommended as they can easily eat if it is gelato.