The animation movie "Little Witch Academy 2 (Tentative)" production plan collects more than 30 million yen from volunteers of over 4000 people and double the target price in just 2 days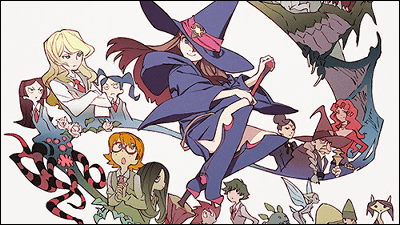 Anime movie "Little Witch AccademiaSequel production is decided, and in one month until August 7Project to collect investment with target amount of 150,000 dollars (approx. 15 million yen)When I started with KickStarter, I reached the target amount on the first day alone, exceeding the target of 300 thousand dollars (about 30 million yen) on the 2 nd day.

Additional notes:
Ultimately, 625,518 dollars (about 74 million yen) gathered.

Little Witch Academia 2 by Studio TRIGGER - Kickstarter
http://www.kickstarter.com/projects/1311401276/little-witch-academia-2

"Little Witch Academia" is a project in which four companies selected by the Agency for Cultural Affairs Young Animators to create one piece of work "Anime Mirai 2013"It is a work produced by trigger.


After being published at the movie theater together with three other works in April 2013,Free distribution on YouTube and Nico Nico VideosIt is done, and still you can see the full story free of charge (※ It was seen at the time of the article release). YouTube got over 780,000 views and Nico Nico video got over 75,000 views.

Official 'Little Witch Academia' Little Witch Academia - YouTube


Trigger Official 'Little Witch Academia' Little Witch Academia - Nico Nico Video (Harajuku)


Although the published work is about 20 minutes long and is completed as a single episode, the built-in setting makes me feel the spread of further stories, Takashi Nishikawa who is acting as public relations ambassador of Animation Mirai IntoThere is a continuation in the trailer to the end only in the public part in the first partIt was enough to make me expect.

Whether those voices were also boosted, on July 6th we held in Los Angeles "Anime Expo 2013In the screening of the Trigger RepresentativeMasahiko Otsuka Announces Decision of Continuation Production.

The length of this sequel 'Little Witch Academia 2' (tentative title, English abbreviation LWA 2) 'is scheduled for about 20 minutes, but the support from the fans can be extended for another 15 minutes, As a target amount Kickstarter will call for investment. The project started on July 9th Japan time and reached the target amount of 150 thousand dollars in just one day. This is an illustration drawn by director Yoshinori Sun in commemoration of reaching goals.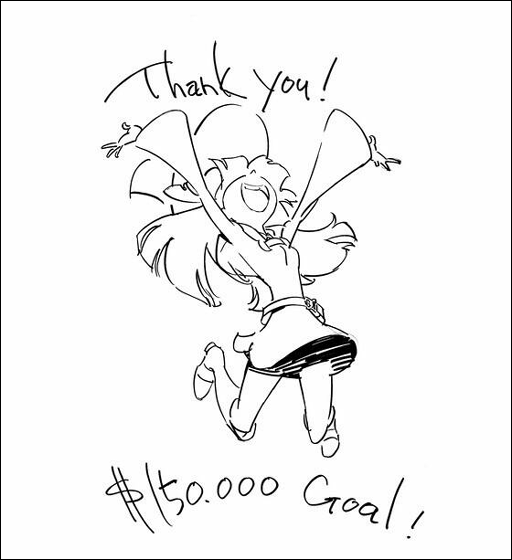 As for the animation project using Kickstarter like this, Production I. G has done with Yuasa Masahiko's director's work "Kick-Heart". Production of this project also reached the target amount and the production began but the investor was still talking about the fact that it is possible to get the main download and Blu-ray etc. around April 2013 but it is still late It is closed, on the other hand the main part alreadyScreening will be held at various festivals and eventsAnd so on, the investor has been postponed and finally, so finallyA dissatisfaction is gathered from the person who contributed to Kickstarter's comment sectionIt has become like. As a result, at the time of article writing, the make-up of various artwork · soundtracks started on June 27, and on July 15, in addition to launching various Blu-ray and benefits, the main movie download from the net finally finally It will be possibleAnnouncement announcedIt has been. Three months late from the schedule seems to be delayed a lot, but in Kickstarter it is in Zara that there is a more delayed case, so it's a pretty successful success to stay on a three month lapse.

You can see what kind of thing actually was completed by looking at the following trailer movie published about one month ago.

Official Kick-heart Trailer on Vimeo


At LWA 2, as of lunch on July 11th, the second day from the start of the project, the total amount of investment has reached 300,000 dollars, which is double the target. I think that it is impossible to simply say "Because the forehead is twice as long, the length is also twice as long", but as the expectations of the fans are also great, it is a place where you want to look forward to completion and release without any problems.

The project still holds contribution receipts, and various benefits will come with each contribution amount. It looks like this when it is listed.
1 dollar (about 100 yen) or more:Little Witch Accademia 2 (Tentative) Wallpaper
20 dollars (about 2000 yen) or more:1 dollar privilege + right to be named on "Special Thanks" of official website, art book (digital version), SD picture quality download right
$ 50 (about 5000 yen) or more:Benefits of 20 dollars + art book (book version), main volume BD
100 dollars (about 10,000 yen) or more:Benefits of $ 20 + Art book with main film cuts (book version), main volume BD limited edition
200 dollars (about 20,000 yen) or more:Special benefits such as 100 dollar awards + T-shirts, desk mats, metal bookmarks, posters, etc.
300 dollars (about 30,000 yen) or more:$ 200 bonus + right to name on end credit, BD signed version
1000 dollars (about 100,000 yen) or more:$ 300 Benefit +Giclee Print, Replicated script

Three boxes were also prepared for investing more than $ 10,000 (about 1 million yen), a trigger visit with 3 nights and 3 dinners with the production team & Ultra Super Pictures and a Good Smile Company visit tour comes , It is buried on the first day.

The deadline of investment is Japan time on August 8 at 12:31.

Additional notes:
From the investor seems to be flooded with the opinion "I want you to extend the length to over 40 minutes", but at the trigger it is now a TV anime series directed by Ishiro IshihonroKilla Kill KILL la KILL"It is planned to be broadcast from October 2013, and it is difficult to make LWA 2 a feature length while keeping the current quality.

Therefore, newly set a line of 500,000 dollars (about 49.5 million yen). With regard to Blu-ray Disc, we added the audio commentary and the making documentary to the regular version, and adding the original soundtrack and original drawing collection to the limited edition, the investment window of 2000 dollars and 10 thousand dollars will be expanded It was.

In addition, the benefit of 2000 dollars is that in addition to the 1,000 dollar bonus, a script with an autograph of cast and Illustrator signature colored paper with original illustration are attached, and it was buried again in a blink of an eye.

· 2013/07/12 16: 02
Mr. Masahiko Otsuka from Trigger provides supplementary explanation by appreciating that there are contributions from many supporters and explanation about the above new goal may be too short.

According to this, "It is difficult to extend LWA 2 for more than 40 minutes" does not mean "because the work called Littlewitch Accademia ends in this sequel episode"I am holding ambition to make it as a TV series or feature film anime animationAnd that. Mr. Otsuka said, "Although it will take some years to reach that goal, I still want to see Akko and my friends fighting enough to explore further the world and everyone Is not it so? "

So, first of all, I made Littlewich Accademia 2 as a 40 - minute episode and then as a further goal I aim to become a TV series or feature film.

2013/07/31 14: 01
In the remaining week until the deadline for Kickstarter's contribution, the amount we gathered has reached 480,000 dollars (about 47 million yen), which is more than three times the initial target, and even just after the extension goal of 500,000 dollars.

Here is a sample of movie cuts that can be earned by over 100 dollars investors, and comments such as "Why is Suush so cute all this?" From the fans.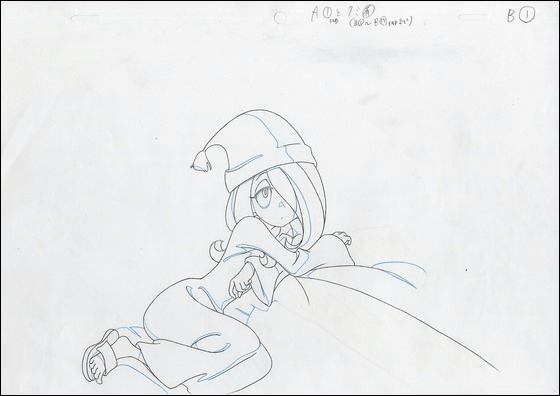 ·2013/08/02 16:30
We reached 500,000 dollars set as an extension goal. In the regular version BD, the audio commentary and the making image are added, and in addition to this, the original sound track and original image collection are added to the limited edition BD.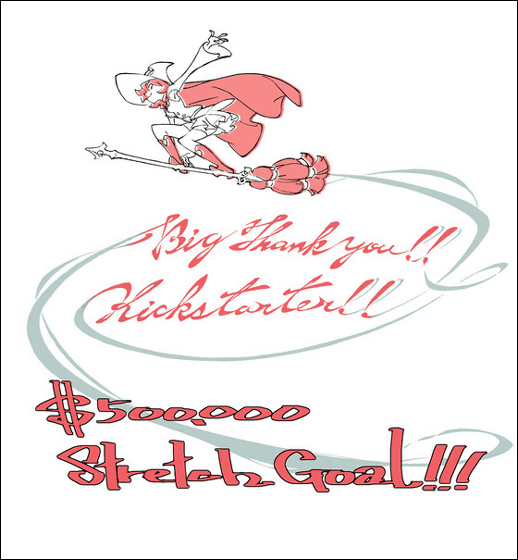 ·2015/02/16 18: 41
A year and a bit since the deadline. It was announced that the official title is "Little Witch Accademia magical gimmick parade" and that it will be released 2015.

Trigger production "Little Witch Accademia magical gimmick parade" to be released to 2015 - GIGAZINE