Armor & Accessory "Pinkabsinthe" which made steam punk and gothic style mixed with design that seems to be in RPG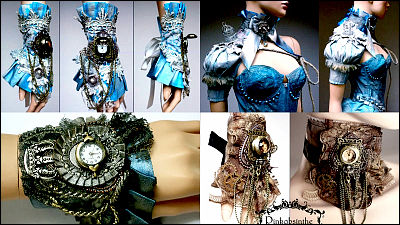 Artists making arms, corsets, necklaces, etc. that came out as they are from fiction are artistsPinkabsinthe'S work. It is also possible to purchase it in a mysterious style, which mixes styles and materials such as Gothic style and steam punk style.

Pinkabsinthe's deviantART Gallery
http://pinkabsinthe.deviantart.com/gallery/

◆ 01:Custom order

This is an armor made by custom order. Various materials such as lace, chain, ribbon, pearl, etc. are mainly treated with watch.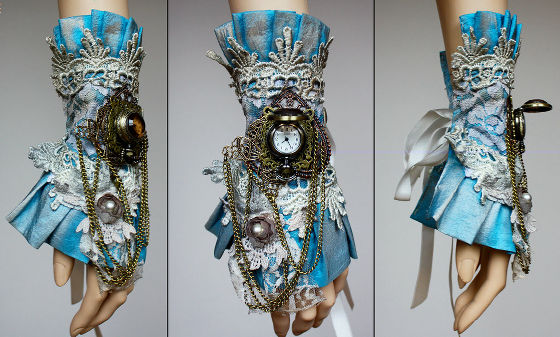 ◆ 02:Steampunk jabot cuff transformer II

A steam punk style jabbo where chains and gears were used. It is designed to be attached to the neck and arm.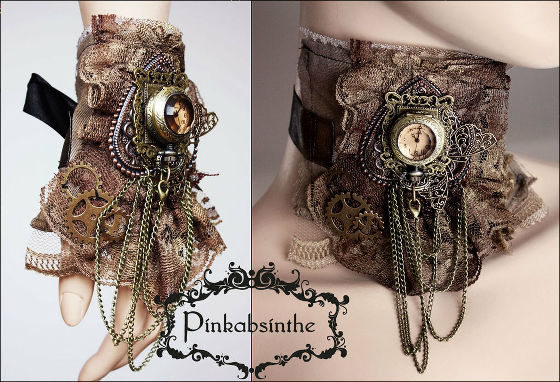 ◆ 03:Key hole cuff and key ring set II

This is an armor with fur. The decoration has also changed to a crown.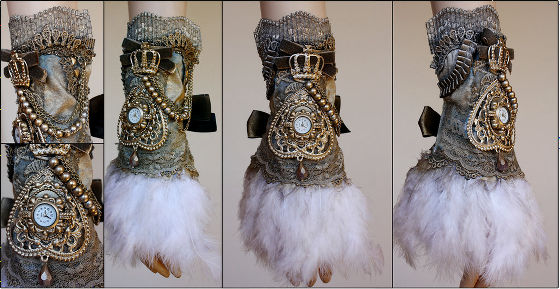 ◆ 04:Key hole cuff and key ring set II

There is also a cuff of a calm atmosphere. This is a set with keys and ribbons.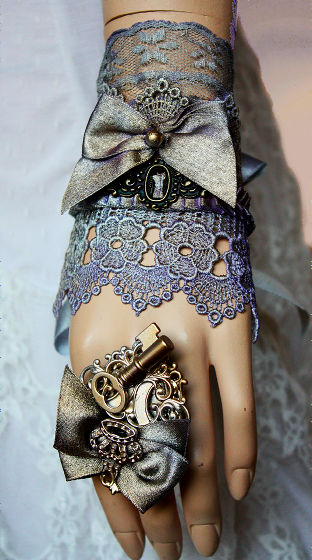 ◆ 05:Untitled

A set combining a shoulder armor and a choker.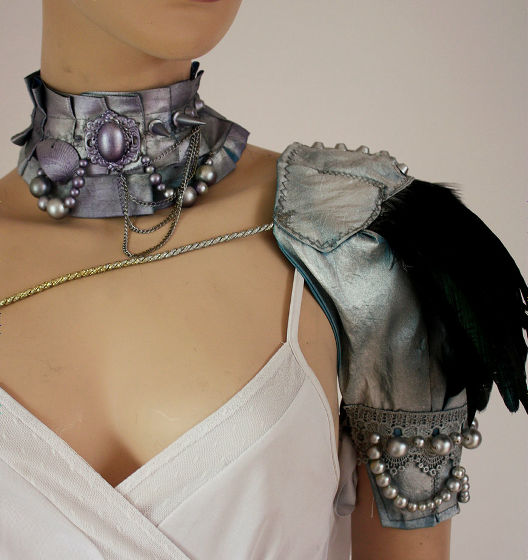 ◆ 06:Scolopendra Shoulder Armor

Shoulder armor like a centipede design.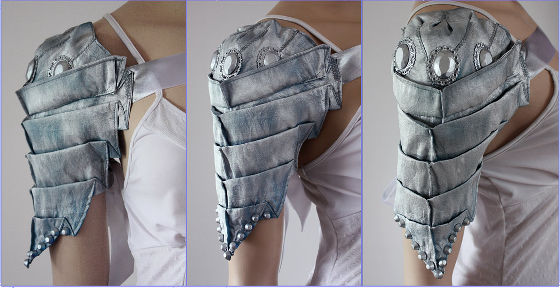 ◆ 07:Feather neck corset II

There is also a neck corset that seems to be useful as a heel.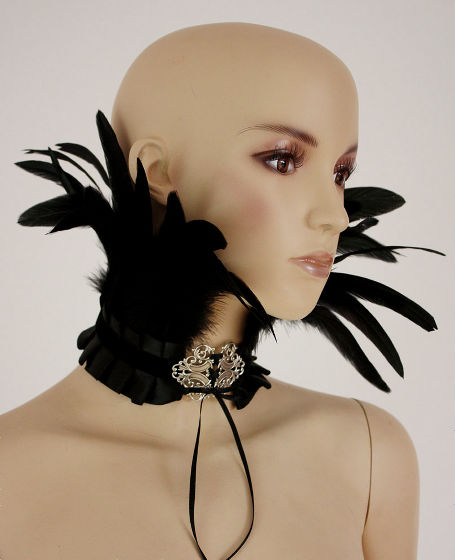 ◆ 08:Before and After corset re-styling

Custom to corset. The lower right is in front of the custom, after completion it changes to another by color and decoration.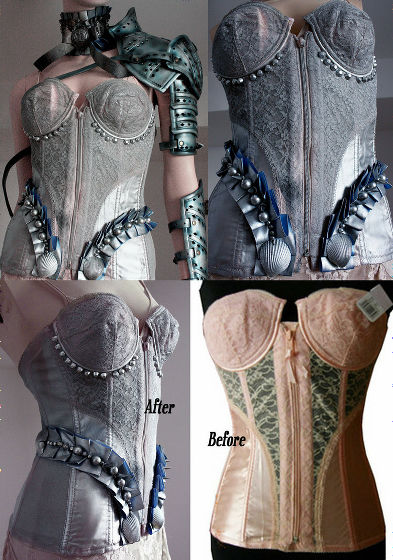 ◆ 09:Armor Outfit II

Combining a corset, an armor and a choker looks like this.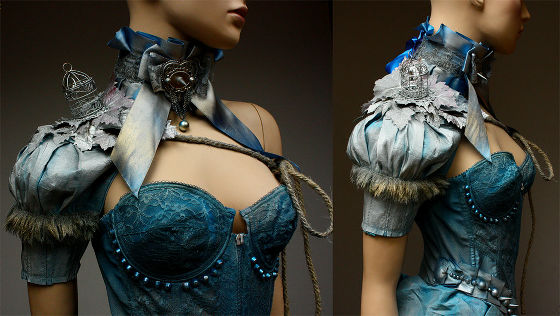 ◆ 10:Down the Rabbit Hole bracelet II

There is also a pretty design accessory such as a rabbit bracelet using pearls.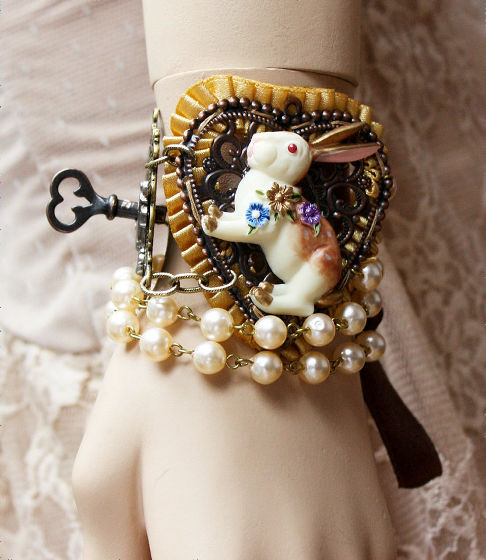 If you wrap around your neckAs a necklaceAvailable.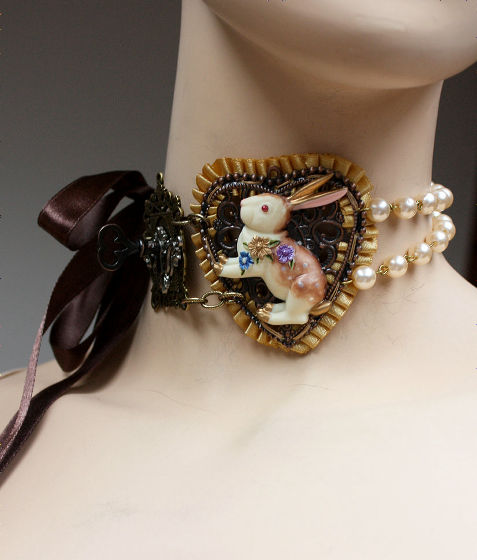 ◆ 11:Nymph of dragonflies necklace

Greek spirit nymph and dragonfly motif necklace. actuallyIt is sold at $ 35 (about 3500 yen).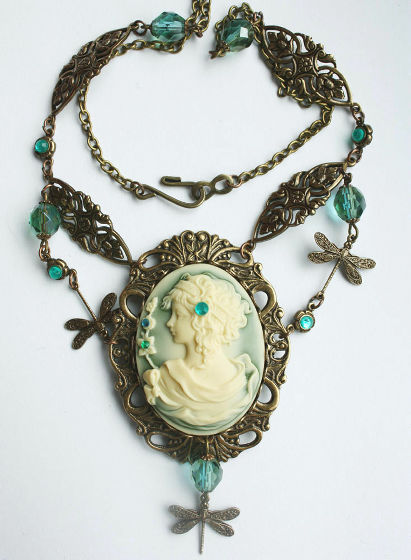 ◆ 12:Filigree neck corset and winged earrings III

Filigree (silver wire work) set of neck corset and earrings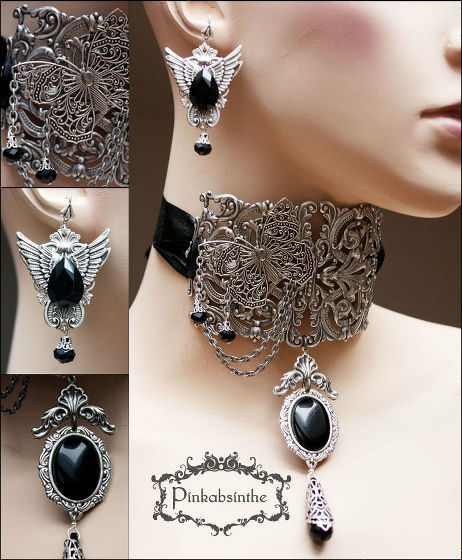 When trying to remove itLike this. me tooApproximately 8500 yenIt is made available for purchase at.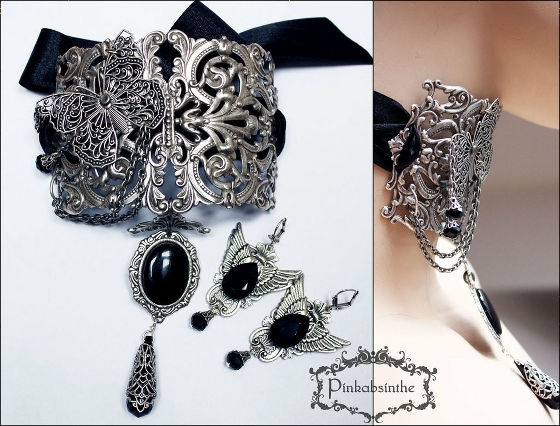 ◆ 13:Fairy door rainbow choker I

Iridescent colored choker.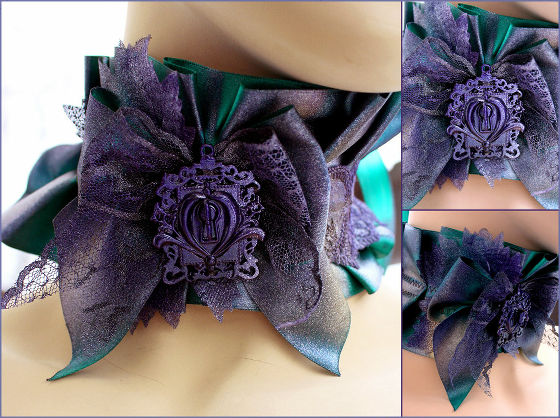 ◆ 14:Star dust watch III as a choker

A choker named "Stardust watch".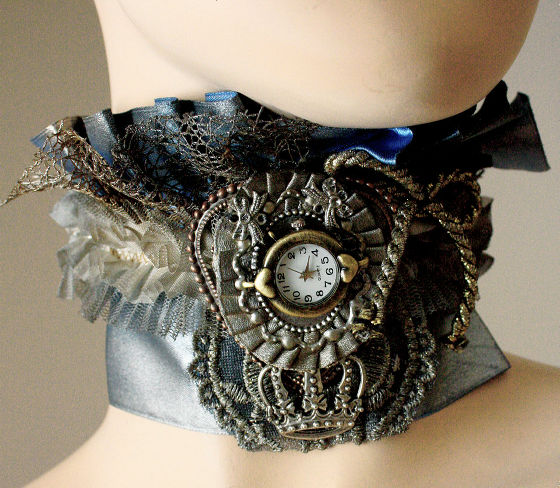 You can use it as a watch attached to your arms.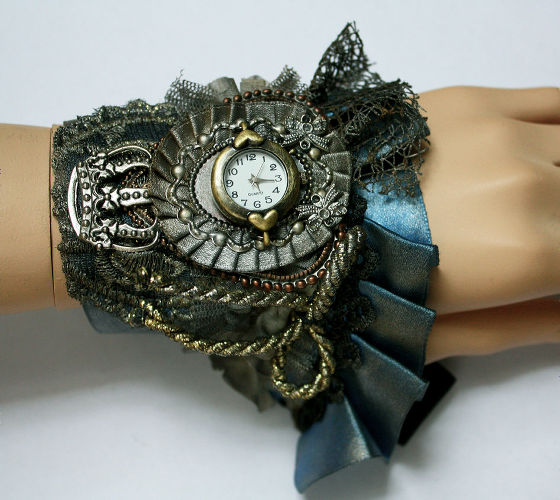 ◆ 15:Gypsy boho cuff II

Here is a bohemian atmosphere cuff.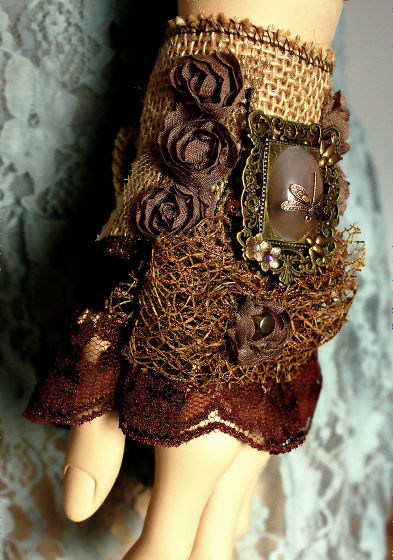 ◆ 16:Black bird cage pendant

A black birdcage pendant with a red heart confined.



◆ 17:Autumn leafs wide neck collar 2

Neck color of dead leaf motif.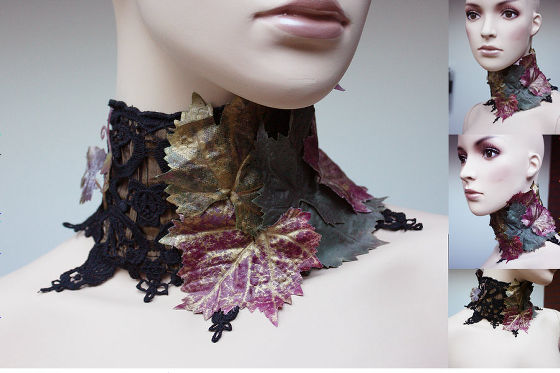 ◆ 18:Untitled

A girly cuff centering around the race.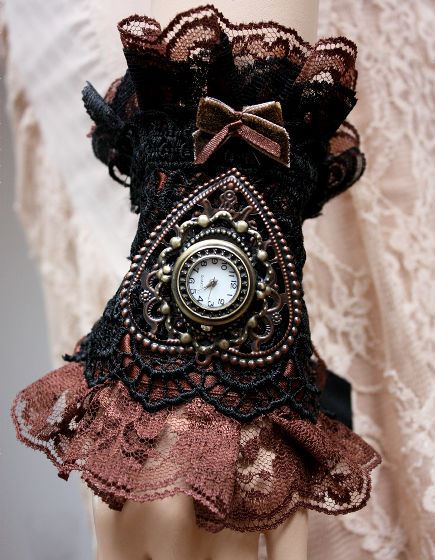 ◆ 19:Steampunk watches dis.2013 I

Watches attached to the cuffs are fashionable without wearing sleeves.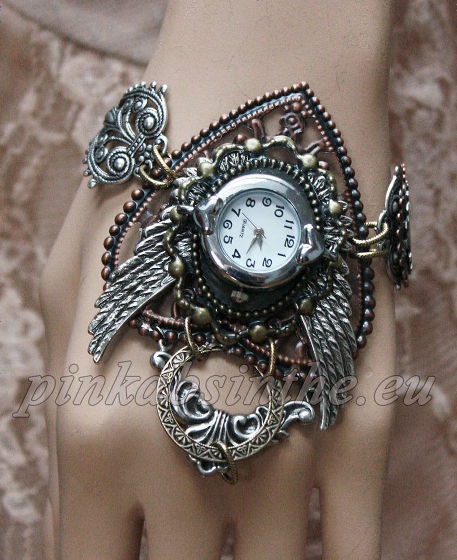 ◆ 20:Pale blue boho watch cuff

Bohemian watch cuffs.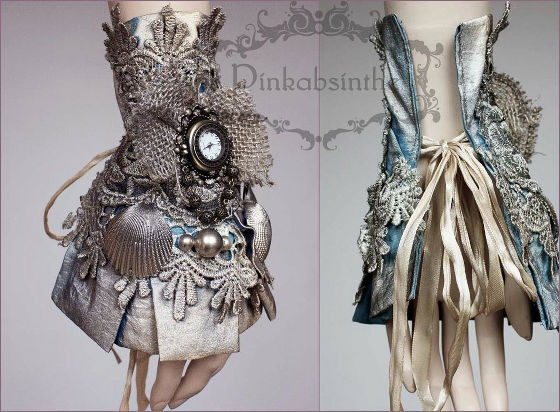 ◆ 21:Winged skull necklace

Necklace of skeleton with feathers. With a set with earringsIt is available for $ 49 (about 4900 yen).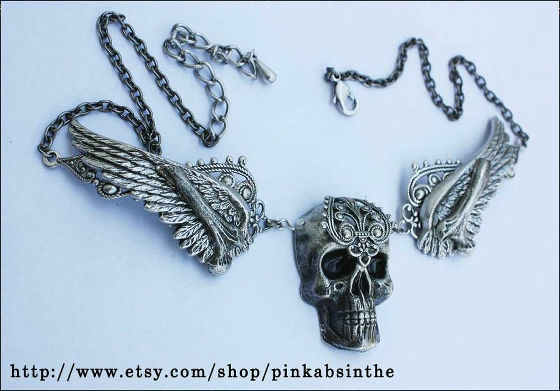 ◆ 22:Ruby red winged necklace

Necklace with presence of ruby ​​stone with presence.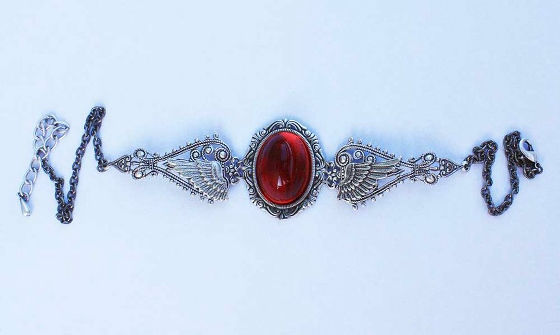 ◆ 23:Skeleton hand necklace

Necklace designed with skeleton hands.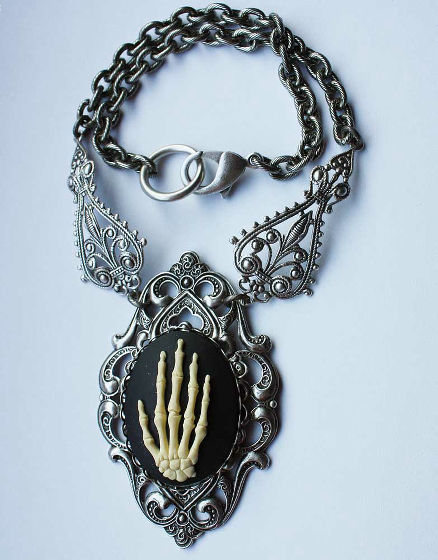 ◆ 24:Ivory steampunk collar

Steam punk design collar also makes a soft impression when you change the color.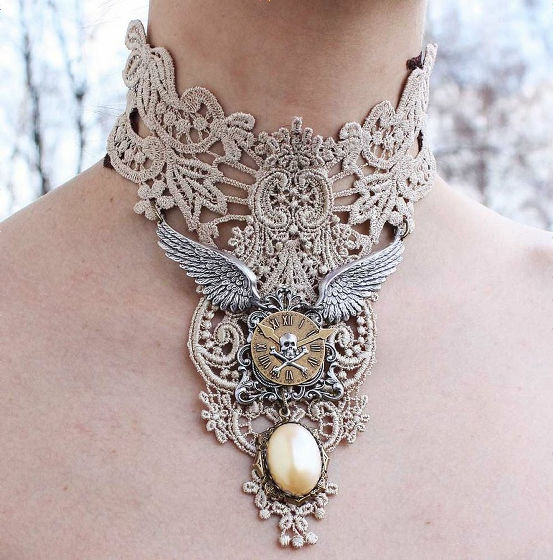 ◆ 25:Gothic watch cuff

Gothic designed watch.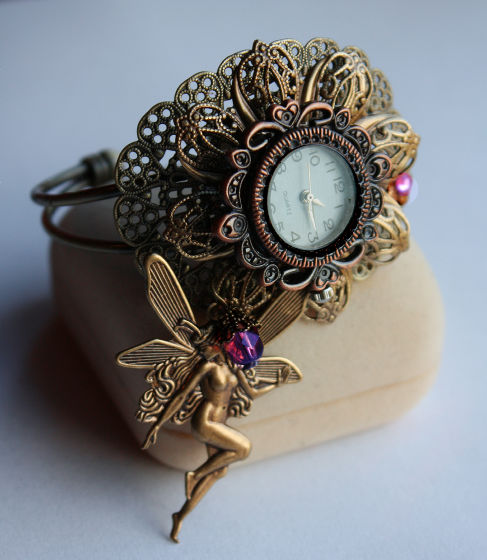 ◆ 26:Fantasy pocket watch necklace

Design dragonflies and plants on top of classical pendants.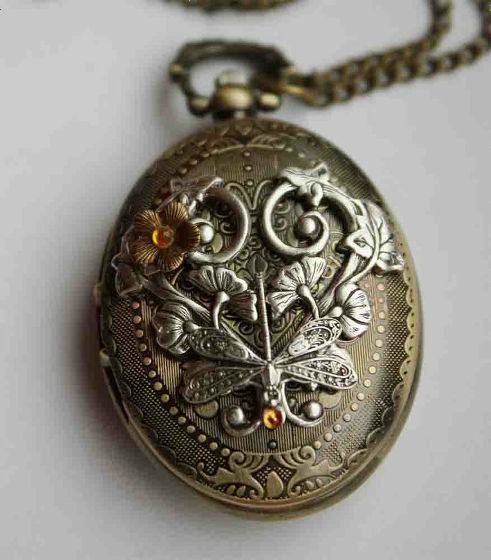 ◆ 27:Blue rose victorian cameo gothic necklace by pinkabsinthe on Etsy

Rose pendant which means impossible is available for about 2,100 yen.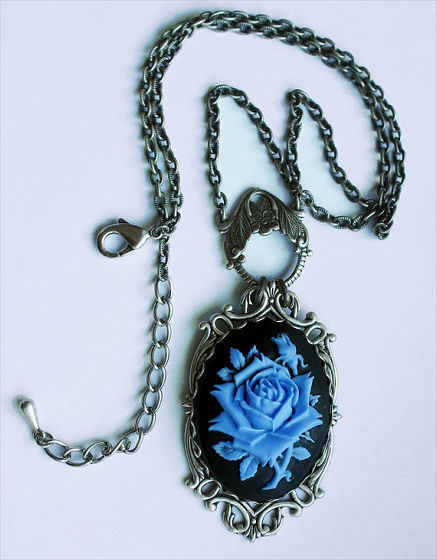 ◆ 28:Pale pink fantasy ring I

A ring with a dragonfly of a shade like a sunset.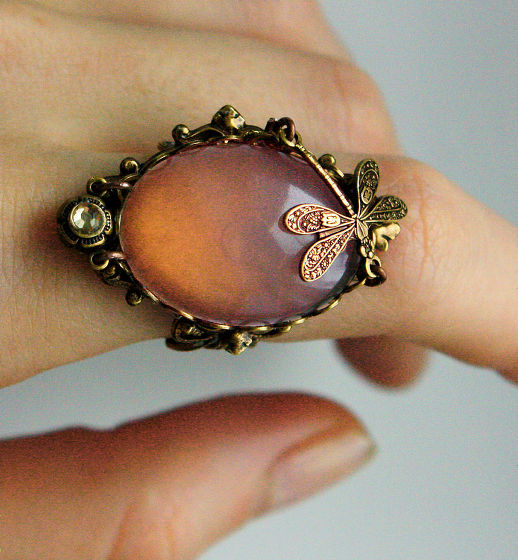 ◆ 29:SALE PRICE Cicada Bug Sterling Silver Adjustable by pinkabsinthe

You can purchase as much as 2,100 yen ring as if the semi crowded on your finger.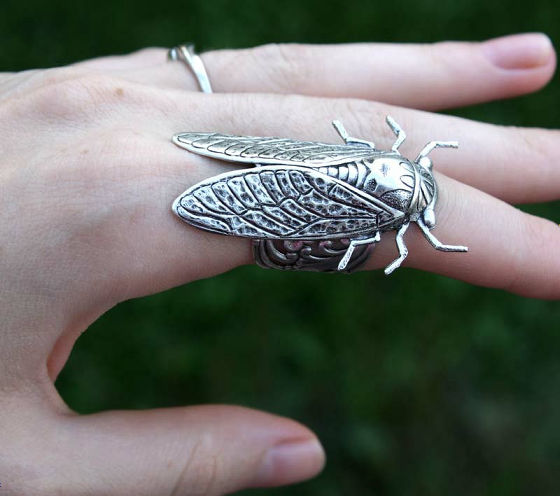 Taking it off is like this.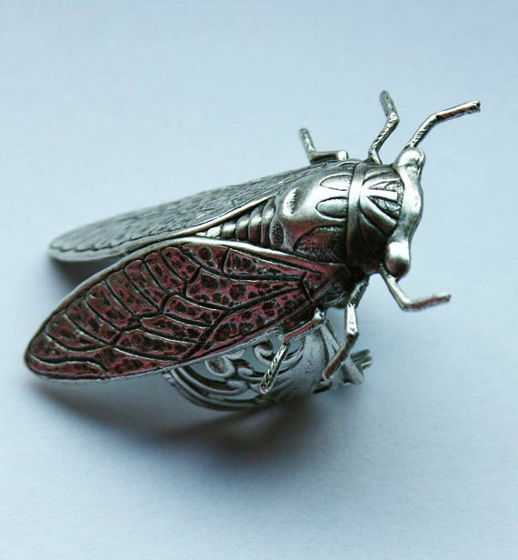 In addition, Mr. Pinkabsinthe did not study the design specially but made his own work by self-taught, and said that tutorials etc. will not be released.