Companies listed nominated for Black Enterprise Awards 2013 Summary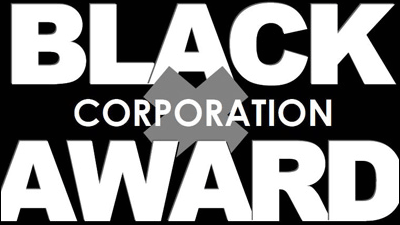 Eight of Watami · Tohoku University · kingdom of dumplings · Tokyu Hands · Seino Transport · Steak noodles · Benesse · Cross Company are nominated, and for each reason why they were nominated for one reason is as follows.

2nd Black Company Awards 2013 nominees company announced!
http://blackcorpaward.blogspot.jp/

◆ Watami Food Service(Reference 1:Watami · Miki Watanabe Pedia Watami Food Service (Overwork Suicide), Reference 2:Painful news (No ∀ `): Watami internal documents leaked! "Work up to 24 hours a day, 365 days" - Livedoor blog)

Mr. Morimasa (then 26 years old), who was a full-time employee in June 2008, far exceeded the overworked death line (overtime of 80 hours a month) determined by the Ministry of Health, Labor and Welfare at the company that is developing nationwide chain and nursing care business nationwide Forced to work overtime of 141 hours a month, only two months after joining Mental illness and overworked suicide. Even after the workers' accident was approved last February, the company did not accept responsibility, the founder President Miki Watanabe did not respond to the requests from the bereaved families, still refusing to meet and apologize. Morika who died was worked for 12 hours from midnight on 7 consecutive days, from 3 pm until closing at 3:30 in the morning. Even after closing, we could not return to the first train at a company house far away, and only had to wait at a store without a break room. Fatigue accumulated in other reasons such as holiday attendance, mandatory volunteer work, early morning training, submission of impressions of watanabe chairman's books bought by deduction from salary, which can not take other breaks. The illegal act of having labor-management agreement on overtime (36 agreement) also sign a part-time job nominated by the store manager received corrective guidance from the Labor Standards Inspection Office.
The union that supports the bereaved families continues to ask the company for an interview with managers from a responsible position to elucidate the labor conditions and causes of Mr. Morika Mori, but the company has an interview with only an advisory attorney I do not show the posture to respond except. On the contrary, in November last year, the company filed for civil mediation with the aim of confirming the damages that the company should pay against the bereaved families.
According to the report, the book "Philosophy Collection" that the company distributes to all employees is said to be written "365 days a day until death" ("Weekly Bunshun" June 13, 2013).

◆ Cross Company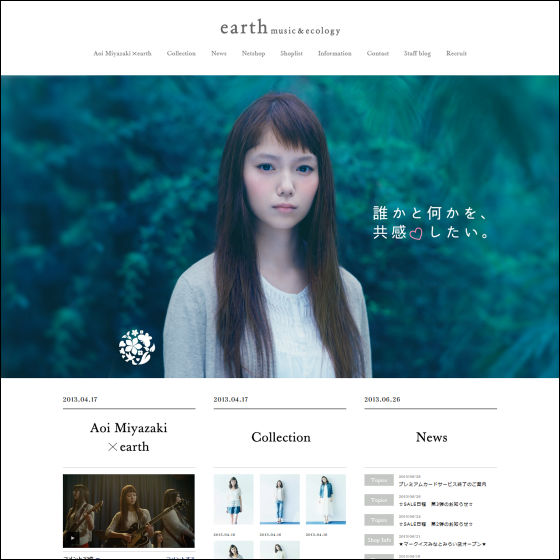 It is a popular company for young women in the main brand "Earth Music & amp; Ecology" who appointed popular actress Miyazaki Aoi as CM, and as some employees of store employees are employed as full-time employees, A company that is promoted as an employee's easy-to-work company ", but there was a big problem in its labor management.
On February 9, 2011, the Tachikawa Labor Standards Inspection Office certified that a female permanent employee (deceased in October 2009) in its first year of employment died due to extreme overwork and stress, as an occupational accident. This female employee joined Cross Company in April 2009 which is the year when I graduated from college. In September of the same year, he was appointed a store manager in the store in Tokyo (store manager). Since being appointed manager, in addition to daily sales, I was challenged with input of shift · sales promotion plan, change of layout, creation of daily report and report by mail, meeting attendance at Okayama with head office. For the staff to contact for absence, I also had to respond to e-mails sent to mobile phones at midnight and early morning at 5 o'clock at home. The shift shift was usually organized by 3 to 5 people, but after the three retired one after another, the company did not replenish the personnel. The pursuit from the boss to achieve sales goal was severe, and the manager sent me an e-mail message saying "I can not return well though sales have not been reached" to the store manager. In the note of the deceased female, it is stated that at the meeting in Okayama where the head office is located, there was an instruction to "Do not give salary or holiday unless sales can be obtained". Since this woman can not attain sales target even if it works or working, in September 2009, he purchased more than 50,000 yen of his own item in order to raise the sales amount by himself. Her overtime work in September 2009 was over at least 111 hours even at the time when the Labor Standards Inspection Office approved it. And in the extreme fatigue / stress, died in October 2009.

◆ Benesse Corporation(reference:Benesse completely loses "Internal hiring and retirement recommendation at restructuring discrimination department" deviates from the discretionary scope of human rights ": MyNews Japan)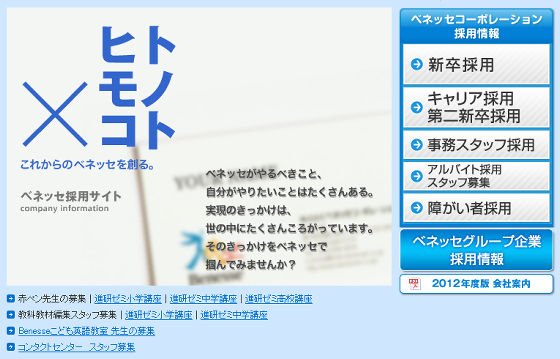 In 2009, a department named "Human Resources Department" was newly established in the personnel department responsible for personnel affairs. The female employee assigned here said, "You have problems, please do activities to win hosts," the supervisor instructed. I was instructed not to answer the phone and I did not have a business card. I did not let him access the company's internal net. I was ordered to perform a simple task while doing "employment hiring in the company" to find the department that will accept me. Also he ordered me to get other chores around other departments. Most of the work was a simple task such as clearing cardboard boxes and applying Tepra to a flashlight. "Reeducation" was established only as a place to think about the fact that there are no jobs inside the company, and there is no way other than retirement, by letting simple tasks be done. The Benesse side insisted that "temporary affiliation until we decide where to assign employees is not a place to encourage retirement," with "personnel department".
In August 2012, the Tokyo District Court Tachikawa branch judge (Nakayama Noriko judge) judged that the personnel department attachment was "a suspicion that it was a practical retirement recommendation place and it is an illegal system," and this Changes are also saying "invalid" as "those deviating from the discretion of personnel rights".

◆ Sun Challenge (steak noisetsubo)(reference:The painful news (No ∀ `): The manager of" steak of Kui Shinbo "manager overworked suicide killing 200 hours overtime, power hara boss did not give up on holiday - livedoor blog)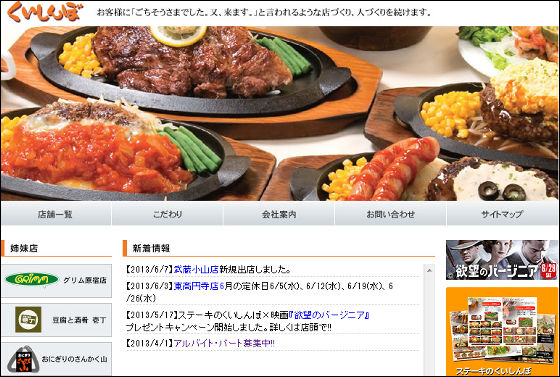 Around the afternoon of 8 am on November 8, 2010, a restaurant chair managed by Sun Challenge Co., Ltd. (head office Shibuya-ku, Shibuya-ku, Tokyo Representative Director) "Steak Kui Shindo" Male who was the manager of the Shibuya center street shop (then 24 years old ) Suicide hanging at the landing of the emergency staircase of the building where the store resides. For male suicide, in March 2012 Shibuya Labor Council was certified to be due to overwork. Where the police station has been accredited, the overtime during the 8 months (April 1 to November 7) before the death of the man is 162 hours and 30 minutes with the smallest month. It reached 227 hours 30 minutes in the most month. During this time, men were able to obtain only two days off, and they worked for 90 consecutive days until the day they died.
While doing such long-time work, men were treated as "nominated supervisor", and no overtime payment or bonus was paid. Also, according to the fact that Shibuya Labor Bureau has approved as facts, he received "bad harassment, bullying, or assault" from a male boss. "Personality denial or abusive remarks beyond the scope of guidance of work" was persistent, and "At times beating assaults such as hitting the head" was said.

◆ King Food Service (King of Gyoza)(Reference 1:"Depression deprived of long hours" Kerosene employee claims that "compensation for excessive labor" seeking damages - MSN Sankei News, Reference 2:Painful news (No ∀ `): Topic on newcomers' training of 'dumpling kingdom' is too black - livedoor blog)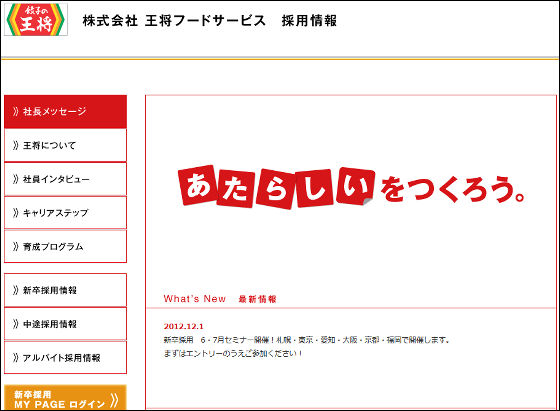 On February 5, 2013, a 25-year-old man working at "Dumplings' King" got a trial against King Kong General Food Service for damages. The man begins working as a part-time job at the first time and is appointed as a permanent employee after 10 months. He was in charge of work such as cooking at the store in Kyoto Prefecture, but has been depressed for a long time work and has been obliged to take a leave from April 11, 11. Overtime over the six months just before onset of depression averaged about 135 hours per month. Male depression is accredited as workers' accident. In the gyoza king general, working hours management is done by computer, and it is a mechanism that can not input more than 10 hours of working hours a day. In this way, it became clear that the systematic non-payment of overtime work was done. The plaintiff male commented to the mass communication that "I do not think what I am, people." Also, the royal food service has been frequently reported on harsh newcomer training. In the training held in a camp style without escape place, it starts with guidance such as "instantaneous movement even at 2 meters", and is allowed to recite "Five generations of king" or exercising king general. A series of training is undertaken by Iiwill managed by Mr. Kazumi Daimei who claims that the idea of ​​"human rights" is like "plague", and the circumstance that can be regarded as power harassment continues indefinitely.

Seino Transportation(reference:【Society】 "Suicide by extra service overtime" Bereaved went to Seino Transportation case: Nyuu summary log)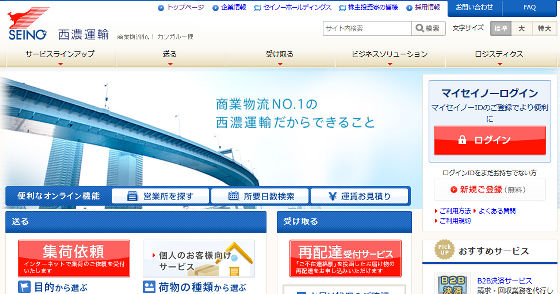 With its head office in Gifu prefecture, Seino Transportation, a major shipping company known as "Kanegaro no Seino". A 23 - year - old man, who was a clerk at a branch in Kanagawa Prefecture, committed suicide by generating hydrogen sulfide at the campsite on December 31, 2010. "I worked for more than 12 hours every day, I compelled overtime work overtime" and was writing about the will.
Male joined in March 2007 and was in charge of baggage management and complaints handling, but was forced to push the time card earlier than the actual home and constantly overwhelmed service overtime to cause depression . Overtime in the lost month was 98 hours.
The point of Seino Transportation's death from overwork is particularly vicious, although the company has refused to do so despite the fact that men have offered retirement three times since November 2009. I refused to retire for three times over and stayed on work for more than a year, but if I was able to retire, men might not have lost my life.
After that, at the Labor Standards Inspection Office, his death was accredited as an occupational accident, but since there are no serious reflections on the bereaved family, male parents asked the company to pay compensation or overtime work on December 8, 2012 The court has filed a suit against Yokohama District Court seeking damages of approximately 81 million yen including unpaid wages. According to reports, the male's mother said, "The company does not acknowledge the actual situation of overtime service and does not reflect," "I want you to improve and apologize before the grave".

◆ Tokyu Hands(reference:Tokyu Hands New Graduate Employee, 30-year-old overworked death bereaved in court and rusty days from PowerWright Manager First round of first trial: MyNews Japan)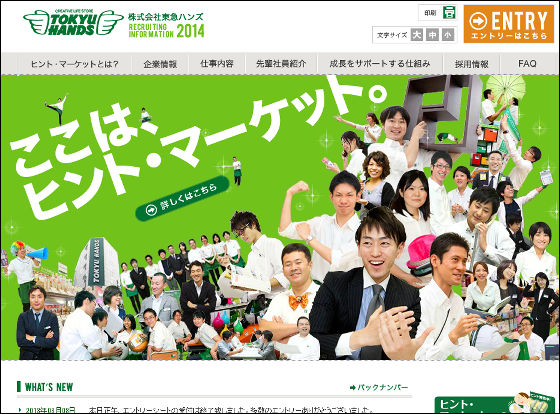 At Tokyu Hands, famous for large-scale merchandise stores for miscellaneous goods, a 30-year-old man loses his life on behalf of the Valentine's Day sale. Male joined Tokyu Hands in 1997 and began to be in charge of the kitchen appliance department of Shinsaibashi store (Chuo Ward, Osaka City) since 1999. Just before his death, he served as a team leader and was also in charge of guiding three assistants while managing the purchase and sales of 7000 items. Two months before the death was a busy period such as Valentine 's selling season, overtime work counted about 90 hours a month on average. Then, in March 2004, after talking to "Today, Today, Limitations" after going home, suddenly died while sleeping due to abnormalities in the heart.
On March 13, 2013, the judge of the bereaved families requested damages for Tokyu Hands from the Kobe District Court, and Tokyu Hands is ordered to pay about 78 million yen. Koichi Nagai, the presiding judge pointed out that there was a mental stress such as being shouted from a boss in addition to being bad in physical and mental due to lack of sleep coming from long hours work, acknowledging the death of a man as death from overwork It was. In addition, to a company claiming that "overtime is not instructed", "The fact that it was a work amount that can not be accomplished with the overtime limit time set by the company side, is not counted, and unpaid outstanding that is not counted in a structured way "We just regulated overtime work without taking actions such as alleviating work etc.", and acknowledged violation of duty of safety consideration.

◆ National University University Tohoku University(Reference 1:Tohoku University, graduate suicide neglected as guidance Associate Professor resigned - 47 NEWS (Yoana News), Reference 2:Being suicidized by depression is red bereaved family, seeking damages of about 100 million yen to Tohoku University, due to long-time labor, due to long-term labor |)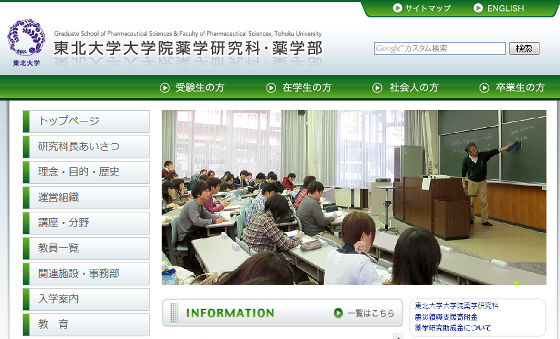 In December 2007, a man (a 24 - year - old) from Tohoku University 's Department of Pharmacology Department left a will of "Please find a new piece" and committed suicide from the laboratory.
In June 2007, a male enrolled in the doctoral course of the Graduate School of Pharmaceutical Sciences of the same university was asked by a supervising professor for the reason of "lack of workers" and dropped out and became an assistant. In the initial story, we should be able to give priority to research to obtain a degree, but it was busy with repair of experimental equipment and practical guidance, and overtime work for 2 months just before suicide was 104 hours and 97 hours. From October 2007, he was instructed by a supervisor and engaged in experiments on anticancer drugs with side effects such as reproductive dysfunction. In an environment where exhaust can not be sufficiently done, almost one person was forced to experiment, and friends said that "I can not do children anymore". Despite this kind of environment, the teaching professor reprimanded the man "I am slow in my work and I should have adopted another child." It is believed to have developed depression before suicide. In March 2000, the Miyagi Prefectural Labor Bureau approved suicide as overworking as "a psychological burden on business is strong." In December 2000, the bereaved family sued the Sendai District Court for damages of about 100 million yen, saying that the university had a violation of duty of safety concern.
In Tohoku University, another male (then age 48) at Associate Professor of Engineering has committed suicide in January 12. This associate professor attracted attention in academic societies such as the world's first successful development of hydride showing high-speed lithium ion conduction at room temperature, but the laboratory was totally destroyed by the Great East Japan Great Earthquake of March 2011. While aiming for resumption, in parallel with classes, he worked hard at home and abroad on business trips, but in January 12, when the medicine finally arrived, the university side was unilaterally told "closed laboratory within 2 years" . He lost his life himself only half a month later after he lost his balance.
After the death of a man, bereaved families applied for workers' injuries, and in October 2012 they were accredited as "arbitrary compulsion of overwork."
Incidentally,Official siteThe 2nd Black Company Awards 2013 Awards Ceremony, which the results are announced, is August 11, 2013 (Sunday). In the last year TEPCO elected the Grand Prize, a general ballot The citizen prize to be done was Watami.

· 2013/08/12 postscript
The Grand Prize recipient company of 2013 was decided.

Black Enterprise Award: decision! Black Enterprise Award Grand Prize 2013 Grand Prize · Each prize
http://blackcorpaward.blogspot.jp/2013/08/2013.html

Grand Prize: Watami Food Service
General Voting Prize: Watami Food Service
Industry Prize: Apparel Industry Cross Company
Special Prize: National University University Tohoku University
Educational teaching award: Benesse Corporation
in Note, Posted by darkhorse