Panda celebrating pregnancy became nationwide Sales of Lotteria's "Napoli Pin-Burger" Tasting Review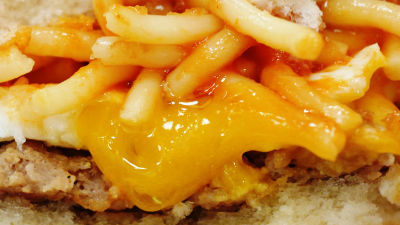 Lotteria released the "Napoli Pin Burger" sold exclusively at the Ueno Park Rueno FS shop nationwide from June 27. This was in response to the expectation that Panda Shinshin in Ueno Zoo may give birth, but unfortunatelyThere is a high possibility of "pseudopregnancy" in which a phenomenon similar to pregnancy appearsSo I decided to keep my pleasure next time and went to Lotteria to check the taste of burger.

~ Roteria appeared to support Ueno's panda! It is! ~ "Napoli Pin Burger" Limited release from June 27 th (Thursday) 2013! | Lotteria
http://www.lotteria.jp/news_release/2013/news06190001.html

Arrived at Lotteria.



At the shop also appeal new products along with the illustration of the panda.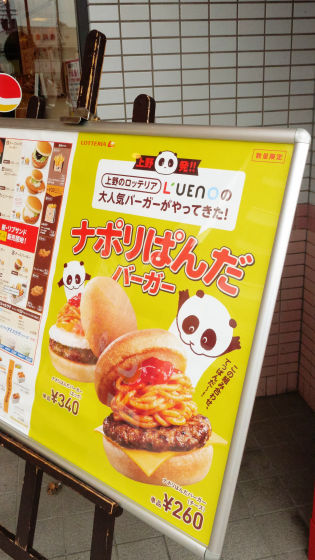 I will order it at the cash register immediately.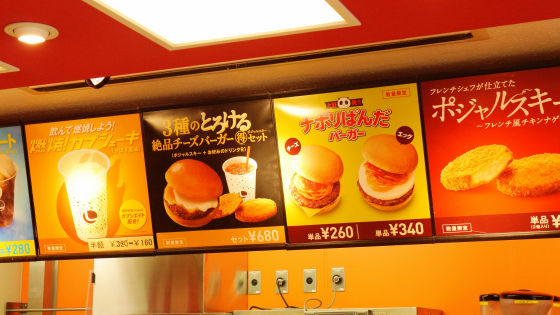 I also appeal the new product even at the cashier side.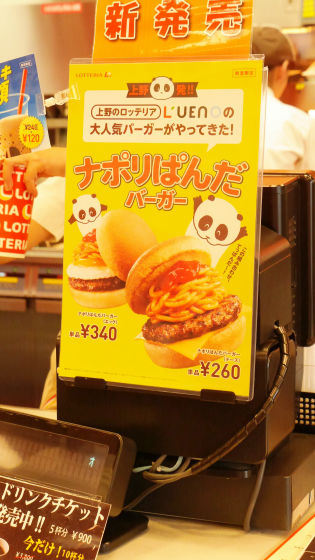 Waiting The new item arrives in about 3 minutes. The wrapping paper is the same, with Naples Pon solder burger (cheese) on the left, Naples Pin solar burger (Egg) with a yellow seal attached.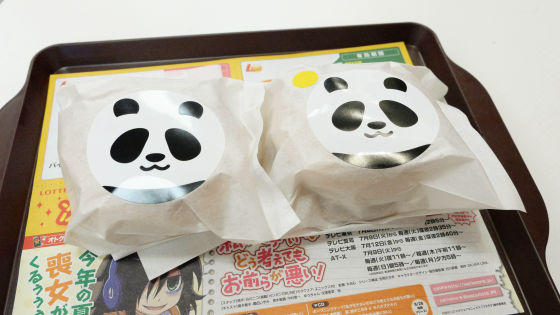 The seal of black and white panda is pretty.



When opening it is like this.What is on sale at Ueno storeThen the brands of pandas will enter the buns and will be offered in the buns made in the store, but specifications and prices are different in national sales.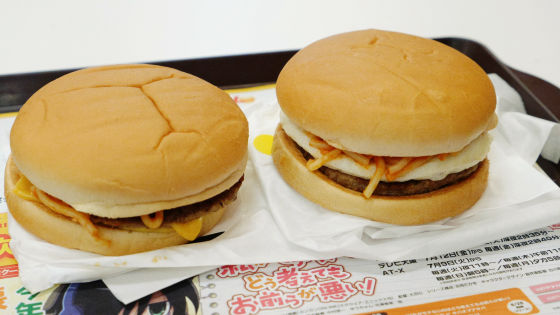 Firstly from Naples Pin Burger (Cheese). You can check Napolitan spaghetti, beef patty, cheese on Naples Pin Burger (Cheese). The price is 260 yen including tax.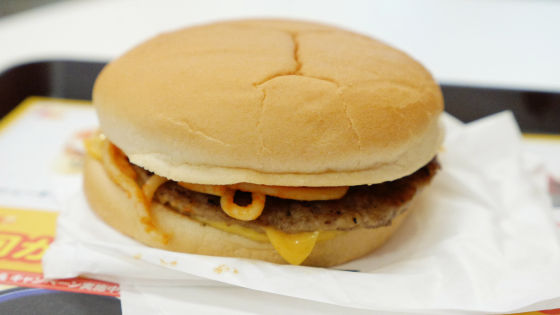 When you open it you can see ketchup under the upper buns.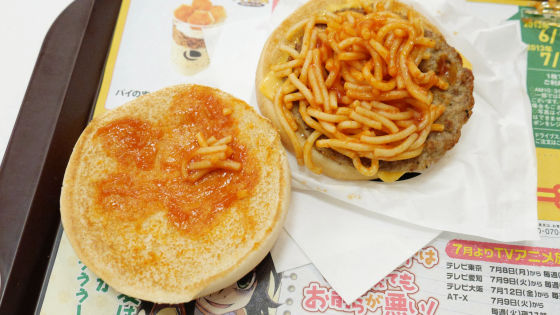 Napolitan is cut into a reasonable length.



I decided to eat it at once.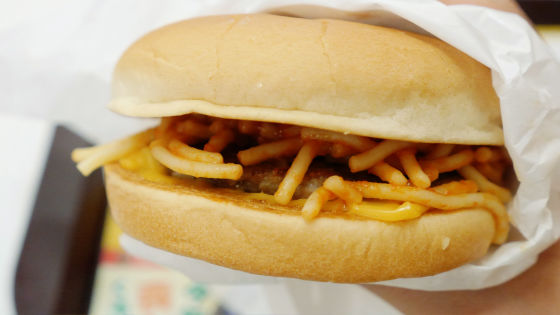 Eating Napolitan's Tomato Beef Patty Cheese while tasting like meat sauce, it's a memorable taste of ketchup flavored Napolitan. There is a baker selling vegetable bread sandwiching Napolitan on the coppépan, but it is unusual to have a hamburger sandwiching the Napolitan, and you can experience a combination that was not likely to have been so far.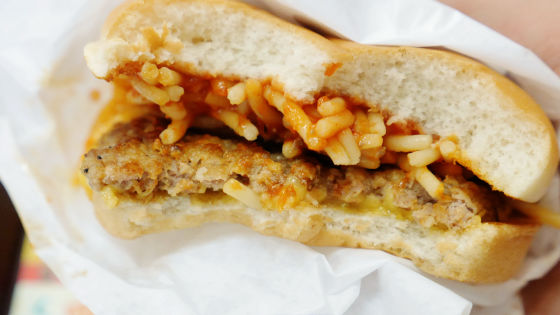 Cheese is giving birth to a hamburger. When buying summer bread with Napolitan in between, it is mostly cold, but if it is Napoli Pin Burger, beef and cheese can also be eaten in a warm state, so the fat content does not solidify and is good.



Next is Napoli Pin Burger (Egg). Instead of cheese of Naples Panda burger (cheese), a semi-matured egg is sandwiched. The price is 340 yen including tax.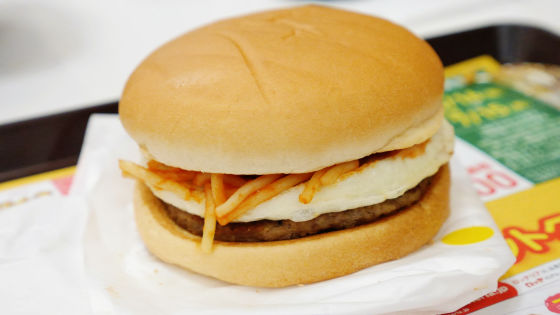 In the same way ketchup is painted under the upper buns, you can see Napolitan spaghetti · semi-rich egg eggs · beef patties.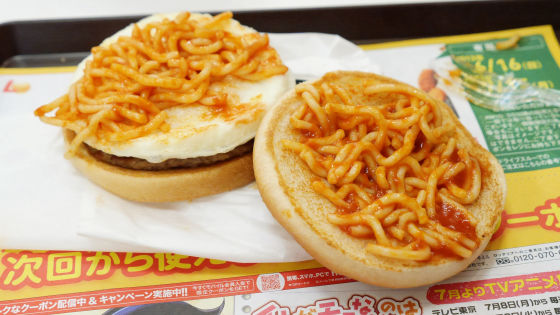 Half-tempered eggs are baked heavily on the surface white.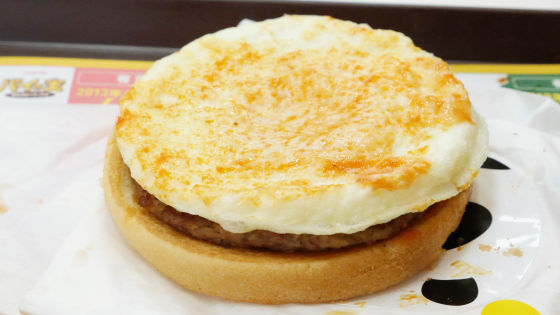 I will eat it at once.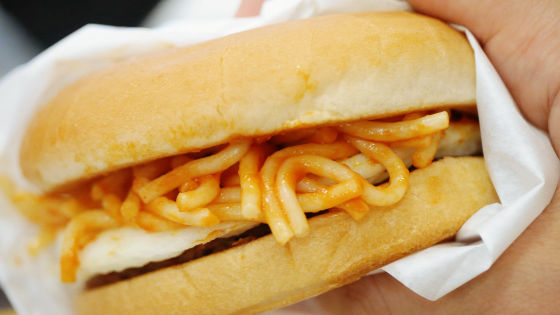 Although the taste of the base is similar, a semi-matured egg gives a different kind of richness to the cheese and a slightly different impression. When eating Napolitan, semifinished wind egg, beef patties, it seems to be eating a hamburger plate.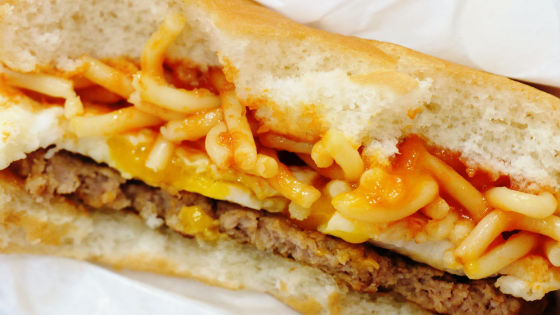 In semi-rich wind eggs the yellow bodies of Trotoro are confined in white. Because ketchup, semi-rich wind egg gets dirty, it seems better to wipe your mouth after eating.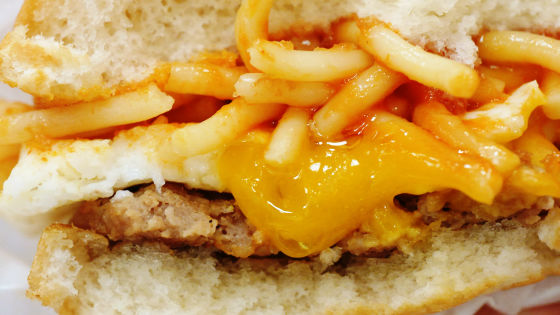 Unlike the stores in Ueno, these menus are for a limited time until mid-July.