Matsuya with plenty of summer vegetables "Tomato Curry of Summer Vegetables" and All 3 Taste Review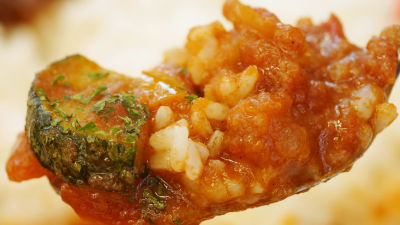 Matsuya started from June 6 (Thursday) "Summer vegetable tomato curry"Curry based on tomato curry is on sale. This year I brush up the popular tomato curry every year and have eaten it at a shop as having improved version using summer vegetables etc.

Summer vegetable tomato curry · Summer vegetables and cheese tomato curry new release! | Matsuya Foods
http://www.matsuyafoods.co.jp/2013/05/31/2225/

Arrived in Matsuya.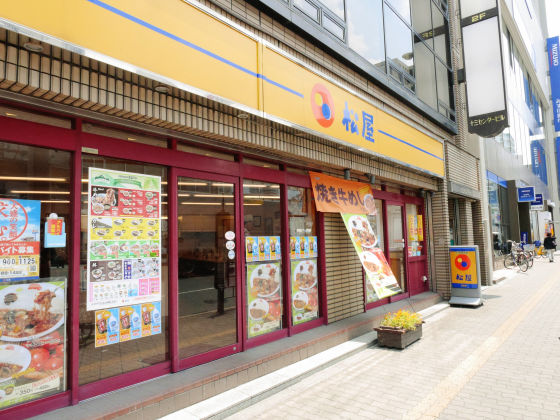 Posters of new products are decorated and appealing.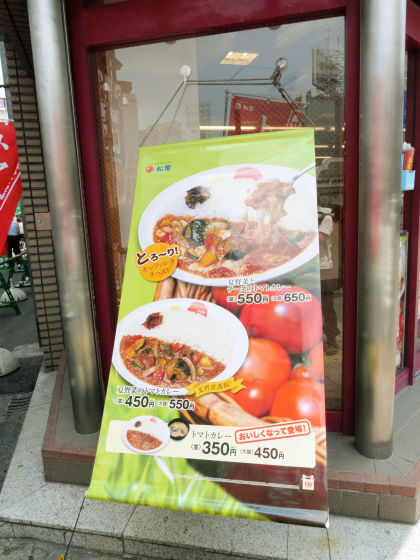 Sit down and wait for about 5 minutesTomato curry (350 yen including tax),Tomato curry of summer vegetables (450 yen including tax),Same summer vegetables and cheese tomato curry (550 yen including tax)Arrived.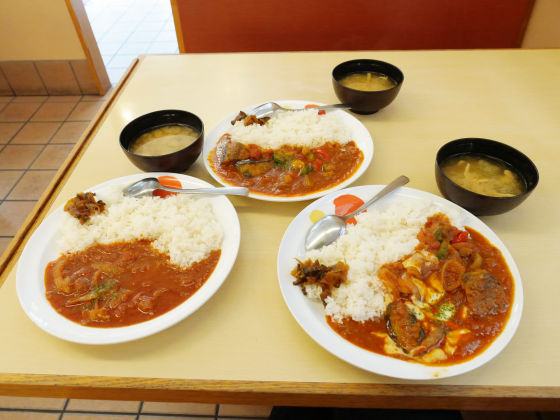 Firstly from tomato curry. Matsuya comes with familiar miso soup together.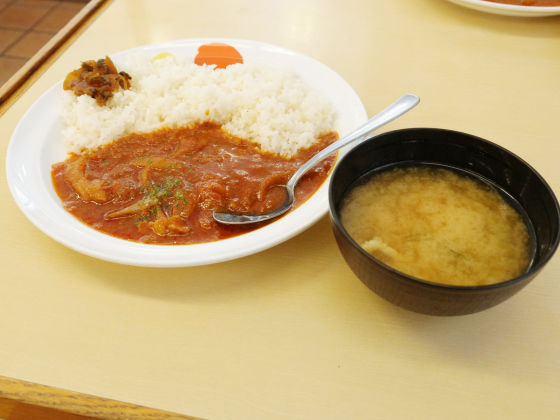 Tomato curry looks a little red, weakens spice and smells of tomatoes. Calories are 654 kcal.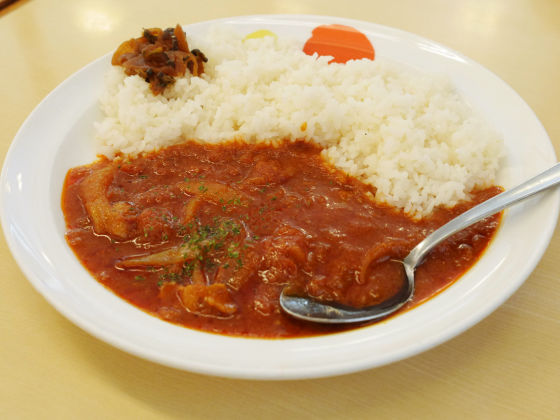 Onions engraved on small pieces of tomatoes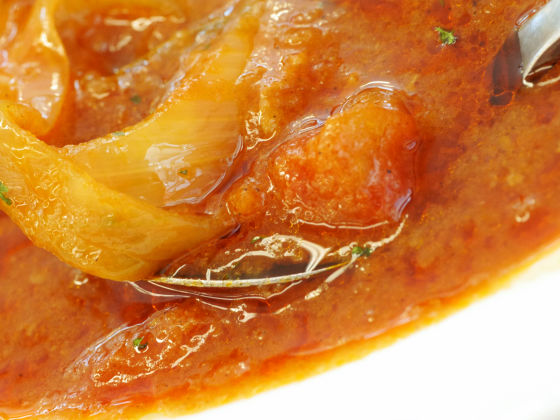 It also contains fine chicken and a little parsley.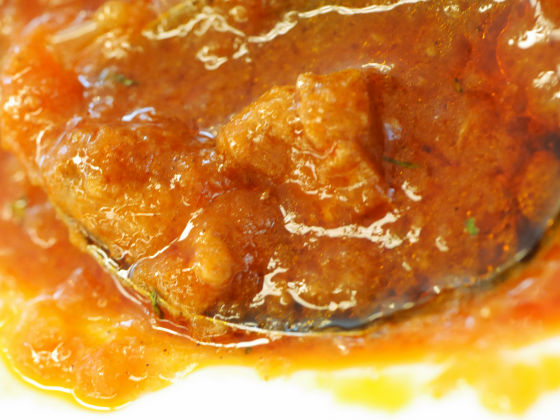 Also familiar with Fukujaki also curry toppings. I will eat it at once.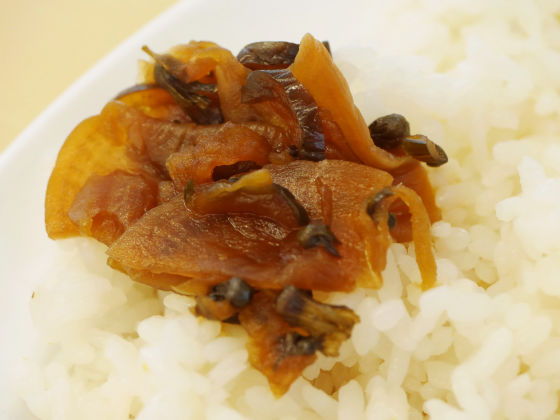 Although it smells and tastes the spice, there is no spicy like pepper or red pepper and the taste of tomatoes and flavored vegetables is central. I imagined that the taste of the tomato was quite strong before eating, so the color was somewhat reddish, but the taste and acidity of the tomato was not so strong, the umami of tomatoes and flavored vegetables, spice was well balanced while conservating It is finished. The curry itself is smooth and its viscosity is low, it is not hot curry which is often released in the summer due to the pain that can be eaten even without water, many people are easy to eat.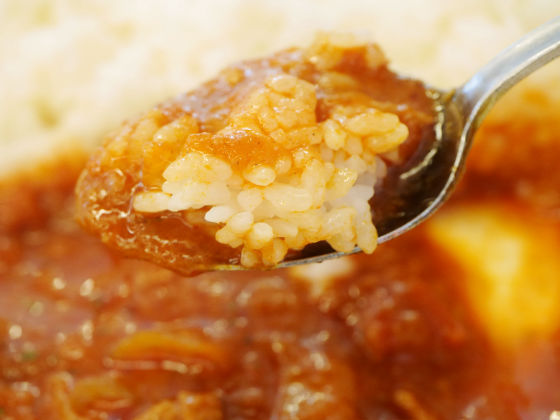 Although chicken meets a little umami, if you eat it with curry it adds a delicious flavor of chicken and makes it a little accent.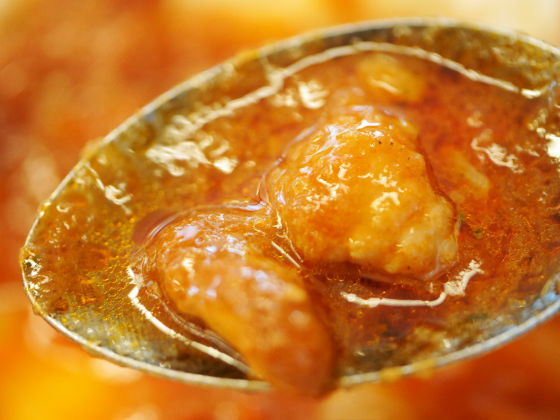 Sweet pickles in Fukujin have poor spicyness, and compatibility with sour tomato curry may not be very good.



Next summer vegetables tomato curry. Calories are 757 kcal in the same making as tomato curry except that summer vegetables enter into tomato curry.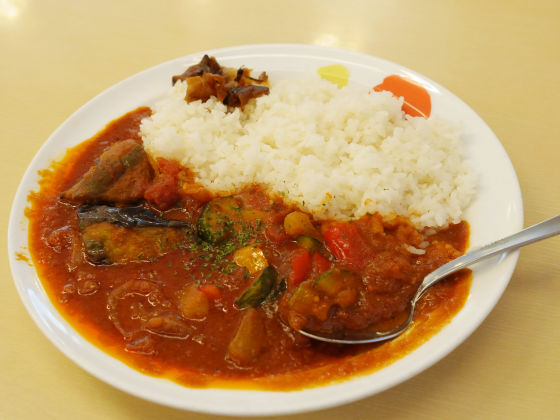 Zucchini and red and yellow paprika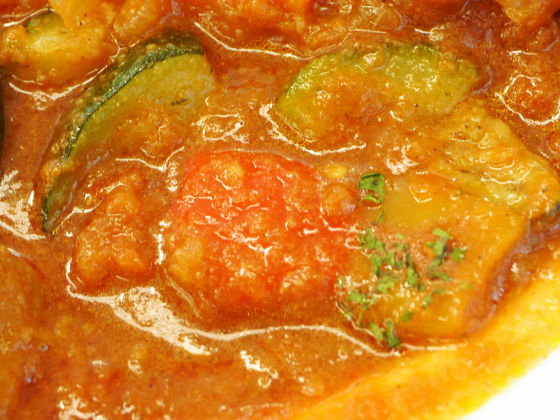 Eggplant cut to a large extent is also included.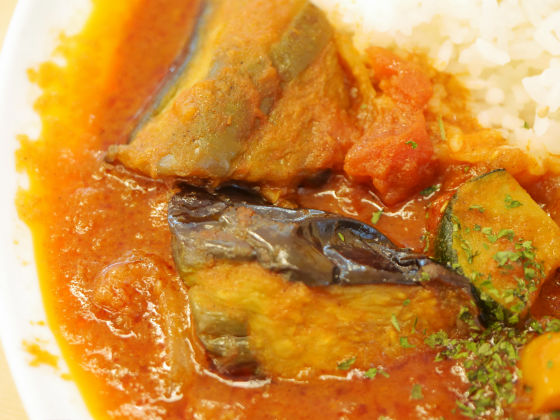 It also contains chicken and onions that were in tomato curry. I will eat it at once.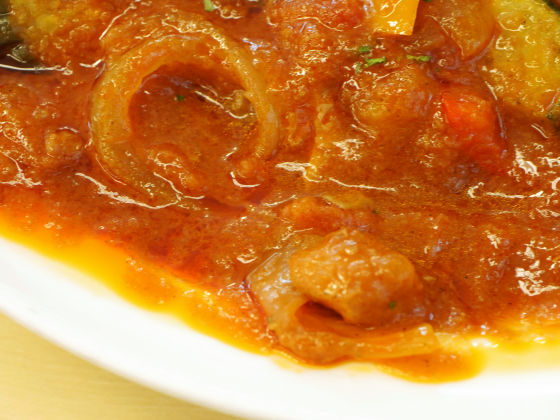 Although the taste of curry is as it is, raw materials using tomatoes are also quite similar by summer vegetables enteringRatatouilleIt will be like a taste. I feel a strong taste as I have plenty of summer vegetables. Matsuya has been currying out this time at this time and has changed a little at a time and everywhere, so you can understand the intention of completely differentiating it from other rival chain store curry.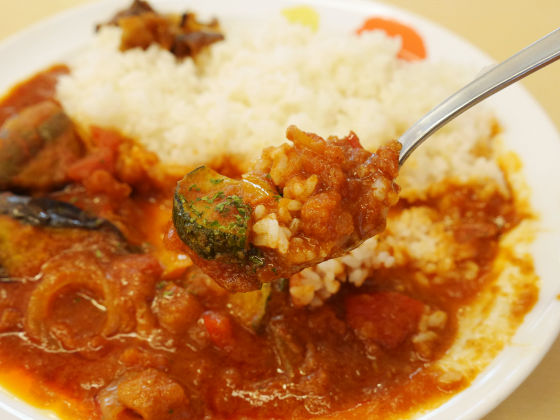 There are quite a lot of vegetables, and if this vegetable enters into tomato curry plus 100 yen plus it has a sense of affinity. Using the eating out chain store is inevitably a vegetable shortage or nutrition tends to be biased, but the menu that can take rice, side dishes and vegetables in one dish is pretty rare.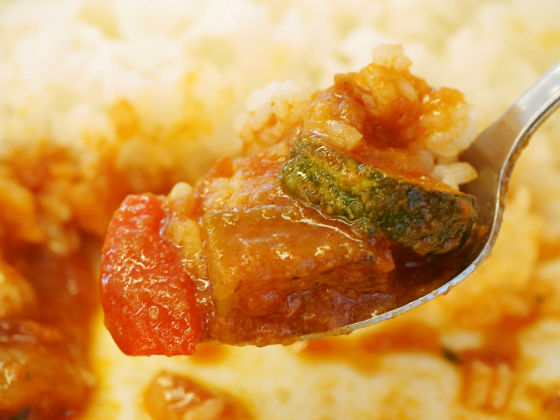 Eggplant is quite large and has a response to eating.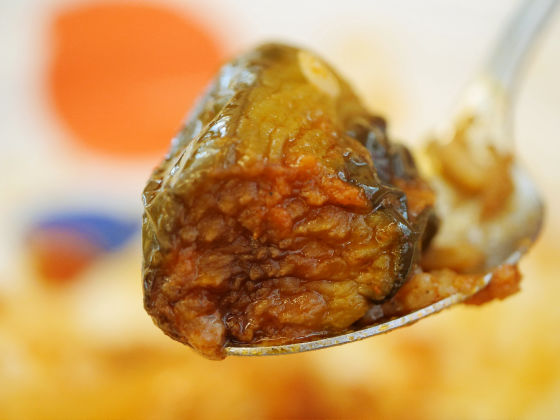 It is a feeling that I eat stewed tomatoes of summer vegetables with a little bit more than curry eating with rice.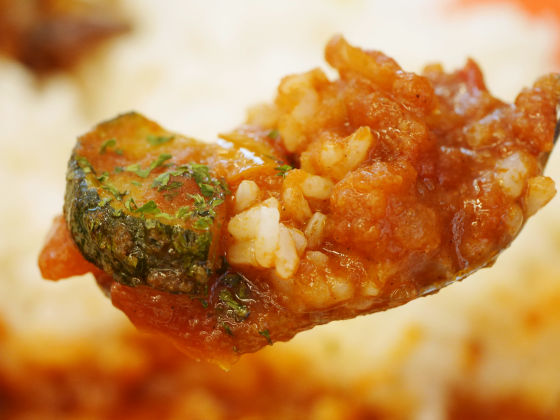 Lastly summer vegetables and cheese tomato curry. Summer vegetable tomato curry has more mozzarella cheese topped. The calorie is a little higher than the cheese ride, 900 kcal.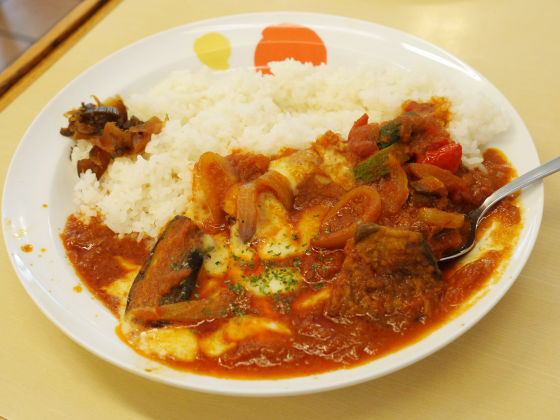 Cheese on tomatoes looks a bit like Italian cuisine.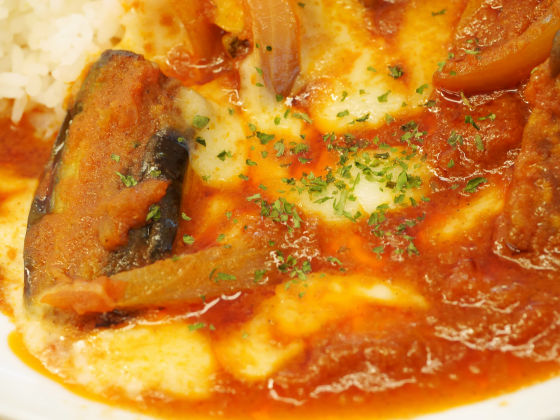 Mozzarella cheese on a hot curry pulls the string.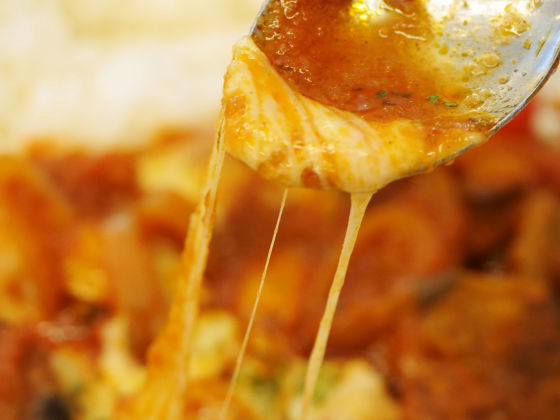 Like the summer vegetable curry, plenty of vegetables. I will eat it.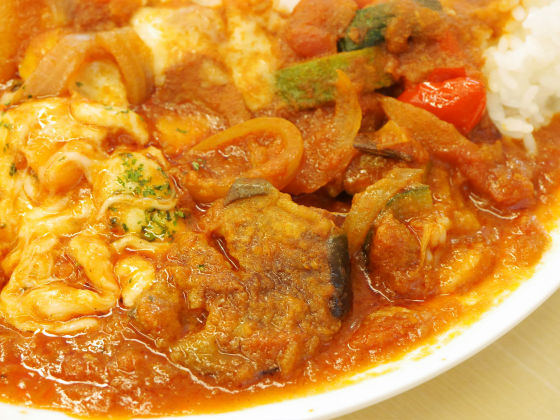 The addition of mozzarella cheese plus richness and mellowness makes it a punchy taste, but it is felt that the spicyness is weaker yet more and it is becoming a different dish more and more from this general curry, but this is now Ali.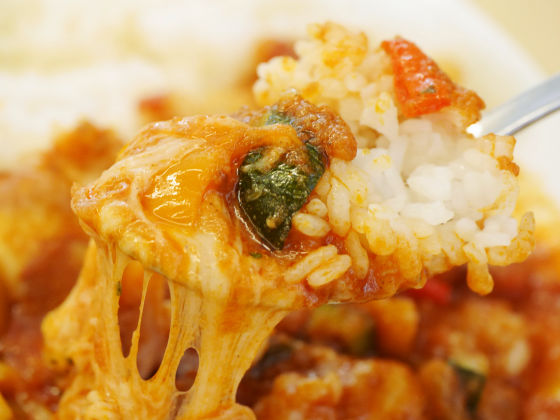 It seems that you are eating eggplant and cheese gratin.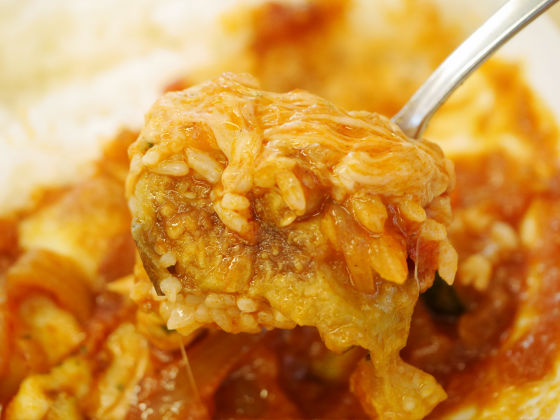 Either menu is a menu for a limited time so it may be nice to go to Matsuya when you want to eat vegetables with rice easily.