Four principles for giving good price to goods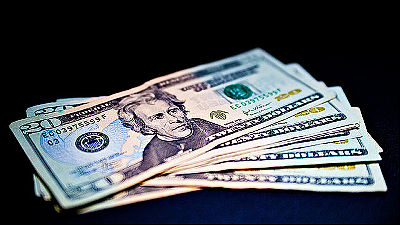 ByMatt Koenig

It is very important to develop and sell software that is a commodity at startup "How much price should I set?" Everyone is bothering me, but I have less lectures and information to be helpful ... so that,IntercomShows the four principles that should be followed to put the right price on the item.

Four Pricing Principles to Never Forget | Inside Intercom
http://insideintercom.io/four-pricing-principals-to-never-forget/

In determining the price, "Everyone should be happy by paying their goods" "There should be a perfect price to bring out the maximum revenue from all customers" Once you decide the price once again change "It is impossible" "To inflate the price increase infinitely by these ideas" is a thought / action that is taboo. Every thought seems like there is no funny thing, but it seems that it is necessary to leave these ideas when the startup actually puts on the price of the commodity.

◆ 01: Make paid products earlier than expected

This principle is particularly useful at the beginning of product development, when you are getting feedback from customers and are trial and error. Because, as a rule of thumb, feedback gained from customers who do not pay much will add functionality to the product, feedback from customers paying will tend to focus on improving the product. There is not much worth getting feedback from customers who do not purchase software or who request monthly discount codes. There are many people who say "If you buy this item this way ... ...." Many of them are people who have expectations for products that they do not do.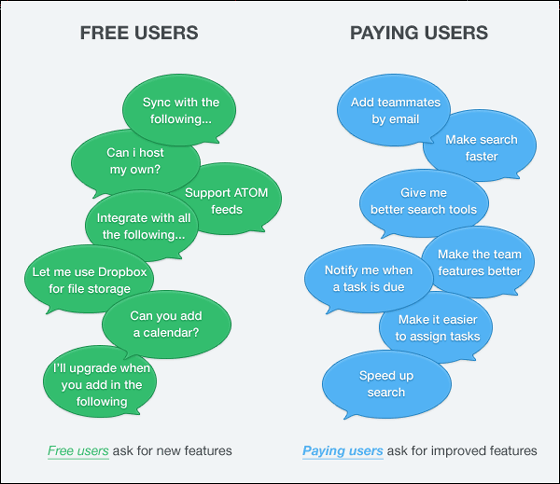 In addition, when searching for the word "upgrade when it becomes like this" by Google, about 1.3 million items are displayed in the search result.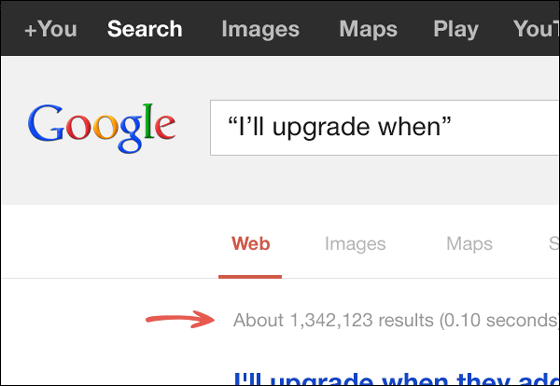 ◆ 02: Set a rate higher than I think is enough

There is an image that companies operated by four people are generally small companies. Such companies make products on a small scale, sometimes only free plans, but in spite of that the expenditure is huge. A minimum of $ 16,000 (about 1.6 million yen) is required per year.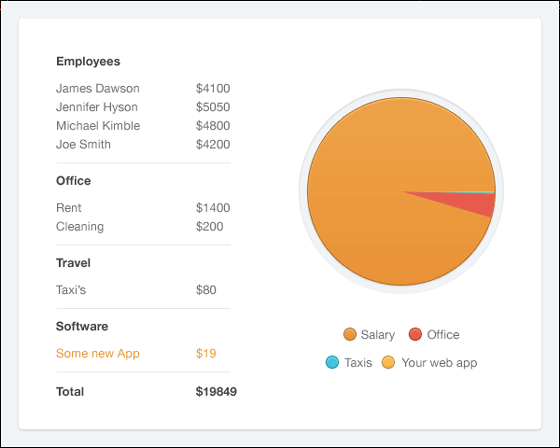 Therefore, some small startups also charge a monthly fee of $ 19 (about 2000 yen) to IBM's engineering team. In software, the $ 19 / month sounds pretty expensive, but if something is wrong if the software is important to the company, but only the amount of money below the morning coffee can be charged.

◆ 03: Justify or cancel the lowest price plan

Many of the inexpensive web applications including things like 5 dollars a month (about 500 yen) are offered along with a tricky assertion of "more familiar to the people".

There are something that will cost equally to all customers and some to a certain customer among the costs. However, it is not so much that the person paying the money costs more, but the plan with the cost of 49 dollars (about 5000 yen) for customers using the plan of 9 dollars a month (about 900 yen) It may be the same as the customer you use. Run startupAdii PienaarWe solved this problem in a way that we do not support customers who did not pay fees. It is an idea that if it does not pay money it is not a customer.

The discussion here means "Do people who do not pay money change to customers who pay money later", but in fact, if the lowest price is too low, such things are very rare . Also, when you sell goods with the price of the bottom side, there are many times you can transfer and smaller companies tending to start business tend to fail more than large companies. Many low-priced items will eventually disappear, most of them can not make money and can not collect expensed costs.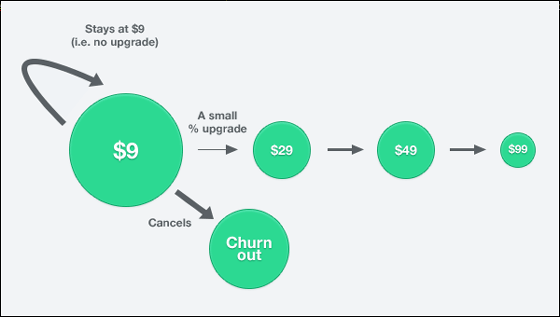 Customers who purchase the lowest priced items are unlikely to upgrade and sometimes get small customers paying high customers but in most cases the startup will stay at the customer who pays $ 9 a month. In this case, the business does not invest in future possibilities, it will create daily living expenses.

And many companies reduce the cost of support and cut the lowest price products only when the income rises. Of startupJosh PigfordSaid that the income increased by 40% as a result of doubling the price, canceling the free plan, the trial plan, the lowest price plan.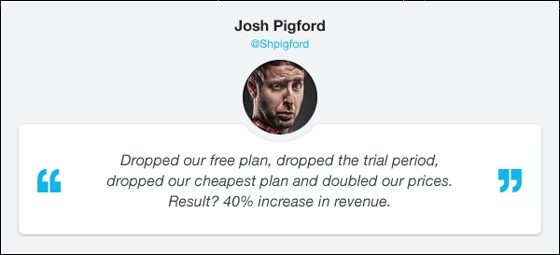 In short, you should never set a price that makes your business impossible.

However, it is different about providing a free plan. The free plan is a capacity limitation, and some functions are different, and restrictions other than the active user are given. The free plan is a part of marketing to the last, to get a word of mouth and see the reaction.

◆ 04: I think about price change

In the process of improving products in various ways, such as adding functions and changing interfaces, "Were we delivering better value than two years ago?" " Many doubts such as "Is marketing successful?" Such as being tolerant of the price are overwhelming. If you can answer "yes" to these questions, it is time to think again about the price. For this point, we should visualize it as a document so that we can make a comparison, and consider the new price.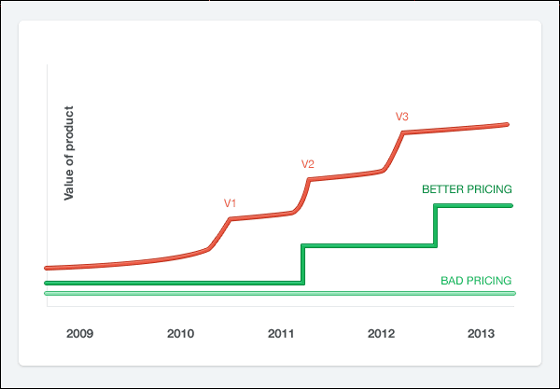 Do you complain if you change the price? Although there is also anxiety, current customers never go away too suddenly, new people do not know the difference in the first place. According to research it is possible to bring more revenue to the company than any other change simply by increasing the price of the item by 1%. In short, change in price is bigger than any other thing you adjust.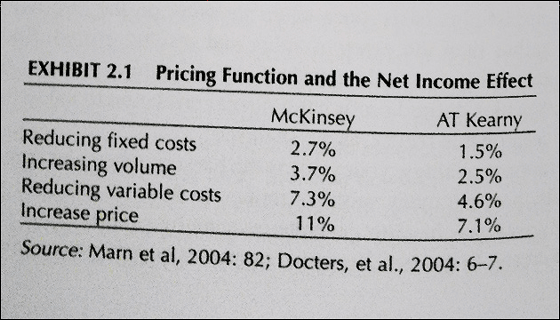 in Note, Posted by logq_fa