What makes people happy? It is obvious from Harvard's 75-year study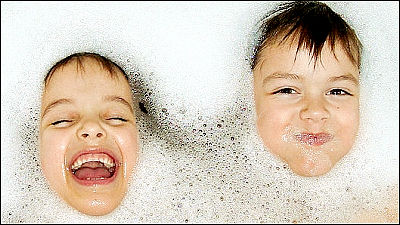 ByErnst Moeksis

From Harvard University's 75 years of study of a wide range of fields such as psychology, anthropology, physical human characteristics from everything, including IQ, drinking habits and the length of hanging scrotal from relationship with family members the study"Grant Study"is. After 268 men who attended Harvard University, they follow their lives such as war, work, marriage, divorce, parenting, old age by doing health checks and psychological tests every year after graduation, 2009 yearlyThe AtlanticI am summarizing this survey, but it was revealed by researchers newly "What makes people happy?"

Grant Study Reveals What Makes Us Happy - Business Insider
http://www.businessinsider.com/grant-study-reveals-what-makes-us-happy-2013-4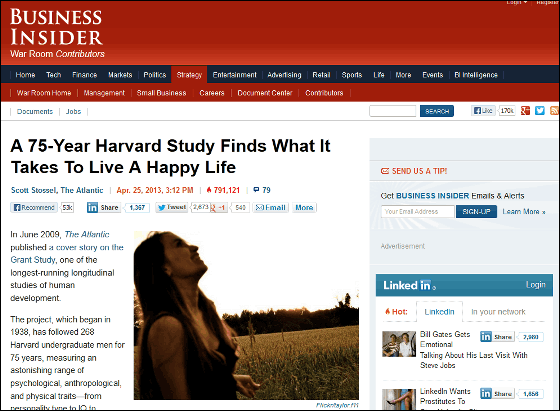 What Makes Us Happy? - Joshua Wolf Shenk - The Atlantic
http://www.theatlantic.com/magazine/archive/2009/06/what-makes-us-happy/307439/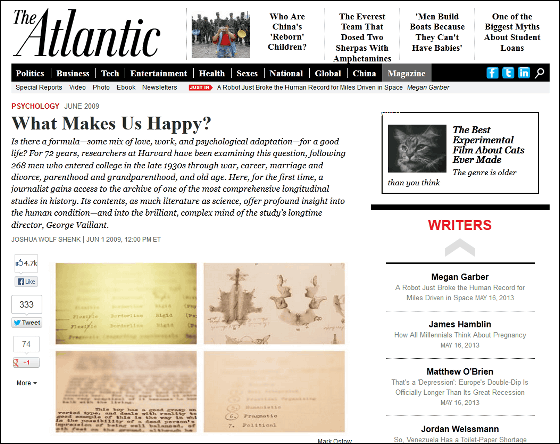 Research has been continued for 75 years since its launch in 1938, one of the longest research that exists in the world. George Vaillant, who is supervising this research for more than 30 years, argues mostly because it is too long term,Happiness and health in old age, and warm human relationship strong correlationis.

In 2009The Atlantic articleAfter the announcement, critics questioned the strength of this correlation, Vaillant returned to the research of the 1960's and re-examined the data,Human relations is the most important factor in lifeI reconfirmed that.

For example, the average annual salary of 58 men who were high scores in the measurement of "warm human relations" is an average of 141,000 dollars (14.4 million yen), and the peak salary at 55 to 60 years old is low It seems that there were more than 31 men. In addition, men who are able to build "warm human relationships" are about three times more successful in professional fields than men who do not.

At this time, the warmth of the relationship with the mother also became important during the adulthood for a long time. One thing that became apparent from the survey is that men who were able to build a warm relationship with their mothers during their childhood had higher annual income of $ 87,000 (about 8.90 million yen) than men who did not. The second is that men with poor relationships with their mothers in their childhood have a high probability of developing dementia in old age. And in the latter part of the expert's life, the relationship with the mother in childhood is related to work efficiency.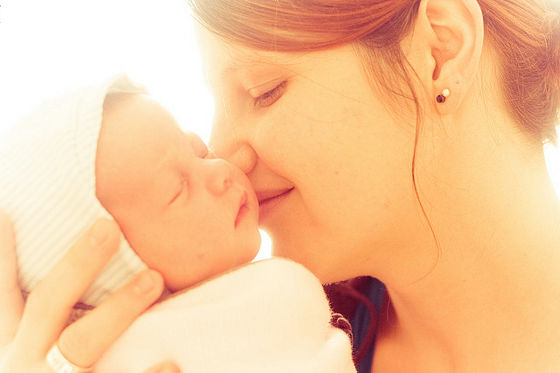 By Martin Gommel

Meanwhile, the relationship with his father during his childhood did not correlate much with anxiety during adulthood, pleasure of vacation, and satisfaction with life in old age. Also, it seems that there was not much importance on the satisfaction of life in old age and the relationship with mothers in childhood.

According to The Atlantic article published in 2009, if money is secured as much as necessary for life, it is not necessarily always happy, but rather, love, compassion, gratitude, hope, trust, Positive emotions such as tolerance are said to have an effect on human happiness. On the other hand, negative emotions produce defensive reactions to stress, but positive emotions may expose people directly to rejection or injury rather than negative ones, and in the short term positive emotions are negative It has also become clear that it makes human being more vulnerable than it is.

Mr. Vaillant pointed out the destructive power of alcoholism as being derived from numerous case studies. Alcohol is the main cause of divorce, and further that divorce is related to neuroses and depression. Neuroses and depression do not cause alcoholism but alcoholism eventually results in depression and neurosis. Also, cigarettesMorbidityHuman intelligence is not an important issue before smoking.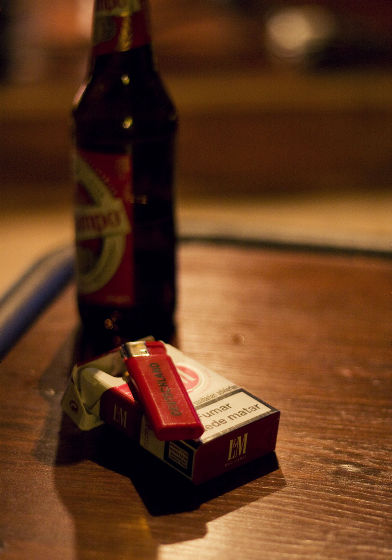 ByClspeace

As for IQ, there is little income difference between men with IQ 110 to 115 and men with IQ 150 or more.

Regarding sexual life, political ideology and satisfaction of life are irrelevant, but conservative men finish their sexual relationships on average at the age of 68, whereas men with liberalism up to the age of 80 I got a result that I will continue my life. "I asked the urologist experts for opinions, but they also do not know the cause," Vaillant says.

A variety of research results have been obtained by the research of 75 years with 20 million dollars (about 2 billion yen), but it was a very simple conclusion that we can derive it from the viewpoint of "human happiness" . "Happiness is love, nothing more than that," Vaillant says.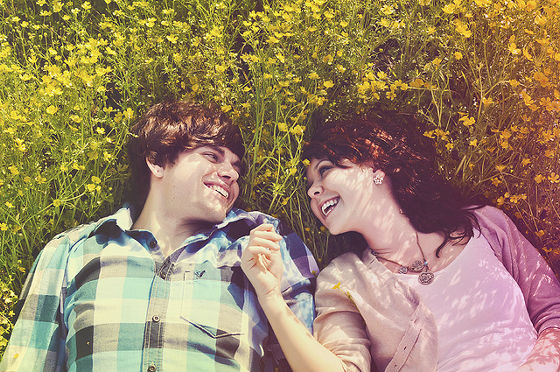 By marenkathleen
in Note, Posted by logq_fa