Sharp finally began production of three types of IGZO liquid crystal panels for notebook PCs, the battery driving time will be longer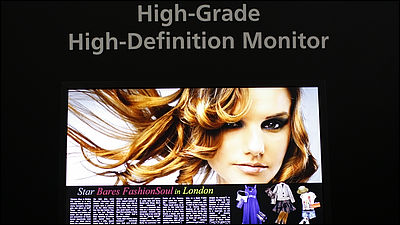 ByNokia_fan

Sharp officially announced that production of 3 types (11.6 / 14 / 15.6 type) of IGZO liquid crystal panels for notebook PCs realizing the industry's highest pixel density will be started at Kameyama No. 2 Plant from June. In addition to the 13.3 type which began production in January 2013, it seems that the lineup of IGZO liquid crystal panels for notebook PCs will be expanded and it will be in an offensive attitude.

Production of three types of IGZO liquid crystal panel for notebook PC started | News Release: Sharp
http://www.sharp.co.jp/corporate/news/130514-f.html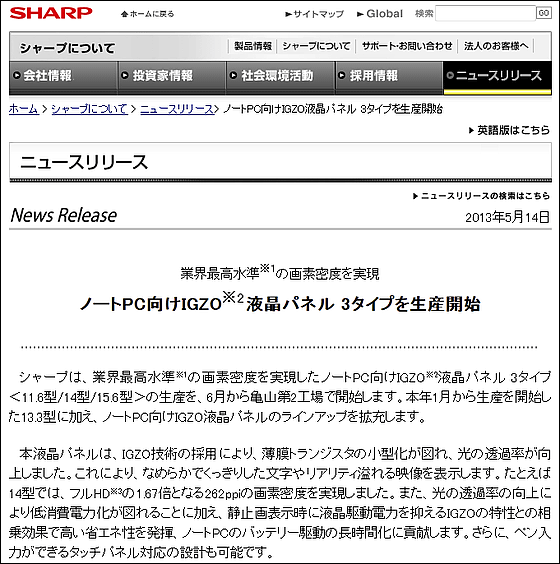 Thanks to the adoption of IGZO technology, the liquid crystal panel of this time is trying to downsize the thin film transistor, and light transmittance is improved. This makes it possible to display "smooth, sharp letters and reality filled images".

For example, in 14 type, it achieves a pixel density of 262 ppi which is 1.67 times of full HD, furthermore it can lower power consumption by improving light transmittance, and additionally IGZO which suppresses liquid crystal driving power in still picture display It is demonstrating high energy saving by synergistic effect with characteristics and we are contributing to lengthening battery driving time of notebook PC. Also, it seems possible to design a touch panel that can input pen.

The IGZO liquid crystal panel for notebook PC which Sharp produces by this is as follows

◆ Specification of IGZO liquid crystal panel for notebook PC
11.6 type: 2560 × 1440, 253 ppi
13.3 type: 2560 × 1440, 221 ppi
14 type: 3200 × 1800, 262 ppi
15.6 type: 3200 × 1800, 235 ppi

According to Sharp, in the future it will further expand for smart phones, tablets, notebook PCs, 4K displays and more.

Incidentally,New energy-saving manufacturing method that doubles IGZO performanceProfessor Uraka Yukihiro of the Graduate School of Materials Science, Nara Institute of Science and Technology, Associate Professor Yasuaki Ishikawa and others have already succeeded in developing it, and the possibility of greatly reducing the cost is great.